As some of you might be aware, within the past two weeks the government had published three apps related to the MCO and Covid-19 pandemic for public use:
MySejahtera, an app for Malaysians to monitor their health status and update that to the Health Ministry;
Gerak Malaysia, an app to apply for interstate travel this upcoming 1 to 3 May; and
MyTrace, an app that's said to use Bluetooth to warn users against confirmed cases being nearby.
We won't be talking about these apps today, because that's too mainstream. However, with so many new apps being released by the government, it drew our attention to where they're published: a site called the Gallery of Malaysian Government Mobile Applications (GAMMA), which contains at least 212 apps that have been developed by various government agencies.
To be fair, some of them are very niche and are probably no longer in use, like this app that specifically updates users on the progress of only the Penang team in the 2018 Malaysian Games (SUKMA). Still, between the in-department apps and generic weather and event apps, there are some pretty interesting ones as well.
So since it's still the MCO and we've got nothing better to do, we downloaded some of the more intriguing ones and gave them a whirl. Perhaps the most interesting one we've tried was…
1. Generasi Celik Media – a comic book-styled game about online etiquette
As you can probably guess by that header, this one came from the Malaysian Communications and Multimedia Commission (MCMC). Upon starting the app, we were treated to a background music that's reminiscent of 90s cartoons like Usop Sontorian or Kampung Boy, but the starting screen is a bit unsettling.
Also, the game apparently can only be played in Bahasa Malaysia. Anyways, we were practically forced to enter a name and e-mail before we can do anything, which seemed a bit weird at first. However, it seems that if you manage to score a certain amount, you'll get a certificate, so maybe that's what this step is for.
Once that's over, you are introduced to five animal characters with names based on trees: Delonix, a hacker turtle; Oxalis, a rich tiger; Rose Qidd, a mouse deer; Sunny, a tech-savvy bear; and Rhus, a nerdy mouse.
The game then starts, and it's basically a multiple-choice exam with questions set within situations explained in the style of comic books. You get to pick several storylines, which are essentially topics that range from spreading fake news all the way to posting compromising pictures of yourself online.
If you answer the questions correctly, you get an explanation on why you're right, and vice versa. Most of the questions are common sense, actually, and regardless of what you answer, the story progresses. At the end of each story, you get a summary of what you're supposed to learn, how many questions you got right, and the game immediately moves on to the next topic.
Overall, it's an interesting approach to educating the public on online etiquette. However, the app does this weird thing where if you exit to home screen without properly exiting the app, the background theme would just keep playing, like it refused to be put aside or something.
How long it kept us occupied: Around half an hour. We would probably try to finish the stories and get the certificate sometime later. Then we would delete the app and never speak of what we've seen ever again.
2. 100 Tip Tanaman – literally, 100 random tips on crop growing
With the MCO still going on and all, it's getting a bit cucumbersome to don a mask, go through roadblocks and risk your lives foraging for fresh vegetables at the nearest Jaya Grocer. With that in mind, some of us might find the idea of growing your own food appeeling. Well, maybe not physically farming, but vegging out and fantasizing about being one with Mother Earth does have its charms in these quarantine days.
But instead of downloading some farming game to fill that fantasy, you might want to try this app from the Department of Agriculture. Corntrary to what its souped up icon may suggest, this app has a certain rustic feel to it, with a minimalist interface and grainy pictures accompanying each tip.
It also gives exactly what it promised: 100 tips on growing crops, no more, no less. Well, maybe less if you count out some really obvious tips.
According to its page on Google Play, this app was developed as part of an initiative by the Department of Agriculture to transform the expansion of agriculture through mobile platforms for fast, easy access regardless of time and place. We dunno how effective this app had been to actual farmers (a 2019 study found that paddy farmers in Selangor mainly use WhatsApp to get their agriculture-related information), but based on app reviews, it was quite well-received.
Some of the tips we've found on it had been very helpful, too. For instance, tip #17 tells us that it's better to plant our crops in rows facing the direction of sunrise for maximum sunlight exposure, and tip #14 hints that we should use fertilizers with high phosphate (P) and potassium (K) for fruit vegetables, like eggplants and chillies. Whoah, so interesting!
The information is a bit random, though, so if you need actual help in choosing a plot or buying your first tool, well… Google it, we guess.
How long it kept us occupied: You can generally read each tip in less than 10 seconds, but if you really savor the meaning and take the thyme to make out what's in the pictures, you can potentially kill 5 minutes with each tip. If you limit yourself to one tip per day, you should be able to make the app last all the way to the end of the MCO.
3. i-Tegur – find out what people near you are complaining about
Developed by the Housing and Local Government Ministry (KPKT), this app is meant to 'facilitate the public to make complaints to the local authorities (PBT) through mobile', according to its Google Play page. However, right after registration, we were hit by a huge bummer:
Apparently, you can only make one single complaint, a fact confirmed through an e-mail that we received shortly afterwards. Well, we didn't have anything to complain about, anyways. Besides that single bullet in your revolver, the app also lists the most common category of complaints they receive, which are road damage, lights/traffic lights and parking spots. Here's a list of categories that you can complain about:
But perhaps the most interesting feature on this app is that you can use the GPS function to search for recent complaints near you. For example, we did a search, and it seems that some menacing old tyres have been sighted nearby, and someone burned their trash openly. It's like a whole new Instagram for Karens.
We know, when the MCO is finally over, this is going to sound really sad, but after a month of not going out it's really nice to see the reports and know that there are other people out there, complaining.
And if you're thinking, 'Eeeyer, why so kepoh wan?', well guess what: before being rebranded as i-Tegur, this app was originally called i-Kepoh. So that's that.
How long it kept us occupied: Not that long, unfortunately. But it's a nice addition to the other three social media apps you rotate between every few minutes.
4. Malaysia CPI Inflation Calculator – for when you need to guess the price of nasi lemak in the 80s
As far as first impressions go, it seems that someone from the Department of Statistics probably came up with this app in their free time. It's like a very basic converter or calculator app with a single screen to put numbers in, and not much else. No sparkly effects, no cute sounds, nothing but pure, bare-boned efficiency. So what does it do?
Well, it essentially converts the value of money in Malaysia through time, based the historical Consumer Price Index (CPI) data. Say that your ah pa is lecturing you on how you still can't buy a house with a RM3,000 salary. You whip out the CPI Inflation Calculator, wait for it to load (takes some time), punch in the monthly payment for a house today (say RM900), punch in the date when your dad was just starting out on his adult life (say 1995), and voila!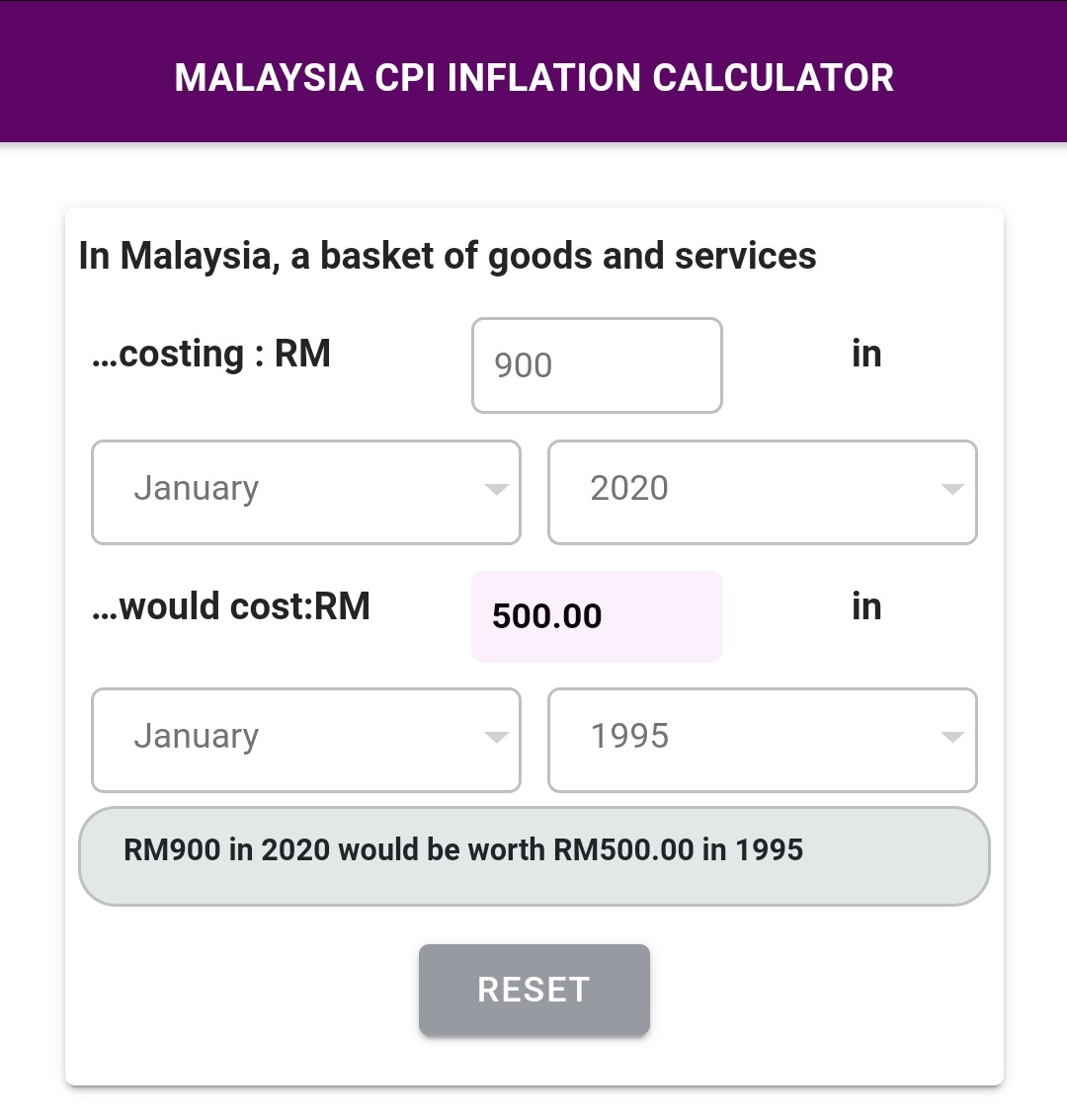 You still have to do a bit of calculations on your own however, because the app doesn't do much else. So just tell ah pa that even if he earned only RM2,000 a month back then, house payments only make up a quarter of his pay whereas you would be giving up a third of your RM3,000 pay today. Also, you have to hope that ah pa did not take economics as his degree for this explanation to work.
How long it kept us occupied: Because this app is so basic, your imagination has to do some heavy lifting here. You can just sit around comparing the value of a nasi lemak today vs 1990…
…or wonder if you should have invested in gold instead of saving money.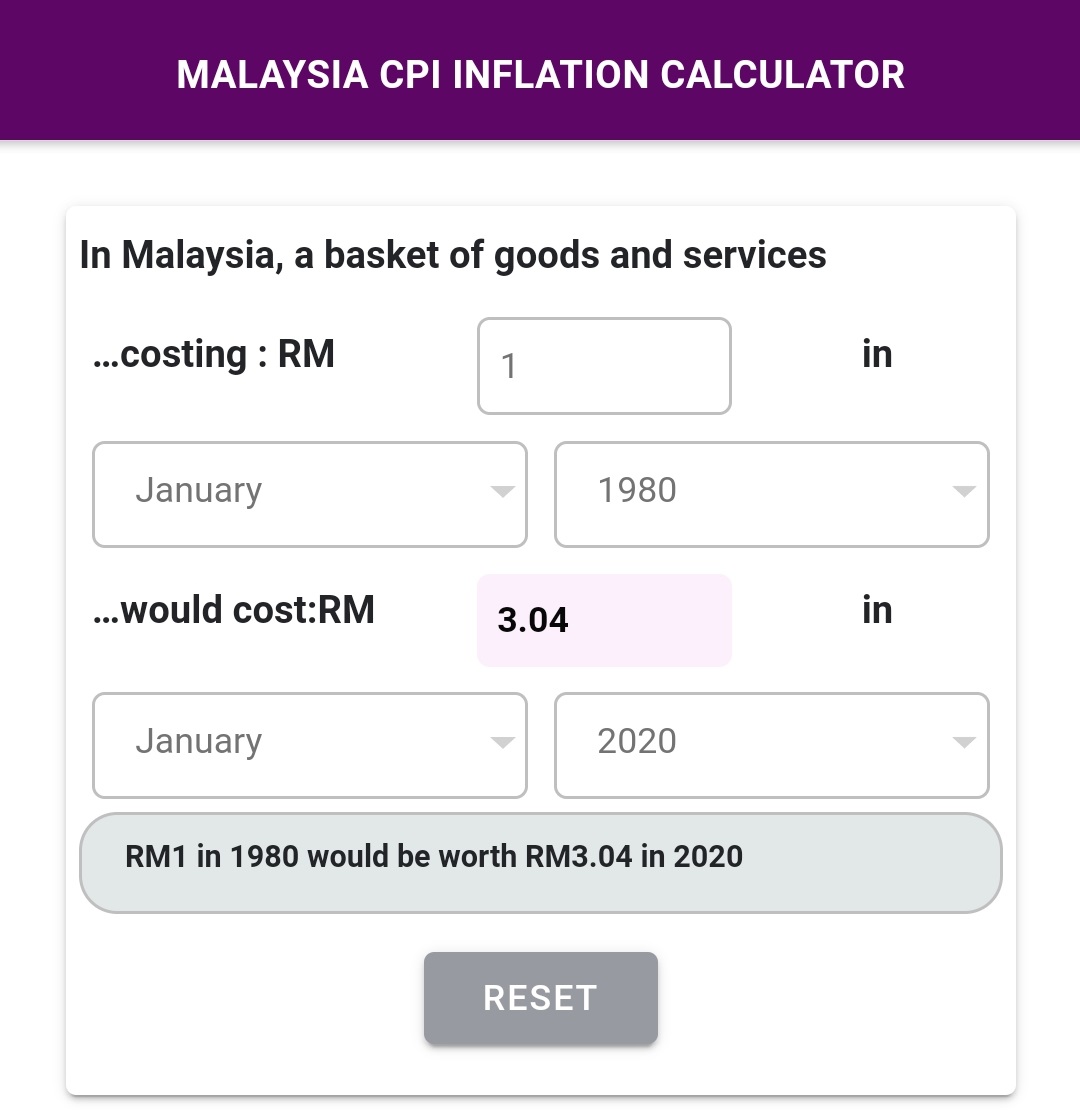 We'd say it should kill like ten minutes at first, then only used for very specific arguments.
5. MyGerms VR – pretty canggih VR app, but needs extra parts
This one is essentially a Ministry of Health app that educates people on the various germs that can exist on food and how they get there. It's supposed to be a pretty immersive experience, too: it's developed as a virtual reality app. Sadly though, you're supposed to use this app together with a phone holder like Google Cardboard and some Bluetooth controllers to interact with the germs, and we don't have those lying around the house.
So we're just looking. The plot of the game seem simple enough: for some reason, you're trapped in the center of a circular table laid out with all sorts of food, and the walls in the room you're in are covered with PowerPoint slides that, among other things, remind you to "See, Smell and Taste" your food to check for spoilage. We try to escape the hellish banquet while a very government-ish theme music plays in the background, but to no avail.
Every once in a while, the music stops momentarily, and a chorus of disembodied children voices shouted out in unison:
"Lihat, hidu dan rasa; elakkan keracunan makanan!"
To add to the panic, whenever you stop and stare at any food on the table, the restless spirits of the germs that inhabit the food appears and screams out gibberish at you, like this squiggly thing that sounds a lot like Arnold Schwarzenneger falling out of a chopper.
Other dishes on the table are just as possessed, but after fiddling around long enough we managed to click on one of them without using that fancy Bluetooth controllers. And… this happens.
An explanation pops up, along with an eeriely cheerful female voice telling you about the germ. We tried to click on something else, but it didn't happen again.
How long it kept us occupied: About half an hour, even without the extra toys. There's a sense of satisfaction of turning around in one place and hearing the germs scream at you one after the other. We suspect they all have the same voice actor. But be careful not to spend too much time in the game, because you might look down and notice…
With these five apps being so eloquently described already, you might be saying…
Thanks, Cilisos! Thanks, government! Now I have something fill my MCO days!
You're welcome, dear reader! #ilovecilisos. Having read about these five government apps, which one do you feel like trying out the most?
Well, if you ever get bored of your choice, just remember that there are literally hundreds more government apps you can freely download and try from Gamma. Or, you know, other apps that don't come from the government. Or Netflix.