Picture this scenario: A guy takes a vacation somewhere far from home. He takes a walk along a dark street and gets brutally murdered and has his wallet stolen. The police later finds his body, but as without an I/C, nobody knows who he is and no family comes forward to take his body home to bury it. What happens then?
This is a case of an unclaimed body, where dead people are sent to the hospital morgue with nobody coming forward to retrieve them. While regular dead bodies are usually released to their family members, the fate of unclaimed bodies is a bit vague.
And this seems to be a growing issue in Malaysia.
Last year, the Health Minister revealed that there was a 13 to 25% increase of unclaimed bodies in Malaysia's hospitals between 2013 and 2015, with a total of 757 unclaimed bodies in 2015 alone. The management of all bodies were done by the forensic department of each hospital (otherwise known as the 'Rumah Mayat' by the public).
So what happens to these unclaimed bodies? We talked to a government hospital's morgue worker, Amin (pseudonym), on how these bodies are handled. While a hospital usually follows the regulations set forth by the ministry, in reality it's a little bit different according to different cases. But first things first…
Where do unclaimed bodies come from?
There are various ways a dead body could end up not being claimed. One of them is by violent deaths due to crime or accidents. Whenever an accident or a fatal crime happens, the bodies are usually handled by the police and are sent to the morgue for an autopsy. While freshly dead bodies usually have some form of identification on them, or at the very least a face, in cases of muggings or accidents that turn the victims into little pieces, identification can be a tad challenging.
A number of dead bodies brought in by the police have been dead for so long, all that's left of them is a skeleton or a partially decomposed mess. Babies discarded and left to die somewhere are usually not claimed as well. Some of them are foreigners, and their bodies are left unclaimed because either their families do not know that they're dead, or the families know, but had yet to gather enough money to bring them back to their home countries for a proper burial.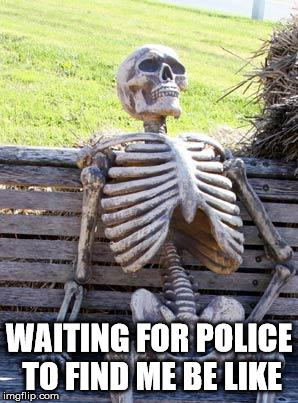 Of course, there might be cases where familial disputes, shame or personal reasons are the cause of bodies being unclaimed, but in such cases, the police are usually able to track the next of kin. In fact, regarding the matter of unclaimed bodies, the police plays a big part in ensuring there's a happy ending for these bodies.
Malaysian hospitals have a general rule to deal with unclaimed bodies, but…
When an unidentified body is sent to the morgue, the morgue will notify the police on the issue. The police will then do their best to trace the next of kin of the deceased. If that doesn't work, an ad will be run through a media, such as newspapers, with a picture of the deceased. If all efforts to trace or reach out to the next of kin fails, the morgue will then label the body as an unclaimed body.
The next step differs according to the religion of the deceased. Should there be any form of identification on the body, this step is a breeze. However, if there isn't, the authorities will just have to guess based on ethnicity or gut feeling. After all, you can't wake the dead and ask them their religion.
For Muslims, 3 days were given after the body was labelled as unclaimed in case the relatives suddenly decides to show up, but for non-Muslims, the holding period is two weeks. After this waiting period, the body will usually be sent to organizations outside the hospital to be put to rest. For Muslims, the bodies are usually handled by the local religious bodies, whereas non-Muslims were handled by the authorities of their respective religions.
However, things can get fuzzy. What if the deceased's religion cannot be identified based on superficial appearances? Amin told us that if the body needs to be taken care of and nobody can determine what religion it was, it will be handled as a Muslim. This decision can be a bit controversial, with some people from the religious department not totally keen on the idea.
Although it had been stated in their manual that the unclaimed dead are usually only kept for two weeks after being identified as 'unclaimed', there are exceptions.
This is the case for one unclaimed body identified as Nepalese that had been in the morgue for at least three months. The man's relatives were identified, but they needed more time to raise the money needed to transport him back home, so the morgue is keeping the body until then.
While there are usually religious bodies to take care of the unclaimed dead, in some places there just aren't. So who puts the bodies to rest? Well…
There are NGOs dedicated to help these unclaimed bodies
One such NGO is the Persatuan Kebajikan Khairat Pengebumian Kaum India Selangor (KHAIS), which was established in 2015. They perform the burial for the unclaimed bodies (or body parts) and even offer up a simple prayer ceremony for the funeral. Their chairman, D. Dhatchinamoorthy, a 54-year-old lorry driver believes that there are a number of reasons why bodies are left unclaimed, such as conflict between family members or their relatives unable to claim the body for some reason.
However, as he puts it,
"We do not discriminate against anyone as we view everyone, in this sense dead people, as the same each time we receive a call from the hospital informing us of an unclaimed body," – KHAIS' chairman D. Dhatchinamoorthy for Malay Mail Online.
In Penang, there is a charity clinic that caters to the homeless, the Temple of Fine Arts' Klinik Derma Sivasanta. The clinic's coordinator, P. Murugiah had stated that they have collected and cremated 40 unclaimed bodies in 2012. However, he and a group of friend had been doing this since 1984, and had collected around 542 bodies left unclaimed by their relatives.
"The unclaimed dead were mostly Indians while some were foreigners. Some were vagrants, HIV sufferers and drug addicts disowned by their families, while others were from families too poor to afford proper funerals," P. Murugiah, for The Malaysian Insight.
However, as both of these NGOs have attested, it was not an easy thing to do. Money-wise, each burial could cost somewhere between RM2,000 to 3,000, and KHAIS received calls from the hospital almost every month while P. Murugiah, on the other hand, handled upwards to 10 bodies a month since the 2000s.
Sometimes bodies are donated… for science!
In Malaysia, there is always a demand for corpses for educational and research purposes. Unclaimed bodies can be given to local universities upon request, where these bodies will be used for teaching and research. Although this practice is generally frowned upon outside due to its roots in grave robbing and murder, Section 4 of the Human Tissues Act 1974 states that:
"In the case of a body of a deceased person lying in a hospital and unclaimed the person having the control and management of the hospital or any other person authorized by him shall be deemed for the purpose of this Act to be a person in lawful possession of the body."
In layman speak, it basically says that if nobody claims the cadaver, it belongs to the hospital. So it's totes legit. However, even though it's possible, giving away unclaimed corpses for research doesn't happen a lot.
Amin tells us that while demand is pretty high, and unclaimed bodies are not in short supply, more often than not the unclaimed bodies available fails to measure up to the universities' expectations. The usual kind of request is a body in a perfect condition, like from death of natural causes. Most unclaimed bodies, however, are dead from vehicle accidents, diseases or victims of violent crimes, so their conditions are far from perfect.
However, in the case when there is a perfect body available, the morgue will handle the paperwork with the hospital authorities and the university's representatives will collect the body from the morgue.
The Malaysian way of handling the dead isn't half bad
The procedure covered so far, although not without its fuzziness and gray areas, has so far worked. While there is definitely room for improvement, in essence it is similar to the system used by countries such as the US. However, although the system is similar, some states in the US had some funds allocated specifically for the handling and funeral of unclaimed bodies, whereas the religious authorities and the NGOs on our side are the ones who bear the expenses.
It isn't as rosy in other countries, though. In China, bodies clog up the morgues due to complications with the law. The police there are reluctant to issue death certificates for some of the unclaimed bodies, and since there are no specific law or procedure on how to deal with unclaimed bodies, the morgues just keep them just in case the relatives will show up one day. One of the bodies in one of the morgues had been in the freezer for 21 years.
There is the story about a man in Mumbai whose body wasn't claimed by his relatives for five months. The morgue where the body was kept was less than ideal, and it was simply wrapped in a shroud and stacked on another body on a stretcher during an expose due to limited space. It's skin was peeling, as the temperature wasn't low enough. Another body had to be folded in half and simply placed near the door due to the lack of space.
Perhaps due to our society's sensitivity regarding death and the our capability to handle unclaimed body cases, incidents such as that was unheard of. Unless there were certain circumstances such as relatives collecting money for a burial, unclaimed bodies are often handled in a dignified manner, and are put to rest as soon as the conditions permit it.
All things considered, it may not be that terrible to die alone in Malaysia as long as the police finds your body. Even if nobody comes forth to claim it, you can rest assured that it will be handled appropriately. Unless your body is perfect enough to be a teaching material, there's probably nothing to worry about.