After more than 2 months of staying at home, plenty of Malaysians have turned to cooking as a way to pass the time. Sometimes, we find new tricks that bring our food to a whole new level, while other times, our cooking comes back to haunt us…
You know us Malaysians love food when there's even a super popular FB group dedicated to Malaysians sharing their cooking fails. But after a while, we kinda found ourselves cooking the same dishes over and over again, and we need new and creative ways to spice up our cooking!
After all, the MCO is not the time to be cooking by the book, and we're not just talking about slapping some cheese on stuff. Everybody's already doing that, so nope.
So, we teamed up with Chivas Regal and asked fellow MCO-bound Malaysians to share their best recipes that use a special ingredient: alcohol.
Cooking with alcohol can make your food taste better.. And it's not because you're drunk
Alcohol might be an intimidating or unfamiliar ingredient for many home cooks, but if you know what you're doing, alcohol can enhance how your food tastes! Due to its polar and volatile nature, it can interact with both water- and fat-soluble molecules in food, helping to carry the aromas to our senses faster and thereby improving the overall taste of food. Plus it can tenderize meats as well, also improving the texture.
Aside from cooking and cocktail hour, alcohol has many other uses (hello, sanitizers!). Our friends over at Chivas, who make amazing blended Scotch whisky, have also been very active in tackling issues related to the current pandemic in the UK, such as by repurposing their distilleries to make hand sanitizer and contributing to charities that help the healthcare sector, just to name a few.
In Malaysia, Chivas Regal have been running campaigns to help support the F&B industry affected by the MCO, by providing care packages to those workers in need. These packages contain, among other things, GrabFood vouchers, online bar training courses focusing on sustainability and resources on staying fit and healthy during the MCO, like exercise regimes and recipes.
Anyway, we've received A LOT of alcoholic recipes from you guys, and since most of them are very good, it was tough picking out the best ones to try out. Eventually, we managed to narrow them down to 5 of the most intriguing recipes, made them ourselves, and had a small office taste testing session to figure out the best recipe among them.
In the interest of fairness, only the cook (who followed the recipes exactly) knows what type of alcohol went into which dish before we scored them, and points were given solely based on creativity, taste, and uniqueness. Going up the points ladder, we're starting with…
5. "Chili Cinnamon Chocolate with Rum" by Tiara Chloe Lim
We're starting off with a relatively easy one from Tiara. It's a recipe for a spiced drink, and all you need for this is
1 cup chocolate milk
1 tsp cinnamon powder
1 big pinch of chili flakes
a splash of Tanduay, a Filipino rum
Tiara said that she was inspired by the Aztecs who used to drink their chocolate with chili, and she took it a step further by adding rum into the mix. Making it is quite simple: just heat the milk, stir in the spices until they dissolve, and add in rum.
How it tastes: It should be noted that this is a hot drink, so it's best to consume soon after making it… otherwise some of the spices may float around and make it look a bit unappetizing. Someone noted that it smells like Christmas, but most of us noted that it's a bit spicy for our liking. Using the rum in the recipe further buffs up the heating-from-within effect of the spices in this drink, so while it tastes pretty good, maybe it's better on colder days.
Verdict: 9 out of 22 stars (22 because a dumbo rated everything out of 7 instead of 5).
4. "Beer Steamed Mussels with Bacon" by Phoon Chi Ho
Another simple recipe, one that combines the finer things in life: beer, bacon and seafood. To make this, you need:
2 cans beer (preferably ales)
1/2 onion (finely chopped)
4 cloves garlic (finely chopped)
4 bacon strips (chopped)
1 kg mussels (either fresh or frozen)
1 tsp chili flakes
Salt and pepper
Olive oil
As a side note, while testing this recipe, we discovered tiny bits of plastic (like nets) inside the mussels, so short PSA: reduce plastic use, guys! Anyways, here's how you make it: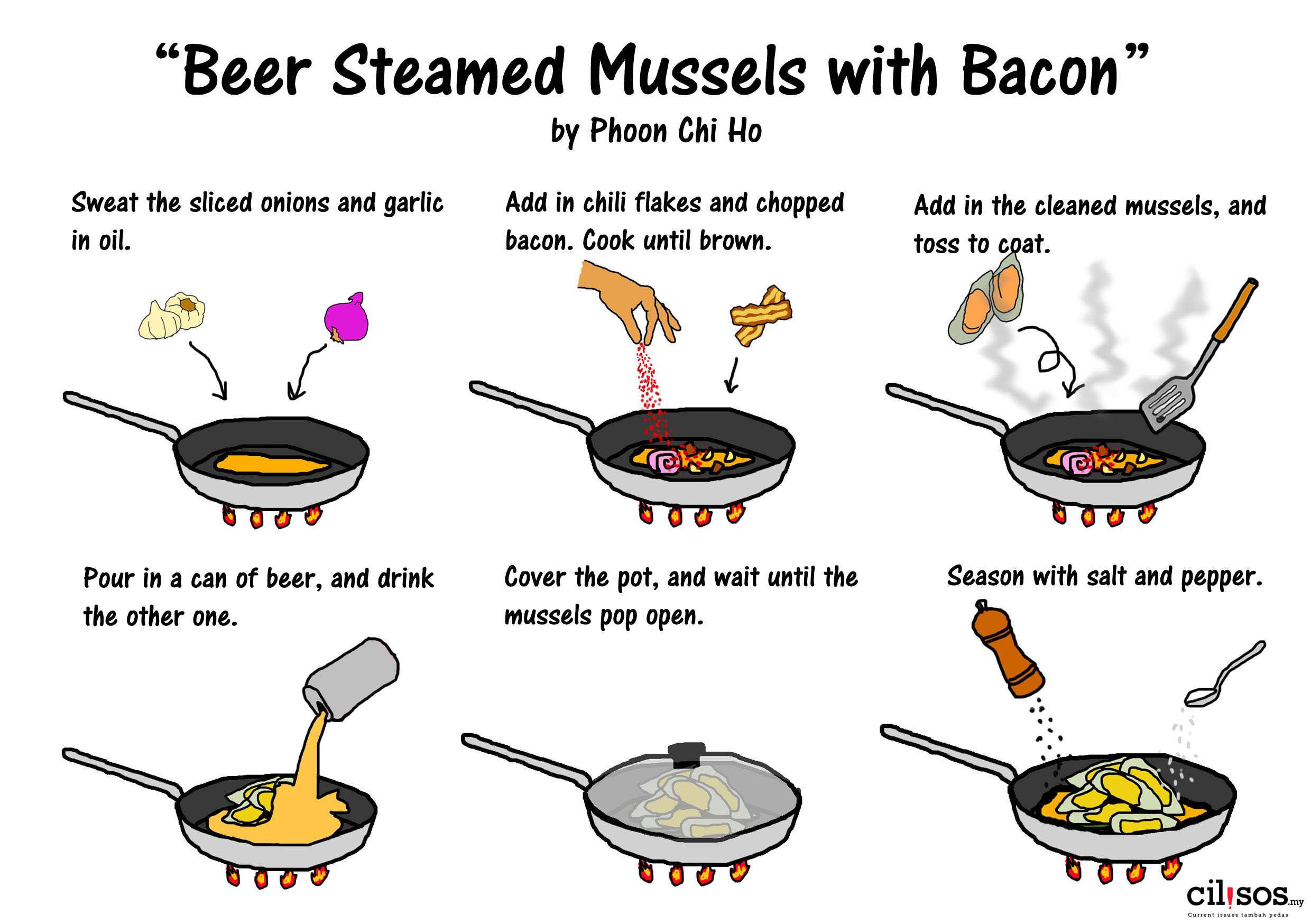 How it tastes: The smell is quite appetizing, if you're a fan of seafood. As for the taste, well, it's savory, chewy mussels in a rich, smoky broth with faint hickory smells from the beer. So pretty good. The bacon isn't quite shining through, though, so maybe we'll add more next time.
Verdict: 15.5 out of 22.
3. "Naughty Apple Cinnamon Gula Melaka Galette" by Dzee Chan
What, the last two recipes too easy is it? Now here's something more challenging: an apple galette. Dzee makes this for dinner parties, and to make this, you'll need:
5 medium crisp apples
5 tbsp liquid gula melaka
3 tbsp browned butter
2 tbsp Chivas
2 tbsp brandy
4 tbsp dark rum
1/4 tsp apple spice mix, or ground cinnamon and nutmeg
1 pinch salt
1 tsp corn flour mixed into a slurry
A 13″ sheet of puff pastry
Brown sugar for sprinkling
And while Dzee gave us a pretty detailed recipe, this is basically how you make it. We couldn't find puff pastry anywhere, so 5 supermarket trips later, we ended up making it from scratch.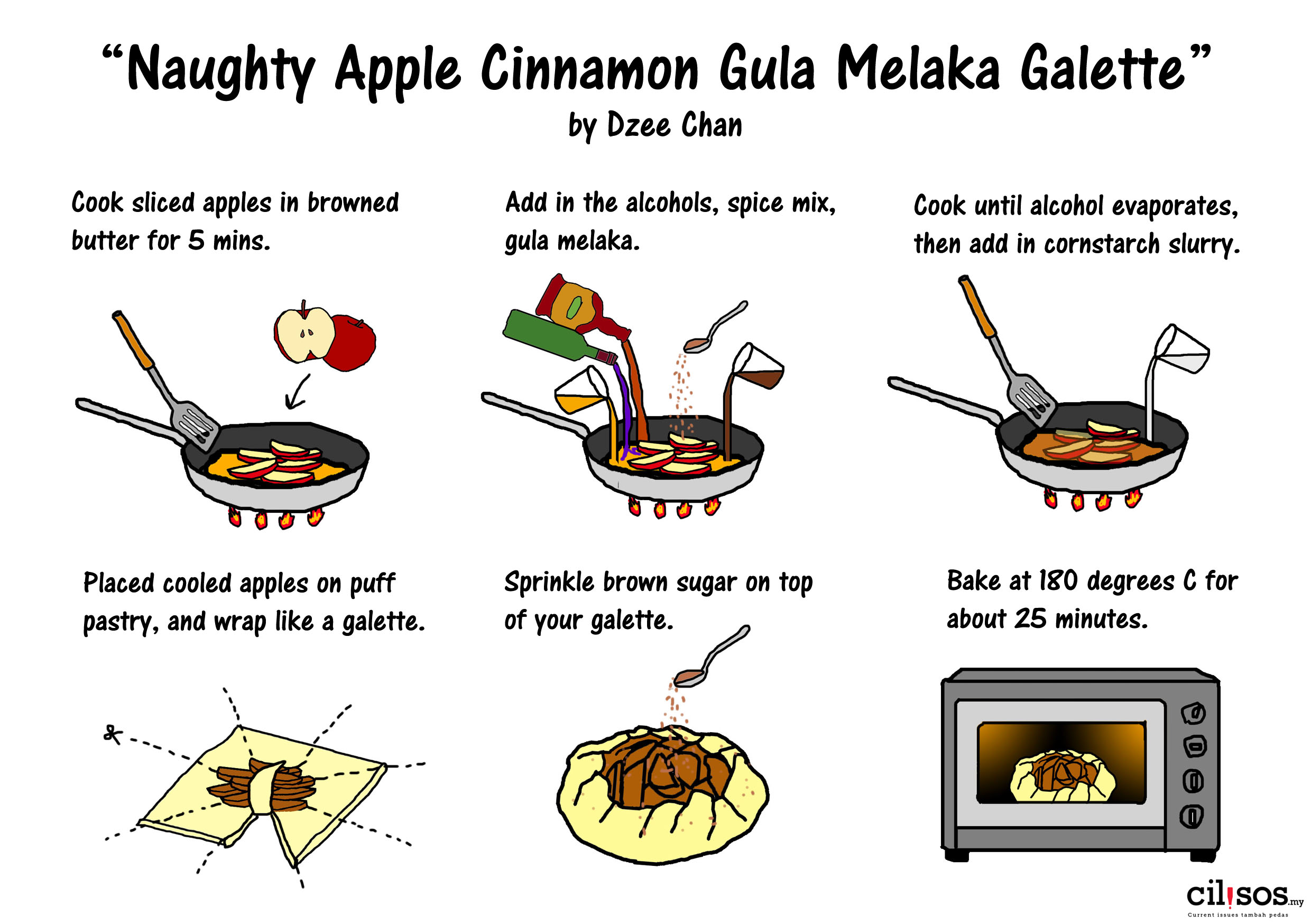 How it tastes: As Dzee had attested, it certainly has a way of filling a room with the homey smell of apples and baking pastry. The pastry's crumbly, and it mixed well with the moist apple filling. Overall a pretty pastry that enchants the sight, smell and taste. However, we're not sure what adding alcohol does to the recipe, as we can't taste or smell any despite three different kinds being added. So we can't tell if this one is #MadeWithChivas or not. Maybe it would better to add them nearer to the end, so that less alcohol is evaporated.
Oh, and in case you're wondering how the whole thing looks, here's our re-creation:
Verdict: 16 out of 22.
2. "Soju Chicken Stew" by Precious Joy
Soju is a type of subtly sweet Korean alcohol, and Precious, in the spirit of Asian moms everywhere, chucked a bottle that was about to expire into a pot of chicken stew she had bubbling on the stove, leading to a pretty epic dish. To make one pot, you need:
1 chicken
3 potatoes
1 carrot
5 onions (slice one for sauteeing, quarter the rest)
3 cloves garlic
2 inch ginger
6 cili padi
1/2 of a Chinese cabbage
1 475 ml bottle of Soju
1 chicken stock cube
1 ikan bilis stock cube
seasonings (salt, pepper, Cukup Rasa)
The chicken first needs to be marinated overnight using this mix:
5 tbsp oyster sauce
1 tsp ground pepper
1 tbsp garlic (minced)
1 tbsp ginger (minced)
3 tbsp brown sugar
like, a third of the Soju bottle from before
After that, it's a matter of following the steps.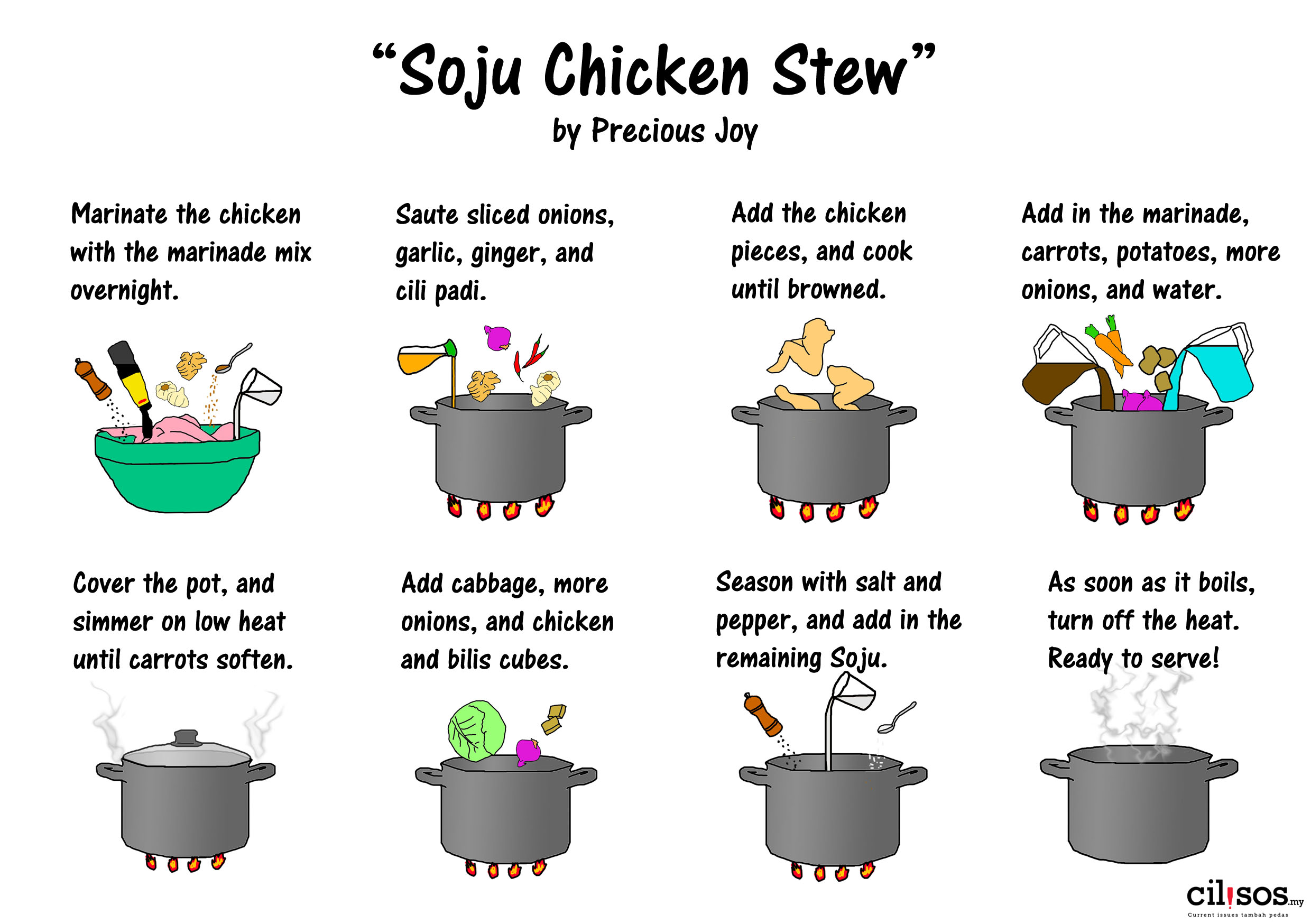 How it tastes: As far as first impression goes, it looks really appetizing, and it's aromatic and fragrant, but not to the point of being overwhelming. The Soju added a nice sweetness to a savory, satisfying stew, which also tasted great against the cili padi. And the mixed texture of the soft chicken and carrots, the slightly cruncy cabbages, and the silky broth come together like a warm bed on a rainy public holiday.
All in all, it's a homely, satisfying dish, with one of us commenting that it's like a mother's attempt at bartending: comforting, yet fun.
Verdict: 19.5 out of 22.
1. "Drunken Noodles" by Angeline Ng Geok Kee
It's pretty ironic, but the best dish we've tried doesn't have a name submitted, so we're calling it Drunken Noodles for now. This dish is #MadeWithChivas, and the idea came to Angeline on a cold, rainy day, as she decided to use up her husband's store of Chivas so that he can restock. So resourceful! Anyways, to make this dish for one, you need:
1 chicken whole leg
1 piece of mee sua (or any preferred noodle)
sesame oil
shredded Bentong ginger (amount controls the dish's spiciness)
pepper
goji berries
red dates
soy sauce
sugar
1.5 cups of Chivas (really wan!)
Here's how you make it: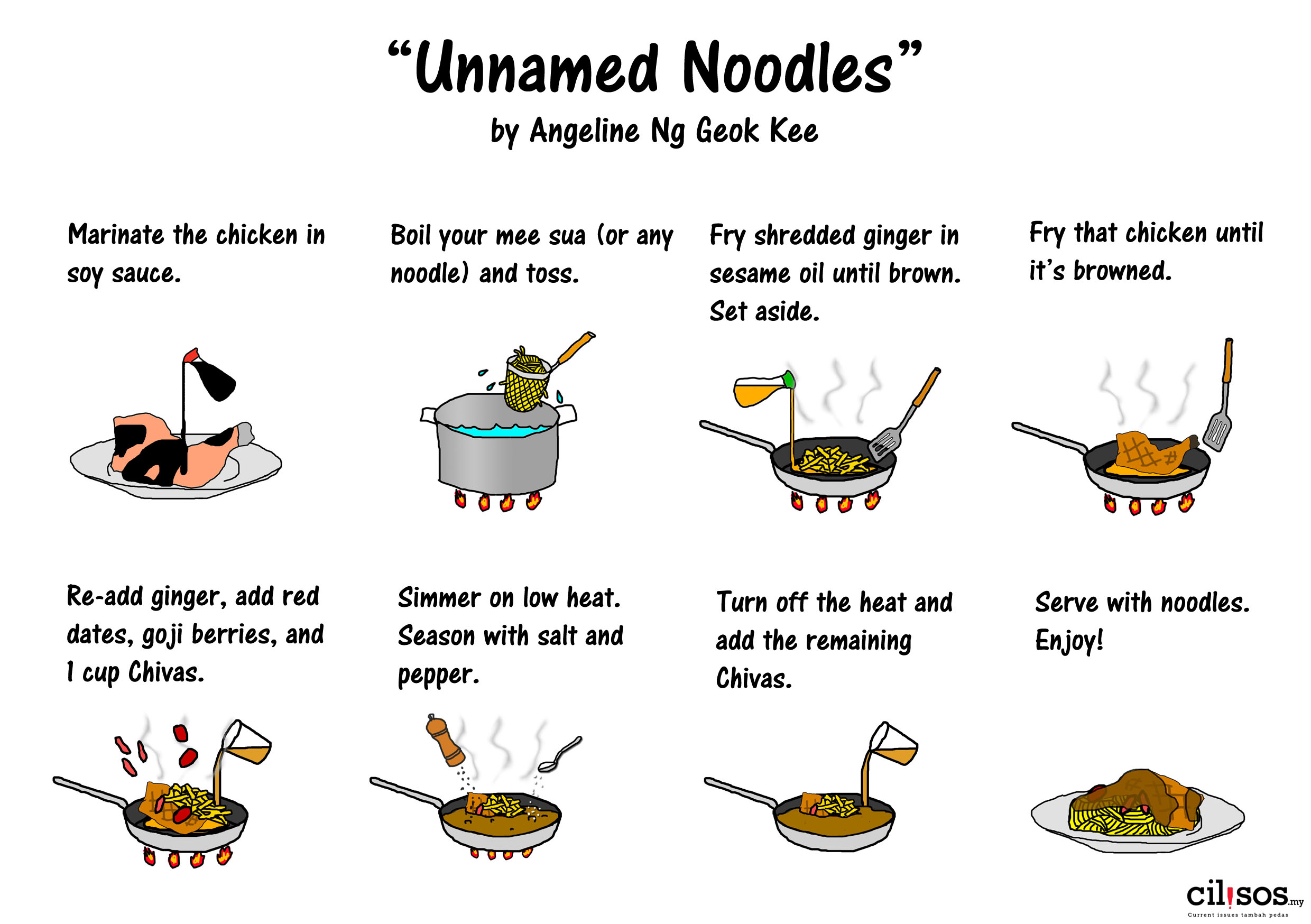 It should be noted that for testing, we replaced the mee sua with bee hoon since the cook is allergic to gluten, but we're still following the recipe.
How it tastes: It looks like a typical Chinese noodle dish, but don't let that fool you. As put by Chak, one of our testers,
"I didn't expect much from this, but holy sheets the whisky works. I might try to make it myself." – Chak.

There's a lot of whisky in this one, so much that our cook thought the recipe was written wrongly! But unlike most dishes where alcohol works backstage, the whisky in this dish grabbed a mic and sang a shocking yet harmonious duet with the chicken. The whisky and the caramelized chicken fat combined with the ginger to form a broth with a complex taste that's smoky, sweet, spicy, slightly bitter, and overall very pleasing.
Be warned though – unlike the other dishes featured here, this might get you a bit tipsy, so please make sure no one will be driving if you're planning to serve this.
Verdict: 20 out of 22.
Yumz! Which recipe would you try?
Here's a quick poll: which of these dishes would you consider making?
Well, either way, all the recipes featured here will receive a set of Cilisos-sos, and the top scoring recipe will also get a bottle of Chivas Regal 12 too! Congratulations Angeline! We'll be contacting ugaiz soon.
And for those of you who sent in entries but didn't make it, don't despair. You can always get Chivas delivered to you through their official store on Shopee, and keep an eye out for other contests in the future!