Once again, Valentine's Day is falling somewhere near Chinese New Year! Which means romantic moments broken by loud fireworks, your potential Tinder dates clashing with family reunions and more than normal mandarin oranges floating around Penang waters. The two occasions seem at odds with each other (romance, and… family?), but perhaps there's a way to combine family with some sense of romance with a simple question…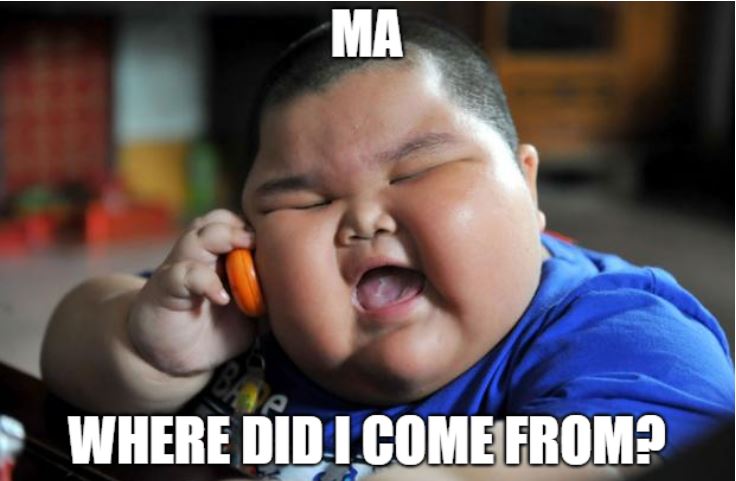 Ok la, maybe not so specific a question… how about this?
So how did your parents get together?
For this Chinese New Valentine's, CILISOS teamed up with Durex to get Malaysians to ask their parents the most simple/awkward/bonding/sweet question – how they got together (and eventually had you). To sweeten the deal, we also gave the winners an RM100 angpow for their parents, and a box of Durex Invisible Extra Lubricated 12s (that one you can take, or parents can take also… *heheh*).
The gifts were obviously quite attractive, because we received TONs of OMG amazingly sweet stories, so good that we actually had a tough time picking. Here are the ones that we painfully had to narrow down to.
1. The ghost that fell in love with his 'victim'
Krishna's dad was working in a haunted house as… a ghost. Yes, we mean the type that jumps out at you to scare you with flashing lights and everything. Thank the heavens for those flashing lights, because they helped seal a deal that's lasted for 30 years since.
"As my mom entered the haunted house, my dad did his thing and my mom got scared, but somehow in the flashing lights, my dad saw my mom for the first time ever and that was the moment they call "love at first sight". – Krishna
From there, Krishna's dad found out his mom's college, and like a wraith, followed her there everyday. Eventually, she noticed, and told her brothers, who Krishna say still look like thugs to this day (joking ok bro, joking!)
"So one fine day my dad got beat up by them… but he didn't lose hope at all. He still followed my mom and eventually my mom's parents got to know about this and called my dad and fixed a marriage date. My mom didn't really like being married at that time, she even said she hated my dad for the first few years of marriage but eventually time healed everything and 4 years later, my brother was born and everything got settled and happily ever after!" – Krishna
2. No number so call every number in the Yellow Pages lor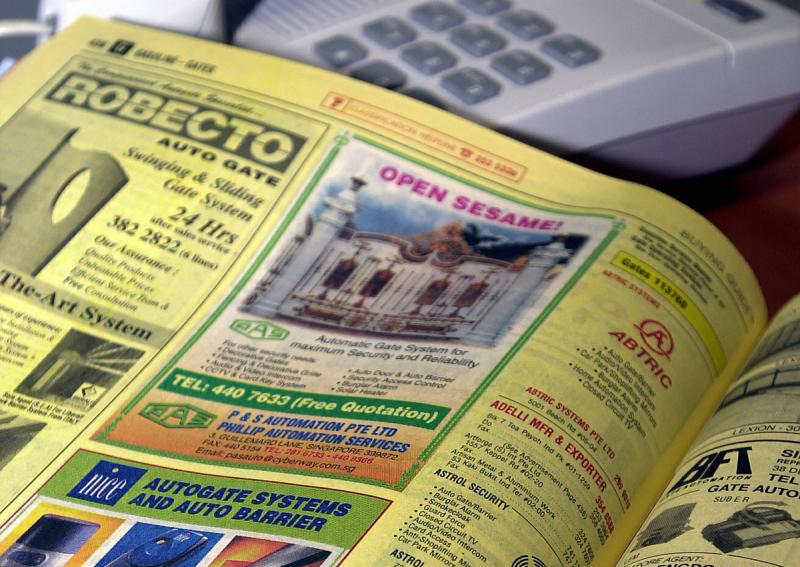 So the picture above is the Yellow Pages. Before the age of smartphones and Craigslist, this is how you would find a service, or a person. And if it didn't exist, then Joanne would've never had the chance to tell us how her parents met.
Joanne's future mum and dad worked in the same big oil & gas company, but for different departments. They never laid eyes on each other, until a company trip, where they had a brief conversation, where they exchanged names, and which area they lived in. That was enough for Joanne's dad.
"When they got back from the trip, he used the yellow pages phone book and called every 'Chew' family that stayed in Damansara. Finally, after numerous calls, he got her on the phone and asked her out for a date." – Joanne Gan
And 31 years later, Joanne wins an RM100 angpow, and a box of Durex condoms 🙂
3. He had to shine her brother's boots for months, just to get a date.
27 years ago, Damien's dad was a low-ranking officer in the army. One day, he saw a pretty girl walking around the army camp. She was visiting her elder brother, who just happened to be HIS senior in the training camp, and that brother sure didn't make it easy for Damien's dad. 
"My dad is swept away with my mother's smile (though she confessed that she never did smile to him, she didn't even realise his existence!). My dad had to wash my uncle's laundry and polishing his boots for months just to gain his trust to get mother on a date!" – Damien
That date turned out to be on a bus, with her brother (Damien's uncle) in the seat directly behind them. Thankfully, it all worked out, and they've been together ever since.
4. To get her a date, her mom submitted her photo to a magazine
When Zahrah's mom was just 15, she was living in poverty with her grandma in Batu Pahat, Johor. Her own mom had already been married off, so they were looking to find her a husband, spit-spot. On the year of Malaysian independence in 1957, they submitted a picture of her to a fashion magazine to help her find a match. At the time, her father was an army man stationed in Singapore.
"Entertainment for the men then would be to look at pictures of the ladies in the singles section of the magazine. While flipping through, he saw my mom's picture and thought hers was the prettiest of all the pictures in the magazine. " – Nor Zahrah Saidon
He fell for her, and through the contacts section in the magazine, tracked her down and asked for her hand in marriage. The first time they met was actually during the wedding ceremony, and she was understandably hesitant, but against all odds, they lived happily together, with Zahrah and her two brothers, until 51 years after that photo, she sadly passed on.
5. They worked together at a gas station for 8 years, and the unexpected happened
As soon as she reached the working age of 18, Aisyah's mom got her first job working at a gas station in KL. The station was owned by a divorcee of Pakistani descent, 20 years her senior, and with two kids from his previous marriage. This wasn't a story of love at first sight, but of a mutual reliance built over YEARS.
"He came to rely on my mom a lot, teaching her how to run the gas station, manage the books, and handle the employees. Her presence in his life later expanded to the point where she was helping HIS family with grocery shopping, sending his mother wherever she needed, and taking care of his kids (my step brothers) one of whom was diagnosed with childhood diabetes." – Aisyah Awan
Blink and she was 26. After 8 years of working with him, learning from him and growing closer to him, she took him aside one day, and surprised him with… a proposal.
"I don't think you'll be able to take care of your kids and your family, while running your gas station by yourself without any help. So we should get married, so that I can help you with all of this" – Aisyah's mom to her dad
A proposal which he thankfully accepted, and they've been living happily together for the last 30 years until sadly, he passed away just last year.
6. To find a wife, he had to suggest a new column to an international magazine
So apparently, magazines were the Tinder of the old days. In this particular case, Fiona recalls that her dad from Ireland was a big fan of Movieland magazine, at that time one of the biggest entertainment magazines in the world. However, he noticed that they didn't have a pen pal section, so he suggested it, and amazingly they agreed!
With a new-found way to communicate to people all over the world, he made new friends everywhere from France to Malaysia. One of these pen pals was Fiona's mom, who lived with her grandparents in Ipoh, and would ask her younger sister to help post her letters to her penpals. After months of writing to each other, Fiona's dad decided to visit Malaysia.
"He had planned to visit my mother, so after travelling through KL, he went to Ipoh and surprised her. My mother and her family where shocked.. she had lived at home with 5 other sisters and 3 brothers, many of which where married off at that time but they where all curious when meeting my father. After they did get to know him and trying to understand his Irish accent, they thought it was okay for them to get married." – Fiona
But of course, they had to do their due diligence on this guy first – so they called his priest in Ireland to clear him of any criminal records and previous marriages. In December of 1984, they got married, packed their bags and moved back to Ireland (fwah cepatnye). 6 years later, Fiona was born.
After more than 30 years in Ireland, they came back to Malaysia for retirement and live here to this day.
7. The good ol' fashioned knight in shining construction hat routine
Huiqi's parents were considered late bloomers in those days. Her dad was a contractor, former insurance agent in his 40s, and her mom was a hardworking secretary former sales girl in her mid-30s. Both were shy, and never dated much, pushing away advances and 'introductions' from their friends and family.
Deep inside, her dad wanted someone attractive that could help with his business, while her mom wanted someone that wasn't just attracted to her looks. Uh oh.
"The introducer was my aunt's ex-husband. It was like a blind date kinda thing with my aunt and him around. My dad's the quiet type so he couldnt really make conversation. But he sure thought my mom was amazing tho, cuz she's a talker." – Huiqi.
Huiqi recalls that they might have exchanged numbers after that date, but that was it. And for a few months, like their previous non-romantic encounters, nothing happened. However, one fateful day while  driving to work, Huiqi's mom's car got a puncture. Stranded alone on a highway in our tropical weather, she didn't know who to call for help.
"And then it clicked "Ah Ooi is a contractor! He'll know what to do." So she called him and he rode on over on his motorbike from work. He was still sweaty and was wearing his yellow hard hat. She calls him her hero everytime she tells me this story." – Huiqi
Shortly there after, they went for a park date, with her two parents apparently linking pinkies as they strolled around. Like a cute little promise, they were married shortly after and have been for the last 21 years.
Whoah. Would any of these work today?
Pretend to be ghost, call EVERY chew, fix TYRE!? WAH LAU! Youngsters these days really lose to uncle aunty wei, in terms of sheer romantics. Or do they? Please make sure you are under-40 before answering the following poll.
Yep. That's what we thought. Think you're more romantic than the elder generation? Prove it to us in the comments, and who knows? Maybe we can do a follow up article for next year. How Durex? Can ar can ar can ar?