DONG DONG DONG CHANG! It's almost CNY time my dudes, which means food, ang paos, family, and oh did we mention food too? Yay!
That being said, it's not always rosy when it comes to CNY. For a lot of us, our hometowns and relatives are miles away, sometimes in different countries too. As such, here's a quick community message for those of you travelling:
AirAsia not only wants you to travel safe, but travel with a full tummy too. Most of us don't really look forward to in-flight meals, but AirAsia is the exception – we've even covered their in-flight meal prep process before in a previous article which you can check out here. And as part of their exclusive in-flight menu Santan, AirAsia has launched a limited time only CNY Golden Butter Chicken combo(!).
Available on AK flights by AirAsia and D7 flights by AirAsia X for RM13 and RM18 respectively, pre-booking the CNY Golden Butter Chicken combo gets you a meal of succulent, golden chicken chunks coated in creamy, buttery sauce served with jasmine rice and something extra for this festivities too! You can only pre-book it from now till 17 Feb, so y'all better get ready to grab yourselves this limited time meal from AirAsia!
But here's where it gets special. There's a little sweet something AFTER the meal….
FIVE sweet and tangy, delectable pineapple tarts – and OMG check out that golden brown crust! These yummies with the crisp and flaky exterior but warm and sweet fillings (can't stop at just 20, must have moarrr) have been around in Malaysia since any of us can remember.
And while you cinas might think that pineapple tarts are mostly just a Chinese New Year thing, we found that….
Pineapple tarts are also part of ….Hari Raya and Deepavali!?
To be honest, sometimes we're so caught up in our own culture that we don't realise what's going on with others. We actually were surprised to learn that EVERYONE thinks pineapple tarts is part of their tradition!
According to the journalist Surekha A. Yadav, the pineapple tart that we know and love can be traced back to the Nyonya people. That kinda makes sense when you think about how multifaceted the pineapple tart really is – from the western styled buttery pastry to the spices and pineapple in the jam that come straight from the tropics, the pineapple tart isn't just a symbol of muhibbahness, it literally is a sweet and delicious result of different things mixed together. And Yadav notes that it's almost always on trays of kuehs at every major festival around the region.
"Chicken rice is nice but it's Chinese, roti prata is unquestionably Indian and nasi padang well that's Malay but pineapple tarts belong to everyone and we all agree they are special," – Surekha A. Yadav, journalist, as quoted by Malay Mail
Funnily enough, that's not the only type of pineapple tarts around. Indeed, the very first known published recipe for pineapple tarts aren't from Malaysia or even the region, but instead comes from 18th century… England? Yep, back when pineapples were called 'ananas' and 'pine-apples', Richard Bradley's 1736 book 'The Country Housewife and Lady Director' lists down a recipe for the Tart of Ananas, and added that it was a Barbadoes-inspired dish.
"Take a Pine-Apple, and twist off its Crown: then pare it free from the Knots, and cut it in Slices about half an Inch thick; then stew it with a little Canary wine, or Madera Wine, and some Sugar, till it is thoroughly hot, and it will distribute its Flavour to the Wine much better than any thing we can add to it. When it is as one would have it, take it from the Fire; and when it is cool, put it into a sweet Paste, with its Liquor, and bake it gently a little while, and when it comes from the Oven, pour Cream over it (if you have it) and serve it either hot or cold," – Richard Bradley in 1736, as quoted by The Old Foodie
Okay so maybe it's not exactly the same type of pineapple tart laa, seeing as our pineapple tarts don't normally have wine or liquor or cream #ihatecilisos. But hey, if you do have those ingredients then by all means try it out to relive the foods of the 18th century. Then again, if you don't want to go thru all the hassle, why not celebrate CNY and muhibbahness with AirAsia and their new Santan CNY Golden Butter Chicken with Pineapple Tarts. As mentioned earlier, it's available for just a limited time so better get it quick yeah.
Remember those old jokes about airplane food? They are getting harder to make these days as Santan has been developing in-flight menus that you will actually want to eat, and we know cos our Sosboss thicc abit dy #plsdontfireme. You can click here to check out the rest of the meals available to pre-book showcasing the best of local, Asean and international favourites!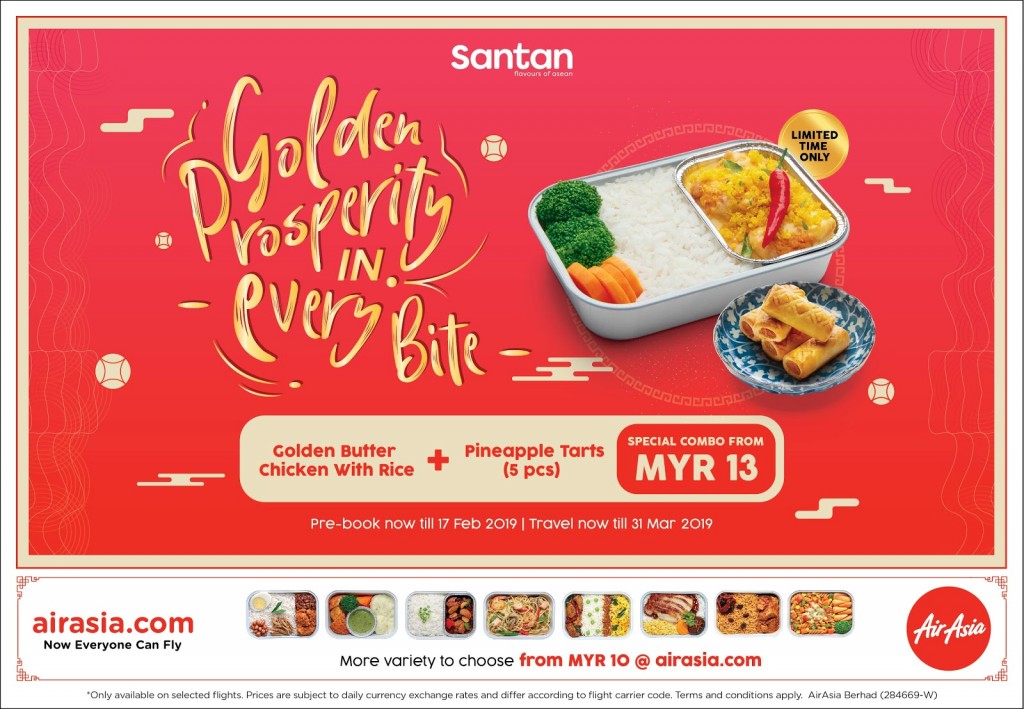 With up to 9 meals available from just RM10 when you pre-book, enjoy local classics such as Nasi Kandar with Chicken Varuval, delicious Roasted Chicken with Pesto Cream Sauce (guaranteed hit with kids), to the lean, green and mean Vegetable Rice Bowl. Different destinations will also have their own localised menu making your dining experience in the sky more tantalizing. For instance, if you're heading to China, enjoy localised meals such as Sweet & Sour Lychee Chicken or Mapo Tofu with Rice or when you Eat, Love, Pray to the incredible India, you can opt for the Chicken Tikka Masala with Garlic Naan or Pumpkin Kootu and Vegetable Jalfrezi with Jeera Rice.
If you're the indecisive type, you'll have plenty of time to pre-book your meals from now up to 4 hours before scheduled departure compared to the previous 24 or 48 hours too!
So yes, you can now eat those pineapple tarts guilt-free in the knowledge that you're promoting unity among Malaysians everywhere #excusetomakan. Safe travels, and Happy Chinese New Year!