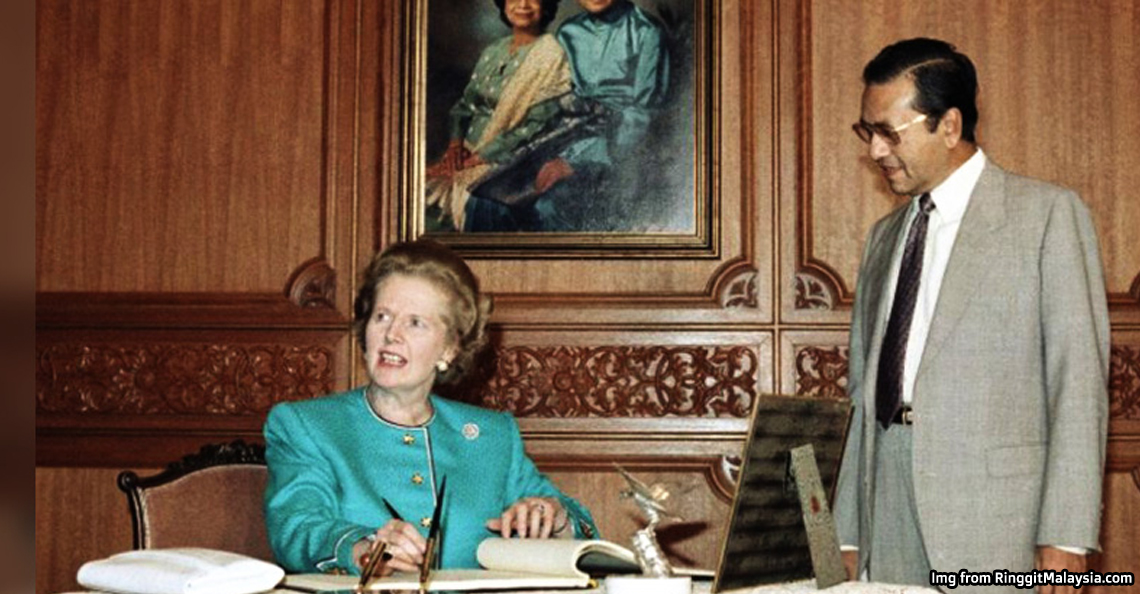 [Artikel ni asalnya ditulis kawan-kawan kami kat Soscili. Kalau nak baca artikel ni dalam BM, klik sini!]
Right now, there have been a lot of talk about the Buy Muslim Bumiputera First (BMBF) campaign. Some had said that it's an effort to boycott non-Muslim products, and in response to the issue, the Prime Minister Tun Dr Mahathir had said that boycotting products not made by Muslims is the action of shallow people. But the part of the campaign about boycotting non-Muslim products had been denied by many who said that the goal is actually to ask consumers to prioritize Muslim products.
Whether or not this boycott has any basis or effect will remain to be seen, but today we'll be looking back at a nationwide boycott campaign that happened 38 years ago, when Malaysia boycotted a prominent world power through a campaign known as Buy British Last (BBL). And this happened in the early 1980s, when…
British tuition fees and their NEP meddling irked Mahathir
Interestingly, this policy happened barely a month after another Malaysian economic move against the British, the Dawn Raid that stole back a plantation company named Guthrie. You can read more about the Dawn Raid through this link, but the Buy British Last may have been a separate issue, happening due to different reasons.
The first reason for the boycott was a sort of 'pilih kasih' increase in Britain's tuition fees. Back then, it was common for Commonwealth countries (including us) to send their people to Britain for a higher education. Many of our own leaders and government officials from the period between independence and the 1980s had a British education. But what happened after 1980? Well, Britain decided to abolish the tuition fee subsidy for foreign students, except for those coming from countries party to the European Economic Community (EEC).
Since Malaysia wasn't a party to the EEC, the Malaysian government then had to foot the significantly-higher tuition fees for some 17,000 Malaysian students it sponsored. Dr Mahathir, Prime Minister at that time, appealed for Britain to give the same treatment to Malaysian students, but the appeal was rejected, and Malaysia was asked to send their students to cheaper countries. Britain's response irked Dr Mahathir.
"Tun Dr Mahathir felt that Britain did not appreciate all of Malaysia's contributions to Britain's economy through tuition fees and the spending by Malaysian students in Britain." – translated excerpt from a UKM journal.
Besides that, British had also then sold the Dunlop Estates to Multi-Purpose Holding owned by MCA. This also irked Mahathir, as he saw this as Britain's lack of support for the New Economic Policy (NEP). The sale according to Mahathir greatly boosted the economy of the Chinese, further widening the economic gap between the races.
There was also the issue of British media painting Malaysia in a negative light, accusing Malaysia of marginalizing the Chinese and Indian communities in terms of economy and education… which also irked Mahathir. Actually, it seems safe to say that Britain itself irked Mahathir.
One of the main differences between Mahathir and his predecessors was that he never received a British education, and so have no inclinations towards Britain. Furthermore, it was said that the first time Dr Mahathir went to Britain was in 1983, for a meeting with Margaret Thatcher to discuss the BBL issue.
Based on Dr Mahathir's writings before his tenure as PM, it can be said that he didn't think too highly of the British, as he saw that Malaysia, to the British, was a country still not fully independent.
"Tun Dr Mahathir had rejected the Western perception that saw themselves as the saviour of the human race. According to Tun Dr Mahathir, the perception was a remnant of their colonial days can is no longer suitable to be applied after Malaysia's independence." – translated excerpt from a UKM journal.
So when British looked down on Malaysia and did as they pleased – like abolishing subsidies and letting their media belittle Malaysia – Dr Mahathir took a drastic step by launching the BBL. Actually, the decision behind the BBL policy wasn't even discussed in the Cabinet, being a direct decision of Dr Mahathir.
Wow.
Buy British Last: the boycott that threatened British economy
Like many things in Malaysia, the Buy British Last (BBL) policy had been one of the many things that came during Mahathir's first tenure. Specifically, on the 2nd October 1981. In general, the aim of the policy is to present almost all goods and services from Britain as a last choice for consumers.
In this way, Britain will have to compete with investors from other countries for contracts, tenders and market share in Malaysia. So at that time, Dr Mahathir had commanded for all ministries and government agencies/bodies to find alternatives to Britain as their suppliers. All proposals that had anything to do with Britain had to be referred to the Prime Minister's Office first.
This policy may seem like Malaysia was deliberately trying to pick a fight with Britain, since after independence, we had always been a close ally to Britain and gave them priority in many matters. While Malaysia had only been a small country with little influence at that time, the BBL had seemingly managed to put a dent in Britain's economy.
"…the reactions shown by Britain's Prime Minister Margaret Thatcher, British officials, and their traders, had shown that the Buy British Last policy had affected British's interests in Malaysia." – translated excerpt from a UKM journal.
Besides reactions from British leaders and traders, their newspapers had also reflected their discontent over Malaysia's action. They had accused Malaysia of discriminating Britain's firms, which wasn't really a baseless accusation.
For example, there was a study that found that the loss experienced by Britain's companies due to the BBL to be £15.5 million within the first few months it was in effect.
"Anthony Kershaw, Chairman of the British House of Common Foreign Affairs Select Committee, had estimated the loss to be between £20 million to £50 million." – translated excerpt from a UM journal.
But the boycott didn't last for long…
Malaysia and Britain became friends again, after several meetings
Since this issue seemed to have went nowhere, and saying bad words about each other did nothing, the British started to look for a way to make amends with Malaysia and regain Dr Mahathir's favor. So in February 1982, Britain's Foreign Secretary came to Malaysia to meet up with Dr Mahathir.
British's High Commissioner to Malaysia, David Gillmore, had said that Britain will start to learn more about Malaysia, especially about the NEP. Britain had also expressed their willingness to compete with other competitors who were more aware of Malaysia's needs. Besides that, Britain had also approved a grant of £5 million to encourage Malaysian students to further their studies there.
"Britain had also increased technical assistance for the year 1982/83 to the Economic Planning Unit in the sum of £800,000.00 from the British High Commissioner in Kuala Lumpur." – Translated excerpt from a UM journal.
This finally led to an informal meeting between Dr Mahathir and Margaret Thatcher, Britain's Prime Minister, in March 1983. After his return, Dr Mahathir officially withdrew the BBL policy on the 31st March 1983.
Malaysia managed to prove that small countries can't just be bullied
From what we can see, the BBL policy only lasted for 18 months, but it managed to change Britain's attitude towards Malaysia. And its impact wasn't negligible, either: the value of pound sterling fell to $3.40 at that time, causing Britain's goods to become cheap.
However, in 1994, Malaysia had again shunned Britain's goods and services, much like during the BBL policy. The reasoning behind that was Britain put forth various allegations regarding Dr Mahathir's leadership, especially regarding corruption.
The effect of that had been billions of pounds in loss suffered by British companies, and almost 25,000 Britons lost their jobs. This issue forced Britain's Trade Minister, Richard Needham, and 20 British traders to embark on a four-day trip to Malaysia, to talk some sense into Dr Mahathir.
"Needham told the media that he was willing to travel back and forth 40 times from Britain to Malaysia to ensure the contract embargo for British companies will be terminated as soon as possible." – translated excerpt from a UKM journal.
Finally, the Malaysia-Britain relationship improved and the embargo was lifted. As a result of the BBL policy and the 1994 embargo, the world's eyes were opened to the significance of a small country named Malaysia.