History
Politics
Dr M wanted to leave Pakatan in 2017, but someone unexpected convinced him to stay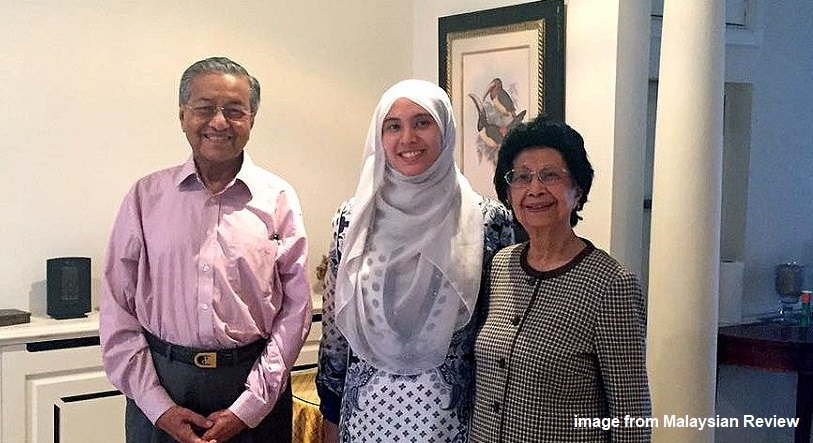 Many of us would have heard about Nurul Izzah resigning from her top posts earlier this week. But when we dug a little deeper, we found out that she played a crucial role in Malaysia's political history when she and Mahathir had a meeting that changed Malaysia's fate forever (well, so far).
The revelation came from Oriental Daily's interview with DAP strategist Liew Chin Tong in May this year. When reporters asked Nurul Izzah about this, she initially didn't wanna give the deets, although she mentioned in her Facebook post that any meeting would touch on saving the country. But in June this year, she finally spoke about it.
"I think my mission at the time, my purpose was to ensure the coalition remained intact, and to do so we needed to ensure there were compromises, and several degrees of engagement." – she told Malay Mail.
The Raya meeting that led to the naming of Anwar as PH's de facto leader
Liew told Oriental Daily that, before Mahathir left to London for Raya in July 2017, Mahathir wrote a letter to PPBM president Muhyiddin to withdraw PPBM from PH, because of disputes over PH's leadership structure and the inability of PH to agree on something.
"We are still discussing among ourselves before we can come to a consensus by all four parties." – Wan Azizah told reporters in June last year.
The leadership structure and names of PH's office bearers were needed for PH to register itself as a party under the Registrar of Societies (ROS), which would allow PH parties to contest under the same logo in GE14. Since PH's disputes were partially behind the delay in registration, Nurul Izzah met up with Mahathir in London to convince him to stay with PH and help lead it in the right direction.
We couldn't find out how she got to know about Mahathir's letter but it's clear that it was a successful meeting where they managed to work on an agreement.
"I assured Tun Mahathir we could work together on a possible agreement, and that Malaysians were looking to us to unseat the Barisan Nasional government… I told him that I felt that a Tun Mahathir outside the coalition just wouldn't work. The rest, as you say, is history." – Nurul Izzah said.
As a result of this meeting, PH named Tun M as PH's chairman, Wan Azizah as PH's president and Anwar as PH's de facto leader at its press conference on 14th July 2017, which led the way to PH's successful electoral campaign.
Despite its success, one of the members sorta begged to differ becos.. the meeting was casual?
Turns out Azmin Ali still had doubts about having this one on one meeting for political discussions because he thought that these meetings must not be held on an individual level. He added that there are no restrictions on who can meet Mahathir even when he's overseas.
"

Anyone can meet Mahathir

but discussions must be done

in the Harapan spirit and not as individuals

. Maybe, Nurul Izzah just went there

to spend Hari Raya with Mahathir

. I don't know but

I don't think they did (discuss Harapan)

. Discussions about policy and direction of Harapan

must be discussed at the Harapan leadership council

."-

Azmin Ali
"There are many parallel

meetings at various levels

that have moved towards this particular positive outcome. Meetings have been done and it's work in progress." –

Rais Husin
Initiating an alternative path of Malaysian history with a small dialogue
Despite having a delay in registration (apparently due to a lack of info from PPBM's side) and finally being registered in May 2018, the London meeting helped in bringing the pact together. Even Azmin said it was good that many parties were finally realising Mahathir's role in their mission to save Malaysia.
"The meeting between Nurul and Mahathir in London was a historic meeting that turned around the whole scenario. After the Harapan leadership talks were done, the whole political atmosphere was different." – Liew Chin Tong.
The journey for the former opposition coalition has been filled with a series of events that eventually led to its victory in GE14, with the London meeting being the turning point for the pact's leadership.
Malaysians then came to call the new governance Malaysia Baru, where changes, that many may not have seen here in the past 61 years since Merdeka, took place after the power switch (like the news stories we've never seen on mainstream media before GE14 which we've covered in May). And while the PH govt has yet to fulfill its manifesto promises, who knew that a small meeting between two people could change things for millions of others?