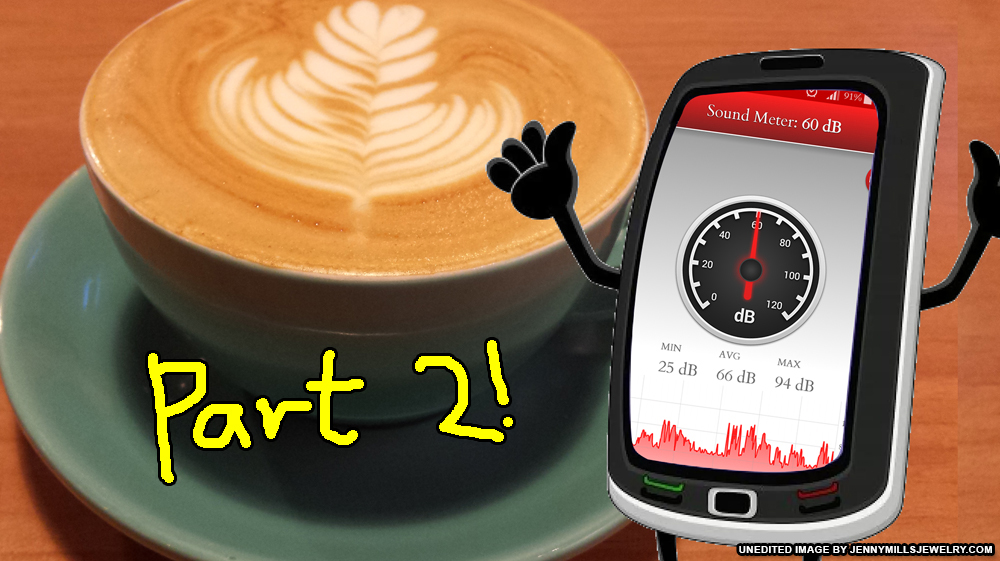 Chup. Let's take a break from all the Bersih and Himpunan Maruah Melayu stuff and do something fun and UN-CILISOS like!
If you've been following us for a while now, yes, CILISOS is actually writing a cafe review. But y'know what, it's not our first. We not kidding you, check out Part 1 of the cafe reviews here.
Some of ugaiz may be a bit shocked cos we normally don't do stuff like these, but instead of looking for yet another overpriced, brick-exposed hipster cafe with ironic names, we've decided to review current fan favorites according to… their SOUND LEVEL!
Cos y'know, in this day and age we're finding more ways to work outside the office, so some of you may wanna get the best place to prop up your MacBooks to efficiently work on your stuff. Or not. Or maybe we're just finding excuses to have coffee in the name of work. But before we go on, you should know…
Methodology: CILISOS intern to visit 5 popular cafes on weekends, from 5pm-6pm. Order coffee. Open Sound Meter app. Put phone on table. Record sound level. Record other interesting things about experience. Try not to look weird. 
For reference: 20dB- Whisper; 40dB- Quiet library; 60dB- Conversation; 80dB- Loud music; 100dB- Motorcycle; 120dB- Threshold of pain 
Ok, lesgo! Starting with the noisiest….
5. Rekindle, SS2 (Noise Level – 87dB)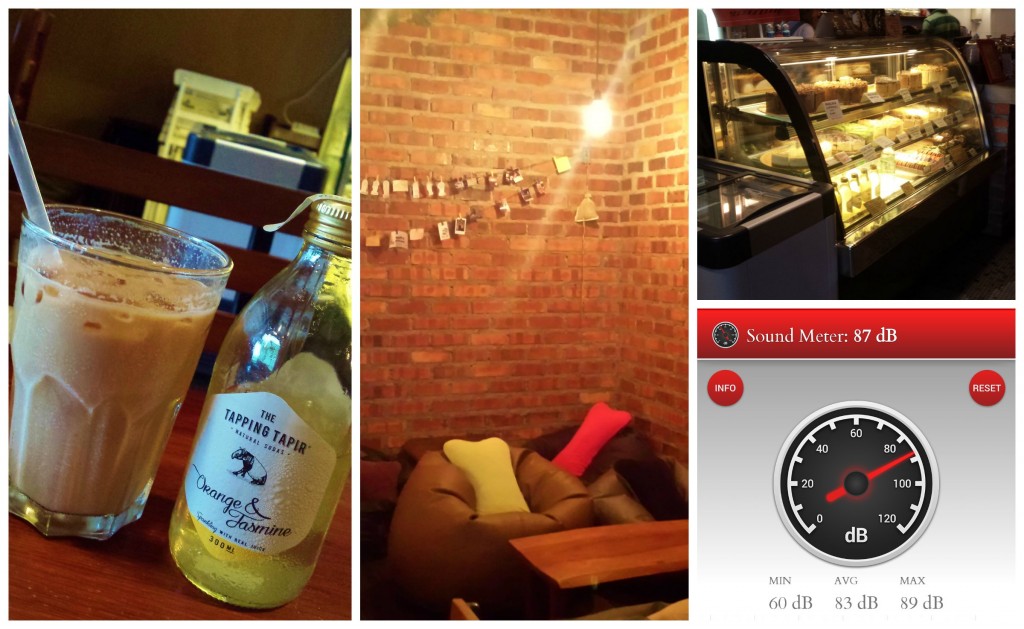 Amidst a row of ordinary looking shoplots, le random hipster café appears! It is everything you would expect and more. Ya know, an overall rustic and cosy atmosphere, poh poh's sewing machine converted into a cute table and a random bicycle for décor purposes. This cafe looks so comfy as well. You'll find none of that claustrophobic hipster nonsense going on. There are proper tables and chairs for working purposes but there is also a cosy beanbag area for chilling out with your homies.
And the coolest thing about this café? REAL brick wall design, which gives the café a Fort Cornwalis feel. This café is also pet friendly as a few doggies can be seen at the outside seating area. Rekindle is the noisiest out of the five as it was housing the Sunday evening pre-dinner crowd. For you workaholics with your lappies, drop by after 6.30pm for a nice cuppa and a quieter space to work.
What it's good for: Couples to rekindle (hehe) their love for each other? Really wan, the pun works! Cause the place is so cosy, has dim lighting and can snuggle on the beanbags.
Drink: The iced latte (RM11) had a good milk to coffee ratio which is makes for a tasty drink. Rekindle also sells the Tapping tapir soda series (RM10) so we decided to try the orange and jasmine flavoured one. It was delicious– light, citrusy and refreshing. For you non-coffee drinkers, please try these sodas!
Hipster level: Close to zero. Just your casual Malaysian weekenders. Even the people behind the counter were unhipster. Some swag could be seen by one dude with a snapback though. Also, some intellect can be seen by one guy reading Jim Collins' Good to Great (a business book, maybe in the field lor).
Laptops in sight: Few. 1 Macbook and 2 other lappies.
Selfies spotted: None.
On the speakers: Acoustic pop rock mostly. [Shazamed: Philip Philips – Home]
Get there: Jalan SS2/64, Petaling Jaya. It's along the same row as Pelita and Guardian. Check out their Facebook page here.
4. Strangers at 47, Seksyen 17 (Noise level – 83dB)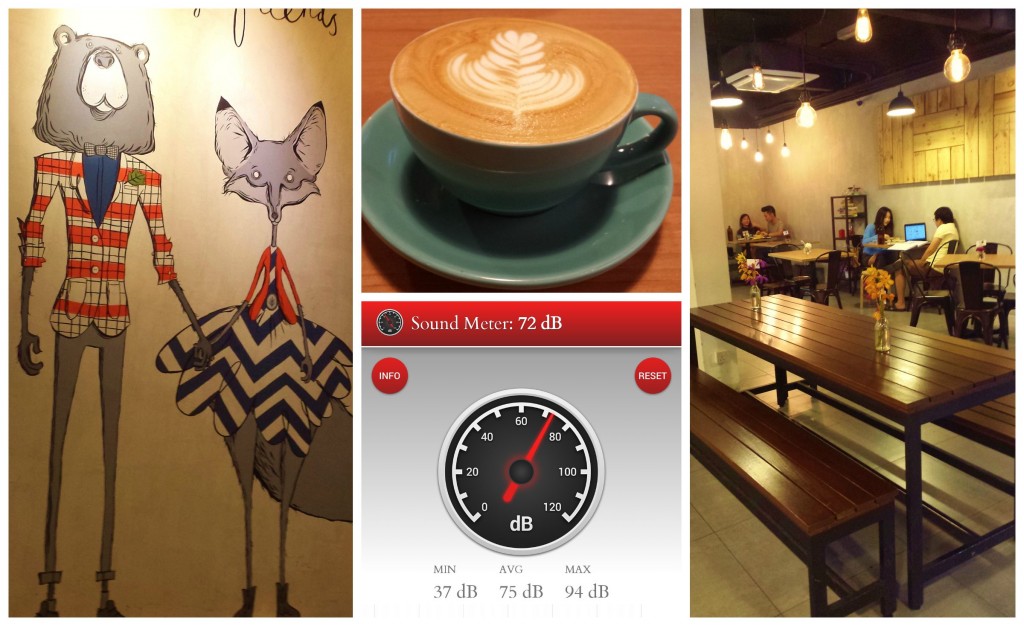 This cute establishment shares a row with other artisan eateries like Jeq in the House and The Humble Pie. One thing we liked about Strangers is how they made use of their space. The bar area takes up a tiny space in the corner making a lot of room for seating. Even though the café was crowded at the time, it felt spacious so you don't have to worry about banging chairs with the neighbouring table and all that.
How to do work in such a crowded café? Not to worry, there's a quieter section at the back and plenty of plug points to charge all ye gadgets. Strangers is no stranger (oh dear) to the typical hipster café interior with grey painted walls and wooden furniture. Eh, how come got no colourful hipster cafés ah?
What it's good for: Having high school reunions and catch up sessions. Got those long tables like in the canteen last time so you and your whole crew can sit nicely mah.
Drink: We ordered a flat white (RM9) a cappuccino (RM9). Although they looked pretty in their colourful cups, they tasted kinda weak. What's the point of drinking coffee without any oomph right? Just for kicks, we tried out Adam's Sin (RM11) which is a crepe desert with apples and ice cream. Presentation was fantastic but the crepe was a bit undercooked. Goes to show that food doesn't always taste as good as they look.
Hipster level: Quite low. The patrons were mostly your neighbourhood urbanites chilling out. The most hipster thing about the café is the mural of a hipster bear-fox couple on one of the walls.
Laptops in sight: Only one. Dunno why the guy brought laptop also, happily eating cake ni.
Selfies spotted: None.
On the speakers: Pop. [Shazamed: A Great Big World and Christina Aguilera – Say Something]. This is the most depressing love song ever, more rancak can a not?
Get there: 47, Jalan 17/45, Petaling Jaya. Go straight to their Facebook page here.
3. OJO Coffee, Bangsar Baru (Noise Level – 79dB)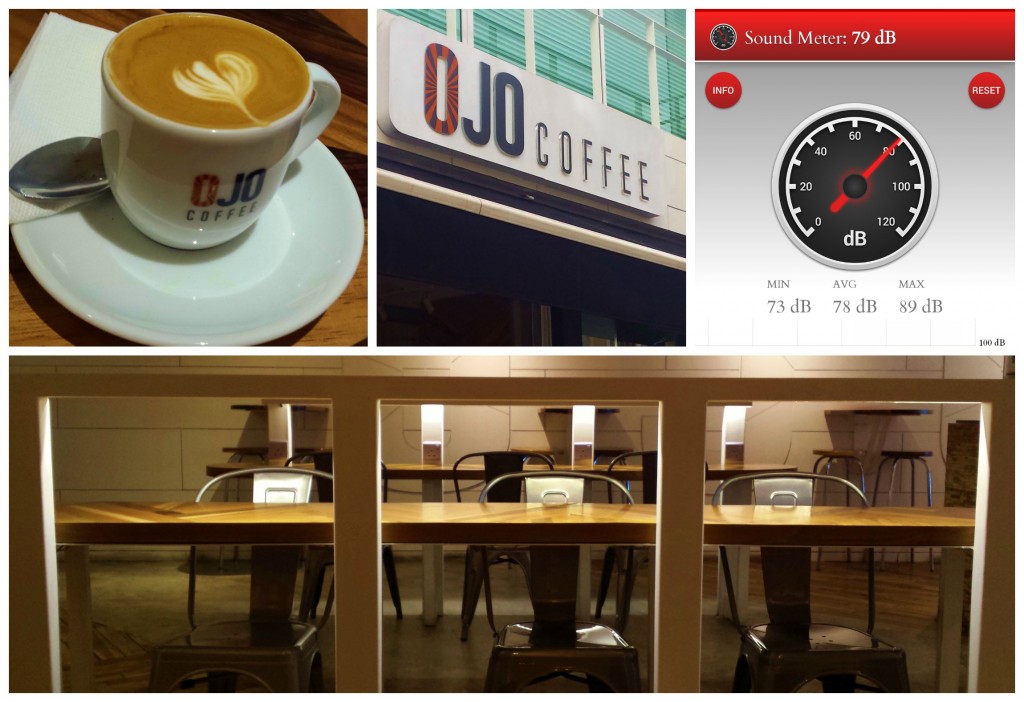 Welcome to the trendy F&B hub of Bangsar Baru. Cafés and eateries here have a more atas feel to them instead of the cosy and rustic ambience of the usual hipster establishment. A perfect example of this is OJO Coffee, located along the same row as cafés like Ashley's and La/Pa. The interior décor is minimalist and clean, like showroom like that. Pairing with his décor is the white and brown colour scheme, which looks like many of Kim Kardashian's outfits.
OJO gives off such a sophisticated ambience that just sitting there makes you feel so professional and chic. And the place is made for getting your work done. It has specialised lighted workspaces with plenty of plug points for your electronic devices. For chilling out or reading, there are comfy booths and a bar top to feel like you're in James Bond movie. Oh, the cake servings are generous and the baristas are cute too. *wink wink*
What it's good for: Pretending to be sophisticated individual who can afford to makan in Bangsar, which makes a great place for business meetings. Also for looking at cute people.
Drink: The piccolo latte (RM10) feels like a coffee punch to the face. A perfect drink for those who like their coffee kao. We couldn't resist the red velvet cake (RM13.90) which came in a generous slice. The cake was dense and not too sweet, pairing nicely with the coffee.
Hipster level: Nada. Only sophisticated couples and friends meeting up for a cuppa. There was also a family with the dad looking like he was forced to go out when all he wants to do is watch tv at home. So funny. You won't find any hipsters here.
Laptops in sight: None.
Selfies spotted: None.
On the speakers: Soft Garage. [Shazamed: Llorca – Indigo Blues]
Get there: No. 23, Jalan Telawi 3, Bangsar Baru, 59100 Kuala Lumpur. They have a super cool website too!
2. Otherwise Café, Kelana Jaya (Noise Level – 72 dB)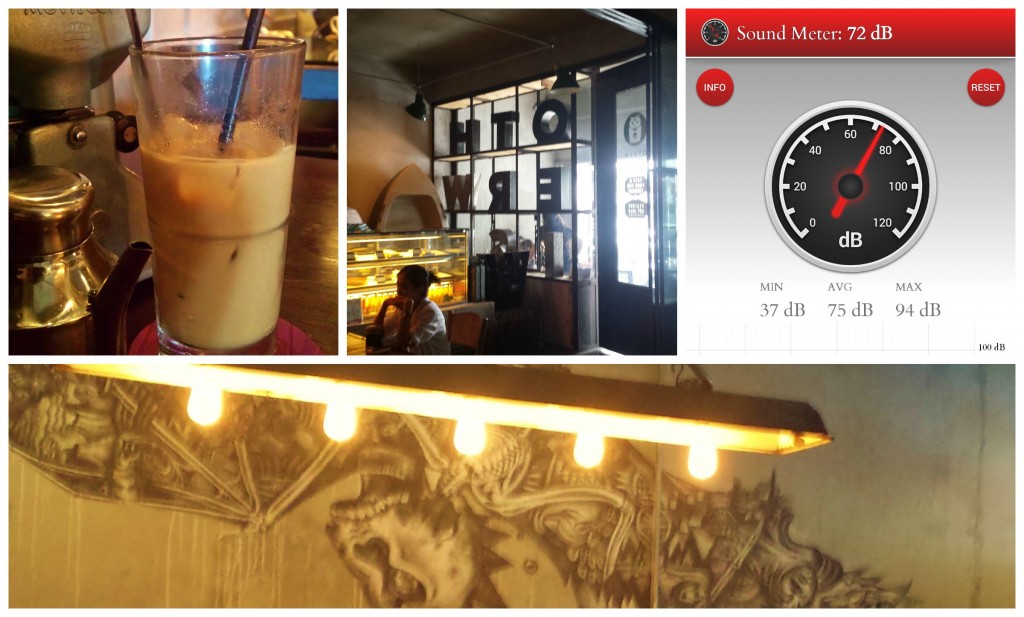 First off, we got lost around the housing area this café is in. Waze, y u do dis to me? Otherwise can be found in the most generic shoplot ever surrounding a playground. Damn secluded. Much quiet. If you see a bunch of hipsters chilling outside a particular shop, you've got the right place. A photography studio & salon during the day, this café is so niche and exclusive you can get heart palpitations.
The inside of the café is like nothing you've ever seen before. We expected to see Marilyn Manson hanging out with is buds at a corner table. Goths would feel so at home at this café. Simply put, the interior design of Otherwise is very vintage with a hint of steampunk. Behind the counter, there is a huge mural of a skeleton with a mohawk and wings. The basic hipster décor can also be seen here like sewing machine tables and old books but this place really takes it up a notch. There is an actual wheelchair as a seat (!!!) and a four poster bed which has been converted into a cosy seating area. Not quite sure how we feel about the wheelchair, but the bed-seat is unusually cool.
What it's good for: To get away from Ah Long cause this place is so hard to find, man.
Drink: We ordered the iced latte (RM14) cause it was a pretty hot day. The drink was refreshing and had a good kick but a bit mahal loh for the amount in the glass.
Hipster level: If we had brought a hipster meter to the café, it would break. So many quirky people! There were dreadlocks, yellow hair, vapers, movers and shakers.
Laptops in sight: None.
Selfies spotted: None.
On the speakers: Jazzy loungy piano music. Shazam cannot detect also.
Get there: No 6, Jalan SS4D/14 (Kelana Jaya), Petaling Jaya. Click here for their Facebook page.
1. Dal.komm Coffee, SS15 (Noise Level – 72dB)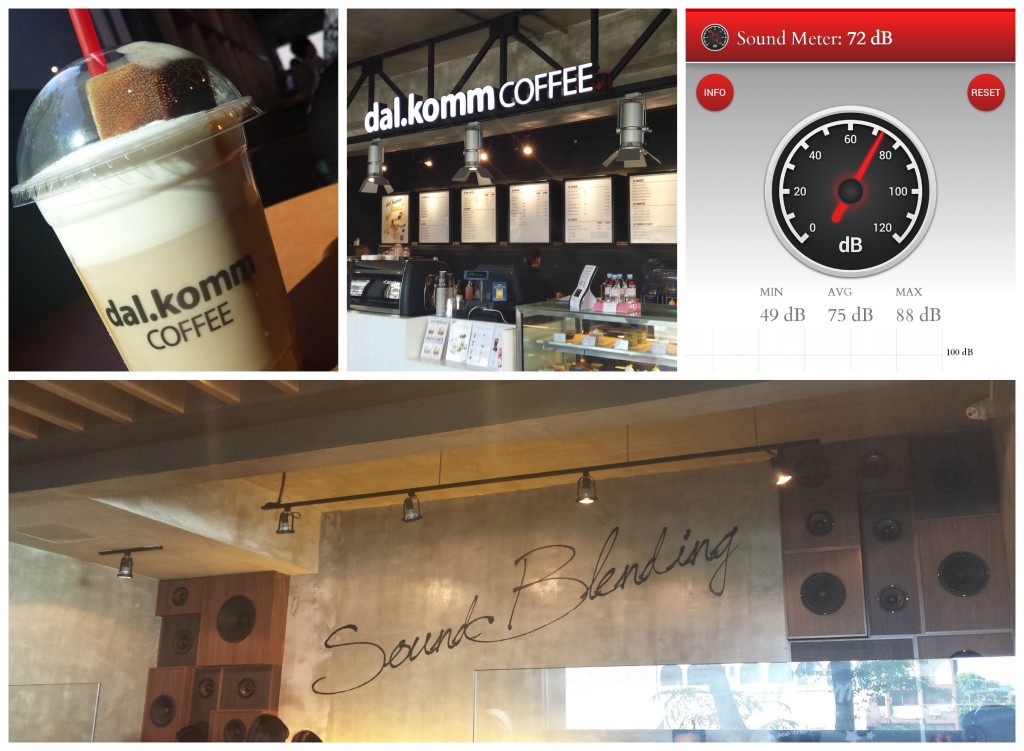 Tucked into the ever so happening SS15, this Korean inspired café stands out in a corner lot with its cute name and bold design. Dal.komm is actually a Korean café chain and has opened five branches in the Klang Valley so far. Five is many leh, I guess they know how giler Malaysians are about everything Korean. Anyway, the SS15 branch takes over two floors where ground floor is more for hanging out and upstairs provides a quieter environment to do work.
The big windows overlooking INTI College and Asia Cafe provide plenty of natural lighting so you don't have to strain your eyes when reading that novel or studying for that exam. Keeping with the hipster theme, there are floor to ceiling shelves filled with vintage memorabilia such as records and magazines. Dal.komm's tagline has to do with something called Sound Blending as they advertise the café as the place where music and coffee meet. Other than that, the décor consists of minimalist design and earth tone colours with hardwood floors and beams.
What it's good for: The good lighting makes it great for photoshoots. Asia's Next Top Model Season 4, maybe?
Drink: We went for the Cube, which is frozen coffee cubes in milk (RM 13.90). It was a bit too milky but had a good tang of bitterness from the coffee. The coffee cubes don't fully melt when the milk is finished though. This makes it a perfect drink to study with as it takes a few hours for cubes to melt so you can spend hours sipping and working.
Hipster level:  There was only one hipster couple in sight. The rest were casually dressed students in shorts and flip flops.
Laptops in sight: A million. From Macbooks to Asus to HP. Majority of the youngsters were finishing up assignments or studying. However, one dude stood out by playing DotA while girlfriend studies. No wonder there are more girls in uni these days.
Selfies spotted: None.
On the speakers: Rock music (indie, heavy, classic).  [Shazamed: Broken Bells – Holding on for Life]
Get there: No 6, Jalan Ss15/8, 47500 Subang Jaya. Opposite INTI College there. Their Facebook page and website here peeps.
So, after reading our reviews…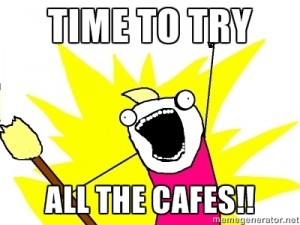 Now if you wanna curi-curi leave work to get a cuppa coffee and cake you have some places in mind already. Or if you and your friends find yourselves standing in the middle of a mall for ten hours figuring out where to go next, why not give one of the cafés above a shot (coffee pun, hehe)?
Anyway, happy café hopping and may the coffee be ever in your flavour!
(Eh, did we mention we wrote a Part 1 as well? =D)