You could probably work from your apartment but who's going to serve you a cup of A+ grade coffee to fuel your senses? We used Sound Meter Lite, an app that measures the highest, lowest and average levels, to capture the noise in five talk-of-the-town coffee hotspots at their busiest time (weekends from 3:00pm to 5:00pm).
The ABCs about Sound Meter Lite 
A – Ads are minimal, so it's really easy to pretend they don't exist
B – Best part about it? Takes a blink of an eye to load and use – just open the app and it'll do its job
C – Credible and relatively accurate according to many reviews. Get it on the Apple App Store or Google Play!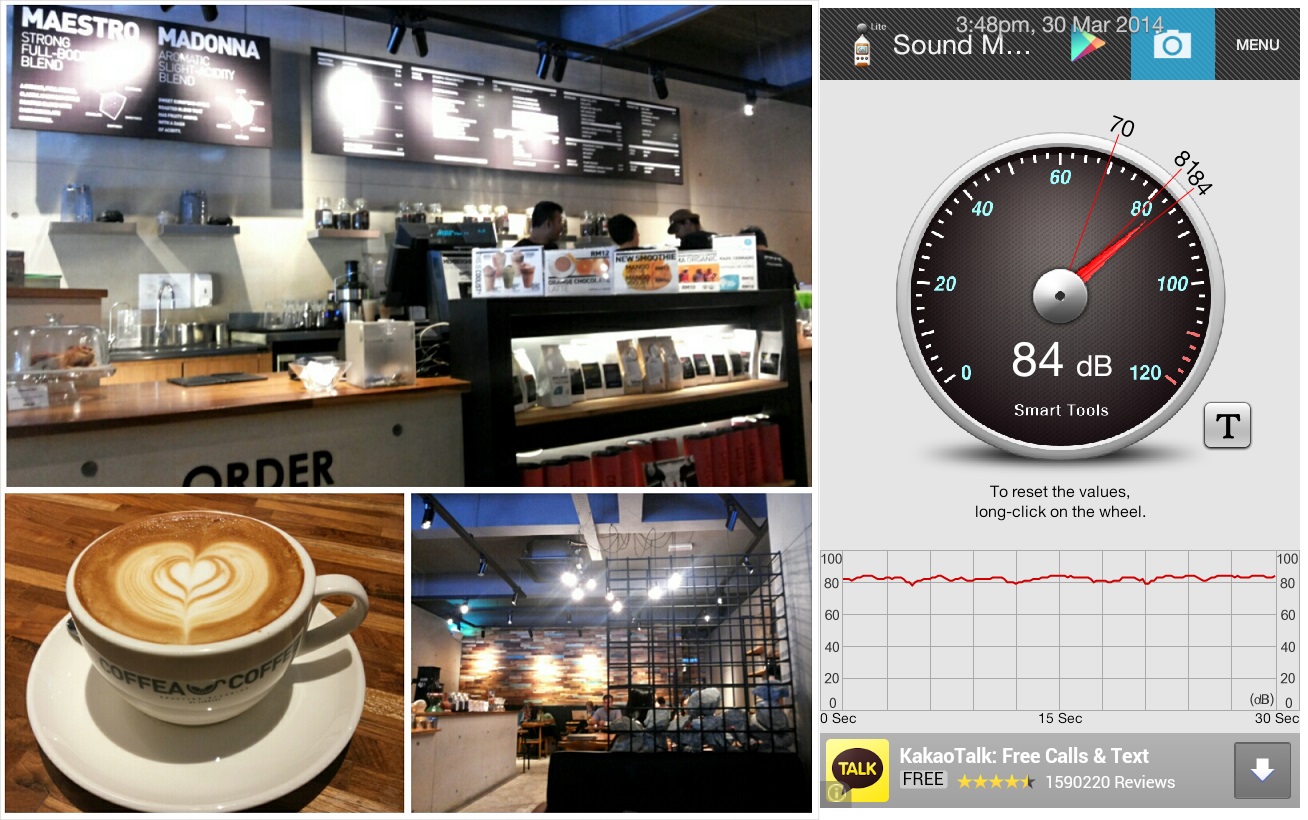 5. Coffea Coffee, Bangsar Baru (Noise level: 81dB – the noisiest!)
If you're wondering where the Long Island Tea-sharing Barsonic partygoers hang out in the day, it's probably right here. Forget neon Wayfarers – these kids are rocking Clubmaster frames and rolling up their jeans way above their ankles. Needless to say, you've got a handful of Morrissey haircuts but it was the fast-knitting expat lady that raised our eyebrows.
Between the 3.00pm-4.00pm window, it was so packed that unseated people had to get their coffee fix at a neighbouring cafe. Coffea Coffee is definitely not where you'd want to get your work done – trust us, there was a chick reading a Mitch Albom  at a corner who did NOT look comfortable at all. (Gurr, whatchu even doin?)
What it's good for: Breaking up – nobody would want to flip out with all the cool kids around
The drink: Between the Maestro (strong, full-bodied) and Madonna (fruity aroma) blends, we tried the Madonna for our cappuccino (RM10). Very smooth and it didn't give us a bitter ring, but perhaps we should've tried the Maestro for a stronger kick.
Hipster level: There were beards, and young men trying to grow beards. Go figure!
Laptops in sight: 2 MacBook Airs
Selfies taken: 0 at time of review
On the speakers: Soft Brit rock
Get there: 8, Jalan Telawi 2, Bangsar Baru, 59100 Kuala Lumpur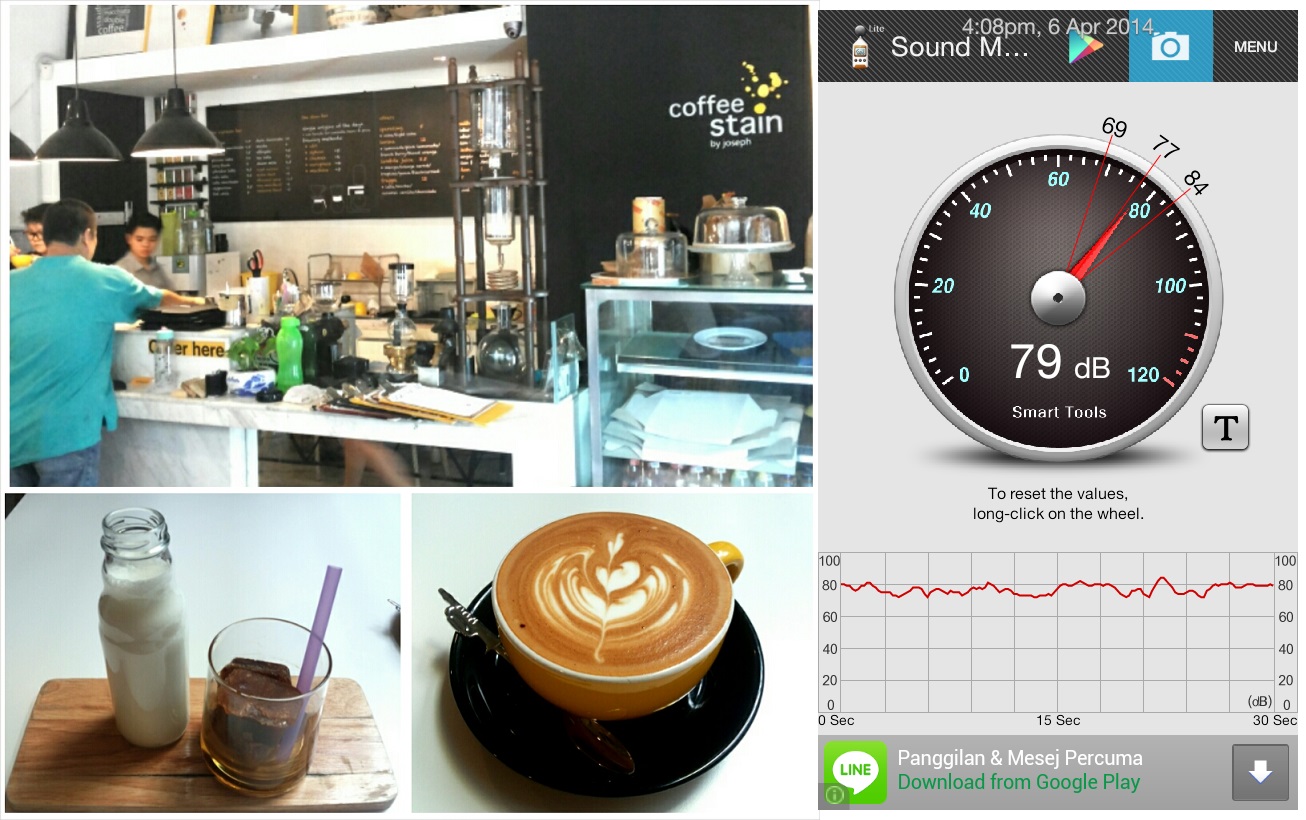 4. Coffee Stain by Joseph, Publika (Noise level – 77dB)
As one of the most popular award-winning cafes in town, Coffee Stain is said to consistently serve some of the finest espresso drinks. Damn right they do. Drinks are spot-on in terms of flavour, assemblage and presentation, and big windows that draw in natural lighting makes for a good #foodporn on Instagram. Perf!
However, this is not a place of zen and tranquillity. We were head-to-head with a few people waiting for seats, but our thick skins won us the last available table. As for the crowd, you'll see families with children, college group gatherings and lovebirds occupying the echo-y, mid-sized establishment. If you're looking for an unpretentious place to enjoy a cuppa, we know you'll love the bright, inviting presence of Coffee Stain.
What it's good for: Chilling with friends
The drinks: The cappuccino (RM8.50) was rich, intense and slid down our tongues very smoothly. The aroma was beautiful and it wasn't overshadowed by the natural sweetness of the milk. We also tried the Cool Cube (RM15.90) – warm skim milk poured over sweetened coffee ice cubes – and it. Was. The. Shizz. Try it!
Hipster level: Low; patrons visit in t-shirts, shorts and diamante FitFlops
Laptops in sight: 0 at time of review
Selfies taken: 2 at time of review
On the speakers: Upbeat pop music (think Avril Lavigne and Katy Perry)
Get there: D4-G3-01, Solaris Dutamas, 50480 Kuala Lumpur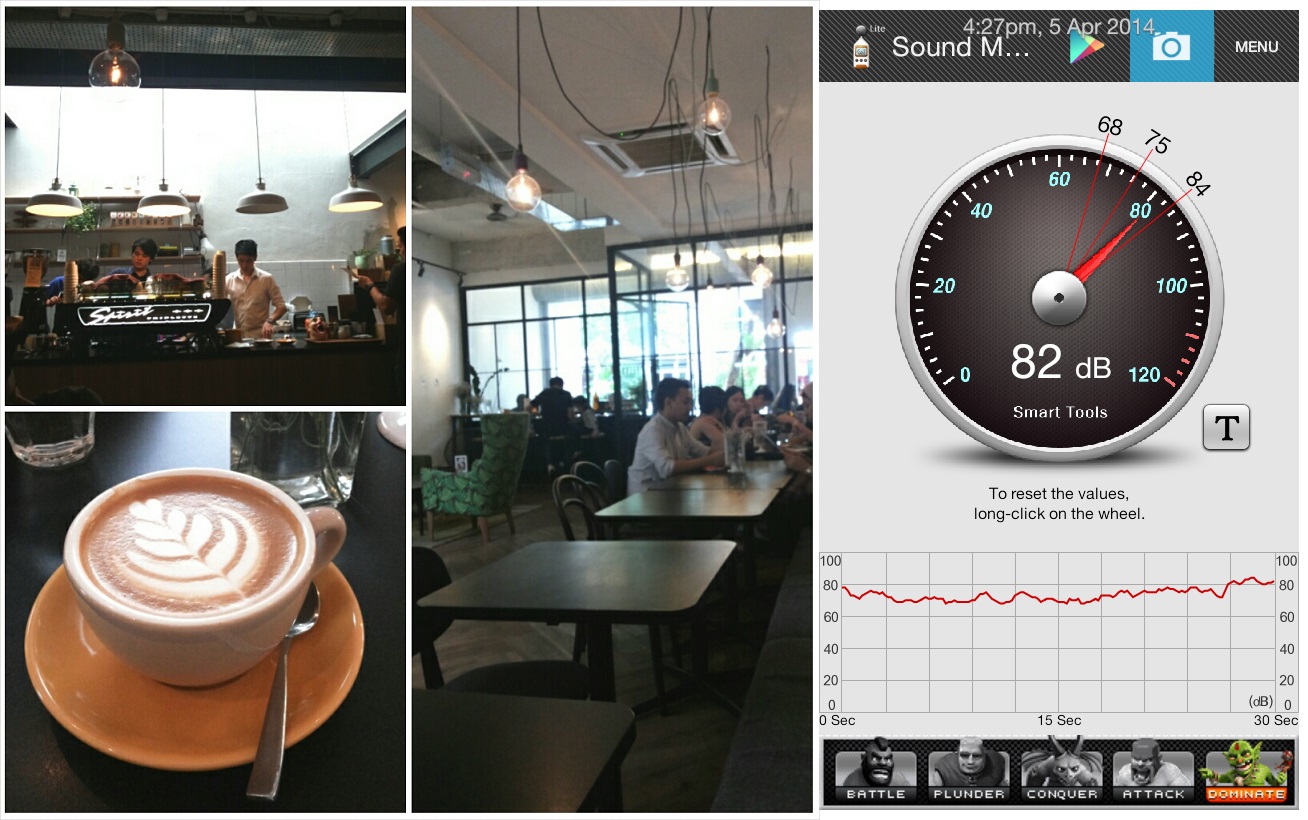 3. Feeka, Kuala Lumpur (Noise level – 75dB)
While this spacious spot may be relatively quiet on a Saturday afternoon, it's also dark, cosy and a little unfriendly. We're talking about you, you cold, moody, gloomy and absurdly good-looking barista. Did you know that it wouldn't kill to be nice to a customer in need of assistance? Nasib baik hensem.
That aside, expect a mix of street-chic fashionistas, expats and regular Joes to pop into the scene. Feeka also has a very nice breathing space so it's never too noisy. However, if you're planning to make this dim little number your makeshift office, bring a lamp.
What it's good for: Romancing
The drinks: Not that we're holding it against the moody barista, but the espresso in our cappuccino (RM10) was heavily overwhelmed by the amount of milk. Hey cutie, I didn't order a latte.
Hipster level: Higher than your mom's 90s jeans
Laptops in sight: 0 at time of review
Selfies taken: 0 at time of review
On the speakers: Lounge music
Get there: 19, Jalan Mesui, 50200 Kuala Lumpur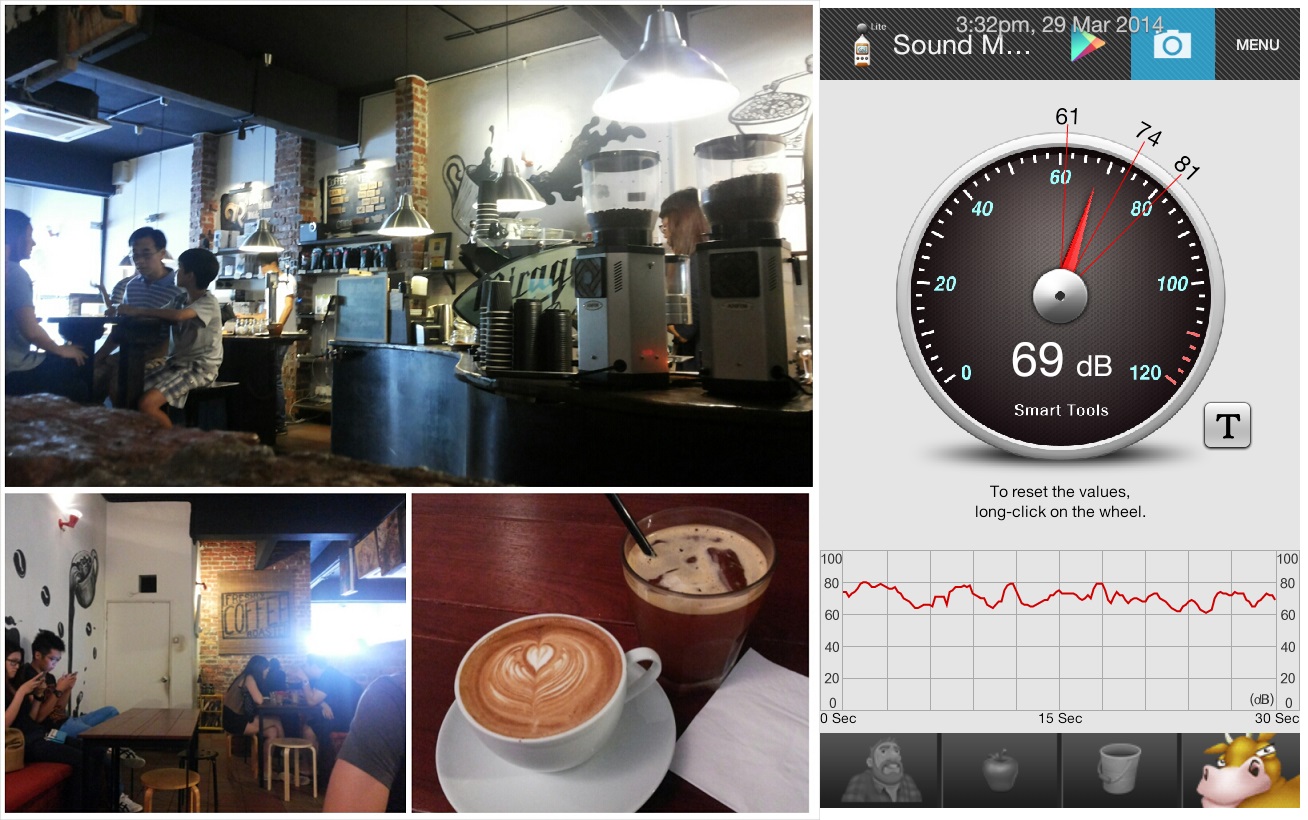 2. Artisan Roast Coffee, TTDI (Noise level – 74dB)
With such a commanding name, Artisan Roast Coffee sure has a lot to live up to. To put products and service aside, the crowd was a nice mix of young and old. This warm neighbourhood joint has got everyone's attention – aunties, uncles, babies and, of course, standard smartphone-tapping youngsters. It's barely empty on a weekend afternoon as their baristas tirelessly brew and craft drinks in their own race against time.
We won't necessarily pick this as the best spot for work, mainly because the lighting is so dim, but the seating positions – especially at an almost-communal section within – are a little unconventional.
What it's good for: Wooing that girl – you want a dark, cosy place with minimal space so you young lovebirds can close up on each other [TIP: Share the lemon curd cake while you're on a date. It's absolutely lovely!]
The drinks: The weight of the cappuccino (RM10) was heavy but smooth. Whilst it left a slightly bitter bite, we liked that the milk didn't overshadow the espresso. The iced red tea (RM10) was a sweet, refreshing mix of apple juice and tea. While we enjoyed every sip, we felt like it was something anyone could've whipped up at home.
Hipster level: Low; patrons visit in t-shirts, shorts and slippers
Laptops in sight: 0 at time of review
Selfies taken: 3 at time of review
On the speakers: Franz Ferdinand and the likes of it
Get there: 4 Lorong Rahim Kajai 14, Taman Tun Dr Ismail, 60000 Selangor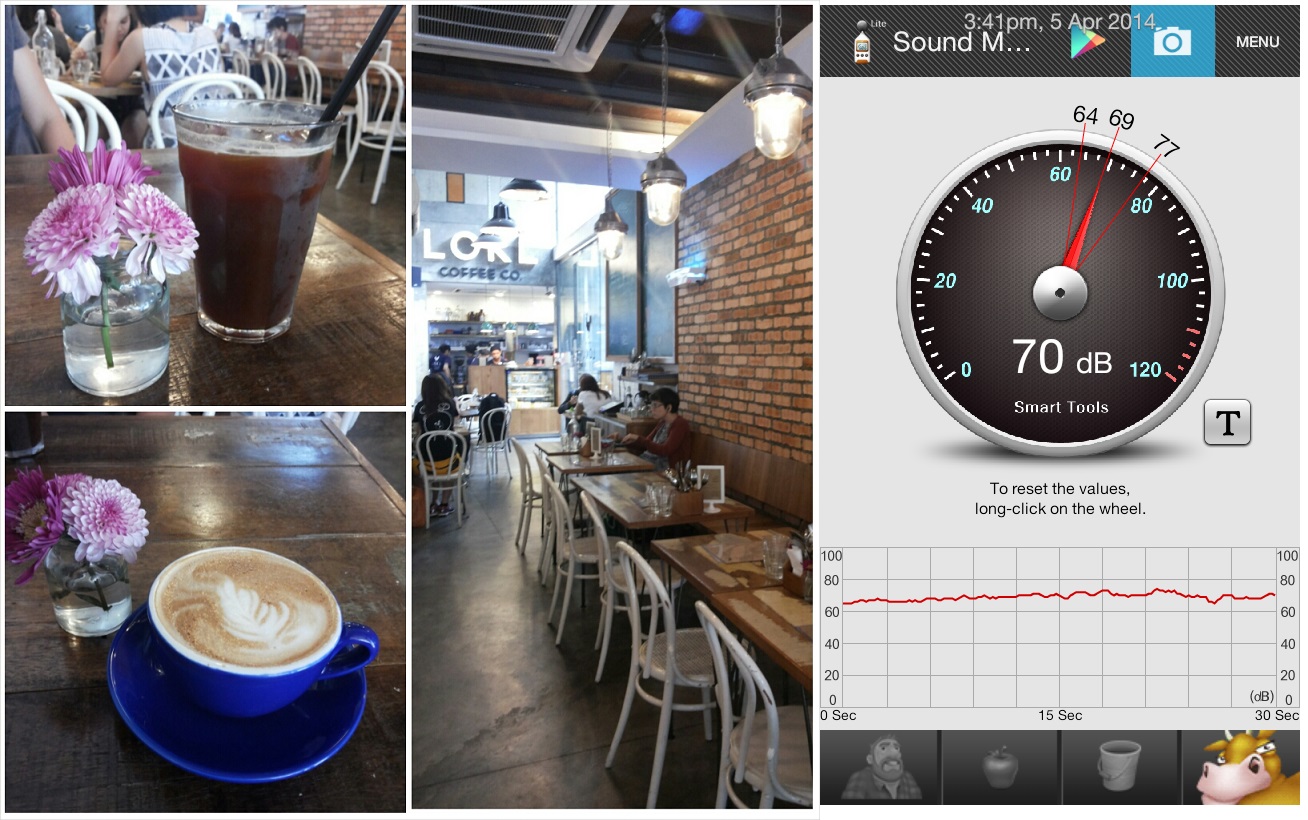 1. LOKL, Kuala Lumpur (Noise level: 69dB – the lowest!)
Tucked in one of KL's historical buildings, this quaint little café shares a space with Backhome, a modern-minimalistic backpacker's inn. With its brick walls, marquee lights, concrete floor and delicious F&B, it ticks all boxes to draw the crowd in. Why, even despite the many reviews and check-ins on social media, is LOKL relatively empty on a beautiful Saturday afternoon?
Perhaps it's because this hideout is a wee bit difficult to get to. If you're driving, you'll have to park at an open air parking lot on Jalan Gereja (we got charged RM5 per entry) or be a lawless douche by parking at the side of the main road. Once you've made your way, you'll be pleased with just how lovely this gem of a place can be. With sunshine streaming in from a sun well, LOKL is bright and peaceful – the perfect setting to get your MS Excel spreadsheet sorted out.
What it's good for: Getting your shizz done and soaking up some sun
The drinks: The cappuccino (RM10.90) had just the perfect espresso-milk-foam ratio and the aroma was strong without being too overpowering. The iced Americano we ordered (RM7.90) was one of the better ones we've had in our lives – we could taste the roasty intensity of the coffee without the sourness that we've experienced at some of the major establishments in KL.
Hipster level: Medium; you get a nice mix of ultra-casual backpackers and regular locals
Laptops in sight: 1 Macbook Pro at time of review
Selfies taken: 1 at time of review
On the speakers: Bon Iver, The XX
Get there: 30 Jalan Tun H S Lee, 50100 Kuala Lumpur