Last year, a nice young chap from spice providers Hexa Food paid a visit to the CILISOS office looking to sponsor a piece of content. He brought with him a bottle of chilli powder, and claimed that it's like the spiciest chilli powder in the country.
"Bro this one you makan sure cry one." – Our friend from Hexa
And yes, we cried. In fact, Uihua thought he was a hero so he ate a massive spoonful of the powder. Came in late the next day cos cannot pangsai. Also missed his deadline and caused us trouble… Haih. #macamyestapibukan
And yes, it's sold at all AEON BiG outlets, GAMA Supermarket (Penang), KNL Market, Village Grocer (Giza, Mont Kiara, Bangsar), redtick.com and on eBaza.com.my, Hexa Food's very own online store. 
#endsponsoredsegment
But what got our attention was…
The label reads that it has a heat level of 80,000 SHU. But what does the SHU mean… and how do they know how hot something is?
So it turned out… you can measure spiciness in a LAB. AND there's a LAB in Malaysia that does it (although they'd prefer us not to name them). By now, you should know that at CILISOS we like to do things differently. So we thought we'd put HEXA's sponsorship to good use.
We asked our fans and friends to tell us the spiciest food they've ever had in Malaysia, sampled some of them and actually sent them to a legit food-testing lab in Shah Alam to measure their levels of spiciness. Then, we'd compare the results to the Volcano powder.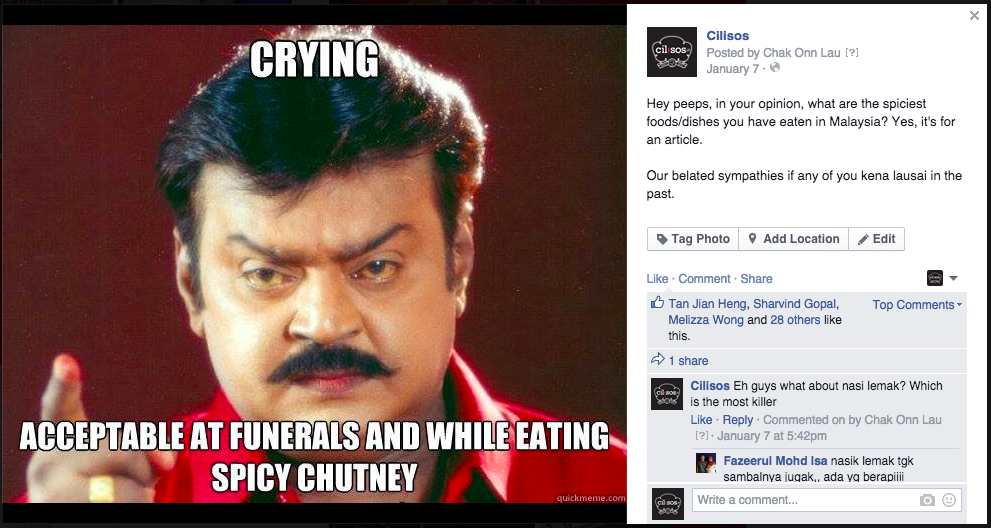 So without further ado, this is…
8 spiciest food according to CILISOS readers, scientifically-ranked!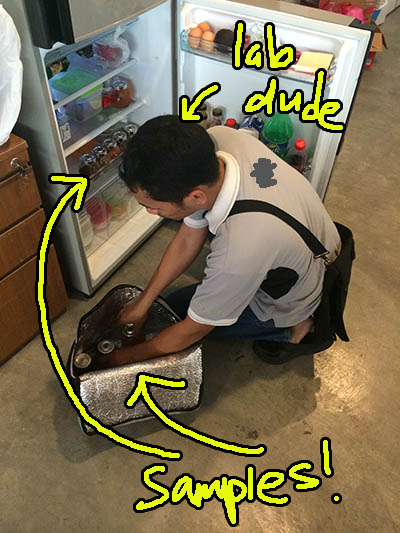 Pre-lab methodology: Size up 8 locations from CILISOS readers and friends that is most accessible to the thrifty team. Visit location, take photos, take samples of the food (the spicy parts) and keep in small IKEA jars. Keep in fridge until lab dude collects. 
Lab Methodology: Mix the spicy sample with some water. Work some scientific magic to test heat level. The units measured are in SHU (Scoville Heat Unit). 
Disclaimer: Lab samples can vary in results depending on the particle tested, as liquids have better balance of SHUs than powder particles. These experiments, while done under controlled laboratory conditions, are not to be used in any official documentation or food certifications. #itsjustforfunyo 
The lab has also requested CILISOS not to publish their name or the copy of the results, but do trust that they're a reputable food lab in Shah Alam that have worked with some of the biggest food brands around.
#8: Kajang Spicy Soup –
1,910.64 SHU
Where: Siew Wah Restaurant, Kajang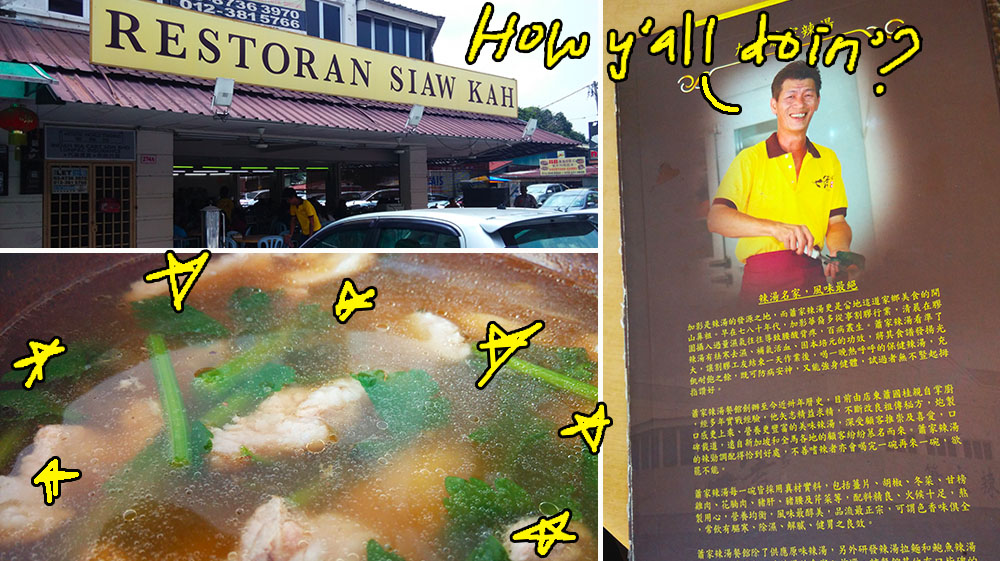 A coupla people told us about this dish, and when we trawled food blogs, they said it was super nice and whatnot. So we took a looong drive to Kajang to sample this. First thing we noticed: the soup's not red, it's clear and brownish. Err… Doesn't look spicy at all. But the smell, oh sweet lawd… It. Was. Heavenly.
Well there's no wondering why – this soup has been the restaurant's signature dish for over 3 decades! According to them, this soup came about during the 70s and 80s where Chinese rubber-tapping folks suffered a boatload of physical problems like 'body dampness' (dunno, don't ask) and backaches. This spicy soup helped keep their bodies warm, resulting in giving them better health.
So what did we think of this soup?
Verdict: "……. WHO SAID THIS WAS SPICY?! We weren't even sweating! OK la, I suppose it's not the 'pedas' kind of spicy, but the 'banyak rempah' kind. But the soup was sooo good though, so it totally made our journey worthwhile."  – Lydia
7. Nasi Lemak 222 Sambal –
2,084.94 SHU
Where: Hawker center on Jalan 222, PJ 
Why '222'? Nasi Lemak 222 is basically a stall in the 222 hawker centre. Sorry if that story didn't blow your mind.
The place is dingy and dodgy, but holey ikan bilis, the food is so gooood. But here's the thing – people are usually confused between the red or the blue stamps. They're from two different stalls, and they're both equally popular. But the question is… Yang mana lagi pedas?
Since a lot of people said blue, must be blue loh…. So we grabbed a bunch and tried it on our own…
Verdict: "I had this dish towards the end of the test, so after some of the other killers, this was pretty mild in comparison. It's a baseline nasi lemak so you guys can compare all the others. Mild sweat, barely noticeable." – Chak 

6. Nando's Extra Extra Hot Peri Peri Sauce –
5,580.12 SHU
Where: Err… Nando's?
Aahhh, Nando's… The place that lets you choose your preferred level of spiciness without feeling judged. With five different types of peri sauces to choose from (garlic to extra extra hot), we went right to the highest on the scale. These world-famous sauces need no introduction, with heat seekers everywhere trying to outdo each other on YouTube.
So when we visited Nando's for the 239574612th time that week, we got Uihua to test it out…
Verdict: "I can't really explain the taste since I personally find it to be sweet, but some others have described it as being tangy. But either way, I felt manly.
The extra burn somehow further brought up my already-overpowering manliness, and the thicker texture of the sauce made it easier to control when pouring from those nozzle bottle things that they use (WHY??!). It definitely left a tingle on the tongue for some time, but didn't traumatize me to the point that I wasn't tasting anything because I was too busy crying. Please read that line again." – Uihua
5. San Hui Wei 'Ma Lat' Steamboat –
5,791.9 SHU
Where: San Hui Wei Steamboat, SS2 PJ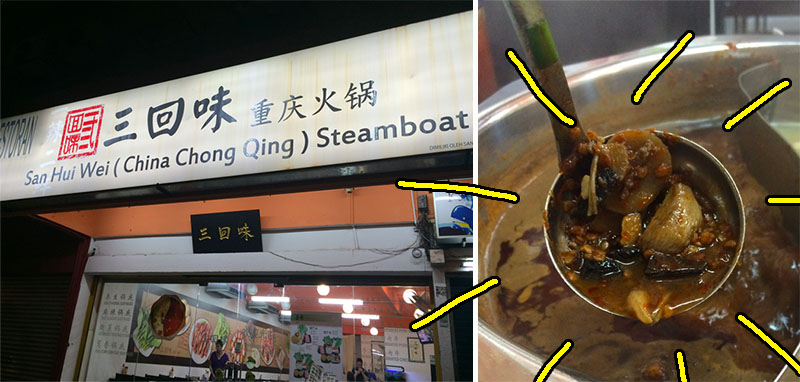 We wish we could tell you what 'ma lat' actually means, but the people we've asked to explain this Chinese term can't really tell us either:
"It's like… the feeling of 'spiciness'." 
"So do I say…. 'Woah this soup is damn ma lat wei!'"
"No no no no… You don't say it like that." 
"Err…. 'Can I have some ma lat soup?'"
"Nooo! I dunno how to tell you la… It's not like that."
"This soup is so ma lat until my own fu lat?" (fu lat = pants drop)
"…." 
Either way it goes, this soup is very spicy, but not the kind of pedas that gets your internal organs crying out for mercy. Kinda like the Kajang Spicy Soup where it's peppery and banyak rempah, but has the taste of chilli and the colour of death. Tasty, tasty death.
Verdict: "Don't let the red oil floating above the soup fool you. Looks scary, but it doesn't have a cilipadi kick. The kick only comes in later (in the stomach after 2 bowls, in the toilet after 8 hours)." – Lydia  
4. Nasi Kukus Ilham –
7,022.22 SHU
Where: Ilham Nasi Kukus, Mutiara Damansara
NASI KUKUS IS THE SHIZNIT, Y'ALL. Now, if you didn't know, Ilham is one of the most famous nasi kukus spots around. According to TimeOut, it sells approx. 30,000 packets every month, so that's 1,000 packets a day. Seems a bit incredulous for a tiny lil corner lot restaurant, but once you've had a mouthful of it, there's no room for doubt. Plus, their lunchtime queue is insane.
Served in brown paper, each pack comes with a hearty serving of steamed rice, a magical fried chicken with slick, crispy skin, some equally magical curry, fried ikan bilis, some pineapple slices and keropok. But the fire from this dish comes from the sambal, where traces of red and green chilli (along with its seeds) wait to punch you right in the guts.
Verdict: "Honestly, I was a lot more focused on the nasi and ayam goreng. Sumore office give free so whack la. Was enjoying my food for quite a while before I realised it was spicy. So it was like that situation where it's delicious but spicy and you wanna keep on eating then suddenly realising you've eaten too much and end up having to take a breath before the next bite." – Hans
3. Kin Kin Chili Pan Mee –
7,455.16 SHU
Where: Kin Kin Chili Pan Mee, Jalan Dewan Sultan Sulaiman 1 KL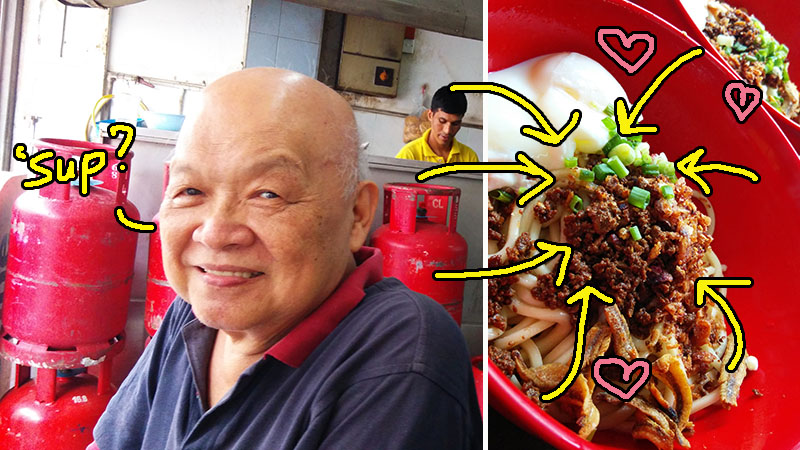 (P/S: FYI 'pan mee' doesn't mean noodle cooked on a pan, but hand-made flour noodles)
Ahhh… A perennial favourite. Hand-made pan mee topped with minced meat, fried ikan bilis, a poached egg and only the most glorious of all glories – dried chilli flakes. #drooluntilbajubasah
And where else to look for pan mee other than the super duper keng chow femes Kin Kin Pan Mee? Having operated for donkey years now, this place is forever packed with hungry people chowing down, with some of them topping up Kin Kin's famous chilli flakes only to have their buttholes weep the next day. When we asked the owner about the chilli flakes, he said that people have tried taking them home, hoping to replicate the special formula on their own.
Our editor chowed down two tablespoons of the gunpowder, and here's what he has to say…
Verdict: "I remember this to be much spicier in the old days… but I guess everything is relative. After having some of the other dishes here, the infamous Kin Kin pan mee which once set me on fire no longer did. The owner did say tho, that the batches differ based on what kinda chilli he gets, and that day's chilli was pretty mild. But still, expected more. few noticeable droplets of sweat but no numb tongue." – Chak 
2. Chili Rush 'Challenge Level' –
37,233.6 SHU
Where: Chili Rush, Jaya One
When we asked our fans and friends, Chilli Rush in Jaya One came up sooo many times.
"Try the challenge level!"
"Eh you can't even hold the chicken with your own fingers, use gloves wei!"
"The heat will pierce through your skin!"
So when we went to visit the restaurant, the lovely co-owner Ms Terri explained that the challenge level has 6 different chillies in it, including the spiciest – capsaicin. (Update: Do note that capsaicin isn't technically a type of chilli, but the name of an active component in chilli peppers. Thanks for the heads up, Hwa!)
Prepared by their chef, Mary Anne from the Philippines, the marinade is so potent that both chef and eater need to use gloves. To win the challenge, the eater needs to finish half a dozen of wings in a given time-frame. It's been known to make women cry and grown men cry harder, and there's even a waiver the customer needs to sign before they proceed with it. 
Anyway, Terri graciously let us try CR1 (level 1) and CR10 (level 10) to get a taste of the range, before ultimately trying the challenge. And when we did…
Verdict: "Level 1 is yummy but nothing much, Level 10 is slightly spicier than the Ming Tien sausage (below), but level CHALLENGE!? This stuff can kill you. It's berserk. Most people can't even take a pei-see (nose poop) worth, much less a whole chicken wing, much less a whole plate.
Tongue goes numb, major sweats and noserain. Tummy feels warm for a few days after. Feels like love… like bad medicine.
BTW, Jolyn got cramps cos we conned her into taking the Challenge level by changing the flags. Heehee." – Chak

And how did Jolyn feel about it?
"Dude, I can't even…….. what da heck is IN it??? Stomach burn, throat burn, eyes burn, I think body temperature even went up to like 40°C? But I live to tell the tale la. Ehh, I think you can use this to punish naughty kids!" – Jolyn
1. Ming Tien Extra Hot Taiwanese Sausage –
44,445.57 SHU

!!!!

Where: Taman Megah Hawker Centre, PJ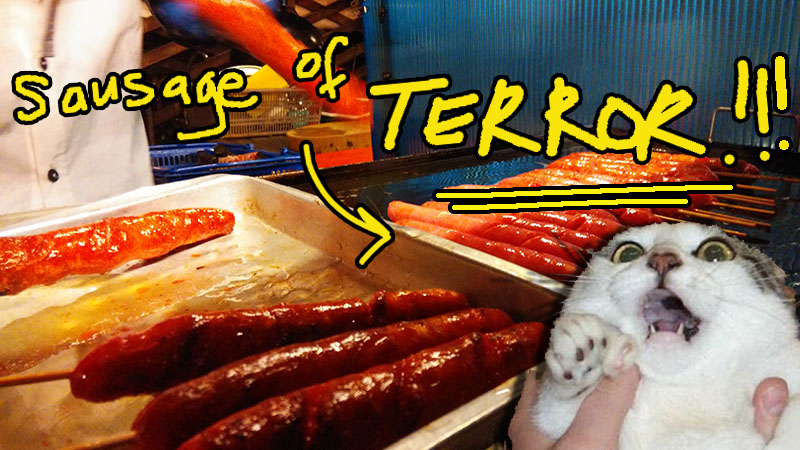 (FYI – We had to take two samples at two different times because the lab had problems with the first one. This result is from the second sample. Sorry for wasting your hot sauce, uncle…) 
If you haven't heard of Taiwanese sausages, they're these slender little buggers on a stick, glazed in some slick-looking gloss, looking unassuming under yellow lights. But don't let these fool you – the Taman Megah Ming Tien hawker chef has over 10 flavours ranging from the flavourful (orange, 'manggo' mayo, garlic, black pepper, honey lemon…) to the pedas (spicy, medium spicy, super spicy).
So when we asked the cook to make it as terrer as possible, he warned us that it was gonna be a pain in the ass. Our Editor took up the challenge and here's how it went:
Verdict: "Doesn't hit you immediately. The first taste is a little spicy, but the burn gets deeper and deeper (like our Rakyat Post article!). Eventually, around the 3-minute mark, it settles, but it is VERY VERY spicy. This was the first thing we tried, so it set a very good benchmark for everything else." – Chak 
How does this compare to the Hexa Volcano Powder?
While the packaging does say '80,000 SHU', the lab's research found that it was actually, in fact…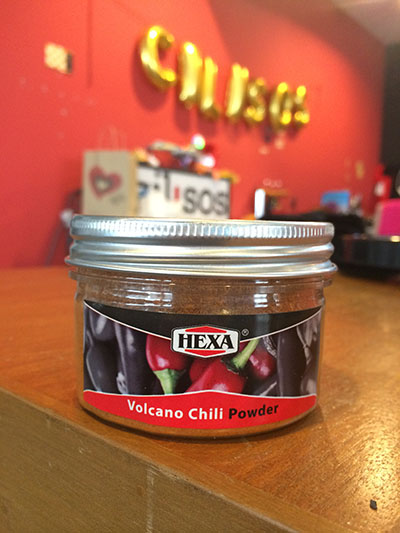 116,559.52 SHU!!
That's 2.6x the heat level of the Ming Tien sausage, ugaiz! But chup – why doesn't it tally with the information on the packaging? Our friend explains:
"Yup, it is listed as 80,000 SHU in the label, but the figure was given by our supplier as an average value. The SHU result will vary according to the crop and season, and also differ with batches.  This is quite common for natural products. Also, our chillies do not come from one farm but from multiple places, therefore the variance is higher."
While he can't disclose the type of chilli 'cause it's a trade secret, just know that this little bottle can truly pack a punch.
If you're worried about how to eat this powder, Hexa's got you covered. Don't la go and take one spoonful like smartypants Uihua, that one seriously asking for trouble ok. Our friend suggests:
Use it as a BBQ marinade
Turn it into a seasoning by sprinkling onto fried chicken (or other fried food)
Add it to your hot sauces or curry
But he adds – you only need a pinch to give your dish a heat boost. You can also check out more tips on how to use Hexa spice on their FB page here.
P/S: Here's how CILISOS eats it…
Do you know of any other spicy foods that we can try next time? Let us know in the comments. Maybe can get Hexa to sponsor again. Eheh…