You're paying about RM1,000 to rent an apartment and people tell you that you could be using that money for mortgage on a real property.
"Pay rent for what? Buy your own place la, just top up a bit only what." – Everyone
You're reaching 30 in a few years, with savings healthy enough to get you through rainy days, no property inheritance from your family, and no 5-figure financial help from them too. And at this point, you know that renting isn't a good investment for your future, but the only option you have at the moment.
So, apamaciam then?
Live in a shipping container! Like this guy! 
CILISOS stumbled onto 25-year old Azree Rahim, a software engineer and freelance web designer heading the Rumah Kontena movement in Malaysia. Still in its foetal stage with two container homes under the movement, Rumah Kontena aims to promote this creative, up-cycling lifestyle among Malaysians and to break free from the demand cycle by homeowners and developers.
Born in a Felda settlement family in Johor, Azree's been living in KL for almost 8 years, renting properties along the way. At first, he had always wished of having financial freedom regardless of whatever he chooses to do.
"I've planned on buying a used bus to convert it into a motorhome. That way, I'd be able to travel the world while sustaining my life while travelling," he tells us. "With the motorhome, I'd be able to get some money while travelling. I'd cook, sell and promote Malaysian food, use my skills in creating websites, or even sell paus on-the-go."
Today, he's no more renting apartments – he's the proud owner of a 1 and a half storey container house, docked in Klang with his own garden, own walls, own plumbing system, and most importantly, his own land.
But in reality, just how practical is it? How does one even get a shipping container? Read on as we irritate Azree with some random questions.
But it's a freakin' tin box!
Yeah… To be frank, container houses can look pretty awful if done shabbily, but if one has the luxury of hiring a designer, container houses can look extremely incredible if you're working with a designer… Like these few gorgeous tin boxes across the world:
Plus, check out this other awesome Malaysian container house in Bukit Tinggi, Pahang.
Consisting of 6 stacked containers, this was designed by Ken Kwok of Anand Bungalows. It's got everything thought out completely – there's a double-height atrium to allow proper ventilation, its concrete pier foundation means the home has a light footprint on the land, the large shed roofs keep sun off and minimize heat gain, and at the same time directing rainwater into a cistern under the house.
To add to that, 'grey' water is recycled and used with the rainwater in the gardens. To finish, the home also features low-flow water fixtures, energy-efficient appliances and natural daylight. Check out more info on Inhabitat… They've got a video there too.
Or this beautiful little piece by a Captain Ikhwan and Kak Orked from Paragliding Flight Park?
So how much does it even cost to build a container house?
OK, let's talk about starting from the very basic. Azree's container house is pretty much a hands-on DIY job (although he did employ some workers to help out), so let's start there.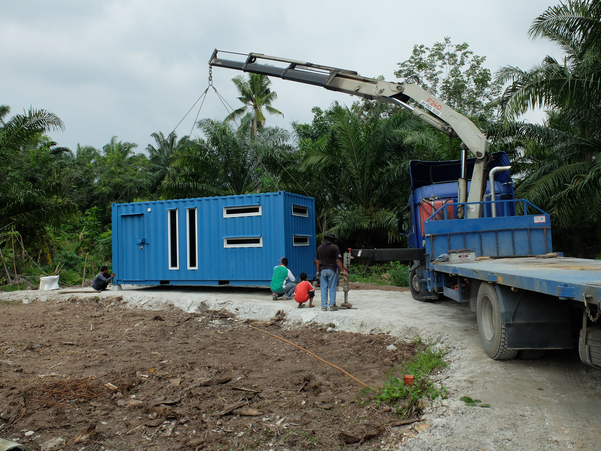 Azree tells CILISOS frankly the costs that an interested builder would be looking at:
Price of a brand new container – RM25,000 
Price of a pre-used container – RM5,000 (20ft long), RM8,000 (40ft long)
Average price of a 2,400 sqf land – depends on location, but in his area (Teluk Panglima Garang near Bukit Tinggi, Klang), it starts from RM35,000
Other expenses – land levelling and utilities for RM8,000; upgrading to a second floor RM6,000; roofing for RM4,000; toilet and kitchen for RM3,000; connecting staircase RM1,500; fencing and landscaping RM2,000; electrical wiring + air conditioning RM2,000; workmanship RM5,000 
Azree also shares his total cost of his container house. Standing on a 2,400 sqft land with a fully-equipped container house and garden, he has spent a total cost of approx RM80,000. 
That's about 6 times cheaper than a double-storey 1,300sqf terrace house in the same area! Priced at RM430,000, it also doesn't have a space for your own garden.
And let's not get started with condo units in Hartamas, Bangsar, Damansara or anywhere around the young, urban region. While Azree says he's broke now, he's happy with what he's done. Having taken up a 5-year personal loan to finance the price of the land, he says:
"I want to struggle now and enjoy later. With this container house built on a land that belongs to me, I don't have to overspend. I don't need to buy a developed house and suffer a long-term loan that would last till my elderly years." – Azree 
But… How practical is this?
Having lived in his reclaimed home for 4 months, Azree tells us that he's living safely and soundly. At RM80,000, the choice seems pretty practical for a small-town boy that he is.
While there's only so little space within the container, one can choose to stack up containers to expand the living area. Also, by purchasing a plot of land, it essentially means you'd have more compound space for gardening, pets, DIY work, everyone's cars if they come and visit, and… A POOL OMG. (Wishful thinking la.)
But what does everyone need to know before venturing into container homes?
"Heat wiring and safety. Ground your containers properly or insulate it. Get a good roof. Plan properly. And most importantly, get a proper land under your name."
We were more curious about the lil stuff, so we shot him a few more questions. We think he was a bit annoyed already.
#cilisoskepohlagi with Azree
1. How long to build? "Got money? 1 month max. No money? 6 months. So-so? 3 months."
2. How long can a container house last? "Old Roll Royce how old already? Your Proton Saga?" (FYI no, this writer doesn't drive a Saga)
3. You got toilet or not? Where does the poop go? "I have a sewerage hole as a replacement to the septic tank buried 6 ft underground. May the poop rest in peace."
4. Afternoon hot or not? "Yes without fan, but an aircond is a bonus."
5. Some people say container homes don't have ventilation. "Hey I have an exhaust fan and windows. Don't be so claustrophobic."
6. If got thunderstorm, will kena electrocuted? "Siapa cikgu kemahiran hidup/fizik you? Which sekolah you go to?"
7. If it rusts, how? "Paint ler."
8. Can it withstand 'vigorous activities'? How sound-proof is it? "LOL"
9. And is it baby-safe? "About 70% baby safe. The enclosed area makes better monitoring, but it's best if items are placed higher to maximise space utilisation."
10. Looks dangerous. How to protect from robbers? "I have a parang by my side. Hello, most houses kena robbed also what. They know the built of mainstream homes, but not a container. It could be a trap for them to enter."
11. If banjir and your house ends up in Kajang? "LOL funny. It's stuck to the ground with some base-work. Plus, my area hasn't had a flood since 1900."
12. Is it even legal? "Your land, your possession."
But is this a viable solution to the rising cost of living?
Really generalising over here, but at 20% cost of a proper double-storey house, this container house idea is pretty worth it no?
"I'm not sure if I'll do it," said a friend in a similar financial predicament. "Looks really cool, but I'm not sure if it's 'proper'… I'd rather build a 'rumah papan' and have more head space. Or at least have a toilet that works." He adds that he's going to carry on renting because it's a more secure, wholesome and worry-free way of living.
Another friend added that the idea sounded awesome, but only wishes he could erect a container house in more accessible place. "This is so hipster, I'd do it myself if I could find an affordable plot of land somewhere in Damansara or Hartamas."
While there are pros and cons to container houses, it's pretty awesome to see people creatively branching out from the ordinary. A roof over your head doesn't necessarily have to be concrete, we suppose.
But what about ugaiz? With the soaring property prices in Malaysia, would you think of container houses as a viable option?