As the title might indicate, local political cartoonist Zunar will be in court today to stand trial for NINE sedition charges. Fortunately, he can post bail to be allowed to live his life as normal (aside from going to court) but the bail amount for all nine charges was initially estimated by his lawyer Latheefa Koya of Lawyers for Liberty to be RM45,000 (RM5000 x 9 charges) but this was later reduced (thanks to his lawyers) to RM22,500, or RM2,500 per charge.
Before we continue with the rest of this article, Zunar is seeking donations to meet the bail amount cover his legal expenses. If you'd like to donate, you can do a bank transfer to Zunar directly or via Lawyers for Liberty:

Zunar:

Maybank 114011 749405 | Zulkiflee sm Anwar Ulhaque

Lawyers for Liberty: 

CIMB 80-0339772-5 | LFL Sdn Bhd.
Actually, after some questions from people regarding bail, we figure we should clarify this first (with help from Eric Paulsen of Lawyers for Liberty):
There are actually two types of bail – a police bail and a court bail.
A police bail is for a suspect still under investigation, and no money is exchanged. You just need to be contactable by the police.
A court bail is the one that involves money and will not be returned till the end of the trial. This means that it'll be stuck there (with no interest) for the entire duration of the trial, which can take years. Unfortunately, Zunar falls under this one 🙁
Aside from considering a donation, you might also want to consider calling the Malaysia Book of Records as Zunar has just set a local record for being the person with the most sedition charges against him. For perspective, the last record was a three-way tie between lawyer N. Surendran, PKR's Tian Chua, and DAP's R.S.N. Rayer – who received TWO charges EACH. 
This means that Zunar beat all their charges combined. 
But what has he done to warrant so many sedition charges? Well, let's first look into what he does…
Zunar the political cartoonist
A cartoonist for Malaysiakini and several other online publications with quite a few published books under his belt, Zunar has won several awards including "Courage in Editorial Cartooning" from Cartoonists Rights Network International.
With the slogans "Fight through cartoon" and his infamous "How can I be neutral? Even my pen has a stand," Zunar is known for his satirical take on sensitive Malaysian political issues such as the Altantuya murder, GST and Anwar's sodomy trials. Some of his artwork has also been displayed overseas. While his comics usually lack dialogue, the meanings are usually quite clear:
Of course, his cartoons have gotten him in trouble with the authorities before. We spoke to him briefly about the case and were told that this is his fourth time being investigated under the Sedition Act, and his second time being detained in the lockup. This is aside from numerous raids on his office as well as the "harassment of publishers, printers and sellers" of his books – leading him to remove the printer's name even though it's illegal to do so. Many of his books have also been confiscated by the police.
Zunar has kept a record of these "harrassments," as he calls them, which you can read here. Also, check out our story on the PDRM demanding that MOLPay give up the credit card info on everyone who bought Zunar's comic through his site.
[UPDATE 6th April]: Zunar contacted us this morning to inform us that there was a rumor that his office was about to be raided, but nothing has happened (yet). However, we received verbal confirmation from MOLPay that the police has gotten in touch with them, and that they have no further comment at this point.  
Going back to the original article re: MOLPay, Zunar has yet to receive any sort of official confirmation or denial whether MOLPay had previously released its customer details to MOLPay.  Hmmm…  😕 
Wondering which cartoon got Zunar in trouble? Well here it is…
Yup, Zunar is NOT getting charged over his cartoons, but over a Twitter post.
In fact, all nine sedition charges against him are for Twitter posts, according to his lawyer!
Better yet, neither him nor his lawyer know what the other eight charges are! 
When we first spoke to Zunar on Thursday evening (day before time of writing), he said he was mostly questioned about his tweets – mostly the one above – which suggests that the judges in Anwar's sodomy trial were paid or controlled by certain political masters.
His lawyer Latheefa Koya added (when we spoke to her later) that Zunar was "questioned about 3 -4 tweets max" and it was "very strange" when they were informed of the nine charges. When we asked if it was normal for a person to not be given details of what they're being charged for, Latheefa says:
"It's not proper. A person should know what he or she is going to be charged for." – Latheefa Koya, Zunar's lawyer
They will only find out the remaining charges in court today (April 3rd).
What's the worst that could happen to this cartoonist?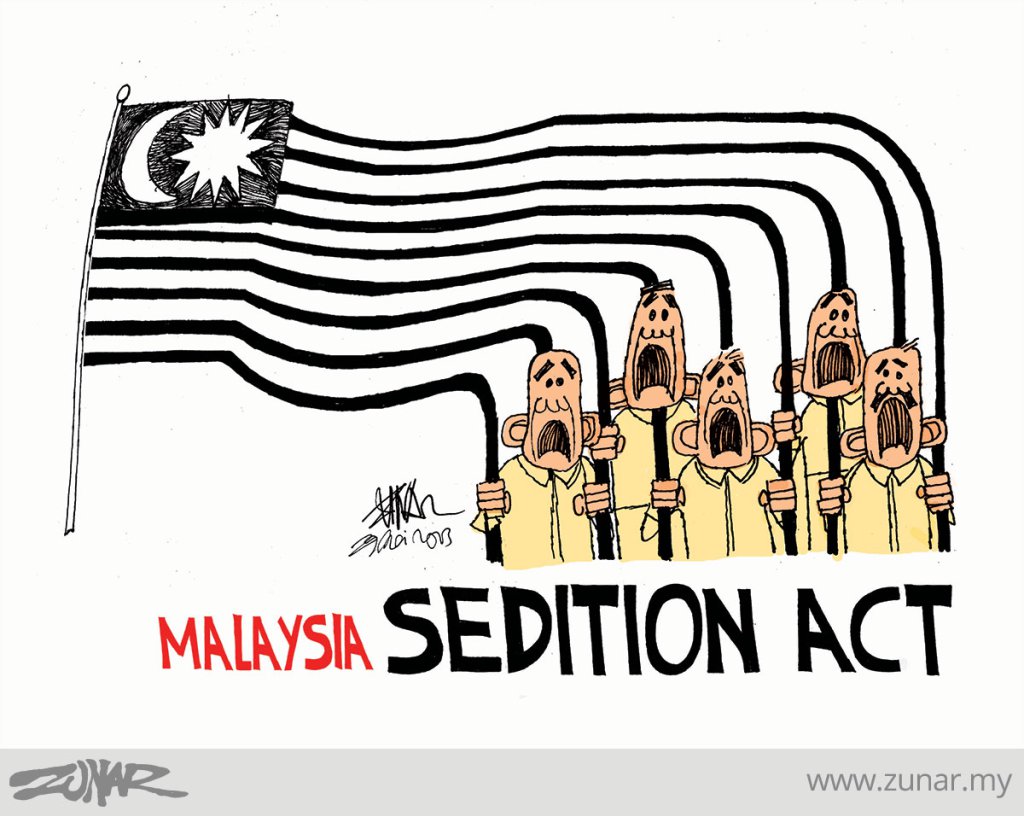 According to Latheefa, the punishment for sedition is a maximum of 3 years in prison + RM5,000 fine for the first offence and for subsequent offences, a maximum of 5 years in prison + RM5,000 fine PER CHARGE.
If the judge sees all nine charges as a first offence, he could be jailed up to 27 years and fined RM45,000.
If not, he could be fined RM45,000 and jailed up to 43 years – 3 years for the first offence and 5 years for each of the remaining eight!
43 years. For drawing cartoons.
Well, we don't want to impose our opinions so how about if you tell us yours, either in the poll below or in the comments?
Elsewhere in the world, cartoonists only get jailed for two weeks (rejecting bail), and five months, so it looks like Malaysian cartoonists must be the worst of the bunch.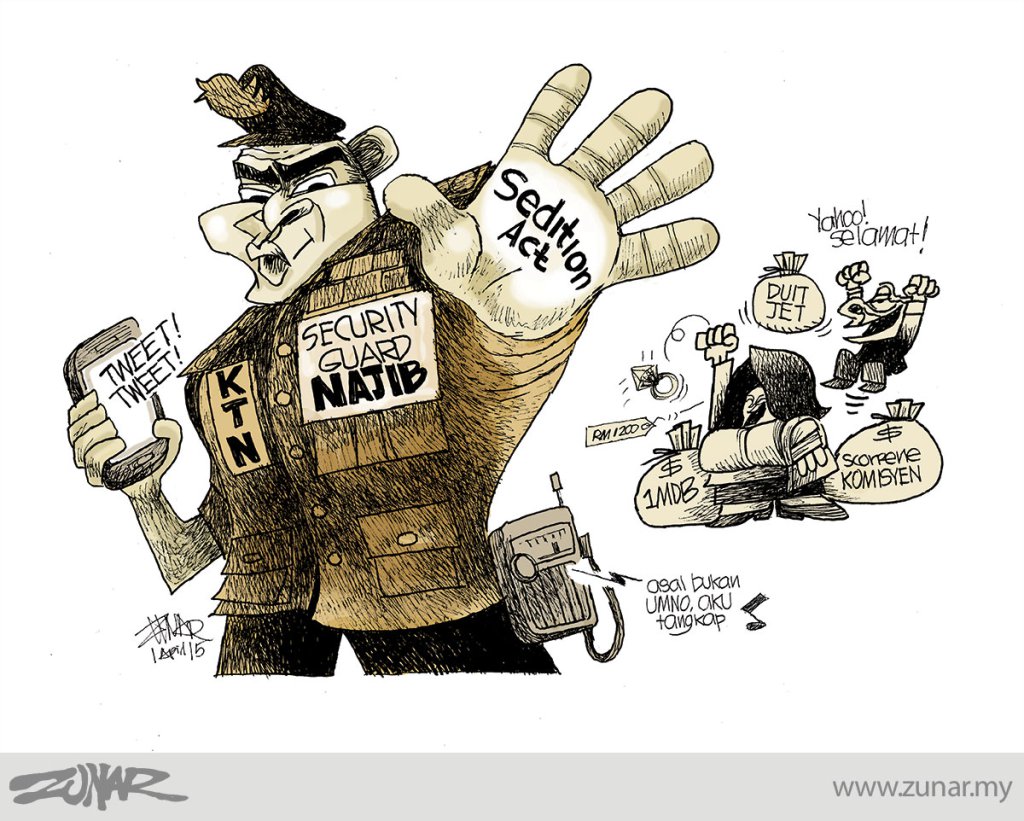 Note: This is very early information (since it just happened) but we will be updating this as new info comes in. 
So as Zunar was posting the RM22,500 bail, he was approached by two policemen who informed him that he's being arrested to assist in the investigation of a picture uploaded on his Facebook fan page which depicts PM Najib's head superimposed on top of Rafizi ramli in lockup attire.
Latheefa points out that this was not posted by Zunar, but he was arrested under Section 233 of the Multimedia and Communications Act which carries a fine of up to RM50,000 and a 1-year jail term.
[UPDATE]: Michelle Yesudas, another lawyer representing Zunar, has just informed us that the fan page has 5,000 admins (according to Zunar), meaning any of them could have posted the picture. Also, Zunar is out on police bail.
No one wants to fight alone.
If you feel the need to do something in support of Zunar, here are a few suggestions (feel free to pick more than one):
1. Buy his books!
Yes. Despite the authorities attempting to stop the publication of his books and people from buying them, we think that the continued purchase of Zunar's cartoons is both a sign of support as well as a continued source of income. Also, isn't it the dream of any artist to see his or her work appreciated? You can check out his catalogue on his website linked here.
2. Donate!
Latheefa tells us that they have been receiving donations from members of the public (thanks ugaiz!) for Zunar to post bail, but don't stop the donations just because he's already out! The donations will now be used to cover his legal defense expenses as they expect the case to go all the way to the high court as the prosecution will most probably appeal if he's found not guilty, and they will appeal if he's found guilty.
Again, here are the donation details:
Zunar:

Maybank 114011 749405 | Zulkiflee sm Anwar Ulhaque

Lawyers for Liberty: 

CIMB 80-0339772-5 | LFL Sdn Bhd.
3. Send him kind words!
As we've mentioned before in our article on what it's like to be arrested for sedition, one of the most important things to a person going through it is the support. It doesn't have to be candlelight vigils or anything of the sort, but just a few words of encouragement. You can send them to Zunar via the following channels:
You can also put them in the comments section of this article and we'll make sure he gets it. 
With the insane number of arrests for freedom of speech and assembly (114 in March alone), we can't help but feel that all this an attempt to warn others to "tow the line". But whether or not you would prefer to play it safe and keep silent or to fight it is completely your call.
What we do know, though, is that Zunar is going to fight till his last drop of ink. Here is his last post on Twitter as of this morning: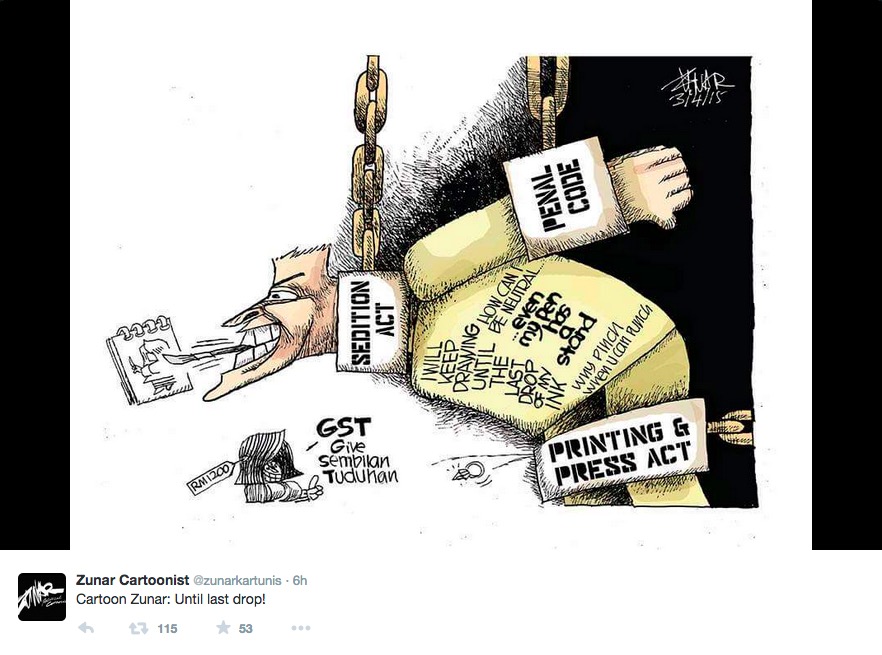 And for this, he deserves some support.