This article was updated March 31st, 2015 to include new arrests. These are points #6, #7 and the calendar below. 
No, you didn't read the title wrong. ONE HUNDRED AND FOURTEEN Malaysians were arrested since March 1st for what we're going to summarize as "speaking out," but more on this definition in a bit. To get an idea of the magnitude of the arrests, here's a calendar we've made to summarize the arrests:
But before we get into the details, here's how we got the final tally at 114 (Just so ugaiz don't flame us) :
These people were arrested. Being investigated or tried in court (after being arrested before March) doesn't count.
The arrests were for speaking out, which we define as freedom of speech or assembly. Crimes such as robbery don't count.
We went through the online archives of The Rakyat Post, The Star, and Malay Mail Online to look up these cases.
This article is meant to be a summary as we've discussed issues such as the motive or validity of some of the arrests in other articles. Here be the links: Why did the cops allow the Anwar rally but arrest people after? | What are the authorities trying to do by arresting Nurul Izzah
We included those who have been re-arrested. So technically, only 111 were arrested.
The title originally placed the count as 93. This was updated when we found out that more people were arrested during the GST Rally. Sorri!
We're grouping these by incident rather than date, since some of them overlap. You might need a calculator.
1) Igniting racial tensions –
1 Arrested
On March 3rd, a man named Wan Khairul Ihsan Wan Muhammad was arrested under the Sedition Act after MCA Youth made a police report against him for a tweet he made in February which hinted at May 13. Here's the tweet which has since been deleted:
Wan Khairul is also the president of Orang Muda Berpadu Anti Korupsi (OMBAK), an NGO focusing on corruption. Considering that we couldn't find too much information on the group – not even a Facebook page – we might be tempted to say that OMBAK has yet to make….. waves.
2) #Kitalawan Assembly –
10 Arrested
There has been a slew of arrests involving the organizers of the #Kitalawan assembly which happened on the 7th- with PKR Youth chief Nik Nazmi and PKR Youth leader Saifullah Zulkifli arrested just a few hours after the event.
Another PKR leader, Faris Musa, was picked up three days later with PKR secretary-general Rafizi Ramli – who was coincidentally at the police station to file a police report against 1MDB.
PAS Youth treasurer Mohd Fakhrul Razi was picked up on March 11th, and on the 14th, DAP Socialist Youth Leader Teo Kok Seong, Activist Adam Adli, and #kitalawan secretariat member Mandeep Singh were photographed handcuffed together in lockup outfits (we always thought those things were orange, like what you see on TV)
Since the time both our articles were written, PKR Legal Rights and Legal Bureau deputy chairman S. Jayathas was arrested on the 17th, and PKR vice-president Tian Chua's arrest on the 20th rounds the number up at 10.
The validity of these arrests have been brought into question as Lawyers for Liberty have told us that the law that the ten are arrested under was declared void and unconstitutional in a previous case involving Nik Nazmi. However, Inspector-General of Police, Tan Sri Khalid Abu Bakar says that the law is still in effect since it's being appealed. Our lawyer friends tell us that that isn't how the law works.
If you're wondering why Nurul Izzah's name isn't listed here, it's because she wasn't arrested for #kitalawan, but for…
3) Seditious remarks in Parliament –
1 Arrested
While Nurul Izzah is known for being PKR's vice-president, a Member of Parliament (MP) representing Lembah Pantai, and, perhaps most commonly, as Anwar Ibrahim's daughter.
While she was called to the police station to give a statement on her involvement in #kitalawan, she was instead arrested under the Sedition Act for reading her father's speech in Parliament – a speech which questioned the Federal Court and its decision to jail him.
However, the point of argument is whether or not the speech violated the conditions for immunity that the Federal Constitution gives to MPs while in Parliament.
You can read more about this in our full article here, written with help from Eric Paulsen of Lawyers for Liberty. Speaking of which…
4) Lawyers for Liberty tweets –
2 Arrested
On the 22nd, Eric Paulsen, the head of civil rights group Lawyers for Liberty was arrested at the Arts for Grabs festival in Dataran Merdeka. He was picked up over a tweet he made about Hudud law (since deleted) saying:
"Do not simply believe that everything will be okay with hudud implementation – no basis that hudud will run smoothly in Malaysia" – Tweeted by Eric Paulsen, as quoted in Free Malaysia Today
This statement pissed off a number of people, who retweeted it to IGP Khalid:
IGP Khalid, who takes tweets very seriously, issued orders for Eric's arrest, tweeting: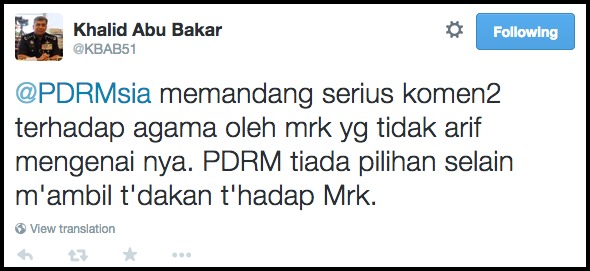 We briefly spoke to Lawyers for Liberty legal coordinator Michelle Yesudas about his arrest, but did not receive a reply after some time. That was when we found out that she got arrested too for a Twitter post too! Apparently her tweet was seen by some to be a move to create unrest, with some others questioning if the "majority" meant Malays or Muslims (since these are both the racial and religious majority in Malaysia). She has denied this, saying that it was in reference to the rape threats made against a BFM Radio (Whom IGP Khalid tweeted that he'll investigate) presenter (Whom IGP Khalid tweeted that he'll investigate) by members of the public (Whom IGP Khalid tweeted that he'll investigate)

5) GST Rally –
83 Arrested
Just this week, on the 23rd, an anti-GST protest group gathered outside the customs office in Kelana Jaya – just a few minutes away from the CILISOS office – to present a list of 106 questions to the authorities. When they refused to leave after their request was ignored, the cops were called, followed by the Light Strike Force. After many repeated requests to leave, the Light Strike Force…um… struck.
Several people reported being pushed and beaten despite claims that the protesters did not provoke the authorities. This was disputed by IGP Khalid, who called the protestors "barbaric" and eventually, 79 people were arrested and sent to the station in trucks, according to Parti Sosialis Malaysia Youth chief K.S. Bawani. We believe Bawani to be correct on this number because when she speaks, we should Listen! Listen! Listen! (Sorry, couldn't resist).
Four more were added to the tally when the arrest of Khalid Ismath, which happened before the 79, was confirmed; and three more were arrested during a night vigil in support of the detainees. They're being charged with illegal assembly.
While several politicians including two MPs were among those arrested, the person we want to highlight here is this lady:
Yep. That's Aunty Bersih in the police van. She was among those arrested that day.
The almost 70-year old lady became somewhat an icon of resistance when a picture of her covered in chemically-laced water walking away from FRU troops was taken during the Bersih 2.0 Rally in 2011.
Since then, she's been seen at various rallies held in the country and getting a Facebook fan page, though she was upset at the attention she got from the photos and coverage….like..what..we're..doing..now. Sorry Auntie!
You can read her point of view here, but we'll leave you with a quote in the meantime:
"I am doing this for everyone's children. And if you think that is wrong, then by all means, cuff me … All I want is to ensure a better tomorrow for our children." – Aunty Bersih, as quoted in The Malaysian Insider
You go, Aunty Bersih!  😀
6) Kitalawan 2 –
10 Arrested
During the second #kitalawan rally on the 27th, six people including two state assemblymen were arrested for allegedly punching and kicking a DBKL officer who tried to remove a Pecat IGP banner. However, several witnesses and videos show that the officer might have started the fight.
PKR leaders Faris Musa, Tian Chua and Rafizi Ramli were re-arrested for their involvement in this rally, along with PAS Central Committee member Khalid Samad, PAS deputy president Mohd. Sabu, and activist Hishamuddin Rais.
Hishamuddin's arrest was called a "kidnapping" when he was grabbed by six plainclothes policemen after his taxi was followed by a car and some motorbikes:
"One of them dragged him by the chest, covered Hisham's mouth to stop him from shouting. They threw Hisham into another car and took him to Dang Wangi." – PKR Communications director Fahmi Fadzil, as quoted in The Rakyat Post.
7) Hudud news reports –
5 Arrested
The last two days of March saw 5 arrests, not for gatherings but for a published news article on the Hudud issue. Three editors from the Malaysian Insider were arrested during a raid at their office on March 30th by the police and officers from the Malaysian Communication and Multimedia Commission (MCMC). These are managing editor Lionel Morais, Bahasa Malaysia news editor Amin Iskandar, and Bahasa Malaysia features and analysis editor Zulkifli Sulong, .
They were arrested to assist in investigations over an article titled "Council of Rulers opposes amendments needed to enforce  hudud" which stated that the conference attended by all Malay state Rulers had rejected the proposed amendments to a Shariah Court Act. This was denied by a representative from the council.
A day later on the 31st, The Edge's publisher Ho Kay Tat and The Malaysian Insider's CEO Jahabar Sadiq were arrested for sedition in relation to the same article.
Should we be worried?
Well, if you're on social media a lot, then yes – because Twitter is becoming a dangerous place. 
It seems that IGP Khalid is making good on his vow to patrol social media sites for seditious remarks. While this might be a good thing to some, there have been concerns with the IGP's fairness, with Lawyers for Liberty suggesting that the IGP seemed to "decide on a whim what can and cannot be published". The group also says that the IGP "seems to be taking instructions from pro-UMNO cybertroopers and trolls" when it came to investigating claims, adding that he should display more professionalism and care without abusing his powers.
Others have questioned this double standard in the lack of action against extremist groups like PERKASA and, more recently, the relative silence on the death and rape threats against a BFM Radio presenter Aisyah Tajuddin over a video on Hudud law, although the IGP has tweeted that all parties will be investigated.
Some parties have also stated that the IGP is either deliberately distorting certain statements or has difficulty understanding them. This has prompted Michelle Yesudas to offer to write him an essay explaining her tweet and Lim Kit Siang to say that if Khalid genuinely misinterpreted Tony Pua's tweet, he's "not fit to be an IGP".
These arrests have prompted Amnesty International to call the arrests of the lawyers and GST protesters "troubling signs of an escalating crackdown on freedom of expression and assembly", with the group's Malaysia researcher stating:
"These latest in a string of recent arrests point to a clear and worrying trend and reveal the very grim reality of the Malaysian authorities' stance on upholding basic freedoms." – Hazel Galang-Folli, Amnesty International's Malaysia Researcher
This came just at about the same time that PM Najib defended the Sedition Act, saying that there was no reason for the government to apologize for it's use in preserving ethnic and religious relations.
"… I want to say that there is no absolute freedom. There is no place for absolute freedom without responsibility in this country – PM Najib, as quoted in The Malaysian Insider
He also added that the use of the Sedition Act is a form of prevention against terrorist attacks, though all recent reports we've come across of Malaysians with ties to ISIS have been detained, not under the Sedition Act, but under the SOSMA Act. Hmmm… The Prime Minister's Office issued a statement that The Malaysian Insider's article referenced above was inaccurate as the PM never said the Sedition Act was meant to curb terrorism. The statement that the Sedition Act is needed for racial and religious harmony is still correct though. 
So perhaps whether or not we should be worried depends on which side we are on the political divide and how we each define our rights to freedom of expression and assembly. 
But you know what the scariest part of this whole thing is?  
March isn't even over yet.

We still have a few hours before March officially ends