Shortly after PKR leader and Permatang Pauh MP Datuk Seri Anwar Ibrahim was sentenced to spend 5 years in jail by the Federal Court, a petition emerged. Were Malaysians voicing up?
Amazingly, it wasn't just Malaysians.
The petition was started by J.M. located in Alexandria, Virginia, the US on the White House's We The People webpage! Who knew people outside of our 329,847 km² area cared? Here is the description of the petition:
So who is this mysterious J.M. petitioner? He's none other than John Malott – former US ambassador to Malaysia.
"I am very confident that we will hit the 100,000 mark." – John Malott, The Malay Mail Online
John spoke to The Malay Mail after he woke up to 27,000 signatures on Wednesday, 11 February, the day after he started the petition.
Interestingly, on 11 February itself, a counter petition by S.D. was set up, called 'Respecting the sovereign nation of Malaysia'.
Sounds familiar?
This mirrors the time when Home Minister Datuk Seri Ahmad Zahid Hamidi told US Vice President Joe Biden to respect Malaysia's sovereignty after the latter tweeted his views on the Sedition Act.
But that wasn't all… the US also issued a statement after Anwar's verdict through Bernadette Meehan, spokesperson from the US National Security Council:
"The United States is deeply disappointed with Mr. Anwar's conviction following a government appeal of the original verdict finding him not guilty. The decision to prosecute Mr. Anwar and the conduct of his trial have raised a number of serious concerns about rule of law and the fairness of the judicial system in Malaysia." – Bernadette Meehan, US National Security Council, The Malaysian Insider
Anyway, we're very intrigued by the first petition because of the effects it may have on our country. If the petition gets 100,000 votes by March 12, what would the US Government do? So we thought of 5 possible outcomes if the petition succeeds…
1. Malaysia could become the next Afghanistan or Iraq
OMG! Scream! Cry! Panic!
If the petition passes the 100,000-signature mark, it will get an official response from the US government, reported The Malay Mail Online. So what if it passes and the US decides it's time Malaysia got a dose of 'democracy' and overthrows the Government like it has done to so many other foreign governments? WHAT IF THE US INVADES MALAYSIA LIKE THEY DID AFGHANISTAN AND IRAQQQQ?!!
Just kidding. This event is pretty unlikely to happen.ever. because of 2 reasons:
We're not terrorists
The US justified their invasion of Afghanistan and Iraq as the 'war on terror'. After the 9-11 attacks, President George Bush declared war against the Taliban and al-Qaeda groups and Saddam Hussein. The administration argued that Saddam sponsored terrorism, attacked four neighbour countries and killed tens of thousands of his own people.
Malaysia on the other hand has been struck off ISIS's map as a transit point for recruits when our police cracked down on their activities. Prime Minister Najib Razak even declared Malaysia to be firmly against the terrorist group. Plus, we've never actually 'attacked' our neighbours, amaraite?… except for Singapoke.
The US doesn't have an oil interest in us
The real reason America is believed to have invaded Afghanistan and Iraq is oil. Afghanistan was vital to control oil in central Asia while in Iraq, the US feared the 'possibility of Saddam removing Iraqi oil from the market' to damage prices, according to The Guardian.
As far as we know it, Malaysia is not blocking the US from getting in on the oil action. We're trading buddies – they are our 4th largest partner, while Malaysia is the US's 17th largest partner. Once upon a time, we used to export crude oil to the US. It all ended in 2010 where we were sending them 3,000 barrels a day and then stopped altogether. 
Why put a plug on such good business?
Well, beginning 2011 Malaysia was beginning to consume more oil than she can produce. Petronas admitted to US embassy officers that O&G reserves were drying up, reported whistleblower website WikiLeaks. According to Business Insider, we probably have like 15 years left before our wells run dry!! So…to the US, our oil potential is like small fry.
Possibility ranking: 0/5
2. Malaysia could become the next Cuba
To this day, the US doesn't have formal diplomatic relations with Cuba because the latter stubbornly refuses to become a democracy. Attempting to push them towards it, the US implemented an embargo which makes it illegal for American corporations to do business with Cuba. Since the US is Malaysia's 4th largest trading partner, if they put an economic sanction against us, we'll be in for a baaaad time.
The US's 5 biggest import categories from Malaysia in 2013 were:
Electrical machinery (US$14.8 billion)
Machinery (US$4.0 billion)
Optic and medical instruments (US$1.7 billion)
Rubber (US$1.4 billion)
Fats and oils (palm oil) (US$1.1 billion)
Would the US try an economic sanction and risk losing all these imports? Here are the possibilities – for electrical machinery and machinery, the US could always import from China. China's main export is electrical machinery anyway. In 2013 the US had imported US$117.5 billion worth of electrical machinery and US$100.4 billion worth of machinery from the far east country.
The US could also rely on the European Union for import of machinery, which in 2013 totalled US$64.6 billion. Additionally, optic and medical instruments can be imported from the EU, totalling $26.0 billion in 2013 imports. As for rubber, the US could substitute our exports with rubber from Indonesia, Thailand, Japan and South Korea. And palm oil? Can be imported by the US from Indonesia, Nigeria or Thailand.
But whether Malaysia would really become the next Cuba?
Nehhh. Unlikely. Especially with the Trans-Pacific Partnership agreement in the works.
However, the free trade agreement has been protested against. Bantah TPPA Chairman Mohd Nizam Mahshar argued that we could lose RM5 billion annually because though exports would expand, our imports from them will go up even higher! That means we could all pay through our noses for really important stuff like healthcare. Read 11 things about TPPA from Business Circle if you have any questions.
Possibility ranking: 2/5
3. Najib and Obama could have a very angry golf game
So the 2 national leaders could exchange a few tense words on the golf course. Obama could nag Najib about the 'independence and fairness of the courts'…
It would not be the first time the US has kepo-ed other countries' pasal. If you look at the history of their foreign policy, US meddling ranges from nagging – like what they did with the UK, Russia, Hong Kong, the China-Japan dispute; to all out invasion – like what they did to Afghanistan, Iraq, Cambodia, North Korea, etc.
In fact, during Tun Mahathir's leadership, political relations with the US were very strained coz he was critical of their foreign policy. And the US nagged Malaysia on the Sedition Act issue not many moons ago, whaaat. Joe Biden's tweets, remember?
So in the US National Security Council's statement, Bernadette Meehan added that the 2 countries have built strong ties and as the US is playing their part in expanding the relationship, so must Malaysia:
"In that context, we urge the Government of Malaysia to apply the rule of law fairly, transparently and apolitically in order to promote confidence in Malaysia's democracy, judiciary, and economy." – Bernadette Meehan, US National Security Council, The Malaysian Insider
She added
"These concerns are compounded by the government's intent to expand its sedition law, which Prime Minister Datuk Seri Najib Razak had pledged to repeal, to prosecute government critics." – Bernadette Meehan, US National Security Council, The Malaysian Insider
So the angry golf game would be just like reiterating the message face-to-face.
Possibility ranking: 4/5
4. The US could do absolutely NOTHING
And life goes on…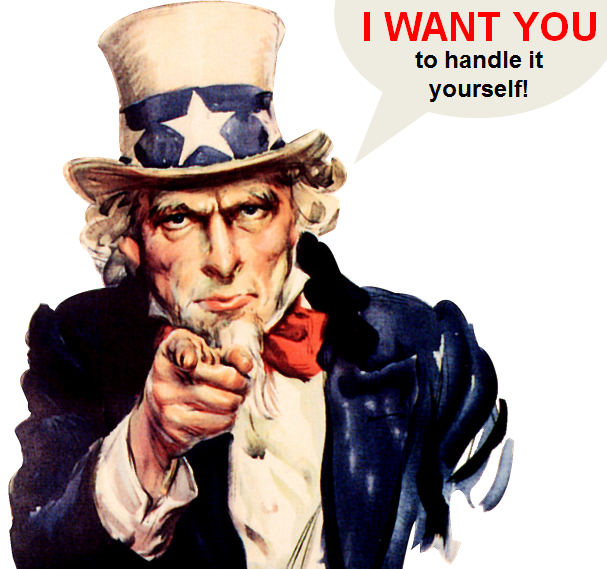 Technically doing nothing is impossible coz they've already shown us where they stand with this issue. It's DONE… albeit considerably kacang putih by US intervention precedents.
But even if the petition gets its 100,000 signatures, there's no GUARANTEE that the US government will go the extra mile to rescue Anwar. Why do we say that? 15 years ago, upon Anwar's first charge over sodomy, did any US land-of-the-free-yadda-yadda official step in? No.
Other than former US Vice President Al Gore, who spoke out against Anwar's treatment in the courts, the Americans didn't masuk campur. We found nothing on former Presidents Bill Clinton and George Bush's involvement. As a matter of fact, Obama was the first US President to visit Malaysia in 50 years since Lyndon Johnson in 1966. He met with Najib, reportedly to discuss improving human rights in the country but did not meet Anwar.
So honestly what are we expecting from them?
Possibility ranking: 5/5 in terms of voicing an opinion. Which they have. 0/5 in terms of heavy involvement, like invasion. Which we doubt they will.
Will they? Will they not?
OK let's consider the history of US diplomatic relations with Malaysia… Traditionally, they've always been accepted as our closest allies. Even during Mahathir's time when relations were chilly, we still traded extensively with each other. Then, the friendship got warmer under Najib's administration, as the whole world can see from their selfie.
According to the US Department of State, America considers Malaysia to be a 'diverse democracy' and 'cooperate closely on security matters, including counter-terrorism', so that safely rules out an Afghanistan/Iraq-style invasion.
Economically, Najib and Obama are on the same page with TPPA. Plus, the US got too much investments at stake here. They are the largest foreign investors in our country, mainly in manufacturing, banking and O&G sectors. So that pretty much strikes out a Cuban fate.
And the statement they've released is all over the World Wide Web now, so we cannot say that they did NOTHING. But we dare not say whether Obama and Najib's next golf game will see 2 sour faces and a lot of snarky words since none of us at CILISOS are expert gamblers….
Errrr……ya guys…….why don't we just wait and see what happens when the petition reaches 100,000 signatures, OK?