Malaysians' favourite past time besides watching football at the mamak is complaining. The morning teh Tarik kurang manis would not be manis enough without complaining about eeeeverything under the Sun. Weather too hot la, too much rain la, train too slow la, jam la, Malaysia backward la, etc. There seems to be a unanimous agreement that ang moh countries are much better than here (which, to a certain extent is true).
But y'know what? Having only moved to Malaysia at the age of 12 and spending half my life in India, I can tell ugaiz one thing. It's all relative.
I hail from a small town in a state called Punjab, located in the North of India. I was born to an Indian father and a Malaysian mother and my primary schooling was in India. I moved to Malaysia about 11 years ago and started my education here from Form 1 onward.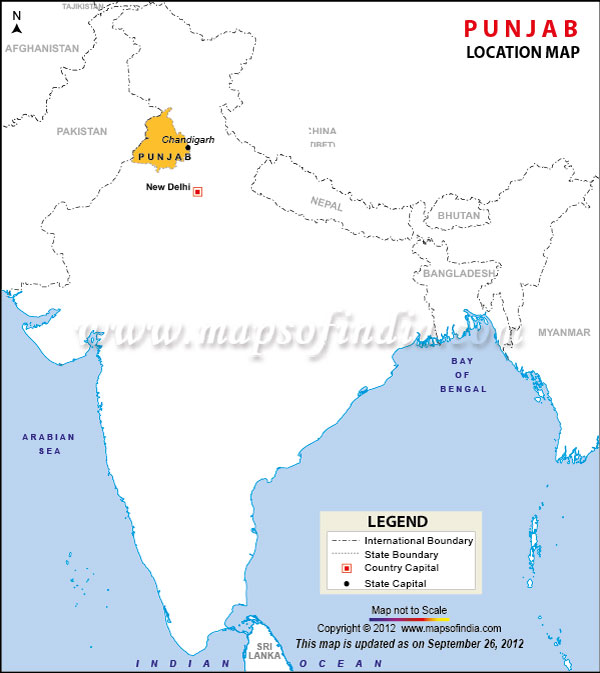 Punjab means "the land of five rivers' and its where the Indus Valley Civilisation started. Img from Maps of India
Moving to Malaysia, I noticed differences that my friends seemed to overlook when they would tell me that Malaysia had no future and they would much rather move overseas. It was a bit difficult for me to join them in kutuk-ing the gomen when I had seen conditions that were much worse.
1. I feel safer as a woman in Malaysia
In India, my mum always told me was to never go out by myself. Especially the playground. Being the rebel that I was, I would take my bicycle and head out every evening to jalan-jalan around the town. I remember once this uncle of mine saw me walking to a shop near my house and he told me that he would break my legs if he saw me outside alone again. I knew he wasn't joking.
You see, from a very young age, girls are subjected to strong gender discrimination and sexism. Even little girls in school uniforms cannot walk down the street without being catcalled or harassed. According to Forbes, Malaysia ranks 91 in women safety while India ranks 131.
I know Malaysia has its own dark history when it comes to sex crimes, but to put into perspective just how bad it is for women in India, a few months ago an 8 year old little girl was kidnapped, raped, brutally tortured for days  and then murdered INSIDE a temple by 3 men WITH the help of the local police. And this isn't even the worst part. Protests erupted throughout the country IN SUPPORT of the perpetrators as the motive for the crime was to intimidate the minority Muslim community in the area to leave. These rallies were also joined by two senior ministers!!!
Cases like these are all too common in India and most go unreported due to social stigma, bureaucratic hurdles, and a slow delivery of justice. So you can imagine how difficult walking to school would have been as a kid.
Coming from a culture of victim blaming and one that enables such heinous crimes to prevail, I felt a sense of relief upon moving to Malaysia. I could now walk by myself to the mamak or take the train without having to fear for my life and finally focus on personal development instead of merely surviving. I could be a child again, grow with equal opportunities available and had the world at my feet.
2. I have a better chance of getting a good education in Malaysia
I know it sounds far-fetched, but my school (the only decent one in the area) required a fee and some of my relatives had already started questioning the amount of money that was being spent on educating me when it could be more "beneficial" to spend it on my brother (sexism, ugh).
Due to a mentality like that, the literacy rate in India is 65% for women and 80.9% for men. That's a 15.9% gap. In Malaysia, however, the male literacy rate is 95.43%, and for females is 90.75%. While more than 95% of children attend primary school, just 40% of Indian adolescents attend secondary school.
If I were in India, just like any other girl with similar circumstances, I probably would have been married by now and my sole purpose would have been to produce children. I could hold a pHD but it would mean nothing if I didn't have have all the qualities of a "good" wife because a woman's sole purpose in life is to be a homemaker. The mean age of women at marriage in India is 22.3 whereas the number for Malaysian women is 25.7 years.
Economically looking, the focus on producing babies has grown the population to 1.32 billion people, creating a large workforce that is ready to be put to productive use. Although the government is struggling to create jobs for its people.
According to India's former central bank governor, Raghuram Rajan, India has 1 million people entering the labor force every month but there just aren't enough jobs for everyone. This why there needs to be more growth in the country so that people can get good jobs. For instance, more than 25 million people applied for less than 90,000 Indian railway jobs. Imagine how much they could grow if they stopped oppressing half their population (the women).

I ACTUALLY heard this many times growing up. (Roti=Chapati) Img from bollywoodshaadis.com
When I moved here, it was refreshing to see that there was a common understanding that everyone deserves an education. So when I saw that people around me complain about studying, I once again, could not relate as I had seen firsthand that it is an opportunity to study is hard to come by.
I actually managed to get a decent education through the Malaysian gomen. After SPM, I decided to do STPM as that was the only option available to me at the time. There is a stigma that STPM is just too hard to do (true) and STPM kids never get uni offers anyway.
But for me, it was either this, or making burgers at McD for the rest of my life. Not that there's anything wrong with that, but I felt I had so much potential and I knew, deep down, that I would really suck at making burgers. So I took up the only opportunity I had at continuing my studies and embarked on an excruciatingly painful 18-month journey. Won't lie, it was the hardest exam I have ever sat for in my life.
Ultimately my hard work paid off and I managed to get results good enough to get my chosen course at a public university and I am soon to graduate. My point is, yes, opportunities are limited and there certainly is lot that can be done, but even at the moment, if you really really work hard, there are opportunities available.
3. OMG ugaiz got trains and Touch&Go!!!!
When we were in India, the only time we would only take public transport is when we were travelling out of town. There were inter-city buses and trains available but they were not at all comfortable. They would be packed to the brim with people even sitting on the roofs of the buses and air conditioning was unheard of. The bus conductor would come to each passenger and give out little chits that acted as tickets upon payment.
"Each day more than 35 people are killed in accidents involving buses in India due to a number of factors ranging from but not limited to driver fatigue, bad road and vehicle design and lack of driver training. For instance, most of the buses currently running in India are fabricated on chassis which is more suitable for trucks, thus compromising on the safety and comfort of passengers." – YKA, December 24, 2015.
So of course Rapidkl buses were fascinating to me. I would admire the cleanliness (cleaner the Indian buses) and what bamboozled me the most was the LRT. YOU ALL HAVE SELF DRIVING TRAINS!? THAT WENT UNDERGROUND!?
Maybe that reaction is a biiit exaggerated but even a ride in the train used to be an outing. The 12 year old me would run up to the front of the train because that was the best spot to city gaze.
KL has its own public transport problems la… but hey, beats sitting on bus rooftops, amirite?
4. Malaysian weather is amazing. Really.
The part of India that I am from, we had 4 seasons (summer, winter, autumn and spring). In summer, the temperatures would reach close to 39°C. It would be so hot that on summer nights, you could feel the heat radiating off the road. Prickly Heat (sweat rash) would also be a very common (and uh-nnoying) phenomenon. In winters, temperatures would drop to about 6°C and the whole town would be covered in fog in the mornings and evenings. Visibility would drop to just a few meters which would cause lots of road accidents. According to the road transport ministry, 25 people are killed everyday in road accidents caused by the fog.
I remember when I was packing for Malaysia, I had put my winter clothes in my suitcase which my mum asked me to remove. She told me there is no winter in Malaysia which, again, bamboozled me. Note that I was a small kid who was taught that you go to school to memorize stuff that will help you get good grades which resulted in me never really understanding when my teacher taught us about countries near the equator. 
Evidently, when I see people complain about how hot Malaysia is, I can't help but laugh. You all really have it good la.
5. Ok… seriously… it's a lot easier to get help in Malaysia
Unfortunately, my mum was diagnosed with Stage 4 breast cancer a few years back and there were organisations such as the National Cancer Council Malaysia (MAKNA) and Sikh Welfare Organistions that helped foot the bill for her treatment and she managed to fight cancer and get back up on her feet.
Although medical treatment is cheaper in India, it isn't free or easily accessible. My mum would probably have died had she not moved back to Malaysia. The Indian gomen only spends about 4.2% of its GDP on healthcare goods and services (compared to 18% by the US) and most of it is concentrated in urban areas even though 70% of the population lives in rural areas.
While I have seen even close relatives become strangers back in India, I noticed how warm everyone was here. People would smile and talk to each other as though they knew each other. Charitable organisations in India generally have a bad name whereas although not perfect, there are organisations in Malaysia that ACTUALLY help save lives.
Charity aside, Malaysians generally have a warmth to them that you can see especially when someone is in need. I have not felt this sense of "home" anywhere else.
I was born in India but Malaysia has become my home…
It would be unfair to label India as a backward country as they are working on their issues as well. They recently passed the Right To Education Act which makes it mandatory for parents to send their kids to school. Their space exploration program is also pretty cool.
To date, they are one of the four countries that have reached Mars (at a 10 times cheaper price) and they once even launched 104 satellites into space… SIMULTANEOUSLY. Meanwhile, we've only been successful at forking out one astronaut.
Their economy is also the fastest growing economy in the world with a whooping 7.7% GDP growth in the first quarter of 2018, whereas Malaysia's GDP only grew at 1.2% in the same time while the US is at 2.2%.
All in all, although Malaysia is far from perfection, having seen extreme conditions, I am quite appreciative of what Malaysia has to offer and I believe Malaysians could take a break from the daily complaining and appreciate what we have. Besides, ang moh countries aren't doing that well lately anyway.