Politics
5 lessons from Tony Pua calling the Housing Minister a chicken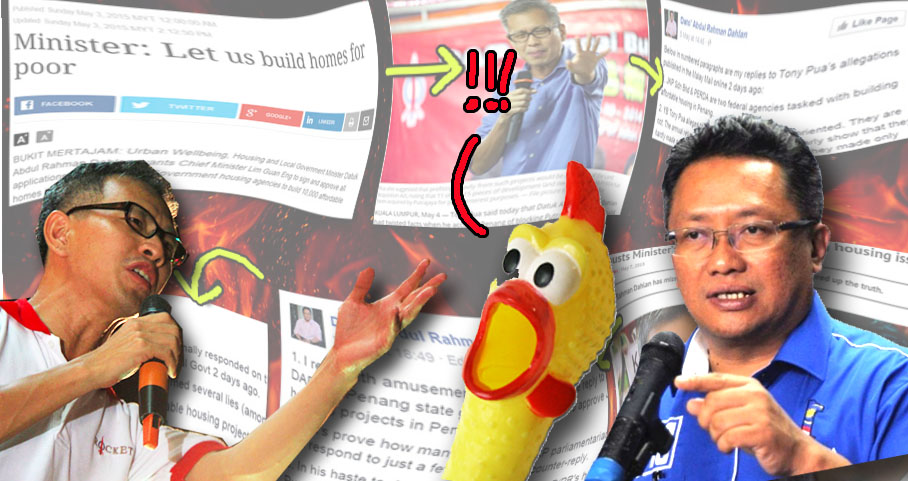 Some of you might remember this running gag that was in the 'Back To The Future' movies. In the movies, he gets challenged to a fight but declines and walks away. The challenger then retaliates by calling him 'chicken', and that never fails to provoke him into responding, albeit to some regrettable results. For those of you who don't remember the scenes, here's one example from the 'Back To The Future' movies.
It was a running gag throughout the movie series, but what made it memorable was that he eventually learns to not give in to the provocations.
What's this gotta do with Malaysian politics? Unlike Marty, Malaysian politicians never. seem. to. learn. Well, let's just say the word 'chicken' is involved, plus other words like 'coward' and 'demigod' and even some sarcasm apparently.
So what's 'Back To The Future' and chickens gotta do with Malaysian politics?
Recently, 2 MPs, Dato' Abdul Rahman Dahlan (who is the Minister of Urban Wellbeing, Housing and Local Government and the MP of Kota Belud, Sabah) and Tony Pua (MP of Petaling Jaya), were in a war of words again. This time, it was over an issue on low-cost housing in Penang.
It all started with Dato' Rahman Dahlan asking Lim Guan Eng (Penang Chief Minister) to approve federal government applications to build 10 thousand more affordable houses in Penang.
"I urge Lim to approve all construction projects of affordable housing by the federal government by tomorrow (Sunday) if he sincerely wants to help the people of Penang own a house." – Dato' Abdul Rahman Dahlan, as quoted by Free Malaysia Today
What did Penang say? Penang Housing Committee chairman, Jagdeep Singh, gave it a no go. He said that some of the prices were too high to be considered low cost… So high that he himself felt it was unaffordable, let alone the public.
This then led to a whole lot of stuff that we'd talk about as we go along. But this whole incident left a bad taste in our mouths. As our title indicates, this whole story shows us 5 things about the Malaysian political climate: 
1. Ministers love calling each other names
It was reported that when Dato' Rahman Dahlan put forward his grievances to the media, the media basically said, "Why not go meet with Lim Guan Eng?" His response:
"He's very fierce (bengis), he is angry all the time (selalu marah). I am frightened (takut)." – Dato' Rahman Dahlan as quoted by Free Malaysia Today
Then, this prompted Tony Pua (we're not sure why he came into the picture btw) to write an article in MalaysiaKini, ending it with this:
"Otherwise, the housing minister will only prove himself a cowardly chicken for not even daring to meet with the Penang chief minister to ensure that the federal government can contribute towards building more affordable houses in Penang." – Tony Pua in an article written for MalaysiaKini
……
Obviously calling someone a 'cowardly chicken' is asking for them to come back with an agitated response la, in which Rahman Dahlan did. Not only did he say that his remark was sarcastic, he referred to Lim Guan Eng as Tony Pua's 'demigod boss'.
"@tonypua probably doesn't know what sarcasm meant when I said I am afraid to see his demigod boss becoz he was fierce and angry! Very funny." – Dato' Rahman Dahlan as quoted by The Malay Mail Online
Aiyo… Why use all these words la?
Well, this isn't the first instance of unorthodox words being used in conversations between politicians. For example, the late Karpal Singh once sparred with Bung Mokhtar in parliament where they called each other 'bigfoot' and 'big monkey' (which we once talked about in a previous article).
And also this other one between Lim Kit Siang and Dato' Seri Mohamed Nazri Aziz where the more direct word 'stupid' is used.
Anyway, our point is that it's not entirely uncommon for our politicians to lash out at one another. No, we don't think that's a good thing, but that's just the beginning.
P.S. While we were writing this, Rahman Dahlan was once reported to have been name-calling. This time he called Rafizi Ramli a 'political clown'.
2. Parties address queries partially, with convincing arguments, but not much proof
As we looked deeper, we found that these two guys did address the issues being argued, but only partially. These discussions were rather long and elaborate, so we won't go dissecting them but will leave you some links. Here's the order of the exchange:
From top left, counterclockwise: 1. Rahman Dahlan, article on The Star | 2. Tony Pua, article on The Malay Mail Online | 3. Rahman Dahlan, reply on his official Facebook page | 4. Tony Pua, article on Free Malaysia today | 5. Rahman Dahlan, reply on his official Facebook page | 6. Tony Pua, reply on his official Facebook page
But that's just the problem, these are all we have to go by.
We got rather confused when reading the replies of both Rahman Dahlan and Tony Pua because we realised, they both made sense! And now we don't know who to believe!
The problem was that both called out the other on lying, but there were barely any evidence to back up their claims.
For example, this issue started with proposals for housing from the federal government being rejected by the Penang state government. The proposals were submitted under two companies, JKP Sdn Bhd & PERDA. We know these things, but we don't know which proposals they are referring to. We also tried to go to the JKP and PERDA websites but we didn't know which projects were the ones being talked about.
So essentially, the public doesn't have access to these documents, andddd we're taking their word for everything they are saying. OK, maybe that's not wrong, but it's so risky yo.
3. We lack transparency, but that's not new is it?
Though not necessarily a big talking point about this issue, transparency would have helped deal with this without it becoming a heated exchange.
In our opinion, this exchange became so heated because of how both sides seem to avoid each other on certain issues. For example, Rahman Dahlan hasn't responded to Tony Pua's questions on why the gomen gains a profit of RM149 million from their proposed projects. He also hasn't answered why there are only 6, 300 affordable houses instead of 10 thousand as previously claimed.
On the other hand, Tony Pua hasn't answered Rahman Dahlan why the Penang government hasn't respond to their amended proposals after rejecting their first set  (which makes us actually question if the 'chicken' insult carries any weight at all). Tony Pua also hasn't responded to allegations that Penang is yet to see results of a RM500 million state housing fund.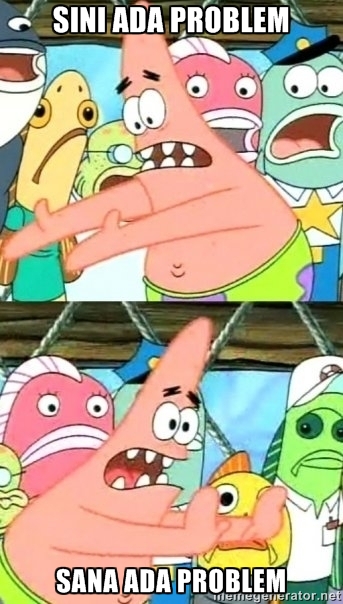 So it really seems like both sides are shouting allegations yet dodging them at the same time while the public remain in the dark as to who is right or wrong.
4. It's usually never about the issue, but always about the parties
No we don't mean like rave parties, but political parties. This issue between Rahman Dahlan and Tony Pua was initially between Rahman Dahlan and Lim Guan Eng. We are still curious why Tony Pua got involved, but amidst the insults, Rahman Dahlan did make a good point about it. Tony Pua was responded to back up Lim Guan Eng… You know, like 'you mess with me, you mess with my family' kind of thing.
No, we're not saying that opposition politicians have this practice of supporting their leaders no matter what they do. We're saying that Malaysian politicians have this practice of supporting their leaders no matter what they do. In Psychology, this is known as groupthink, where a desire for harmony in a particular group might lead to irrational decision-making.
But beyond that, it is also possible that this isn't down to a desire for harmony but out of fear of being 'kicked out'. An example: Khairuddin Abu Hassan lodged a police report about 1MDB in December 2014. A few months after that, he was sacked by UMNO with the official reason being 'bankruptcy'.
5. We, the people, ought to be fact checkers
We have to admit that when we first starting writing this, we were under the assumption that Rahman Dahlan was actually stalling on meeting with Lim Guan Eng. It wasn't till we read his replies that we realised that we were just allowing ourselves to be swayed by rhetoric.
We were unaware that Rahman Dahlan was in fact, addressing Tony Pua's request for him to meet with Lim Guan Eng. We don't agree he should have started off calling Lim Guan Eng 'fierce and angry', and we also don't agree with the way Tony responded.
All we know is that we, as people, ought to be keeping our government accountable for the things they do and say. And it's no different for this Penang housing issue. Instead of allowing our leaders to engage in name calling, the people should have stepped in to focus on the points being debated instead.
And that really should become a practice here in Malaysia.
But do we check everything our government is doing?
As we were discussing about how to go about this article, our editor-in-chief made this statement.
"We wouldn't need 100% transparency when there is trust. For example, if a woman found out her husband cheated on her with another woman, she wouldn't be able to trust her husband and would always be suspicious of his activities.

The same with Malaysia, the only reason we need more transparency from politicians is because trust is at an all time low." – Lau Chak Onn, editor-in-chief, CILISOS
Guess what we're trying to say is that right now, our leaders don't have a very good relationship with the people. That is why there should be a lot more transparency between our leaders and the people. And until that relationship is mended, that's what the people are going to and should continue to demand from our leaders.