History
International
Malaysians were said to eat rats? Plus 4 other rare stories from the "Ganyang Malaysia" era.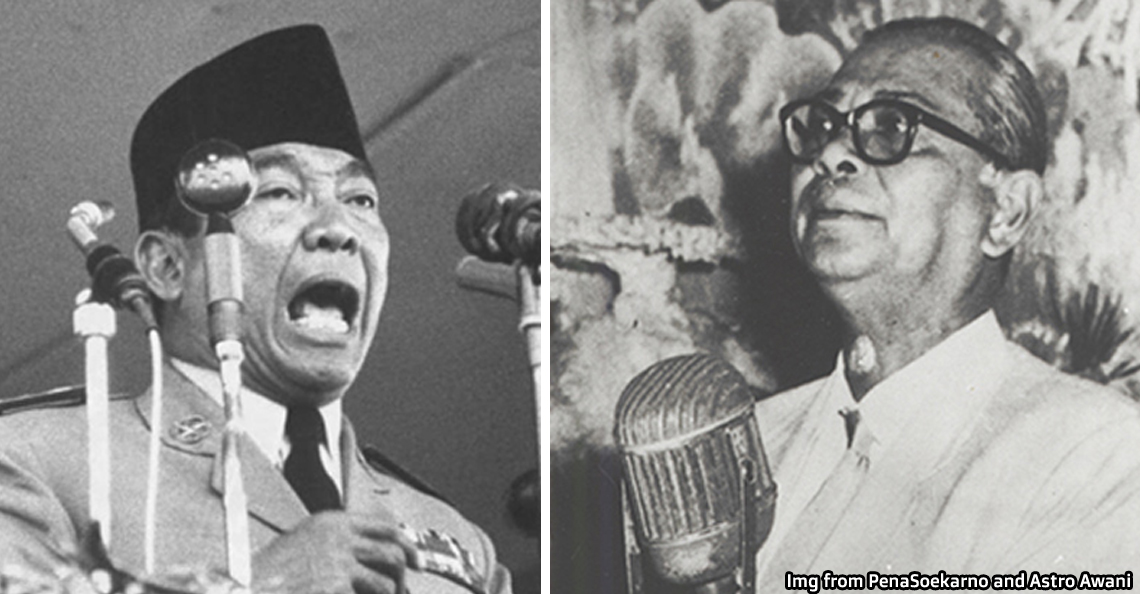 [Artikel ni asalnya ditulis oleh kawan-kawan kami kat Soscili. Kalau nak baca artikel ni dalam BM, klik sini!]
If you enjoyed this story and want more like this, please subscribe to our HARI INI DALAM SEJARAH Facebook group ? 
*cough cough* Well, it seems like lately we're often reminded of our neighbor Indonesia. From the tear gas incident during the Malaysia – Indonesia match at the Gelora Bung Karno Stadium to the *hack cough* current haze (which totally didn't come from Indonesia), it seems that our relationship with them had always been… hard to swallow.
And this relationship goes wayyy back to when Malaysia was first formed. As we all probably know by now, Malaysia was formally established on the 16th of September, 1963. In the beginning, it was planned to include Malaya, Sabah, Sarawak, Singapore and Brunei. However, Brunei declined the invitation, while Singapore was removed in 1965.
Tunku Abdul Rahman first presented the plan to establish Malaysia on the 17th of May 1961 at the Adelphi Hotel in Singapore. At that time, neighboring countries had mixed responses towards it: some supported the idea, while others protested it.
Soekarno, the president of Indonesia at that time, was among the most vocal protester of the plan. To Soekarno, the formation of Malaysia is nothing more than another Western imperialist agenda (to spread their influence) and neocolonialism (to indirectly control the politics of the region). Besides Indonesia, the Phillippines had also rejected the formation of Malaysia as they wanted Sabah for themselves, which they said had a history with the Sulu Sultanate.
Getting back to Indonesia, the discontent grew so great that Indonesia declared a confrontation against Malaysia. This was followed by a declaration of "Ganyang Malaysia", which is basically Indonesian for "Crush Malaysia". It was a crazy time back then, so today we'll be looking at a few interesting events and stories during this confrontation, starting with…
1. Tunku's Malaysia plan basically foiled Soekarno's plan
President Soekarno actually had another plan in mind: to combine Indonesia, Malaya and Brunei into an entity called Indonesia Raya or Malayu Raya. So understandably, when Tunku Abdul Rahman came up with Malaysia instead, he practically foiled Soekarno's plan.
So on the 20th January 1963, Indonesia's Foreign Minister Dr Subandrio declared a confrontation on Malaysia. Soekarno, who was known for his oratory skills, called for Indonesians to "Ganyang Malaysia" on the 27th July 1963.
"It's normal for us to be hungry. It's also normal for us to be ashamed.

But if our hunger or shame is because of Malaysia, that's insolence!

Send out troops to Kalimantan to teach the cheeky Malayans a lesson! Hit and scour them, and do not let our land and air be stepped on by the bastard Malaysia.

Pray for me, for I shall set off to the battlefield as a patriot of my Race, as a martyr of my Race and as a bullet of my Race who refuses to have his pride be stepped on.

Spread the word to our whole country that we will unite to fight this insult; we will avenge this action and we show them that we still have strong Fangs and that we still have our dignity.

Let… let… us… Crush…

Crush… Malaysia, Crush… Malaysia

Gather up resolve, our Spirit is old

Our Bullets are plenty, our Lives are plenty

We need each one!"

-Badly translated from Inilah.com.
The principles and leadership of these two figures were very different. Soekarno was left-leaning and nationalist, while Tunku was pro-West and anti-communist.
"The worst among colonialists are the communists, communists are more horrific and more dangerous than other forms of colonialists seen by mankind, and we must beware the threat of the communists." – badly translated speech of Tunku Abdul Rahman, Utusan Melayu, 1962.
Although Soekarno had denied Indonesia's similarity to communism, he had used three main elements in his rule: nationalism, religion, and communism (NASAKOM). To understand the NASAKOM concept, it should be known that at that time, several parties were vying for power in Indonesian politics:
Indonesia's National Army (TNI)
Indonesia's Communist Party (PKI)
Political parties from religious and nationalist streams
So Soekarno used the NASAKOM philosophy in his rule to balance the influence of all these parties. By inserting religious elements in communist thought and at the same time highlighting the value of nationalism.
2. Soekarno alleged that Malaysians eat rats and corn (?)
Besides threatening Malaysia, President Soekarno had also done other things to irk Malaysians, for examply by dissing the anthem Negaraku by singing it as Terang Bulan.
"Malaysian who went through the confrontation era might remember how Soekarno insulted Tunku Abdul Rahman, Malay clothing and the Negaraku anthem that was sung in the original form, named Terang Bulan." – Translated excerpt from Utusan Malaysia.
And this form of taunting was felt by Malaysian journalists visiting Indonesia at the time.
"I had severely condemned President Soekarno who insulted the national anthem Negaraku in an event celebrating journalists who attended the Afro Asia Journalist Conference in Jakarta on the 24th April 1963.

Soekarno had sung Negaraku as the Indonesian song Terang Bulan. The National Union of Journalists Malaysia (NUJ) who at that time was led by its President Rosedin Yaacob from Utusan Melayu responded by leaving the event. They were previously met by banners of Ganyang Malaysia upon arrival in Jakarta." – HISB, p31 (also published in Utusan Malaysia).
In case you're feeling confused, the melody for Negaraku came from Terang Bulan, which was a folk song in Indonesia. Terang Bulan in turn was composed by a French musician named Pierre Jean de Beranger.
Besides that, Soekarno also alleged that the people in Malaysia lived in hardship. But Tunku refuted Soekarno's allegations:
"As said by Tunku, Soekarno said that my people are suffering, eating corn, rats and others, but they are actually dancing, gambling, drinking and being indulgent." – Zainuddin Maidin, Mahathir Bukan Kawan Saya, p128.
Despite all the petty taunting, Soekarno is well-established as a great leader in Indonesian history.
"There have been no other Indonesian President with such experience. Most importantly, he possesses a bravery, attitude and political standing that was outstanding and unmatchable by the other six presidents.

For example, when Indonesia was facing pressure regarding never-ending economical woes, Soekarno managed to qualm the troubled souls of its people. To do that, he declared a confrontation with Malaysia. This caused his people to forget their hungry bellies and the pressure on the country's economy." – Translated from Malaysian Digest.
3. Not content with name-calling, Indonesia launched a series of armed attacks
Right after Indonesia declared a confrontation towards Malaysia, invasions and attacks towards Malaysia started. Things got worse when Tunku proceeded with the announcement of Malaysia on 16th September 1963 even though Soekarno boycotted the decision of the Cobbold Commission, which surveyed the people of Sabah and Sarawak on Malaysia's establishment.
Malaysia should have been formed on the 31st August 1963, but it was postponed to the 16th of September due to a delay in receiving a report from the UN's secretary. When Malaysia was accepted as non-permanent members of the UN, Indonesia decided to leave the UN in 1965 as a protest.
The war of words between Tunku and Soekarno soon escalated into an armed conflict. Despite that, the armed confrontation between Malaysia and Indonesia remained an undeclared war.
Here are some of the attacks by Indonesia:
Thankfully, Malaysia managed to handle these attacks with military help from Commonwealth countries like Britain, Australia and New Zealand.
4. Tunku was forced to step on Indonesia's national symbol
On the 16th September 1963, Tunku had successfully declared the formation of Malaysia at the Merdeka Stadium in front of some 30,000 people. On the same day, Indonesia and the Phillippines cut their diplomatic ties with Malaysia. Malaysia's embassy in Jakarta and Medan was burned down in a protest.
In Malaysia, on the day after the declaration, Malaysians held a demonstration at the Indonesian embassy on Jalan Ampang, Kuala Lumpur. In the demonstration, protesters attacked the embassy, lowered the Pancasila, which is Indonesia's national symbol, and hoisted Malaysia's flag.
It was during this demonstration that Tunku was forced to step on the Pancasila.
"The symbol was taken down from the Indonesian Embassy building in Jalan Ampang and was dragged using scooters and motorcycles to the Prime Minister's residence on Jalan Dato' Onn.

The called Tunku outside and hoisted Tunku up and asked him to step on the symbol that they brought along. When Tunku refused, they lowered him onto it anyway. Tunku at that time said, 'Why do you people do this to me.'" – HISB, p37 (also published in Utusan Malaysia).
According to Zainuddin Maidin (former Editor-in-Chief of Utusan Malaysia and Information Minister), Tunku had his own reasons for not stepping on the Pancasila.
"Tunku must have had a lot of reasons to refuse stepping on Indonesia's national symbol. One of them was his moderate attitude, often reflected in his political approach as well as his attitude towards life." – HISB, p40 (also published in Utusan Malaysia).
After that, many anti-Soekarno demonstrations were held throughout the country, particularly during the 1964 Elections.
"The 1964 Elections was held in the middle of the Indonesian confrontation, filled with drama and theatrics, effigies of Soekarno and Subandrio (Indonesia's Foreign Minister) were burned and thrashed around." – Zainuddin Maidin, Mahathir Bukan Kawan Saya, p161.
5. Asked to smile after a failed negotiation, Tunku cursed in front of journalists
Negotiations between Malaysia and Indonesia happened four times between 1963 and 1964.
Negotiations in Tokyo (May & June 1963)
Summit in Manila (July & August 1963)
Conference in Bangkok (February 1964)
Conference in Tokyo (June 1964)
Whilst in Tokyo (1963), negotiations between Tunku and Soekarno hit a wall. After the negotiations, there was a picture of Tunku and Soekarno laughing. There was actually an interesting story behind that, told by Tan Sri Zainuddin Maidin in his book.
"When they got out of the conference, news photographers and foreign journalists bustled to take pictures of Soekarno and Tunku. Melan (Tan Sri Melan Abdullah, then Editor in Chief of Utusan Melayu) was among them. Tunku and Soekarno did not show happy faces despite being asked to smile several times by the photographers using the word 'cheese'.

After being pushed repeatedly, Tunku finally swore with a four-letter Malay curse word, causing Soekarno to erupt in laughter, and Tunku as well. No longer smiling. The laughter intensified when a journalist asked 'is that cheese, Tunku?' Tunku answered, 'ya, ya, something smell like cheese." – HISB, p47 (also published in Utusan Malaysia).
Soekarno was later ousted, and Malaysia and Indonesia formed a truce
On the 30th September 1965, the Indonesian Communist Party (PKI) attempted a coup in Indonesia by kidnapping and killing several Indonesian military generals. This incident was known as the 'Gestapo' incident (short for Gerakan September Tiga Puluh) or G30S. Six Indonesian generals died in the incident.
General Suharto survived the incident, and he took over Soekarno's executive powers on the 11th of March 1966. Soekarno, on the other hand, was stripped of his position on the 12th March 1967 and put under house arrest until he eventually died in 1970, at the age of 69.
Finally, on the 28th May 1966, a conference was held in Bangkok between Deputy Prime Minister Tun Razak and Indonesia's Foreign Minister Adam Malik. Malaysia-Indonesia ties progressively got better by 1967, and thus the confrontation ended. While today Suharto had been described as one of the most brutal and corrupt dictators of the 20th century by some, his extensive 'New Order' policies which included emphasizing economic development, depoliticizing Indonesia and mending ties with foreign countries managed to turn Indonesia around and made the country easier to reason with.
During the confrontation period (1962-1966), as many as 114 commonwealth soldiers, 36 Sarawak civilians and more than 590 Indonesian soldiers lost their lives. It hadn't been an easy, straight path for Malaysia, from Merdeka to the formation of the Malaysia as it is today, but with a bit of diplomacy (and a sprinkling of help from Commonwealth nations), we managed.
If you enjoyed this story and want more like this, please subscribe to our HARI INI DALAM SEJARAH Facebook group ?