Aside from it being a public holiday, 16 Sept has become quite an important date for us, seeing as 56 years ago on this date Malaysia was born. Nevertheless, despite our shared love of nasi lemak, kway teow and roti canai, there remains many questions about just how much we really know about each other in Malaysia.
As such, in light of the upcoming Malaysia Day celebrations, Allianz Malaysia Berhad interviewed six Malaysian personalities from various backgrounds to talk about themselves and the country we all love. This series of four episodes showcases these guys and gals telling each other and us everything from their proudest moments to their history and what bonds all of us together.

Let's take a look at these interviews, starting with…
1. The army veteran and hearing impaired photographer who made our country proud in their own ways
Read the news often enough and you'd probably come across the name Brig Jen Dato Mohd Arshad bin Mohd Raji (Retired) before. The leader of the Patriot NGO, he was with the Malaysian Armed Forces for over three decades, and made a name for himself after his military career by voicing out issues of unity and military personnel welfare over the years.
He began his military career in the Royal Malay Regiment back in 1965. He went thru a host of responsibilities with the Armed Forces over the decades, before eventually leading the Malaysian contingent to a UN peacekeeping mission in Cambodia in March 1992. His main job there wasn't to fight, but rather to maintain peace.
"We are there to make peace. In peace-keeping operations you don't use your arms. We went without arms, they accepted us because of that. And I'm proud because we're part of the events that brought Cambodia to where it is today," –  Dato' Arshad
Dato' Arshad's mission ended just over a year later on July 4, 1993, and the Malaysian contingent even got praised from the UN. The then-King of Cambodia Norodom Sihanouk commended our forces with a letter of appreciation.
Following his retirement in 1998, Dato' Arshad and some of his compatriots formed the NGO Persatuan Patriot Kebangsaan, better known as Patriot, in 2007. This association, comprised of military veterans and retired police offices of all backgrounds, aims to encourage pride in all rakyat regardless of color, culture or religion.
If what Dato' Arshad did made our country proud, what the following guy did is just as impressive in his own way. Haymasuthan Periasamy is a hearing impaired photographer, but he never allowed his disability to hold him down; Hayma represented our country on the world stage in 2016 by being part of the Malaysian contingent in the International Abilympics, an international event showcasing the work abilities and vocational skills of the disabled at a high sporting level (think Olympics!).
For Hayma, his success story came when he impressed the judges with the idea of using a makeup mirror as a light tool for photography! It wasn't just the creativity that caught the judges off guard as Hayma even managed to complete his photo session a full hour before the deadline. Thanks to his skills, Hayma went on to win GOLD(!) in the Studio Photography session.
"My proudest moment was when I won a gold medal at the International Abilympics… During the closing ceremony and the prize giving ceremony, I was shocked that I won gold. My name was there and the Malaysia flag was there," – Haymasuthan
As these two prove, regardless of your abilities or career, anyone can help make the the country standout and be proud of the nation. If you wanna know more about what these two gentlemen chit-chatted about, you can check out the full convo here:
But it wasn't just the two of them who sat down for a talk…
2. Two Malaysians of mixed parentage who both miss having their fathers in their life
Both our personalities for the second episode have a unique feature between them, in that they're both from 'mixed' marriages, starting with Eddin Khoo Bu-Eng.
Eddin is a historian, translator, poet and cultural activist. He is also of mixed parentage, as his late dad is a Peranakan Chinese and his mum Tamil. While growing up, he was also taken care of by a Malay woman, leading to his nickname of simply Din. Even his name originated from an Arab word – Ad-Din, which means 'way of life'.
Now Eddin loves the arts, to the point where he's pretty much spent most of his life devoted to knowing more about and preserving other communities' culture. In fact, Eddin even formed his own cultural organisation to protect the arts called PUSAKA, ensuring cultural traditions such as wayang kulit, mak yong, tarian dabus and more don't get lost to time. And for a lot of it, Eddin thanks his late father for nurturing him during his formative years.
"I lost my father two months ago… we were very close. I was greatly interested in his work, and everything formative in my life, things that I really love, was given to me by my father," – Eddin Khoo
Similarly, Zakri Khir, the CEO of Allianz Malaysia Berhad, also shared on his multiracial and diverse childhood. He mentions having a Malay dad and a Chinese mom. As a young boy, he would go over to his Ceylonese neighbour's house to have breakfast there. He mentions that til this day, a common breakfast of his remains a humble tosai and some idli.
Despite his 30 years of experience in the insurance industry, Zakri feels that he should have become a teacher due to his love for Malaysian history. You can sense how much he loves it too. Last year he got his employees at Allianz Malaysia Berhad to tour around Kuala Lumpur to visit a number of historical sites and locations. The company has also been involved in some nation-building initiatives such as the Projek 57 Unity Ride a couple of years back.
And just like Eddin, he too cherishes the memories he had with his late dad when he was a kid.
"My father liked to read in bed. When he came back, I'd always lay beside him and talk to him. It is something that I really, really miss," – Zakri
3. An award-winning journalist and school dropout both share their love for education
Many people, especially the older folk who've been reading newspapers from decades ago to now, would probably have heard of R. Nadeswaran, better known as Citizen Nades. You may not however have heard of Miri binti Adek tho, but that doesn't mean her story is any less inspiring.
In this episode, both Nadeswaran and Miri highlighted the importance of education when asked about their proudest moment in their lives. Nadeswaran explained that for him personally, it's graduating at the ripe old age of 46.
"I left school with just a Senior Cambridge (SPM). I was already working… never thought of going to the university to further my studies. One morning I got up and told my wife I better go and do something. If I lose this job as a journalist, I cannot find any other job," – Nadeswaran
Citizen Nades later said that he found a night school to study as a mature student, before heading off to the UK to finish his degree. Promising himself to come back with at least a second class upper degree, Nades not only got that but also an award for the best essay from the university.
Upon graduating in 1996, he continued to be a hard-hitting journalist to the point where he has even apparently garnered a lot of infamy from a few politicians. Among the numerous scandals he exposed over the years include the PFKZ controversy and the national sports center in London that turned out to be a white elephant. His first big break however, wasn't even that political.
Responding to a plane crash in 1976, Nades came across a baby girl and immediately took off his shirt, wrapped it around the baby and got her to the hospital. Once he was back in office at 3am, his editor told him to use pictures of him with the baby and write up the front page of the paper for the next day, which marked the start of his career as a full time journalist.
As for Miri, she too had her proudest moment when her school gave her an award for best student – but it wasn't an easy task. She dropped out of school at 14 due to personal and family issues. Nevertheless, when Miri was 20, she found the SOLS Academy of Innovation, an NGO that helped to educate her and help her get back on her feet, and continued her studies. Not only did she become the best student, but she ended up being an English teacher too.
"I started from zero – no English, no confidence, nothing. Few years later, I was promoted to be a teacher… I thought I'd just be a normal cleaner but when I grew up, I realised a lot about education, so that was my proudest moment," – Miri binti Adek
Sadly, Miri's story of having to drop out of school is the norm for many Orang Asli children is Malaysia. A UKM study in 2013 found that for every 100 Orang Asli children going into Standard 1, only six kids will reach Form 5. A more recent report from Malaysiakini also pointed out that Orang Asli enrollment into schools have dropped this year from 2018. The same report points out that the kids who do make it to school also often have to face bullies and taunts from their classmates.
Nevertheless, Miri's story goes to show that with some help, anyone from these communities can reach their full potential to not just improve themselves, but also to contribute back to society.
And now last but not least…
The final question had everyone thinking hard… for Malaysia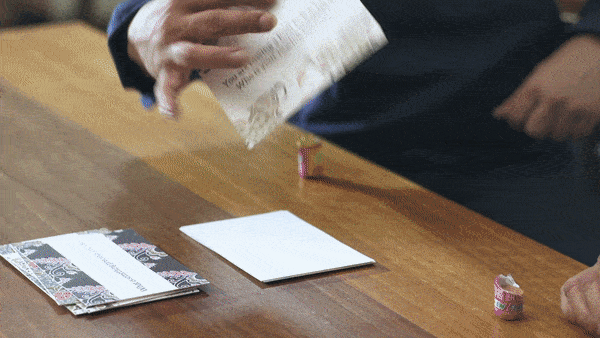 "What in Malaysia is worth protecting and why?"
Here's where it got really interesting for our interviewees. All six of them found it really tough to answer the question immediately, but when they had an answer, they all gave different replies.
Starting with Dato' Arshad and Hayma, the military veteran was quite clear on what Malaysia needed to protect: racial harmony. Hayma meanwhile had a similar reply; he wants to protect the languages and mother tongues that each community has while also ensuring that everyone has the common understanding of Bahasa Malaysia.
Citizen Nades however wants us to protect the environment, saying:
"In the name of development, they've actually destroyed nature. Now even wild animals like tigers coming onto trunk roads and highways…. I think that needs to be protected," – Nadeswaran
For Miri, with her being an Orang Asli herself, aims to protect Orang Asli culture. According to her, their culture is on the decline, and hopes to open up a center one day to give the new generation an idea of Orang Asli culture.
As for Eddin and Zakri, their conversations led to a different result. While Zakri was determined to protect diversity, Eddin wants us to remember our traditions and cultures. You can find out more about what these guys had to say in Allianz Malaysia Berhad's final episode below:
Allianz Malaysia Berhad too wants to protect what they call Malaysia's greatest assets: you, the rakyat who call this place home. That's why they want all of us to not just understand that every Malaysian is unique, but also that its our diversity that makes us who we are today. With this series of videos, it's hoped that it showcased just how despite different backgrounds, customs and culture, we all share the same goal of wanting to protect Malaysia.
And in the end, it's perhaps Dato' Arshad who said it best:
"Malaysia Day is coming, hopefully we can get all Malaysians together under one flag of Jalur Gemilang," – Dato' Arshad