Malaysians love free stuff. Hmmm. actually right… everyone loves free stuff! But with rising cost of living and stagnating incomes, perhaps Malaysians have earned the right to love free stuff just a bit more than other countries.
So here's the shocker… there's not been that many articles written about it. Okla, you got articles mentioning museums and walks in the park… but what about other things that Malaysians need!? Like… breakfast.
Want some free breakfast? Wake up a bit earlier on 24th October 😉
Ever heard of National Breakfast Day? It's a day that McDonald's gives free breakfast at all their restaurants that serve breakfast. And this 24th October 2016, they're giving out Chicken Muffins for the first time ever! How many you ask? 1000 Chicken Muffins at each of over 200 restaurants in Malaysia.
Yea, it's pretty crazy – you do the math la. That's like one free Chicken Muffin for almost 1% of the population (unless some flers kiasu line up twice… tsk tsk).
It's available from 7am to 10am, although our buddies at McDonald's tell us it doesn't usually last that long, so wake up earlier k? Also, each participating outlet will have 1 Golden Muffin which will entitle one lucky fler to redeem a RM200 McDonald's Gift Certificate! OMG!
Want to know where to go exactly? Can check where to go at mcdonalds.com.my/nationalbreakfastday!
But of course, there's more than breakfast on offer in Bolehland, so to make us Malaysians save more, and appreciate how lucky we sometimes are… here we've compiled a list of things that are FREE here, and how much they'd cost elsewhere.
1. Free wildlife!

How much it costs in… Thailand: 1700 Baht (RM200) for ChiangMai's Elephant Sanctuary, or 1100 Baht (RM140) for Sun Bears at the WildLife Rescue Centre
While it's common for countries to have free museums, parks and hikes… free guaranteed wildlife isn't so common (of course no one's stopping you from taking chances in the jungle or ocean), especially in the SEA region. However, there are a few places in Malaysia where you get to see wildlife that's well taken care of, without having to pay an admission fee (although don't so kiamsiap la at least kasi a donation!).
Here's a list of what's FREE
Elephants at the Kuala Gandah Elephant Sanctuary – located in Pahang, this Sanctuary allows you to get up close and personal with the Borneo Pygmy Elephants. Although riding and bathing them is no longer allowed, you can still buy stuff to feed them, or if you prefer
Snakes at Penang's Snake Temple – Your chance to get up close with venomous pit vipers (although rumour is they've been de-fanged), the Snake Temple in Penang has been there since 1850, in honour of Chor Soo Kong, a healer that also had a strange affection for snakes. If you wanna see more than pit vipers you gotta pay tho… RM5 for the Snake Farm within the compound.
Turtles at the Cherating Turtle Sanctuary – This isn't a petting zoo. The turtles are kept here so that they can breed in peace, away from both natural and human predators. You can see the turtles in the ponds on the compound, as well as babies swimming around small enclosures, but you'll need to pay extra to stay overnight to catch the hatching of the eggs.
Sun Bears at the Borneo Sun Bear Conservation Centre in Sepilok – Home of the smallest bear in the world, this is where they rehabilitate the injured ones and release them into the wild after. Visitors This one's only free for the kiddies tho… if you're above 12, Malaysians need to pay RM5 to go in. Oh and speaking of small, FYI the koala is not a bear k?
Honestly, it's hard to find places where you can see wildlife for free outside of Malaysia. Most places in Thailand do charge, and zoos in most countries are even more expensive (Singapore zoo almost RM100!).
2. Free treatment for dengue!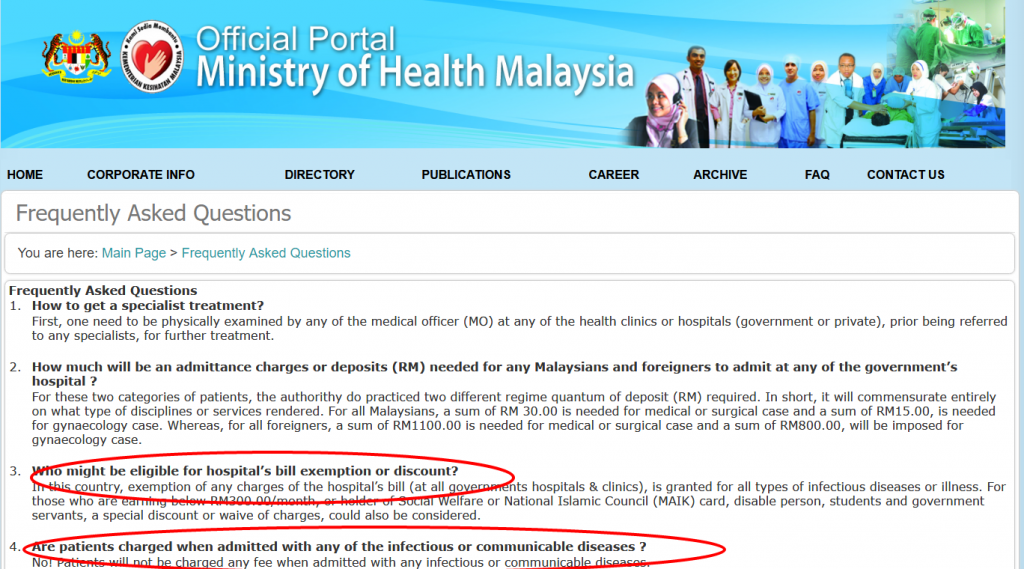 How much it costs in… the Phillippines: US$210.75 per case on average
One of the things that Malaysians have always had is affordable healthcare. But what many Malaysians don't know is that some of it is BETTER than affordable, it's FREE! Any communicable disease like AIDS, Dengue or even Tuberculosis, allows access to citizens for free treatment at government hospitals 🙂
In fact, now there's even lobbying to include immigrants for this benefit – WHY? Because the overall objective is to limit the spread of these diseases – so it's better (and cheaper) to treat one patient, than to treat all the people who might potentially be infected by that patient.
So in case of the zombie apocalypse – you know where to go… University Hospital, or KL General Hospital, or any public hospital for that matter. On top of this, government employees, schoolchildren, pensioners and the disabled (AND their dependent family members) all get free outpatient treatment as well 🙂
What about the rest of SEA? Singapore and Thailand have some minimum charges, while other countries like Phillippines are subsidised, but apparently not by much, which results in an estimated more than 85% of cases going unreported 🙁
3. Free babycare!
How much it costs in… Indonesia: US$70 (RM300) for just a normal delivery, and only selected vaccines are free.
To add to the many pros of Malaysian healthcare, government hospitals and clinics also provide free (or almost free) pre and post-natal care. Before the baby is born, you can get free blood and urine tests, progress checks and even two ultrasounds (during the 1st and 3rd trimester).  All these facilities are available to Malaysian citizens with costs listed on Babycenter.com.my as "No or minimal cost".
In fact, the only thing you might have to pay for is the actual birth, which if you're okay with a no-frills regular delivery, can be as cheap as RM10! Even if you eventually deliver your baby in a private hospital, you can still get a mid-wife to come after your delivery to check up on you and your baby. And of course, once the little feller is out, all standard immunizations are free as well.
In Singapore, be prepared for total costs nearing SGD5000 (or RM15,000!). In Indonesia, mothers actually can't collect their babies until they've fully paid all their fees 🙁
4. Free TV! (If ur antenna better than ours)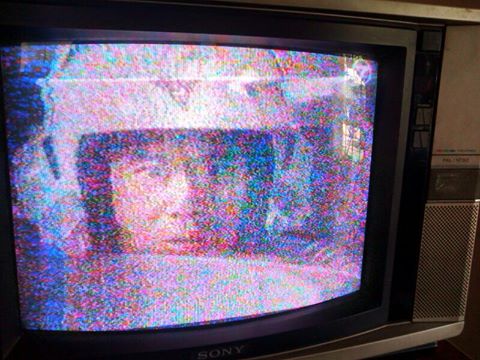 How much it costs in… the UK: £145.50 (RM747) a year, but if you have hipster Black&White TV then cheap cheap only £49.00 (RM252) a year
Yes we're aware most people watch more YouTube than TV these days. But it's still nice to know that even if your internet goes down, you can still watch Ultraman on TV! Unfortunately our tiny antenna kenot pakai… so we get alot of static. Still, reception is decent for up to 8 channels!
Malaysia used to charge RM24 for TV licenses, but even that super-low fee stopped in 2000 – our 7 national free-to-air stations now survive on a combination of government subsidies and advertising.
In the UK, while you'll get more than 30 channels (some of them HD!), you'll be paying quite alot for em… up to RM747 a year.
5. Free textbooks for school students!
How much it costs in… Singapore: SGD41 (RM124) for just Math, Science + Chinese textbooks
We're not sure how many parents know about this, but since 2008, students from both primary and secondary schools were entitled to receive free textbooks!
"Under the scheme, free textbooks would be provided to students at all government schools from next year. The scheme which was previously limited to poor students, has been extended to all students regardless of their financial background." – The Star, Dec 2007
And it's not just textbooks either. There's CD-ROMs that accompany them with cool multimedia stuff and even computer games to help students to learn! However, it's important to note that these materials are loans, and the textbooks are passed down after the year is complete (but that's kinda good for the environment too!). On top of that, students even get RM50 book vouchers from the government and lower-income kids get free milk too!
Just down south in neighbouring Singapore, students pay hundreds of ringgit (although less so in SGD) for textbooks according to Singapore Math Inc.
6. Free CILISOS and Dhal!
How much it costs in… Australia: AUD$3-6 for a portion of dhal
This is one of those things Malaysians really have it good for (and we don't mean just free awesome content from CILISOS!). Almost anywhere in Malaysia, we get all sorts of free things to add flavour to our meals (and we don't just mean salt and pepper) – garlic, cili padi, sambal, CILISOS and curries to dip our yummy roti canais in!
Overseas, it's a different story. In Australia, be careful ordering a roti, cos most of the time… that's all you get. Dhal costs anywhere between AUD3-AUD6 (RM10-RM20) extra! Even some fastfood chains charge if you ask for more sauces! But here in Malaysia, we get loads and loads of CILISOS for free 🙂
It's nice to know there are some things you don't need RM to buy
While many of us do complain about the rising cost of living here, it's nice that we still get so many things for free that you'd have to pay for in other countries. This list helped us realise not only what we can get for free, but what we never realised other people in other countries pay for.
So for thousands of average Ahmads, Ah Sengs, Pandikars or Muthus, there's a yummy FREE Chicken Muffin waiting for you early birds this 24th October.
Just be sure to set your alarm 🙂