Remember Tun Mahathir? The former Prime Minister of Malaysia who never really understood what the word "former" meant? Well even if you don't remember him, you would at least know of the Petronas Twin Towers, the tallest building in the world between 1998-2004, and said to be Tun M's legacy.
But recently our Communications and Multimedia Minister, Datuk Seri Salleh Keruak actually mentioned the gomen could tear the Twin Towers down if they wanted to? What's that all about?
To be fair, this whole thing was actually started by Tun M, who first claimed that the people at Proton were no longer allowed to speak to him, and that
Najib was out to destroy anything that had been started by Tun M.
This is what led to Datuk Seri Salleh Keruak saying that if they wanted to destroy Tun M's legacy, they would have demolished the Twin Towers.
"If the Government wanted to erase his (Tun M's legacy), we could have just demolished KLCC.

But the Government today always prioritises the people and develops infrastructure for the benefit of everyone, not just a few like what happened during his tenure." –  Communications and Multimedia Minister, Datuk Seri Salleh Keruak, as quoted by bnbb.my, translation by The Star
But Tun M's reply was as cheeky as it was brilliant.
"Some people said I have done many bad things, such as the North-South Expressway. We should actually blow it up.

The Kuala Lumpur International Airport (KLIA), the Petronas Twin Towers, all these things are very bad you know." – Tun Mahathir, as quoted by The Malay Mail Online
Another article also has him mentioning other things like the Prime Minister's residence, Putrajaya, and Cyberjaya.
But he does have a point right? If anyone were to try and destroy Tun M's legacy, there are quite a number of things that they need to get rid off. And with that in mind we thought we'd look at a few other things that need to be destroyed before one can completely get rid of Tun M's legacy.
1. The "Silicon Valley" of Malaysia
Tun M is not called the Bapa Pemodenan Malaysia for no reason. Aside from all the canggih stuff mentioned above, he seemed to have forgotten to mention one not so popular but still very innovative thing. The Multimedia Super Corridor in Cyberjaya.
For those of you who don't know what Silicon Valley is, it's a whole area in California, USA, dedicated to technological and scientific developments. This is where all the big guns like Google, Apple, Facebook are all based at. It's so big that there are movies and TV series made about it.
We're not sure if this is what Tun M was going for, but it sure seems like it. The MSC's official website states that it's an "initiative designed to attract world-class technology companies while grooming the local ICT industry". And to do this, MSC gives out something called the MSC Malaysia Status which is like a seal of recognition given to companies which allows them to enjoy many benefits from the gomen. It's also worth mentioning that back in 1998, to make Malaysia attractive to IT investors, the gomen pledged to never censor the internet. (Even if this doesn't seem to be the case anymore.)
Things haven't been going too well for MSC though. The project never really took off, and this website recently described it as a "failed Silicon Valley". But at the very least, it seems that they've realised this, and have tried to turn things around. According to Datuk Seri Salleh Keruak (ironically), the MSC contributed RM15.3 billion to our GDP last year, and it's been steadily growing.
Destroyability: Destroying MSC would possibly help in destroying Tun M's legacy, but it seems like the gomen would like to keep it. Our IT industry has grown to other initiatives as well like the Malaysian Global Innovation and Creativity Centre (MaGIC), which allows a company to get a MSC Malaysia Status WITHOUT having to be physically at MSC itself.
And seeing as to how the gomen has been doing a lot to get our IT industry running again, perhaps getting rid of the MSC could cause more harm than good.
2. The biggest dam in Southeast Asia
Even though the Bakun Dam was completed in 2011, construction actually started in 1996. But as far as legacies go, this one is known for being more on the infamous side. The Bakun Dam was actually conceived to help deal with Malaysia's increasing power demand by giving power to both East AND West Malaysia. How da heck were they going to send the power across the sea? Well, the initial plan was to do so using underwater cables, and the whole project was to be handled by private companies.
But when the Asian Financial Crisis hit in 1997, the whole project was suspended. However, Tun M was a little bit stubborn…
"We are going ahead with the project. It will be slightly modified, maybe slightly smaller." – Tun M in 1999, as quoted by WSJ
Tenaga Nasional Berhad took over and saw the project through to the end But plans for energy to be transferred to Semenanjung Malaysia were scrapped. Still, even if it was finally completed, there's still so much controversy surrounding it. The 10,000 indigenous people that were force to relocate are reportedly still without proper food or water, the environmental effects still not fully known, and the documents surrounding the building of the whole dam protected under the Official Secrets Act. Anwar Ibrahim, when he was DPM, also claimed Tun M directed for compensation to be paid to the private companies before any proper audit.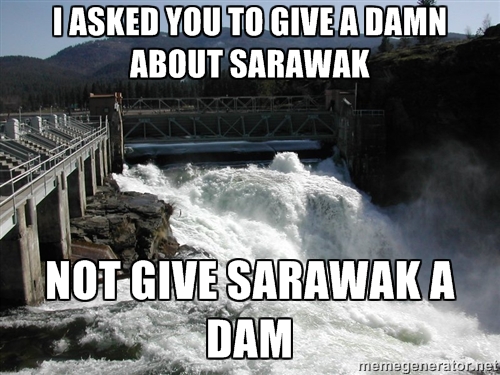 Destroyability: Well, it seems to be really big and not doing much, so this one maybe can consider, Datuk Seri Keruak 😉
3. The busiest port in Malaysia
If you think about ports (the place near the sea where ships dock, and people store all those big containers) in Malaysia, the first thing that comes to mind is probably Port Klang. But did you know that there's actually another pretty big one in Malaysia? We're talking about the Port of Tanjung Pelepas (PTP) in Johor, constructed during the time of Tun M as well.
PTP claims that it's Malaysia's busiest port, handling about 4.25 million of those really big containers in 2014 (from what we can understand from the article, if we're wrong do let us know). And even if that's debatable, the management of the port has announced they intend to increase their growth.
Destroyability: It would be quite painful la, because the port is currently ranked as the 18th best port in the world, and seems to be doing quite well on its own. In fact, owners are ambitious enough to want to make it one of the best in the WORLD.
4. This really big Islamic University
This was probably one of the earlier legacies of Tun M, happening less than a year after he had become PM.
In January 1982, while on a trip to the United Arab Emirates, Tun M proposed to build the International Islamic University Malaysia (IIUM). And with almost lightning like speed, the idea was formalised, a committee was formed, and the university was registered.
But IIUM didn't start out with a huge campus right away. They actually started out by renting a building in Petaling Jaya. But in a matter of years, they started to reach full capacity and there was an urgency to move to someplace bigger, actually much, much bigger: a huge 700-acre (very roughly about 300 football fields) area in Gombak! The huge campus that you see today was officially opened in 2001.
Destroyability: IIUM states on their website that they currently have close to 20,000 students from 125 countries. However, many lists of top Islamic universities don't feature it. In the worldwide University Ranking, this website lists IIUM as 601st. For comparison, University Malaya is at 133 and Universiti Sains Malaysia is at 330. The same website still lists IIUM as one of the best universities in Malaysia la, if that's any consolation.
5. The first modern International F1 track
Ever-looking for ways to make one race better than others, Mahathir set out to build the Sepang International Circuit – Malaysia's first and only F1-standard circuit track – around December 1996. The track was also the first of the modern F1 circuits that are now in Abu Dhabi, Singapore, China etc. The goal wasn't only so we could host international racing events, but also because the track was part of Mahathir's vision (along with KLIA, MSC, dan projeck-projek yang sewaktu dengannya) to transform Malaysia into an industrialized nation. 
The track was completed in November 1998 and officially officiated by Mahathir in March 1999. It was very quickly accepted by the FIA and FIM for F1 and Motorcycle Grand Prix events thanks to the state-of-the-art technology and amenities incorporated into the circuit at the time.
It's also notable that one of Mahathir's sons, Mokhzani Mahathir, was a chairman at the circuit (bring out the nepotism allegations!) from 2003 to October 13, 2016 (just over a week ago!) before he resigned. But what's interesting about his resignation is that he said it was over "personal reasons" but also added that he was asked the leave. Hmmm…
Destroyability: Well, Sepang has seen better days . The track didn't age particularly well, and by the 2010's the state-of-the-art stuff became somewhat meh. Over the years, this has resulted in losses at the annual F1 race, but Sepang has made a modest profit from hosting other events throughout the year. But with an upcoming F1 Track due to open in Johor this year, the track finally got some upgrading work done in 2015. So maybe it won't be destroyed, but just overtaken (pun not intended) by the legacy of a better one.
Even if we get rid of all of these, it still may not be enough to get rid of Tun M's legacy
During the 22 years that Tun M was PM, you would have heard the term "Wawasan 2020" at least 2020 times. A lot of the things mentioned above were part of that plan to make Malaysia a developed nation by the year 2020. But if even if all these were destroyed, would it be enough to destroy Tun M's legacy?
The word legacy can be defined as "something that happened in the past or that comes from someone in the past". And based on that, if anyone were to try and destroy Tun M's legacy, it would seem as if they would have to erase more than just physical buildings. He has left his mark in other areas like:
(We actually discuss some of these in another "Mahathir legacy" article.)
And with all this in mind, it looks unlikely that anyone would be able to fully get rid of Tun M's legacy, both good, and bad. People are welcome to try, but perhaps they should try to get rid of the bad ones instead.