Politics
8 sworn enemies of Dr. Mahathir who are now supporting him!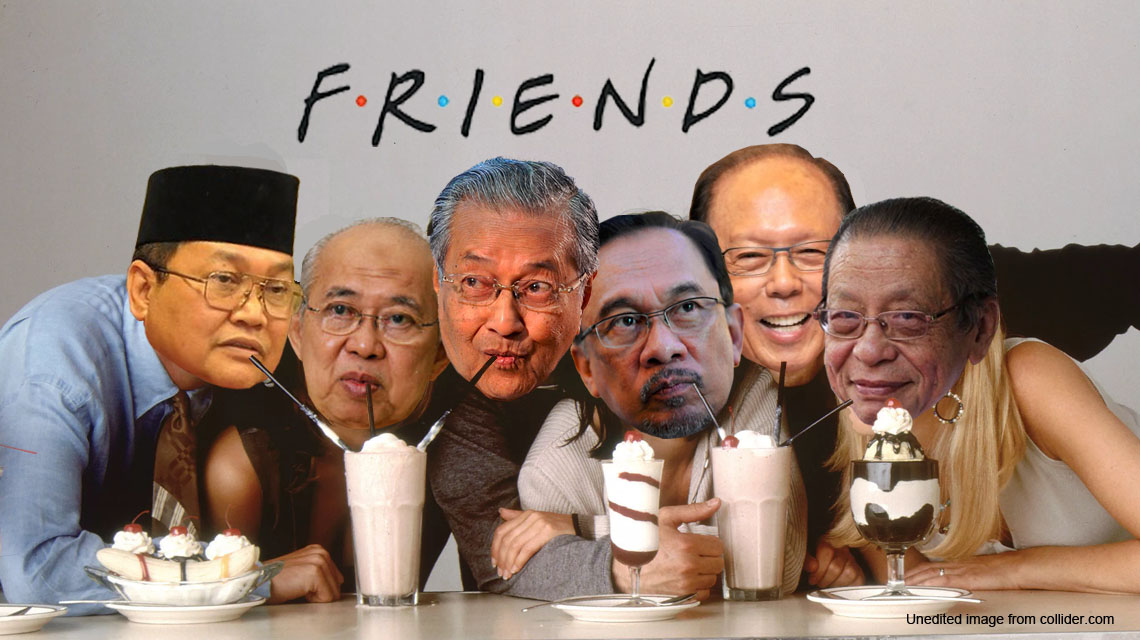 It's been ages since we heard from Anwar. But he issued a statement that day on 7 Nov through his lawyers. It wasn't anything Pakatan related…instead it was about Mahathir!
"I am gravely concerned by the news that former PM of Malaysia Tun Dr. Mahathir Mohamad is the subject of a police investigation for criminal defamation and was questioned by the police on Nov 6. He committed no crime when he asked questions and voiced criticism against the Prime Minister on the 1MDB crisis." – Anwar's statement, Channel NewsAsia
WHOAAaaaAAA…we never expected to see the day Anwar defended Mahathir. We thought their ties were severed forever since Mahathir played a part in jailing Anwar on sodomy charges.
But in the current political climate, there are no surprises any more. Heck, ugaiz even saw Mahathir attending Bersih 4, for crying out loud. That's making history in Malaysia! Many others who were also once against Mahathir have turned to defend him in his 'war' with Najib.
Here are EIGHT former enemies who are now his supporters.
1. Lim Kit Siang
The first sign of Mahathir-support we saw from Kit Siang was late May, when he questioned Citizens for Accountable Governance Malaysia's (CAGM) motive of offering RM1 million as a reward to expose Mahathir's millions. If it goes further back, let us know. CAGM turned out to be a fake group in the end, but Kit Siang's support certainly was REAL, as everyone witnessed again when he said:
"I will not allow his (Dr. M) past iniquities and failings to stand in the way of commending him when he was doing the right thing." – Kit Siang, quoted on Free Malaysia Today
Kit Siang was telling Umno and BN ministers not to wear blinkers about the former PM and regard everything he says now as wrong. What a turn of events!
2. Zaid Ibrahim
*UPDATE: On 16 Nov, it was reported that Zaid's being investigated for sedition on a speech he posted on his blog: 'Rally behind Tun Dr. Mahathir Mohamad.' "I'm very surprised my speech is considered seditious," said Zaid.
Once a strong critic of Mahathir, Zaid has spoken up in support for the former PM in recent times, since they share a common stand on Najib. Six years ago, Mahathir called Zaid a katak *ribbit ribbit*, referring to him as a person who party-hops. You won't believe what issue that was about…Zaid had urged the Agong NOT to appoint Najib as new PM! And Mahathir called his statement "very stupid". Walao, dem ironic.
Putting their history aside, Zaid has publicly blasted the suing of Mahathir for criminal defamation. Plus, he's said Dr. M's the only Malay warrior to lead the charge against Najib now, aaand even proposed a Mahathir-Anwar tag team.
"If you like my proposal, go tell Dr. Mahathir, Anwar and Siti Nurhaliza. Then let's march together on 1 May and show Najib the way out – peacefully, of course." – Zaid, quoted on Free Malaysia Today
1 May was Workers Day rally – 10,000 Malaysians gathered to protest GST at KLCC.
3. Musa Hitam
Once upon a time, Musa Hitam was Mahathir's right hand man. But it didn't work out due to "irreconcilable differences", so he resigned. Musa Hitam said himself:
"Look at all the deputies who served during Dr. Mahathir's 22 years in office. I was considered dangerous. Tun Ghafar Baba (1986-1993) was considered to be all right, loyal. Datuk Seri Anwar Ibrahim (1993-1998) was considered to be a terrible fellow." – Quoted by the Malaysian Insider
We wouldn't exactly say he's supportive of Mahathir now, but at least he admitted that his ex-boss has taken on issues that touch the hearts and minds of the people. Though Musa also added that he's a 'political terminator' and lifetime critic of any government that doesn't conform to his mould.
A little bittersweet support but ok la, maybe 0.5 points for saying that Mahathir's taking on issues that Malaysians care about.
4. Mat Sabu
Parti Amanah Negara (Amanah) President Mat Sabu is a funny guy. CILISOS flers met him and we can attest to that. But those of you who haven't met him before will enjoy this old quip from him: at a 2013 ceramah, he said Mahathir would come running for a taxi permit if Pakatan Rakyat should take Putrajaya! 😆 For those who dunno, the back story is that Pakatan promised to give permits to taxi drivers individually if they won GE13 – not to BN cronies. It would've given taxi drivers the freedom to earn their living and more opportunities.
So clearly there's no love lost between them. Now tho, while he's still not exactly the biggest Mahathir champion, he has said:
"Walaupun Tun Mahathir banyak kes, Najib lebih buruk daripada dia." – Mat Sabu, taken from KiniTV's video
Perhaps some of you might not see this as support, but it's obvious Mat Sabu and Mahathir are on the same boat when it comes to Najib.
5. Syed Ali Alhabshee
He's the Umno division leader for Cheras, who femesly sided former DPM Muhyiddin Yassin after the latter was given the sack. Two months before that (in May) however, it was a different tune… He told other division leaders to defend Najib from the ex-PM's attacks, instead of just saying we support you Najib, we support you.
"What he (Najib) needs is for them to stand up to Mahathir's baseless allegations." – Syed Ali Alhabshee, quoted on Malaysiakini
By July tho, Syed Ali was blasting TV3 for criticising Mahathir. That was fast!
"He (Dr. M) is like a father to us. He can criticise and even scold us, but we can't do the same to him." – Syed Ali, quoted on Free Malaysia Today
6. Ibrahim Ali
He's hot, then he's cold, he's yes, then he's no. Ibrahim Ali's sentiments towards Mahathir might've been a see-saw (for lack of a better word)… While we didn't find news of him actually criticising Mahathir in the past, we got the impression from his ex-lecturer Prof. Sankaran that he was quite bitter for being jailed TWICE. Plenty more unexpected things about Ibrahim Ali here.
Surprisingly, he later joined forces with Mahathir when forming PERKASA…Yet it wasn't to last and they split up after that. Today, we can pretty much say he's president-worthy for a Dr. M fan club, if it's ever set up. To the extent he's called him "God's gift to all Malaysians."
7. Tengku Razaleigh Hamzah
FUYOHHH! Mahathir's old arch-nemesis! On a scale of 1 to Anwar, Ku Li (as he's more popularly known)  is  was prolly Mahathir's next biggest enemy.
Ku Li once posed a BIG threat to Mahathir. It's a saga that spanned 20 years. Ku Li's career wasn't flying by leaps and bounds under Mahathir (he was demoted from Finance Ministry to Ministry of Trade and Industry). So what did he do? He challenged Mahathir for the post of Umno president in 1987…which effectively meant he would get the post of PM too. He lost.
But ermagerd, imagine if he had won! Might Malaysia have gone down a very different road?
Ku Li even brought a court case against Umno, which led to the party being de-registered. Yeahhh, we can't picture Mahathir taking that with good grace. Anyway, Ku Li and his geng left Umno to form a new party called Semangat 46 (of which Ibrahim Ali was also a member). It's defunct today, but in 1990 GE, Semangat 46 actually won several parliamentary seats from BN. So ada tension lah in the past, 2 of dem.
Today, it's a different story. Ku Li is willing to work with Mahathir. In fact, a source confirmed the 2 already bermeeting (11 Aug). However, Ku Li hasn't specifically said he's gunning to replace Najib. Interesting to see them let bygones be bygones.
The enemy of my enemy is my……friend?
Politics is a funny thing. It can make friends, it can break friends. And nothing is personal.
One day, all these guys were enemies with Mahathir…the next, they're teaming up because of one common enemy. To be fair, we all sometimes do the same thing at work. Even if there's a colleague we don't like, we put on a smile and work together anyway for the greater good of the company. CILISOS, wher u goin wid dis??? Well, politicians, like employees, sometimes have to put their personal feelings aside for the greater good of the country.
It also goes to show that politics is…
So who can politicians really trust? Or can they trust NO ONE? Wow dat sucks! Being a politician is seriously a high stress job, to the point that experts suggested politicians get their mental health checked on the regs. On that note, studies have shown that, ironically, politicians themselves are the No.1 cause of stress in citizens' life   🙂
Anyway, back to the topic of 'new friendships'… Zaid Ibrahim wrote in his blog:
"To do this there is only one option available: either we rally behind Dr. Mahathir, or we have to live with Najib for a long time. If we have to work with a group within UMNO to remove Najib, then we must. I know some of you are allergic to Dr. Mahathir, and some of you are more gung-ho and believe that we must remove UMNO altogether. If you can do it, then by all means do it." – Zaid, on The Zaidgeist his blog
It shows how desperate we have become. Malaysia's situation is such that old enemies would rather work together to save it, than hate each other and see the country sink. But if they can put aside their past differences to work on a common goal, why not?
Meantime, we can't wait to see who teams up or who breaks up next!
Did we miss anyone out? Be sure to let us know in the comments! 🙂