Najib is planning to add another trophy to his Wall of Lawsuits (he previously sued Tony Pua, Rafizi and Malaysiakini). This time, it will be a Wall upon a Wall…. Wallception! What is CILISOS blabbering about? We're talking about The Wall Street Journal's Friday article, alleging that nearly US$700 million (RM2.6 billion) of 1MDB's money went into Najib's personal account.
The article has obviously upset him coz he's planning to file a lawsuit against WSJ on Tuesday. If it does happens, that'll give the paper boasting rights in joining an illustrious line of defendants, including Tony Pua, Rafizi Ramli, Malaysiakini, Harakah Daily and so on. But can we really trust what WSJ said about Najib?
And even so… there's one key difference here.
How do you sue someone overseas?
Let's just briefly explore the process of international lawsuits before we go back to WSJ. We called our ponytail lawyer friend Fahri Azzat to find out what's the process. First off, the person who sues gets to choose the battleground – meaning Najib and his lawyers decide whether to sue in a Malaysian court, or Hong Kong court, where the Asian edition of Wall Street Journal is based.
"Let's say Najib wants to sue them to bankruptcy…in order for the enforcement of that to be effective, he has to sue in Malaysia or countries with 'reciprocal enforcement of judgment'.

The only countries with 'reciprocal enforcement of judgment' to Malaysia are: the UK, Hong Kong, Singapore, New Zealand, Republic of Sri Lanka, some High Courts in India, and Brunei.

Otherwise, you'll only get a paper judgment, which is useless." – Fahri
So in this case, Najib gets a lucky break, coz if he wins the case, the court's judgment can be ENFORCED on the Hong Kong-based company. If you want more tips on how to file an international lawsuit, click here.
Many people on Facebook have also been encouraging Najib to sue WSJ, surprisingly:
But mostly, because they seem excited to see what extra information about 1MDB will surface during court proceedings.
Tourism Minister Datuk Seri Nazri Abdul Aziz on the other hand, has advised the PM NOT to sue, saying the onus is on WSJ to prove they are right. So…
Has WSJ ever been wrong?
WSJ is 126 years old, having published its first article on 8 July 1889. And it does enjoy a solid reputation that many other newspapers can't stake claim on. Not that we're saying its tortoise equivalent lifespan and its serious-looking serif masthead means we automatically should trust ALL their articles, but during those years, has the paper given its readers any reason to doubt its credibility?
Unfortunately for WSJ, the answer is yes. Poynter, a non-profit school for journalism wrote that cracks in its opinion pieces had surfaced before. . Yet, after what happened with one case – where a columnist recanted his findings (coz the subject was very…well…subjective), but WSJ refused to retract – it doesn't look good on their credibility la.
This is also reflected in what people generally think of WSJ today. A survey by Pew Research Center shows that their credibility rating has steadily dropped since 2002. To be fair, other major news organisations took hits to their ratings too, including New York Times, MSNBC, NBC News, CBS News, etc. We even found a column written by expert William Hawkins, a Senior Fellow for National Security Studies at the US Business and Industry Council, about how WSJ's credibility had sunk to a new low.
However, the key thing to note here is that WSJ has historically made these inaccuracies in OPINION pieces, and NOT reporting news.
"Lately, though, I've discovered numerous cracks in its editorial page fortress, which seems to be surrounded by a nearly impenetrable wall. The cracks are errors on the opinion pages." – George Edmonson, Poynter.org.
The Wall Street Journal article on Najib? That was a NEWS page.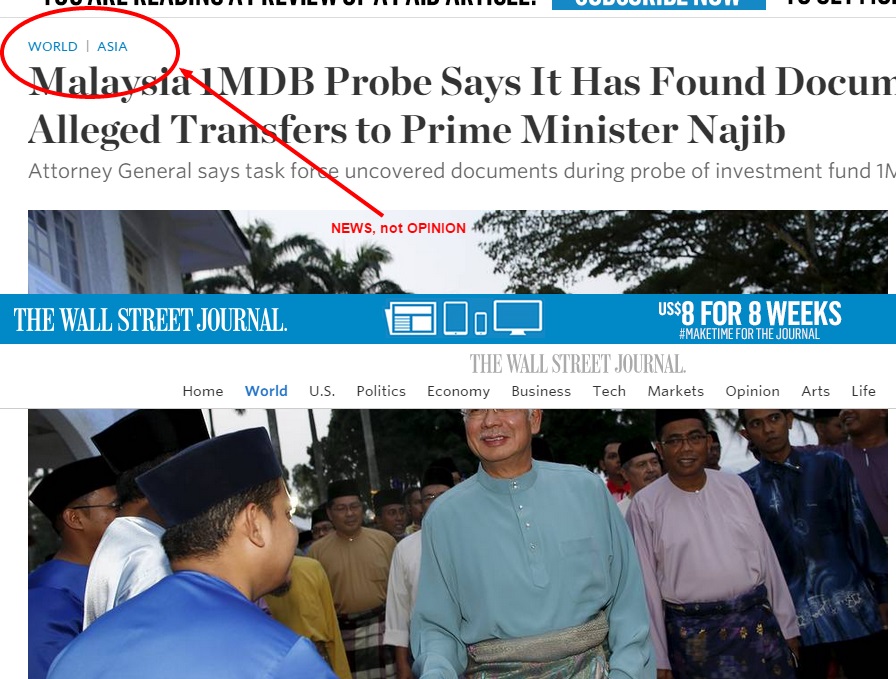 News pages carry a higher weight to being true, because they don't have the disclaimer that the 'views' are represented by the author, and not the newspaper.
Back here in Malaysia, someone else has been poking holes in WSJ's credibility – Friends of BN. The group posted on Facebook that while the paper was internationally well known, it has been SUED before, including by Singapore. Twice, in fact.
The first case was in 1985 when they were sued over an editorial that criticised the Singaporean government's harassment of an opposition member in Parliament. That one, they actually had to apologise for. Another time was in 2008, when Singapore took action against articles allegedly casting doubt on their judiciary's integrity.
We didn't come across anymore cases of WSJ having to apologise to any other country, but if you know a case, let us know.
Anyway, Friends of BN posted that it's a good thing for the media to expose corruption, however they should not use base its reports on 'false and unverified sources', otherwise that report is just a fabrication.
But this time, WSJ is not saying sorry!
They're really sticking to their side of the story
The journal's Hong Kong Bureau Chief Ken Brown firmly stated in phone interview:
"We were very careful and we believe the investigation and documents we have are solid and come from a reliable investigation and not a political investigation.

…

We know what we know. One batch of money came from a unit in the Finance Ministry and another batch came through a private bank affiliated to Abu Dhabi. Where the money went, we don't know. The trail we have ends at bank accounts with the PM's name on it." – Ken on the phone with CNBC
Amazingly, Ken admitted that the very same documents he saw, were shared with Attorney-General Tan Sri Abdul Gani Patail, others in the government, and most importantly… the PM himself!!!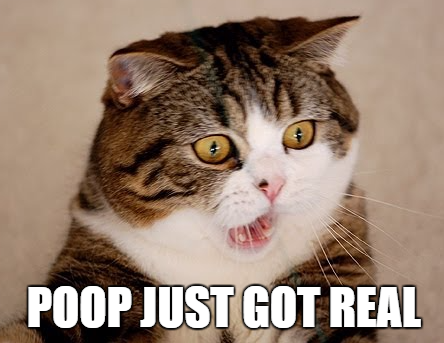 How did WSJ get their hands on these documents?
The Attorney-General has indeed confirmed this saying: "The task force has obtained a number of documents and had subsequently sent them to me for review. I confirm that I have received documents from the task force related to 1MDB, including documents related to the allegations of channelling funds to the prime minister's accounts." Wahh, if the AG himself confirmed it, is there any doubt WSJ reported correctly?
So what documents are these exactly? According to WSJ, they were bank transfer forms and flow charts put together by government investigators.
Now the question is, how did documents belonging to the INVESTIGATORS end up at WSJ?!
And also, how come Najib himself has seen the documents? If you're investigating somebody, would you show that person your findings?!?! In the CNBC interview (0.00 – 0.12) Ken can be heard clearly stating: "This investigation over the documents that we saw have been shared the Malaysia Attorney General and with others in the government. so they're…they've been seen, and also been seen by the Prime Minister."
Anyway, Najib himself suspects this is the work of Mahathir conspiring with his foreign allies. But whoever it is, WSJ is keeping mum on his identity. A spokesperson from the newspaper said the information cannot be revealed in order to protect the source.
If you wanna go after someone though, Gelang Patah MP Lim Kit Siang said that the target is no more WSJ but the government special task force probing the 1MDB case – Bank Negara, MACC, the police and the Attorney-General's Chambers (AGC).
"Clearly, the WSJ was only reporting what the government special task force on 1MDB had discovered to date." – Kit Sing wrote in his blog
But why would the WSJ risk covering this in the first place?
Even though you can't always trust the media, we're thinking this one from WSJ is prolly the legit deal la. Why would a 126-year old publication risk fabricating such information for no foreseeable gain? To be honest, when the Sarawak Report first broke the news of the bank accounts, we were a bit hesitant, because they've had an agenda against the current government for a long time. However, with the Wall Street Journal breaking it too, we're thinking the odds are starting to stack up against our current Prime Minister.
Also, seeing as they got hold of the ACTUAL investigation documents *potong stim*. Not to mention the 3 companies on WSJ's lil' chart (below) have been raided already by the task force: SRC International Sdn Bhd, Gandingan Mentari Sdn Bhd, and Ihsan Perdana Sdn Bhd.
In the whole fracas, Pandan MP Rafizi Ramli offered this solution to the PM – prove that you have #nothing2hide (touché) in your AmBank account lah. If the so-called AmBank account does not exist, then allegations will stop. Simple right? We can't help thinking that if Najib as a public figure, had done what every other public figure does (even Obama, who has listed his full worth of US$7 million, and even that of his VP, Joe Biden) which is to transparently declare his assets, then he could have been spared the heartache.
Instead he chose the path to sue WSJ. So if this is anything like the Tony Pua case, then the burden of proof would fall on WSJ. Will the truth come out if Najib really sues?