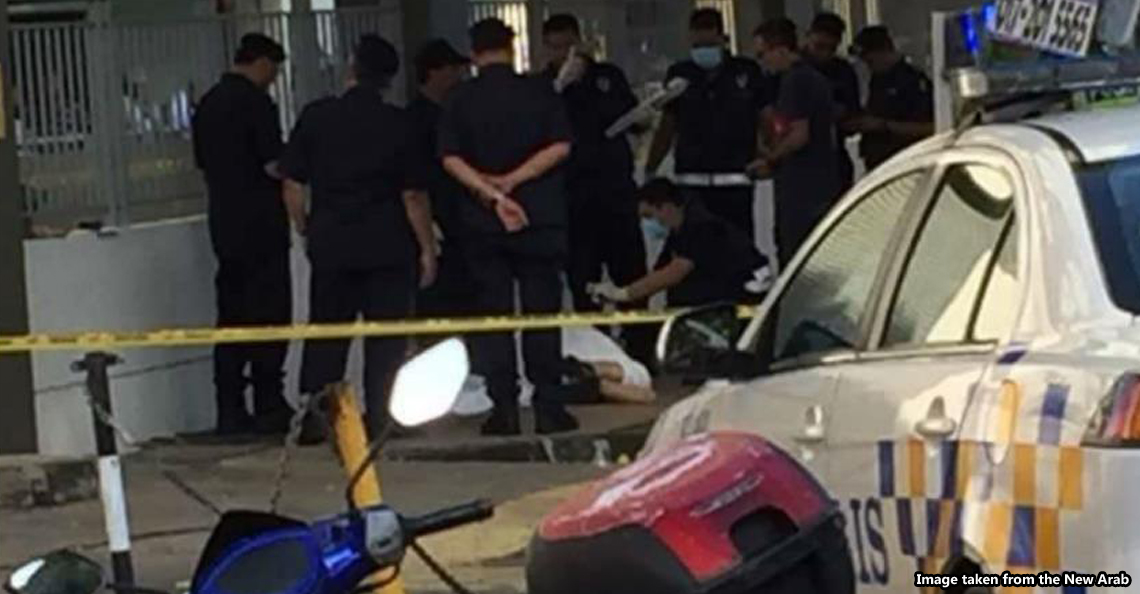 Malaysians are generally afraid of crime, but while you may expect to be robbed or have your house broken into, being specifically marked for killing is probably not something you expect… unless you're in a gang or in politics, maybe. But that's what happened recently to a Palestinian lecturer in living in Gombak.
The victim, 35-year-old Fadi M. Albatsh, was reportedly shot at ten times by two assassins as he was walking to a mosque in the wee hours of the morning for the dawn prayers. The assassins, both described as 'white men' with 'European features' on a BMW 1100cc motorbike, were reported to have waited for Fadi for 20 minutes at the scene.
"Preliminary investigations found four gunshot wounds on the victim's body. Two bullet slugs were found at the scene of the incident," – Mazlan Lazim, Kuala Lumpur police chief, as reported by YNet News.
The murder shocked his mainly African and Middle Eastern neighbors, as they claimed that this was the first time such an incident had happened there. As the killers only opened fire on Albatsh without harming anyone else, and even waited for specifically him to arrive, the police believed this incident to be a targeted killing and not a terror attack. However, they are not ruling out any possibilities, including that ISIS could be behind it.
A targeted killing is not your run-of-the-mill crime, so Fadi's killing poses the question…
What did Fadi do that someone wanted to assassinate him?!
See, he wasn't your typical university lecturer. He was also a researcher at the Universiti Kuala Lumpur's British Malaysian Institute, specializing in electrical engineering. Having come from Gaza, Palestine, he got his Bachelor's and Master's degrees in the same field at the Ilamis University of Gaza almost a decade ago, before moving to Malaysia in 2012 and getting a PhD at Universiti Malaya (UM) under a Khazanah Foundation scholarship. He even received the Khazanah's high-achiever award for his research from PM Najib himself.
Besides being very successful in his field, Fadi is also known as an activist of sorts, working to raise awareness on issues related to Palestine and the conflict in West Asia, most notably through the NGO Humanitarian Care Malaysia (MyCare). But here's the clincher: according to Ahmad Zahid Hamidi, the Deputy Prime Minister, it's possible that both Fadi and the suspects who murdered him had links to an unnamed foreign intelligence agency.
"His killing could have some links with foreign intelligence agencies or he may also be considered a liability to nations unfriendly to Palestine," –  Ahmad Zahid Hamidi, as reported by YNet News.
Some local publications have said that besides electrical engineering, Fadi was also an expert in rocket-building, and others have claimed that he had made breakthroughs in the field of drone propulsion, both fields being valuable to nations locked in war. The Hamas faction of Palestine as well as his family have described Fadi as a loyal member of the Hamas faction as well as an organization called the Islamic Jihad, and that his death had made him a martyr (shahid, a person who died from jihad) for championing the Palestinian issue.
This is perhaps why some parties have claimed that Israel, specifically its Mossad agency (like the CIA, except Israeli), was behind the incident. Right now, some of you might be scratching your heads at the mention of Mossads and Hamases, so for those not familiar with the issue…
Fadi's killing may be part of a bigger war being fought elsewhere
Even if you don't pore over the news every day, you'd know that there's a conflict going on between Israel and Palestine. It's a complicated, long-spanning affair, but at its very essence Israel needs land to form a country, and Palestine is the place to be for them. They have been fighting over the issue since the 1950s and it's not an entirely pretty, diplomatic fight. Anyways, besides fending off Israel, Palestine also has its own inner political struggle.
We asked Soscili writer A. Azar to explain it to us, and you can read his article about it here. In a nutshell, there are two prominent political parties in Palestine, and the first one is the Palestinian National Liberation Movement (shortened to Fatah according to native spelling), co-founded and led by Palestine's President Yasser Arafat until his death in 2004. The second one is the Islamic Resistance Movement (shortened to Hamas), co-founded and led by a guy named Sheikh Ahmad Yassin, who, although really old and in a wheelchair, was seen as such a huge threat by Israel that he had to be murdered using rockets launched from Apache helicopters.
That seemed a bit extreme, but perhaps not according to Israel. Both Fatah and Hamas were formed to free Palestinians from Israel occupation, but while Fatah is more secular and nationalist in its ideologies, depending on diplomacy to achieve its ends, the Hamas focused more on Islamism and jihad, believing that the fight against Israel's Zionism isn't just a fight to win back a country, but a fight to keep on living. To put it crassly, the Hamas can be said to talk with its fists, while the Fatah prefers to sip tea together and make friends, even with Israel.
Needless to say, even though the two leaders were friends in real life and they both have the same aim, the two parties didn't get along well. After much conflict, there are now two governments in Palestine, with the Fatah ruling the West Bank and the Hamas ruling over the Gaza Strip. The attitudes of both Israel and the US to these two governments are also different. While Fatah gets additional funds and the embargo on the West Bank lifted, the Hamas often got into conflict with Israel and soon became known as nothing more than a terrorist organization by several countries and organizations, which may or may not be true depending on a person's perspective.
So now that you know roughly what the Hamas is, you can see why the fact that Fadi was claimed as Hamas matter. Because of that…
Fadi's family and community had claimed that Israel is behind the assassination, but…
While organizations have seen the need to step up and claim that Fadi was affiliated with Hamas, his affiliation with it was never a secret in the first place. For example, during Operation Protective Edge in 2014, when Israel bombed Gaza to take out the terrorists there, a lot of civilians got caught up in it, including 18 members of Fadi's family. He was reported to have posted a photo of him and his family members and wrote "We're all Hamas" after the incident.
Fadi's family had accused the Mossad of killing him, as killing Fadi is just a step for Israel to prevent the liberation of Palestine by intellectuals.
"One hundred percent, it is an assassination: Fadi had no enemies and is loved by the Palestinian, Arab and Malaysian communities and has pictures with the Malaysian prime minister. There are accusations only against the Israeli Mossad, and us, we accuse only the Israeli Mossad, and the Malaysian government should accelerate the investigation." – Mohamed Albatsh, Fadi's father, for BBC News.
The Hamas, on the other hand, did not specifically blame the Mossad, even though the media affiliated with them did. They merely stated that Fadi was 'assassinated by the hand of treachery'. So…
Can the assassination of Fadi really be attributed to Israel?
At the moment, we can't say it's a sure thing, as investigation results aren't out yet. However, it can't be denied that there had been a long list of assassinations in multiple countries attributed to Israel. According to a news report, Israel had declared that its policy in strikes against terrorists are meant to prevent future attacks, not to settle scores. Looking at the case from this angle, it would make sense that Fadi, with his expertise and his affiliations, would be targeted by the Mossad. And according to an expert on Israeli intelligence, Fadi's case did bear all the hallmarks of a Mossad operation.
"The fact that the killers used a motorcycle to kill their target, which has been used in many other Mossad operations before and being done as a clean, professional killing operation far away from Israel, points to Mossad's involvement," – Ronen Bergman, Israeli investigative journalist, to Al-Jazeera.
Israel, however, had dismissed allegations that Mossad was behind the assassination, instead suggesting that Fadi's death was the result of an internal Palestinian dispute.
"We heard about it in the news. There's a tradition at this point among terrorist organisations of blaming Israel for every settling of accounts. A settling of scores among terrorist organisations, among terrorists, among various factions, is something that we see from time to time. I assume that's also what occurred in this case." – Avigdor Lieberman, Israel's defense minister, to BBC News.
Despite protests from Israel, Fadi's body had been brought back to his hometown in Gaza. However, the suspects involved in his assassination remain at large. The police found that one of the assassins had been in the country since January, and they believe that neither of them have left the country yet.
To speed up investigations, the police had released a picture and a composite of the suspects to the public, and if you have seen them or have any information regarding the case, do contact the investigating officer for this case, Assistant Superintendent Shahrizal Salleh at 017 – 7134 705 or go to the nearest police station.