Ghosts and exchanging ghost stories have long been part of Malaysian culture. In fact, we once asked our readers to tell us about the strangest things they've experienced in our local schools, and almost 50% of our entries were about someone getting possessed. There's just something interesting about having a supernatural world that exists alongside us, even if some of us have never seen it and just pass on stories about them.
But what if these ghostly events have a more practical reasoning behind them? We did some research, and we're going to ruin these ghosts for you, cause we're buzzkills.
1. Ghost Sleeping On Your Chest (kena tindih)
Kena tindih is having a supernatural being, presumably slightly overweight, sitting on your chest as you're about to sleep, or when you're about to wake up. You're awake, but your whole body is paralysed. And in most cases, you have the feeling that something sinister is near you. Worse, you might even see that sinister thing RIGHT AT THE FOOT OF YOUR BED, LOOKING AT YOU, PROBABLY THINKING ABOUT HOW DELICIOUS THIS HELPLESS CHILD IS RIGHT NOW.
Then you try to scream, but you can't scream either. Because nothing's coming out  of your mouth. Just when you're about to be sad that you won't see the ending of Game of Thrones (damn you George R.R Martin!), suddenly you're able to move, the sinister being disappears, and you're left commenting on how you thought the GoT finale sucked balls.
But actually ah… 
Well, turns out nothing sinister was happening. It's just a phenomenon called sleep paralysis. When you sleep, your brain will paralyse your body, so you don't injure yourself by acting out what you do in your dreams. But sometimes when you're falling asleep, your body will be paralysed before your brain shuts down, or, you wake up but your body is still paralysed. In short, your brain's awake but your body's asleep.
Why do you get hallucinations during these episodes then? Science is still not sure, but since these events happen just before or after sleeping, it's possible that you're having a lucid dream, or that your sleep and waking state is overlaid.
2. Teenage schoolgirls in boarding school getting possessed
This is the staple story of all sekolah asrama in Malaysia. What usually happens is one girl will get possessed by a spirit, and the spirit will then start doing a game of ghost tag by jumping from person to person. Those possessed will start to go hysterical — screaming, crying, hyperventilating and going into fits, sometimes passing out. In some cases, the spirit will start speaking through one of the possessed, making demands. If things don't resolve themselves, a bomoh will sometimes be called on to fix things and also play the spiritual negotiator with the spirit.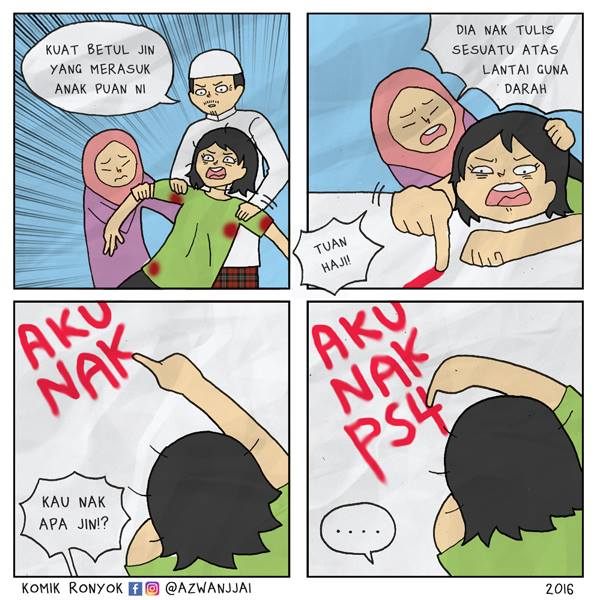 But actually ah… 
Instead of a ghostly possession, it might be a case of mass hysteria, which isn't just isolated to boarding schools in Malaysia either. It has also been documented in factories in Singapore in the 1970s.
Robert Bartholomew, a sociologist who has done a case study and written a book on mass hysteria in Malaysia, said the causes behind it is usually environmental pressure in boarding schools.
"They are reluctant to attend such schools, where overcrowding is rife and privacy non-existent," he says. "Frustration and anger build over weeks or months. Eventually a single student becomes 'possessed' and is a seed or catalyst for the unfolding drama." — Robert Batholomew, in an interview with BBC
3. Jiang Shi
Jiang shi or geung si in Cantonese, which literally means 'stiff corpse', is the Chinese hopping vampire/zombie hybrid, and according to this site, a tourist attraction. They're created in a few ways: the soul refuses to leave the body, or a spirit possessed them, or they're reanimated by a priest.
True to their name, their joints are stiff so they have to move around by hopping, which might not seem all that scary. Jogging also can outrun them, right? But like cockroaches, they are also granted the ability to FLY which makes them a million times scarier.
Their goal as a jiang shi is to kill people and absorb their chi, though how they intend to subdue you long enough to steal your chi is debatable, what with stiff joints and all. We assume they hop on you repeatedly, Mario style, until you surrender.
But actually ah… 
Apparently, they don't hop, they just look like they are.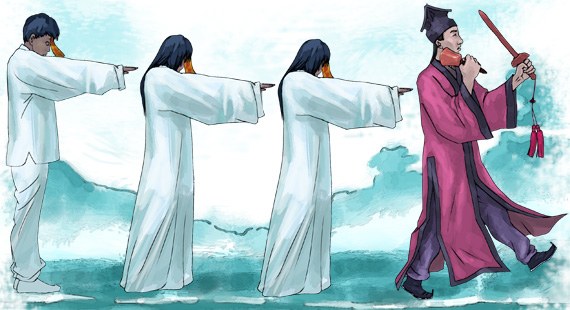 Back then in China, people who died outside of their hometown would have their bodies sent back, as it's believed that souls would be homesick if they're buried elsewhere. The bodies would be arranged upright in a single file, tied to a bamboo rod that's carried by a person on either side. This is usually done at night to avoid people.
Viewed from afar, the bobbing of the bodies on the bamboo rods makes the corpses look like they're hopping. Thus, the legend of the hopping corpses was born.
4. Taxi driver picking up the ghost passenger
The basic version of the story goes like this: a taxi driver working the night shift will pick up a beautiful lady at midnight, who'll be wearing the ghost uniform of long black hair and white dress. When she enters, there'll be a strong smell of jasmine or frangipani. She won't say anything, but will just give an address written on a piece of paper. And the driver will follow the address, usually to some super ulu location and end up at a cemetery, and be really surprised, despite knowing the address beforehand.
The lady will then pass her fare to the driver, who will be too scared to look back at her. She'll then leave and the driver will then speed off, scared out of his mind. The next day, he'll return to the cemetery and guess what he finds? A tombstone that conveniently has the picture of the girl. Also, he then finds that the money the ghost passenger gave to him turned into hell notes or leaves.
Also, conveniently, he'll then find out through the news that the girl he picked up died at the exact spot he picked her up from.
But actually ah… 
This is an old urban legend of The Vanishing Hitchhiker, told and retold then adapted to its current time and place. Earlier variations had wagons and horsebacks, but eventually transitioned into modern day cars. In almost all variations there will always be a way for the mysterious passenger to be identified, either by leaving behind a belonging or having her picture on the grave.
In the future, expect to hear the story of an intergalactic Grab driver that ends with, "…and I turned to the back of my X-3000 space pod after the hyperspace jump, and she was gone, leaving behind nothing but her scent (and something I can strongly identify her by!)"
5. Pontianak
Pontianak is Malaysia's version of the vampire, and also the one with the most screen time in Malaysia. They're the ghost of a woman who died during childbirth, and is typically depicted as having pale skin, long black hair and dressed in white. Their presence is announced by their strong jasmine scent. They feed on babies and people's organs, and apparently like tearing men's genitals off.
But actually ah… 
Just like vampires, pontianak's were invented by older societies in trying to explain death and decomposition. When we die and decompose, gasses swell in our body, and the pressure forces blood through our mouth and noses. Our gums and skin recedes, making teeth, hair and nails appear longer. All of this might explain the depiction of pontianak's of having long hair, and the blood on the now longer teeth as evidence that they've been feeding on people.
"BUT I SWEAR ME/MY NEIGHBOUR/MY FRIEND'S FRIEND'S COUSIN'S UNCLE SAW GHOST BEFORE"
I know that the belief of ghosts is a very strong part of our culture. In fact, some people make a living from it. But we should be sceptical of this, because as of today, there have been no documented cases of death or injuries by pontianak/jiang shi/hantu kopek (yet).
This is something that no one's been able to prove either way. In surveys that have been conducted, a pretty sizeable percentage of people still hold a belief in ghosts and the supernatural regardless of which country they're from. However, it's also been noted that people are more willing to attribute certain events to the supernatural if they've been "cued" to the idea, like being told that a place is haunted for instance.
So whether you believe these stories or not, what can't be denied is that there's a certain fascination that we all have with the supernatural, the strange, and the magical because these stories are kinda a trigger for something way more powerful – the imagination. 
But still, despite trying to debunk all of these ghostly phenomenons, the writer still slept his lights on after doing research on this article.