So this status popped on our Facebook timeline during the weekend (clik on the tajuk below to expand):
TL;DR version: A Chinese couple were in Kg. Baru to look for satay. They moved a chair to exit the road, and an angry biker started knocking on their window, yelling racist remarks and telling them to "keluar Kampung Baru."
This status could've easily turned into one of those 'name-and-shame status', complete with a photo of that brader. But Amelia, being a true-blue Teach For Malaysia staff that she is, saw it as a bigger problem that a proper education system could fix. (Writer's note as an ex-TFM staff himself: Every time a traumatic incident happens to a TFM staff, they'd most likely attribute it to education inequality :-))
She even tried hard not to call out any ethnicity or go into details about the specific racist, sexist, and body-shaming insults hurled against her. Because it's not really about that one brader anymore, but instead, the larger issue at hand: racism that stemmed from segregation. And this affects everyone in Malaysia regardless of their skin colour.
As for the incident itself, thankfully despite the Super Saiyan anger from that brader, nobody ended up getting hurt (physically at least, dalam hati siapa yang tahu). At the end of the day, the incident was just one of many… but it went viral with 4K Likes and 1K shares, and the responses have been no less than epic…
She received outpouring support from Malaysians, especially Malays
The comments on her status weren't just sympathetic and supportive, but also generally very positive, with people choosing to focus on what could've been done instead of complaining: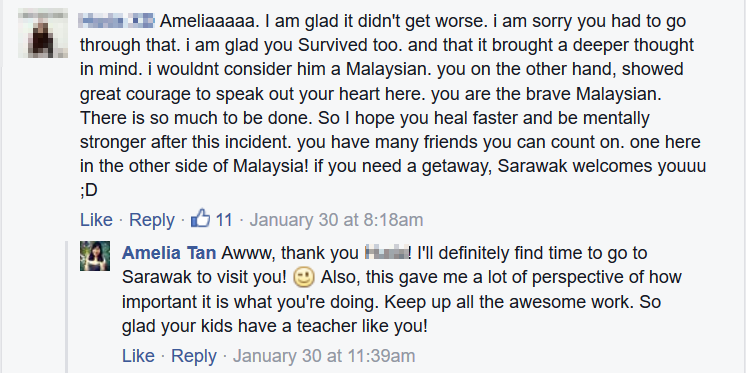 A lot of people reminded her that that this instance of racism is actually in the minority!



Some comments lead to a more serious discussion about racism and racial/economic segregation, all done in such an open and mature manner.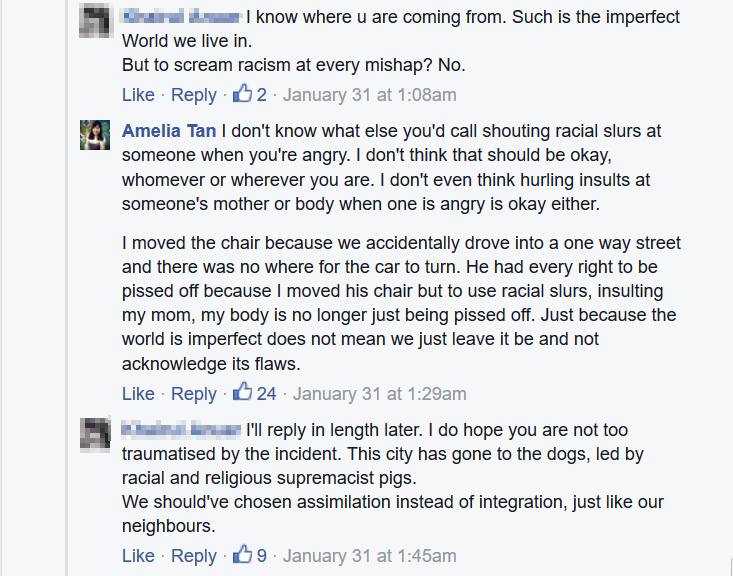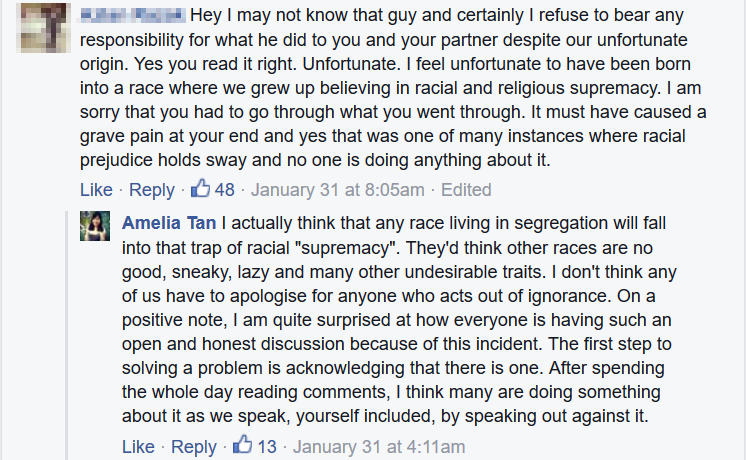 But more importantly, people started talking about the real issue…
… WHERE'S THE BEST PLACE FOR SATAY?!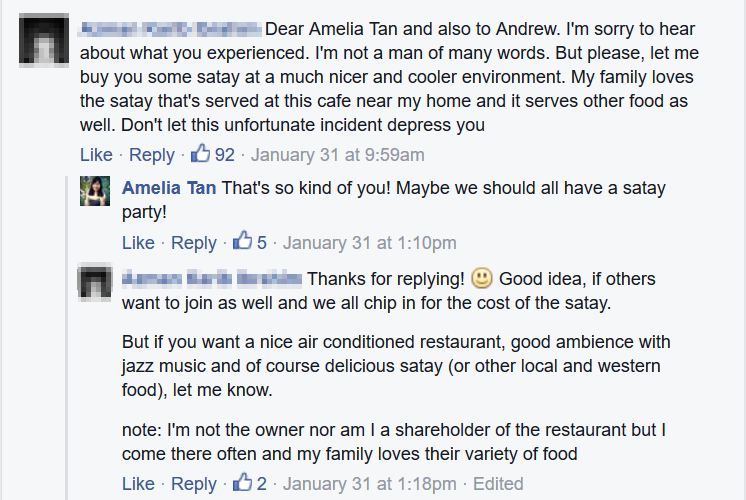 (At this point all you satay connoisseurs might be wondering, which n00b goes to Kg Baru for satay? Well actually Amelia and Andrew wanted to go to Keramat, but it was closed.)
So all was good. Everybody could go home and feel a little better about Malaysia, rait? Well, not just yet.
Plot twist…
The couple organized an impromptu satay party, and Malaysians joined!
Again, if this is just another "mohon viralkan" Facebook status, the victim could've simply asked everyone to avoid the satay place so it would run out of business. But that would be perpetuating the problem, wouldn't it? So, being inspired to break this cycle of prejudice – also inspired by Andrew's intense desire for satay – they ajak everyone to eat satay in the very area the racism happened – in Kg. Baru! #satayforandrew
It was incredible because the Malaysians who attended were strangers in real life. In fact, 4 guys even drove all the way from Nilai! (That's 1 hour away by car yo.)
The best part was, everyone was so engrossed in talking to each other that they stayed in Sate KL even after the lights and fans have been turned off. Sorry abang kedai. It was where strangers turned into friends, and an incredible bond was created when racism reared its ugly head.
So… what's the takeaway from all this little drama? Other than where's the place to find good satay, of course…
For every instance of hate and racism, there is an abundance of love and understanding (Ngawww!)
Amelia told CILISOS earlier in a phone call that she received a lot kind words from locals AND officials of Kg Baru themselves, plus messages from random Malaysians who shared their own experiences and hopes. So, what started out as a traumatic experience turned into something that united Malaysians, from the barrage of emotional support on Facebook to a joyful get-together between strangers!
Even when there were some disagreeing comments, she engaged with them personally, saying that it's uncool to utter racist, sexist, and body-shaming remarks no matter how angry one might be. These kinda conversations are good too, else what's the point of just preaching to the choir, betul tak?
So we at CILISOS think, ekceli right, we aren't doing too bad as the rakyat, aren't we? In Amelia's on words:
There are so many lessons to learn here. That the only way to cure hate is through love. That adversity brings people together. That we can initiate change through leading by example. And most importantly, that there is A LOT MORE kind and compassionate people than there are hateful ones.
P/S: Amelia and Andrew run a social enterprise called 100% Project, where you can donate to classrooms so the kids can learn better… like these cute little patooties who need to replace their broken LCD projectors! <3
P/P/S: No they didn't ask us to plug their organisation. Love people… Loveeeeee