This is the sign of a great week: we're (finally) moving to our new office, tomorrow's a public holiday, and CILISOS just saved 15 Malaysians stranded in Kashmir.
No really, we're not making this up. Click on the picture for the news article.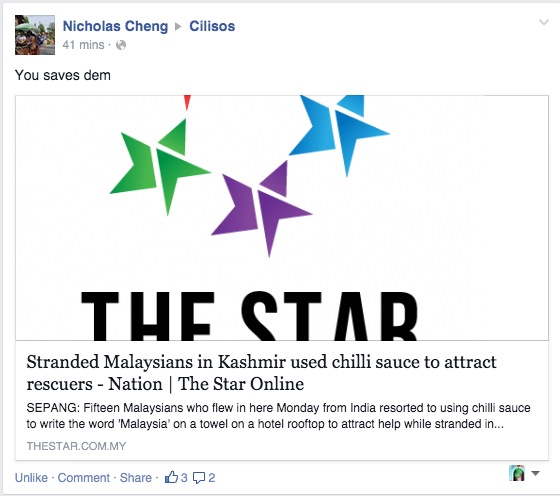 So here's a recap of the scenario, in action movie trailer voice:
One day, in the Himalayan state of Jammu and Kashmir, fifteen unsuspecting Malaysians received an experience they didn't find in their travel brochure. Stranded on the roof of their four story hotel with a towel, Malaysian-flag patterned t-shirts, chilli sauce, and no rescue in sight – they did everything they could to survive.

By sending out a cili-S.O.S.
We also got our in-house graphic design team to come up with a reenactment in stunningly realistic 3D rendering –
Drama aside, all fifteen Malaysians are family members and friends who were stranded in the hotel for 9 days after a dam burst from continued rainfall. They were there to attend a wedding. We also don't know if they had packets or bottles of cilisos, but we figure a towel doesn't require too much sos to cover la.
There are a total of 59 Malaysians caught in the flood, but all have been accounted for and are either back home or on the way back.
And of course, this is another testament too good ol' Malaysian ingenuity. For more of our epic feats, here's a list of some other achievements pulled off by our Anak Malaysia.
Thanks to Nicholas Cheng for pointing out our manly heroics, and have a good Malaysia Day.
*flies off*