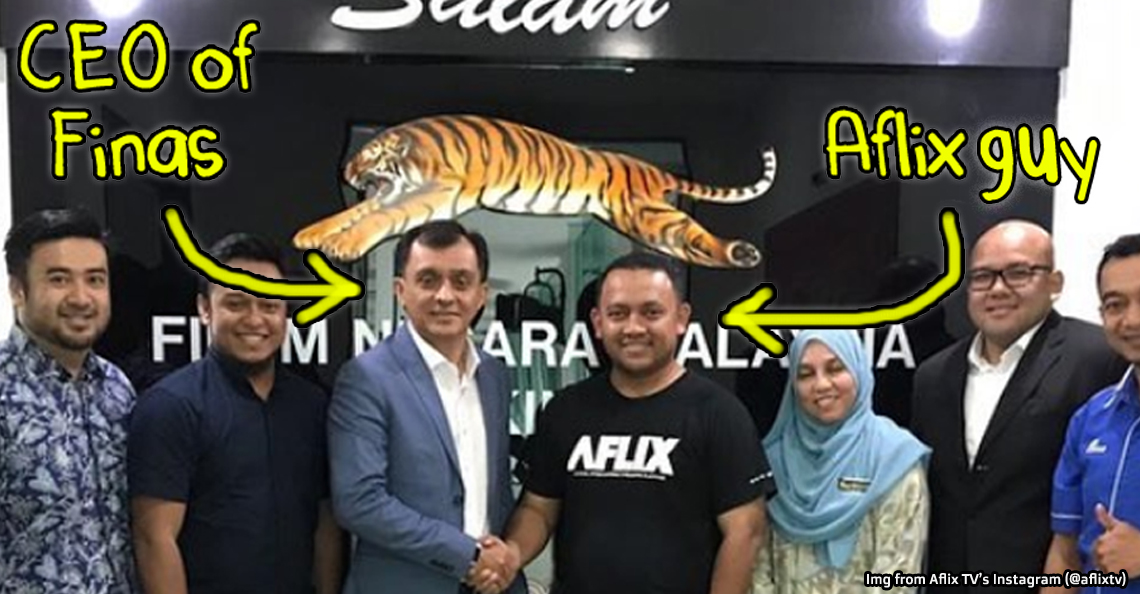 By now, you've probably heard about the whole Finas-Netflix fiasco, but just in case you haven't, here's the gist of it: A few days back, there was a (now offline) report saying that Finas had urged Putrajaya to censor Netflix in the country. Finas's CEO, ex-actor Ahmad Idham Ahmad Nazri, had claimed that parents are worried over uncensored content, alleging that they can adversely affect the country's youth.
"Although censorship is not under Finas' jurisdiction, we are viewing it seriously as the contents will give negative effects if they remain unmonitored from now. We took the approach to control the local film and television contents, but those from international sources remain open. Those will all provide risk to the mind development of children if it is not started now," – Ahmad Idham, as quoted by Malay Mail.
Perhaps unsurprisingly, the statement triggered a backlash on social media, with many pointing out that there is already a parental control feature in Netflix. Even actors and industry players spoke out against Finas, and as we read them while munching on some popcorn, a quote by Harith Iskander caught our eye:
"this is what happened when we grow up entitled, not learning how to compete." – Harith Iskander, as reported by The Star.
Huh. What could that possibly be about? What does competition have to do with censorship? While Harith may or may not be referring to it specifically, there is actually a popular theory going around online, and based on that theory…
Finas is allegedly supporting a potential local rival to Netflix, called… Aflix.
Film censorship isn't really unusual in Malaysia, having given us enough content for a few articles already. But apparently netizens were so pissed about Netflix being controlled (by Finas, no less) that they began digging up stuff. One things lead to another, and someone found a recent Facebook post on a page named 'Aflix' that pretty much said that Finas will "work together to promote aflix [sic] to industry [sic]".
Judging by the post and the website provided by the page's 'About' section, it would seem that Aflix is a local streaming service similar to Netflix, but with a unique selling point: it claims to be the "World's 1st Ethical Streaming Service". You can probably see how that connects to Ahmad Idham's recent comment, so before we get any further, let's repeat a mantra.
"Correlation does not imply causation."
Now that that mantra is firmly embedded in our souls, what is this whole ethical streaming thing? For one thing, the website they provided didn't tell us much in terms of the company or the people behind it, but we are informed that subscription costs USD1 per month, shows on the service are 'hand-picked' by the editors, and if you subscribe, you can watch 'all ethical movies, shows, dramas and many more'.
There's no explicit explanation of how Aflix is ethical, but if you stare at the main page long enough, a video plays in the dark background which says something along the lines of how children watch a lot of content these days, and they're exposed to offensive and inappropriate content, which they imply to be 'unethical content'. So ethical content is probably something they call 'children and family-friendly'.
Anyways, from a Facebook post on Aflix's page we found out that Aflix is a subsidiary of a local Islamic kindergarten chain called BrainyBunch…
…and from Aflix's Instagram account we found out that they're planning to go global (particularly to South Korea), and of course, about their connection with Finas, which agreed to contribute archived content to them and help promote Aflix.
Perhaps the most interesting discovery was that if you click on the Twitter link at the bottom of their page, it leads to @AflixTV's Twitter account, where the A in Aflix actually stands for… Africa. Whether it's intentional or not we'll never know, but according to the account Aflix Africa was founded in 2014 "to enable African consumers to harness the power of the mobile revolution and access premium quality video content anytime."
As expected, there's no mention of ethical streaming on the feed, and @AflixTV had not updated relevant stuff for a while, with most of its timeline consisting of retweets of viral content, mostly cute animal videos and the ongoing conflict in Palestine. A news report back in 2014 mentioned that Aflix is branching out to 30 African countries, but that was about the only mention we could find of it. Based on these observations, it would seem that the African Aflix is no more, and the Malaysian Aflix seemingly bought the website and haven't properly updated it yet.
Regardless of all that, based on the lack of publicity surrounding Aflix before the Finas fiasco and what we've found them so far, it would seem that Aflix is either very new to the industry (their earliest social media posts date back to August last year) or… something else. Still, the only link we've found of them and Finas are their social media posts, so there's no conclusive evidence that they're behind Finas's statement.
Plus, an executive from Aflix had clarified that their visit to Finas was just a courtesy call to introduce their platform, and nothing more. According to Azman Shah Shaharuddin, Aflix TV's executive officer,
"We're not supporting the move to either censor or ban Netflix. Their way is different. But all that what we offer contain ethical content. At least when we're questioned about it in the afterlife, we can say that we've provided ethical content, and the rest is up to the viewers to choose," – Azman Shah, translated from MalaysiaKini.
Even if something did happen, there should be no reason to worry, as…
It seems that Finas didn't mean to censor Netflix anyway… or did they?
In a recent Twitter thread following the backlash, Ahmad Idham had explained (again) that Finas actually has no power to censor online content, which if you remember from our previous article is the job of our Film Censorship Board (LPF). Their mission is more towards promoting local content. As such, he had clarified that he was speaking at a seminar for the well-being of families, and had addressed parents' concern about uncensored content in the cyber era.
"What I proposed was for some form of collaboration between Finas and the National Council of Women's Organisations to hold a forum or seminar to debate this issue in the context of strengthening digital content in the future," – Ahmad Idham, as reported by NST.
However, it should be noted that at the time of writing, he had not explicitly denied allegations that Finas intended to talk to the government regarding the censorship of Netflix. This isn't actually the first time talk about censoring Netflix had surfaced in Malaysia, and it probably won't be the last.
But can they eventually do it, though? Well, some governments have managed to get shows and episodes pulled from their countries using their censorship laws, and we ourselves have the Communications and Multimedia Act 1998, whose broad Section 233 have been used to block sites featuring LGBT content, religious discussions and lewd fanfiction, to name a few. There's no telling whether or not Netflix will eventually get censored in Malaysia, but from what we can see at the moment, this incident probably won't be the one that will cause it… probably.