The Malaysian economy isn't a bed of roses right now to say the least. Heck not even a week into the new year and news like this have surfaced:
The article basically talks about how our economy is causing a lot of companies to close down and a lot of people to get laid off. But while this is generally a tough time for everyone, one particular group may be getting it harder than everyone else: The young people in the labour force. 
In May last year, minister in the Prime Minister's Department Datuk Seri Abdul Wahid Omar said that out of the 400,000 people looking for jobs in Malaysia, 161,000 , or 40 percent of them were between the ages of 20-24! WAH YOUNG FLERS DONT NEED TO WORK AR?! 
And as we looked deeper into the issue, we found that there could be a 5 reasons as to why this could be so. 
1. Old aunty uncle still working at 60
So the official retirement age has gone up from 55 to 60! While the gomen's decision to raise the retirement age isn't necessarily a bad thing, Malaysian Employers Federation's (MEF) executive director Datuk Shamsuddin Bardan mentioned back in 2013 how this could cause certain problems to arise in the future.
"The Malaysian Employers Federation (MEF) said without a transition period the private sector will retain 100,000 of the workforce who would have otherwise retired at 55 in the second-half of 2013." – Free Malaysia Today
In other words, that means 100,000 LESS job openings in the public sector. Datuk Shamsuddin also added back then that despite lesser job openings, there would still be 200,000 new people looking for jobs in the second-half of 2013.
He reiterated this once again in 2015, saying that the retirement age, coupled with the fact that the gomen stopped its intake of new employees (we'll talk about this in the next point), has led to fresh grads (many who are probably young flers) having to fight for jobs in the public sector.
Which brings us to the next part of the public sector issue.
2. Malaysian gomen also not hiring anymore
As mentioned earlier, aside from the retirement age being increased, jobs in the public sector are getting harder to come by because just last year, our Public Service Department (PSD) announced that they not gonna hire new people to control the size of the civil service.
In the past few years, our public sector has provided new jobs for many people. This report from 2013 mentioned that since our PM came into power in 2009, 200,000 people had joined the civil service. It also added that the PSD was looking to add 80,000 people in 2014.
But now that the gomen has frozen hiring, that means that potentially tens of thousands of jobs would no longer be available like they were the years before. 
"Some feel that the public sector offers better job security. So, usually between 10% and 11% of fresh graduates apply for jobs in the public sector annually." – Datuk Shamsuddin Bardan, as quoted by The Star
But wait, only 10-11% of fresh grads apply for public sector? So the rest go into the private sector? Maybe. But with all that's going on in the public sector, Datuk Shamsuddin Bardan says that there would already be more pressure on the private sector to provide jobs for these graduates. In fact our gomen has said that they would deal with this freeze on the public sector by "efforts to increase employment opportunities in the private sector".
But what if the private sector also loses interest in hiring fresh graduates?
3. Many graduates no speaka Engrish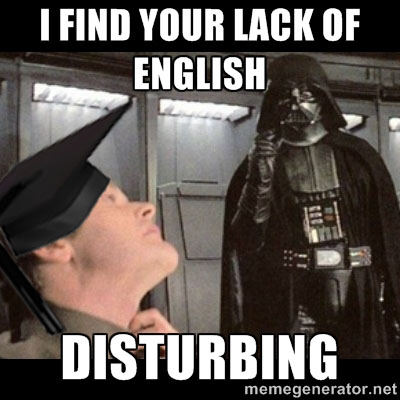 For this point we may be referring to fresh grads in particular la. In 2013, The Star ran a report on how English proficiency was something of a major problem "especially among fresh graduates".
"Most job seekers can speak and write in English, but their command of English is very basic and not up to the expectations of the employers." – MyStarJob Network Sdn Bhd head Serm Teck Choon, as quoted by The Star
They also mention that JobStreet Malaysia manager Chook Yuh Yng added that English is the official medium of communication in 91% of companies in the private sector. But surveys done by JobStreet showed that poor English was always among the top 3 problems employers faced with fresh grads.
This has led to certain organisations like the Parent Action Group for Education (PAGE) that we should start teaching science and maths in English again.
"Proficiency in any language is about practising. PPSMI created more opportunities for students to practise." – PAGE chairman Datin Noor Azimah Abdul Rahim, as quoted by The Malaysian Insider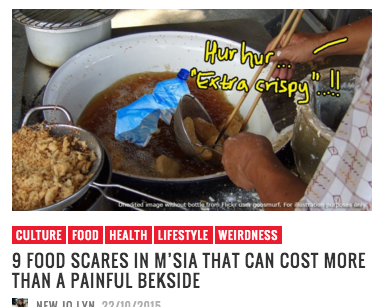 Who spells like that?! Eh.. oops.
But to be fair, English is only one part of the problem. (In fact, it's not like English is the only reason anyone gets a job. Cos if it was, some of us CILISOS flers also maybe no job.) The other part is said to be the young people themselves.
4. Dayum kids asking for too much. Tsk.
While JobStreet said that English was among the top reasons why fresh grads can't find jobs, an article they released at the end of last year put this as the MAIN REASON.
Also just for your info, the same survey that they conducted in 2011 mentioned that the top reason back then was also unrealistic salary expectations but at 64%. Meaning that number has actually grown over the past few years.
"Sixty per cent said they expect a salary of RM3,500 for their first job while 30 per cent even expected to be paid as high as RM6,500 as their starting pay in order to live comfortably." – JobStreet statement, as quoted by The Malay Mail Online
But once again to be fair, in 2011 JobStreet also released survey results of how students refute these claims that they were asking for too much. They say that the main reason they don't get hired is because there is a lot of competition. 
JobStreet did not mention anything about students refuting the claim in 2015 but hopefully just not yet la.
5. Our universities are not producing the talent Malaysia needs
So throughout this article some of you may be wondering "Eh, Malaysia no jobs meh? Then why so many foreign workers keep coming in?" Well, it may actually have something to do with the whole system of Malaysia.
This report on Malaysia by the OECD (this really big, international economics organisation) mentions how Malaysia may have a problem where we are producing graduates that don't fulfil the needs of our economy. Here's an example.
"Such difficulty has intensified as the mismatch between skills needed by the labour market and those acquired by job seekers has worsened. More than 40% of firms have reported vacancies for skilled production worker positions, and the average time required to fill a vacancy is about four weeks.

The main reason given by the firms for this long process is that the applicants did not have the required basic skills or the right technical skills needed to carry out the jobs in question." – World Bank, as quoted in OECD report
The report goes on to mention that part of the reason for such a problem is that Malaysia's private sector doesn't have a say in what it actually needs.
This other article on the other hand, also talks about how our failure to, in a sense, evolve economically has caused us to rely on foreign workers because they are cheaper.
"Instead of shifting to a more a skill-based approach with a competitive edge in technology and closing up our digital skill gaps, we are still pursuing an old approach." – Columnist Eddie Hoo, in an article for theheatmalaysia.com
But all this at the end of the day, leads to us having a lot of graduates who are too skilled for the jobs that are available in the Malaysian market. (In other words, overqualified?)
"A survey by the Ministry of Higher Education (MOHE) in 2008 shows that about a quarter of graduates of university and colleges remained unemployed six months after completion of their studies. For those who secured jobs, almost one-third were in jobs at a lower skill level than they were trained for." – National Economic Advisory Council, as quoted by OECD
However, the last 3 points are in regards to fresh graduates only. As a whole, there could be 1 more reason as to why there are so many unemployed young flers in Malaysia.
6. Young Malaysians don't seem to want jobs that foreign workers will happily take
So we mentioned that we are relying on foreign workers earlier. Well, maybe not just rely, but prefer. Our new DPM recently said that there was a demand itself for more foreign workers, especially from Bangladesh.
"To date, from the worker profile, no prejudice, loyalty of Bangladeshi workers much better than workers from other countries, more trustworthy, for example, looking after counters and petrol stations." – Deputy Prime Minister Zahid Hamidi, as quoted by Astro Awani
But Bangladeshi efficiency aside, we find that despite the high number of unemployed youths, we still have demand for labour, with some sectors even having a shortage.
"The construction industry has been experiencing an acute labor shortage since 1980s. In the meantime, the demand for labor has been constantly increasing in the construction industry because of the high rate of developments." – quote from Serneels in a report on the impact of foreign workers on Malaysia
And people may very quickly point out that these jobs don't pay very well. Like who wants a low-paying jobs that makes you work long-long and hard-hard?
In one of our previous articles, we actually spoke to a couple of foreign workers about their workload and their pay and guess what? Quite a number of them get pretty decent money working 8am-5pm jobs, plus benefits.
"In the factory line, we earn between RM1,000 to RM1,450. I've lived in Malaysia for eight years – all the while working in the same factory. Suka… I'm here to earn a living. My family is back in Bangladesh. I'm here alone. My employer provides board for us. They pay utility bills, but we pay for our own food." – Factory worker Mohd Borhan Uddin tells CILISOS
Whether or not this money is enough is a different story la. But hey, the money they're earning is actually comparable to some of the other fresh grad salaries we found (like here, here, here, & here).
So how to get these Malaysian kids working?
If you wanna look at the problems individually, a few solutions are mentioned.
While the gomen is cutting cost all around (our budget for 2016 was full of cuts all over the place), articles like this suggest that there are other ways to do so if the intention really is to cut cost. On the other hand, the MEF guy Datuk Shamsuddin Bardan has advised youths to not be picky about their jobs.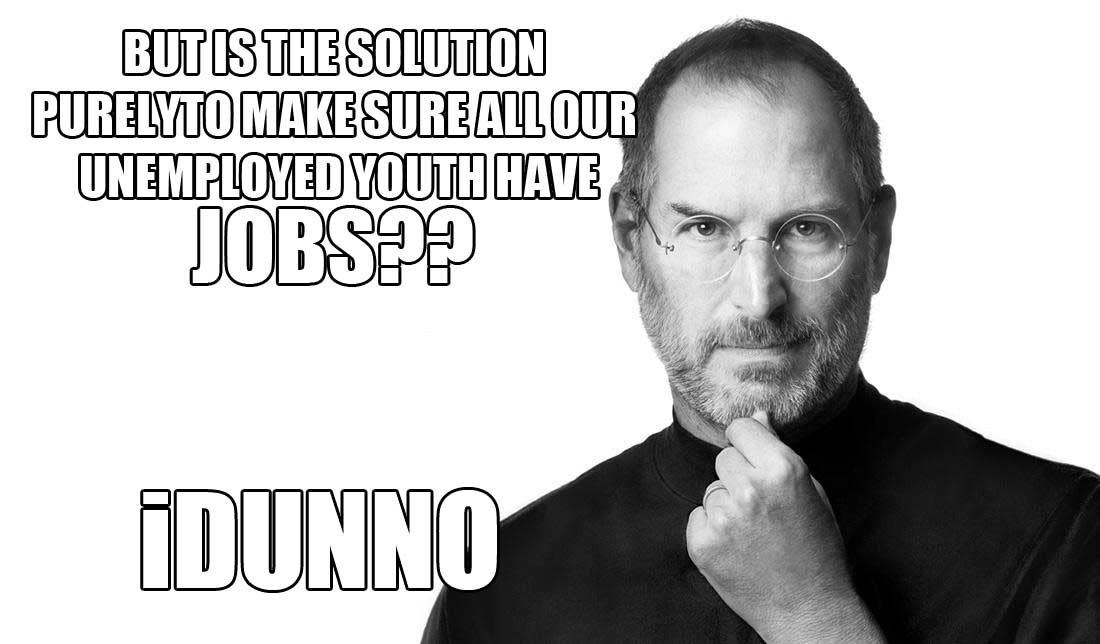 Maybe the solution is first acknowledging that there are a lot of issues within various systems in Malaysia that are contributing to the problem. With the various aspects mentioned above, it may be good to consider that the issue of youth unemployment runs deeper than just any one system. The columnist below believes that the problem is ingrained into our very culture.
"Opportunity is everywhere and not just on Jobstreet. We have created a culture where our kids wait for offers, wait for leads, wait for something to fall on their heads." – Columnist Erna Mahyuni, in an article on The Malay Mail Online"
Besides that, another columnist mentions that employers have not done enough to make the jobs that are currently occupied by foreign workers more desirable to the unemployed. That for a long time, the civil service ended up having to settle.
"I think it is time to have an unequivocal timeframe to gradually phase out foreign workers particularly in sectors where Malaysians can do the jobs after some adjustments and change of working conditions. Otherwise the surplus labour among Malaysians will keep manifesting itself in the civil service." – Columnist TK Chua, in an article on Free Malaysia Today
And we know that's not gonna happen anymore. Not at least for the time being.
Thus, maybe these are the things that we should be looking to solve, rather than just look to have less unemployed young people. Because at the end of the day, maybe we shouldn't be looking to just provide jobs for youths, but to teach to be prepared for jobs.
"We cannot always build the future for our youth, but we can build our youth for the future." – Franklin D. Roosevelt