Sometime last year, the Public Account Committee (PAC) held proceedings on a company under the Education Ministry called the Education Malaysia Global Services (EMGS).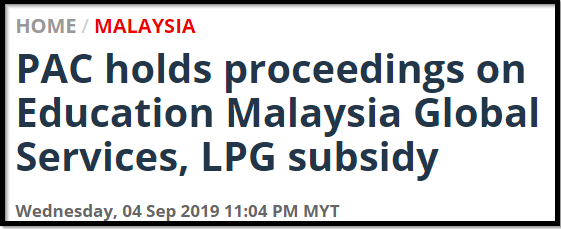 The proceedings were held to find out what happened to the data on international students that was collected by EMGS (more on this later) and the govt grant which amounted to a whopping RM22.13 million that was given to EMGS.
"The committee was briefed on the issues of EMGS, among them corporate governance and the management of the remaining grant from government amounting to RM22.13 million which has yet to be utilised for promotion and marketing." – PAC chairman, Datuk Dr Noraini Ahmad to Malay Mail.
And, just recently, the name EMGS was mentioned in the news again when its head, Abdul Rahman Mohamed Shariff, was charged with three counts of criminal breach of trust involving some RM178,049. He allegedly used the money to buy cigars and an oven for his wife. But, according to the report, the charges aren't related to EMGS at all so this may be a story for another day.
But before you go 'aiya, same old corruption story lo'… let's first take a quick look at EMGS and why some consider it pretty controversial.
This company is kinda like the Immigration Department… for students
EMGS is a private company established by the then Ministry of Higher Education and its role is to promote Malaysia as an education destination of choice among international students. And when we talk about international students studying here, we mean those studying in our local public or private universities, language centres and skill training institutes.
The company, formed in 2012, is currently under the the Education Ministry after the Ministry of Higher Education was merged with the Education Ministry in 2018.
Unlike in other countries like Australia where you may need to apply for your visa and student pass through its Immigration Department, according to EMGS, it is the ONLY legal gateway for applications for a student visa to study in Malaysia. Not only that, EMGS would vet through your application to study here based on the regulations and policies of the Ministry of Higher Education, Home Ministry and Malaysian Qualifications Agency.
Just like how you would normally apply to study in a university, international students are also required to submit their academic transcripts (something like your SPM or diploma results) together with their application and other documents like medical report to EMGS. The application would then go through several stages of vetting like…
Cross-check academic transcripts with the examination board in student's home country
Analyse if the student's qualification matches the academic requirements based on the institution the student has applied to
Security vetting by the Immigration Department (their officers are placed in EMGS' office)
After the application has gone through this process, the student would then be issued with a visa approval letter before being issued a visa upon their arrival. The student pass, which apparently looks like a sticker that the officers place in students' passports, will be issued once students arrive in Malaysia and it has to be renewed yearly.
Besides this process, EMGS also helps international students with medical screening and getting an insurance policy too.
And, a few years back, EMGS has introduced an online system called the Student Application and Registration System (STARS) where students would only need to submit their applications and relevant documents online. They can also check the status of their application through this system.
This system is also accessible to the Immigration Department and Royal Malaysian Police (PDRM). It pretty much holds the statistics of international students in Malaysia that are shared with the authorities.
And this statistics hold valuable information such as the involvement of international students in crime activities. Although it's typical to assume that a huge number of international students are involved in crimes like prostitution, according to data taken from STARS, less than 1% of international students in Malaysia are involved in crime. Not only that, the stringent process implemented by EMGS has managed to reduce dubious student visa applications through higher learning institutions.
Wait… EMGS seems pretty okay so far. So why do some people call it a controversial one-stop-centre?? As it turns out…
EMGS apparently costs private unis thousands of potential foreign students ANNUALLY
When EMGS first operated in 2013, several people were a bit skeptical of it. For instance, DAP's Ong Kian Ming, claimed that EMGS violated the Competition Act 2010 because…
"EMGS has abused its position by forcing international students to (i) firstly, choose only among a EMGS approved panel of clinics whereby they can perform their mandatory health screening at the cost of RM250 (ii) secondly, to buy mandatory medical insurance from just one EMGS approved insurance agent which is AXA-Affin." – Ong, an excerpt from The Rocket in 2013.
Earlier we mentioned that EMGS provides medical screening for international students and this can be done in any one of the clinics listed under EMGS. However, according to Ong, about 50 to 86% of these clinics were under Qualitas Medical Group of clinics. Ong questioned the need for this list and this has caught the attention of the Ministry of Higher Education and Ministry of Health.
Both ministries claimed that they would re-evaluate EMGS but we couldn't find anymore news on what this re-evaluation was all about.
What we can assure you tho is that EMGS no longer offers insurance policy from one insurance provider but three of them and you can check them out here.
A year after this controversy happened, EMGS got into yet another controversy. This time around, it involves a group of angry private universities.
So when EMGS first started, it promised that visas would be processed within two weeks. But the company kinda screwed that up pretty badly when EMGS took about three to six months process visas(!).
And due to this delay, an industry association claimed that private universities apparently lost some 1,000 potential students from foreign countries… ANNUALLY. In other words, this means that these academic institutions are losing millions in ringgits every single year.
Not only that, private universities also claimed that they had to pay a mandatory processing fee of RM1,000 upon submission of an application for an international student(!).
This has caused the National Association of Private Educational Institutions and Malaysian Association of Private Colleges and Universities to file a judicial review against the Registrar-General of Private Higher Educational Institutions and the then education minister, Muhyiddin Yassin in 2014. They claimed that what EMGS did was unlawful as it was beyond the powers of the Private Higher Edu­cational Institutions Act 1996.
In response to that, EMGS had filed an application to the High Court to dispose their proceedings for a judicial review.
But this doesn't mean EMGS is free of controversy just yet. Just last year, the Education Ministry was urged by a new political party called Parti Negara to end a contract involving EMGS and a company called Scicom (MSC) Berhad. In a memorandum, they claimed that Scicom has charged RM1,000 to students but doesn't offer value added services besides increasing the charges on students by 1,200%.
We made a quick check and found out that this may be true, according to EMGS' online calculator. If you're a new student, you'd have to pay RM1,060 just to apply to study here. This doesn't even include other costs like medical screening, insurance and student pass fee. Superman (a friend of ours who wish to remain anonymous), who's an international student, told us that the fees can vary depending on the country and it can be costly too.
"Comes to about RM820 for me. That's if I am only applying for my visa, and mandatory insurance. Adding admin fees, processing fees, 'other fees', more 'other' fees, etc. Comes to about RM3,200. Visa renewal is around RM800. First time applications always cost a truckload more." – Superman told CILISOS.
In comparison, students used to pay RM160 to the Immigration Department. In fact, you may only need to pay SGD 90 (RM271) for visa and student pass to study in Singapore.
But, in its defense, Scicom pointed out that the company complies with all the requirements that have been agreed upon in its contract with EMGS. As a matter of fact, Scicom believes that it has offered initiatives that can enhance EMGS such as the…
STARS system
Medical screening and processing system
Biometric system
Insurance processing system and many more
"A significant number of the initiatives mentioned above were not in the originally agreed scope but were proposed and implemented by Scicom at no cost to the government or EMGS." – Scicom's senior vice-president, Yeeling Wong to FMT.
Despite Yeeling's claims about Scicom, the former Education Minister, Maszlee Malik has vowed to investigate Scicom. But now that he's no longer the Education Minister, we're not quite sure if that plan will be carried out. :\
What we know at the moment tho is that, despite these controversies…
EMGS aims to attract 200,000 foreign students in 2020
Well, that's pretty much EMGS' aim back in 2017 when it wasn't really involved in all these hoo-haas. And this may seem possible considering how it achieved its target in 2017 by targeting 170,000 foreign students to study in Malaysia.
"Moving forward, concerted effort is critical in meeting our 200,000 international student enrollment target in 2020." – EMGS' former CEO, Datuk Rujhan in a press statement.
And this is actually in line with the govt's aim to turn Malaysia into a global education hub. Malaysia was actually ranked 11th the most preferred destination for higher learning by Unesco. And this is partly because of the cost of education that is comparatively lower than other countries.
At the time of writing, the govt has implemented several things to attract international students to study in Malaysia such as giving out scholarships to Palestinians to study in Malaysia. In fact, the govt has recently come up with a video to woo international students to study here which features… Tun Mahathir. The video was apparently made under EMGS:
In addition to that, since Tun Mahathir is currently the acting Education Minister, he is considering to separate the Higher Education Ministry from the Education Ministry. Some people like the Universiti Pendidikan Sultan Idris' vice-chancellor Prof Datuk Dr Mohammad Shatar Sabran believe that this may be a good move to fulfill the nation's objective to become a global education hub. Whether we actually get there tho, remains to be seen.