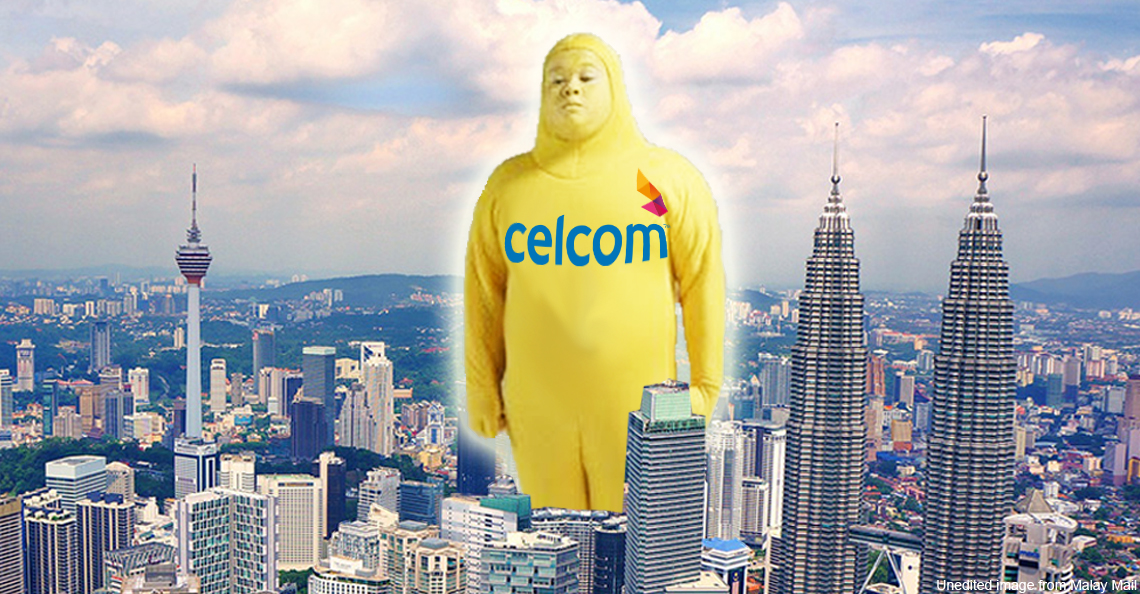 In what has been perhaps the most exciting news for both tech geeks and business people in awhile, two of the big three mobile telco companies – Digi and Celcom – have announced that they are in the midst of negotiating a merger.
Now you might have seen a bunch of news articles calling it a merger between Celcom and Digi. Heck, even this article does so, like, literally in the image right before this. Buuuuuuut, that's technically not the full picture la.
Celcom isnt just merging with Digi, it's much bigger than that
Alright, so before we go any further, it might be crucial to first note that this is not just a deal between the yellow and blue telcos, but rather a merger between their parent companies Axiata and Telenor.
Here's some background context: Celcom originally launched in 1988 as STM Cellular Communications with the prefix '010'. Their main shareholders were Telekom Malaysia International (TMI) and Fleet Group at first, but by 2007 Celcom was no longer with TMI. Instead, when TM perhaps got bored of handling so much business, it restructured itself and let go of TMI, leaving Celcom under a new group called Axiata. This new Axiata mainly does investment holding together with providing and consulting on telecommunications, kinda like TM, but internationally.
Digi meanwhile came about in 1995 as Mutiara Swisscom, and quickly got the attention of one of Europe's oldest and most prestigious telecommunications company – Telenor. Like, Telenor is so old, they were originally a telegraph service company! Telenor would make it's first investment into Digi in 1999 but acquired control of it by June 2001.  During this transition, Mutiara Swisscom would change it's name in 2000 to the one we all know and love, Digi.
Going back to today, Axiata and Telenor – both major multinational telecommunications conglomerates – are seeking to merge their Asian operations altogether (well technically Axiata only has Asian operations but that's besides the point). There's no solid confirmation yet that the two are gonna do it, with the merger process still in the super early stage, but they do seem serious about doing it. And why wouldn't they, considering that if the merger happens….
They'll become the largest mobile operator in Malaysia
With Axiata and Telenor looking to merge, the new baby of the two is expected to have earnings of over RM50 BILLION! Can pay 1MDB debt and still got extra RM8 billion weih.
Assuming they do end up combining, they'll have their fingers in nine different countries, serving over 300 million customers, with the merged company taking the number 1 spot in six of those countries. Telenor would control 56.5% of the new merged company, with Axiata having the rest. And just to give you an idea of how big of a monster they'll become, they can't even legally include Axiata's Bangladeshi telco Robi with the rest of the deal, as that would mean the merged baby would have over 80% of Bangladesh's mobile market share, violating monopoly laws.
As for Malaysia, the new Digi-Celcom lovechild will become the largest mobile operator in Malaysia, and is expected to end up controlling 54% of the market share in Malaysia, according to CIMB Research.
"The MergedCo will have a proforma revenue/EBITDA/PAT of RM50bn/20bn/4bn, with close to 300m subs, making it the largest operator in ASEAN and South Asia by revenue and third largest by PAT and subs. Digi-Celcom will be the largest mobile operator in Malaysia with an estimated proforma revenue market share of 54%, overtaking Maxis' 34%," – Foong Choong Chen, CIMB Research analyst
On top of the market share majority that the merged company will enjoy, they might also end up with almost double the subscribers of Maxis, the next biggest mobile telco around, who ended last year with 10.89 million mobile subscribers. Their new prepaid sub count of 14.4 million also dwarfs the 6.467 million of Maxis. One thing we can't estimate tho is the average revenue per user for the merged telco, so we'll have to wait on that. But one figure that does stand out from our educated guesses is the new combined revenue of Celcom and Digi, which goes beyond Maxis' figures.
Should Maxis be worried then? Well… not exactly. Industry experts are kinda certain that Maxis' customers won't be porting over to the DiCom/Celgi telco anytime soon, due to Maxis' sub base being the type of people who pay more for better network quality. Maxis will also probably continue to earn more per customer than the other telcos regardless of the end result from the merger.
"It won't really be a problem for Maxis in the immediate term, because Telenor and Axiata will have to consolidate before starting anything like a price war. But I don't think they will start a price war — if they do, they'll hurt their own margins as well," – Lee Cherng Wee, analyst, as quoted by Malaysian Reserve
This of course might lead to some headscratching among readers; if it won't take out the competition, then why even merge in the first place? Well, Axiata and Telenor might be looking to team up for another, maybe even more important reason.
Celcom and Digi had been struggling… until news of a merger
So here's the thing, despite their status as part of the 'big 3' telco companies in Malaysia, it hasn't been the best of times for both Celcom and Digi.
It was reported earlier this year that all of the major three telco companies were hit with a drop in subscriber base and revenue, with – surprise, surprise – Maxis affected the least and managing to still lead in revenue per user. Digi lost almost half a million prepaid users in the first three months of this year alone, with their mobile phone sales also dipping in numbers. Celcom meanwhile saw quarter-on-quarter drops in subscriber counts in the latter half of last year.
Fastforward to the talk of the merger, with the rumours spreading already, Axiata decided to voluntarily reveal to all that they are indeed seeking to team up with Telenor. Following the announcement, things started to look rosy again for the two… on the stock market anyway. Axiata's shares would see a 13.86% increase while Digi's went up 9.51%, thanks in part to the announcement of the possible merger.
In fact, their stock rose so much that it added RM7.61 billion to the companies' market capitalisation, and several research groups are now calling for people to buy Axiata's shares.
"We have upgraded Axiata from a 'hold' to a 'buy' with a sum of the parts (SOTP)-based target price of RM5.00….  A strong partner like Telenor is a key re-rating catalyst for Axiata, as Telenor's hands-on approach, good cost discipline and future-proof strategies would help drive further value-creation for the new merged company,'' – UOB-Kay Hian Investment Bank, as quoted by The Star
Despite all the positives from the big shots and analysts, not everyone is super pleased with the Digi-Celcom merger talk.
The MCMC is allegedly looking into the deal amid fears of a duopoly
MCMC chairman Al-Ishsal Ishak mentioned that, in light of the possible merger between the two big companies, they will be keeping an eye on proceedings and evaluate the deal before greenlighting the merger.
"MCMC is always open to initiatives by the industry. In this case, the parties have informed us and due process to evaluate all angles of the proposal will be carried out. This process will take a few months. We need to evaluate many angles, and have data to back our final position," – Al-Ishsaal Ishak, MCMC chairman, as quoted by Malaysian Reserve
This comes amid genuine concern that Digi and Celcom merging might lead to the presence of a duopoly. Indeed, even the Ministry of Communications and Multimedia is set to look into the merger, with minister Gobind Singh Deo expected to make a comment on it soon. Across the political divide, Khairy Jamaluddin is also calling for in investigation into it, as it leaves just two major mobile network operators left (it's okay UMobile, maybe one day).
This is something @SKMM_MCMC & @theMyCC should look into. Now telco essentially a duopoly in Malaysia (excluding MVNOs). https://t.co/J5hAV3ePgq

— Khairy Jamaluddin (@Khairykj) May 6, 2019
In any case tho, a lot of the talk remains speculation. Until there's concrete plans in place for the Axiata-Telenor merger to happen, we'll have to wait and see for the relevant stakeholders to make a move.