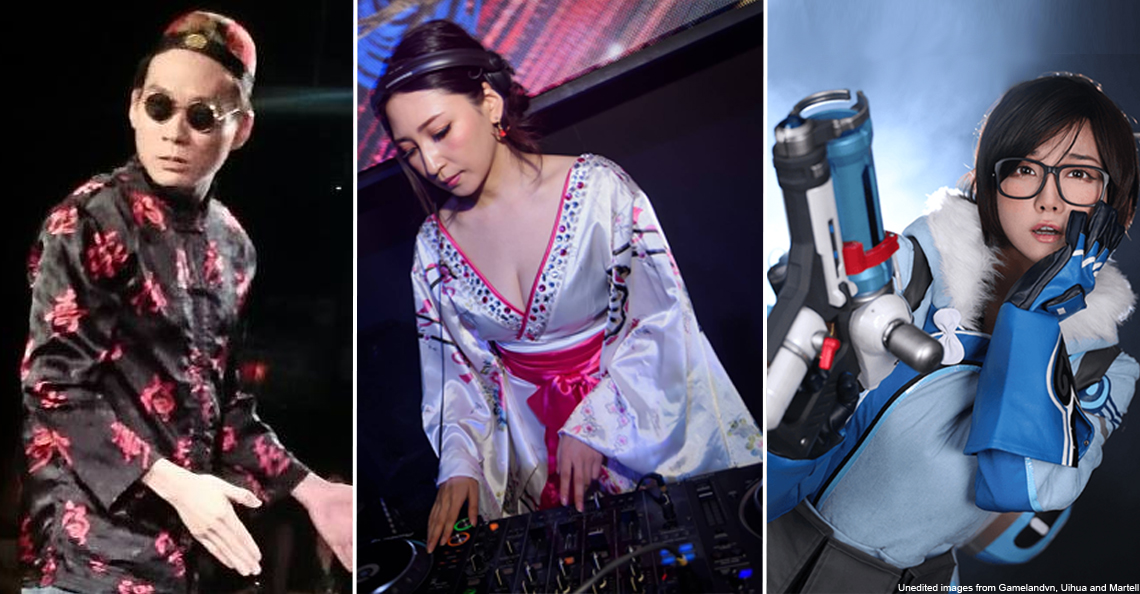 Alright guys, it's almost the end of the year – this means parties galore! You have Christmas parties, New Year's Eve celebrations, and if you wanna feel like a yankee, go ahead and celebrate Thanksgivings too. But what if you wanna party… even more?
Now it's not just us who know your love for parties, which is why Martell will be organising a series of parties just for y'all! And at these parties you can expect only the best of the best cognacs from Martell – the Martell Noblige.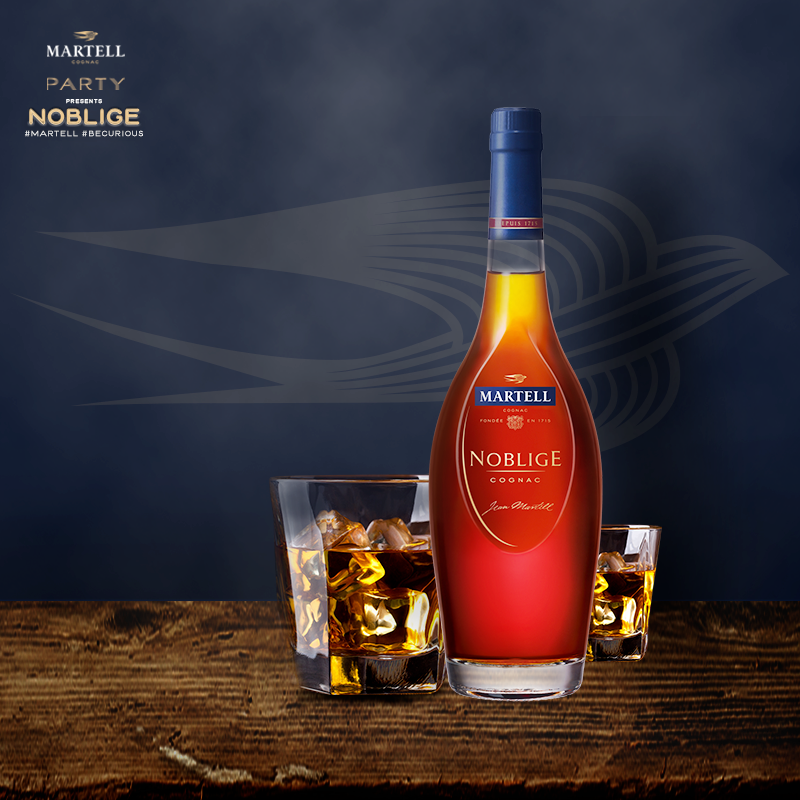 This latest cognac from Martell, distilled only from clear wines, comes in a sleek bottle and judging by the name, is quite sofis sophisticated too. Y'know how drinks always have a specific character to them? Well Martell Noblige has a whole bunch of them. It has strong hints of lemon, pear and prune together with the exotic hit of vanilla and caramelised grapes on top of a woody undertone too. And to represent this diversity of character…
They're gonna have a bunch of wicked themed parties (way before next Halloween.. yay!)
Judging by the crowd at Changkat during Halloween, there's a whole subculture in Malaysia of people who like to dress up… but sadly, it only happens once a year. Well, not anymore…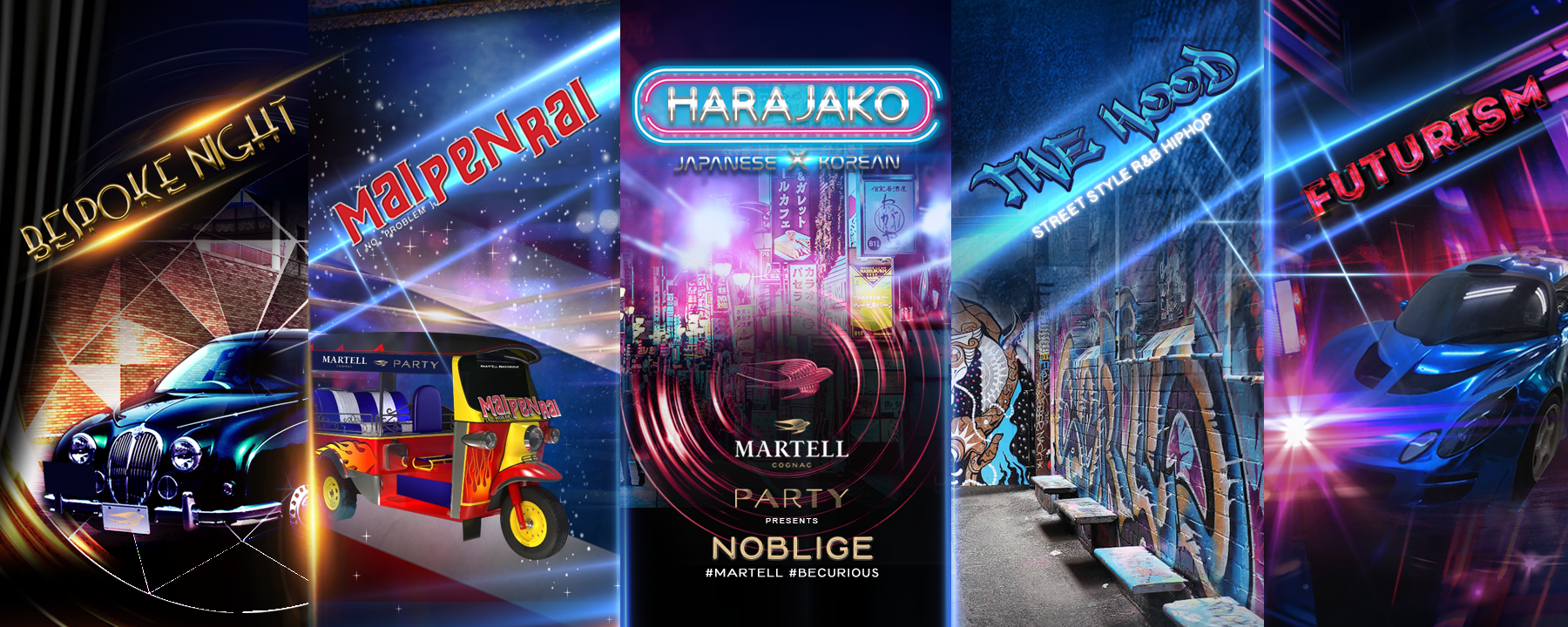 As you can probably tell, each theme will have its own twist to the standard party. The Hood parties will have capoeira and street styled dancers on show with a dash of R&B to go along with the hip hop beats, while the Futurism has with EDM DJs from Australia to give you guys sweet trance tunes. Mai Pen Rai meanwhile sees Thai DJs on the deck with Muay Thai dancers on the floor.
For the Harajako parties, well we think you probably figured by now that there'll be Korean and Japanese DJs with Korean-themed dancers, while the Bespoke events will have more DJs from down under to help you and your tuxedo get it on. Malaysia's own DJ Vibe will be at all these events too, so #sapotlokal lah.
You can check out all the events over on Facebook as each party will have its own event page, so head on over and share it to all your friends too! The parties will go on into 2019, so keep a look out for them yeah. The deets for each party are below, and you can click on em to get to its event page. Because we ourselves are fans of getting dressed up… we 're even giving you a few suggestions of what to wear to these parties too!
Mai Ren Pai party
Date: 6th Dec 2018
Venue: Aquarium Pub, Kuchai Lama
Time: 11pm
Pedas Pointer: Avoid the Thai Masseuse look.
Date: 8th Dec 2018
Venue: Tap It Out, KL
Time: 11pm
Pedas Pointer: Don't use the N word unless you actually can.
Bespoke Night
Date: 14th Dec 2018
Venue: Ce La Vie
Time: 11pm
Pedas Pointer: Well if you don't look like Ryan Gosling, why not try… Troning!
The Hood party 2
Date: 24th Dec 2018
Venue: Zeta Bar Hilton
Time: 11pm
The Hood party 3
Date: 11th Jan, 2019
Venue: OZOO Club, Penang
Time: 11pm
Mai Ren Pai 2
Date: 12th Jan, 2019
Venue: MISC Club, Penang
Time: 11pm
Futurism
Date: 18th Jan 2019
Venue: The Muse Bar and Restaurant, Ipoh
Time: 11pm
Pedas Pointer: Don't go overboard with the LED lights on your body.
Futurism 2
Date: 19th Jan 2019
Venue: Rabbit's Tale, Penang
Time: 11pm
Harajako
Date: Coming soon, so stay on the lookout!
Pedas Pointer: If you're a bit tight on budget, perhaps some Low Cost cosplay is in order.
But don't worry too much about your outfit laa kay, cos regardless of how you look you're bound to have a great time at these Martell Noblige parties 🙂