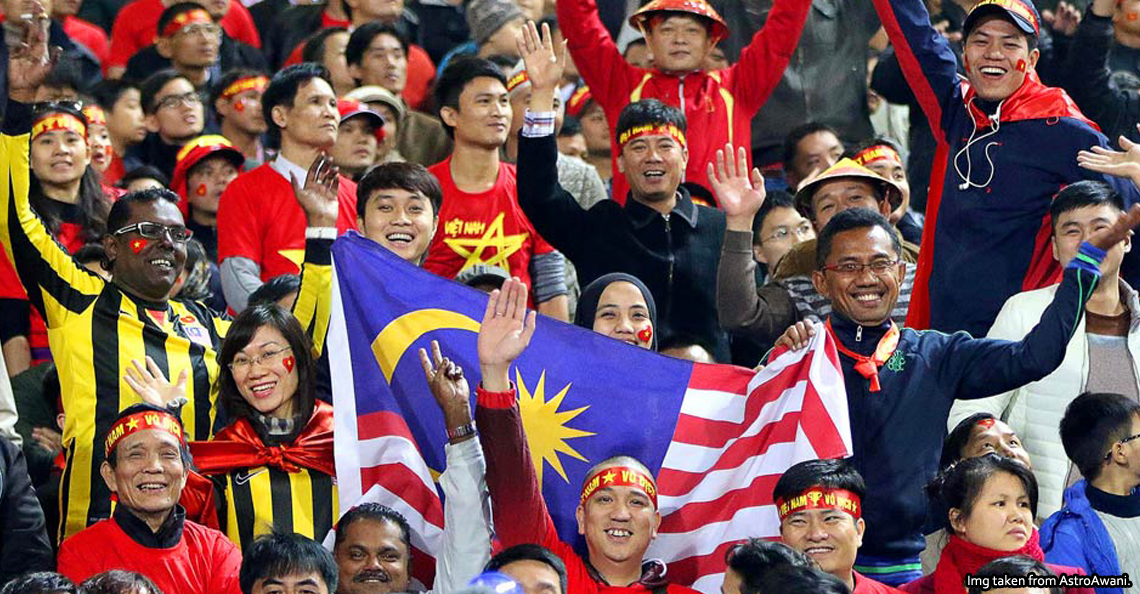 [Artikel ni diterjemah daripada rakan-rakan kami kat SOSCILI. Kalau nak baca artikel ni dalam BM, klik sini!]
It's a very happy yet kancheong time for Malaysian football fans, as after last night's semi-final match with Thailand (2-2), Malaysia now has a shot at winning 2018's AFF Suzuki Cup, advancing to the finals (through the away goals rule). This is a pretty big deal, as the only time Malaysia had won this tournament had been in 2010, when they defeated Indonesia with an aggregate score of 4-2.
But instead of going into a full-on sports commentary, today we'll be talking about the fans, who had always been a big part of football. The Malaysian team has got their own dedicated fan club called Ultras Malaya, also known as 'the tail of Harimau Malaya'. Fox Sports Asia had even ranked them as the best fans in the Southeast Asian region for their support of the national team, to the point of selling their personal items to raise funds to go to yesterday's match in Bangkok.
Their support seemed to have an effect on the opposing teams, like what happened to the Myanmar team during their match with Malaysia at the Bukit Jalil stadium last month. At first, the Myanmar team's coach Antonie Hey said that he was not worried at all about the volume of Malaysian supporters who will be attending…
"We're not scared of the number of supporters [who will be attending]. It's not like they can approach the field or anything. On the field, it's 11 against 11, and that's what matters most," – Antonie Hey, translated from Fox Sports.
However, after a loss of 0-3, he admitted that his players were a bit rattled by the Malaysian team's supporters.
"We have a lineup of young players and they did their best. But with the atmosphere of so many supporters, our performance were somewhat affected," – Antonie Hey, translated from Berita Harian.
Whoah. How loud have they been? Funny you should ask, as…
Somebody tried measuring the sound levels during the AFF Suzuki Cup
Through something called the AirAsia's Decibel Meter challenge, posted on the AFF Suzuki Cup's official Facebook page, we can get a rough idea of how loud they were. Basically, the sound generated by the crowds were measured (in decibels) throughout the matches, and while we can't find the level of sound generated by some 83,777 spectators during Malaysia's match against Myanmar at Bukit Jalil the other day, here are the sound from other matches:
Malaysian fan noise level had been recorded once, during Malaysia's match against Laos (3-1) at the Bukit Jalil stadium. Overall, the 12,127 spectators racked up a maximum of 117.0 dB during Norshahrul's (aka Mat Yo) decisive goal at the 86th minute, with an average of 94.3 dB throughout the match. So even if we don't know exactly how loud Malaysians were during that match against Myanmar, you might have noticed that the number of spectators during that match was far higher than any other matches so far, so you can just imagine how noisy it had been.
And in case all these dB business mean nothing to you, these numbers actually mean that…
A football match can be as noisy as hanging out at an airport runway
So how does the noise of cheering on football teams compare to other sounds? How loud is 100 dB anyway? Pretty loud, actually. For reference, the sound of rustling leaves blowing in a gentle breeze is roughly 20 dB, and the normal sound levels you hear in an office or a restaurant with ambient music is around 60 dB. 70 dB is where sound will start to annoy some people, and that's about the noise level of a vacuum cleaner running.
The sound of motorcycles, lawn mowers or a low-flying airplane is around 100 dB, and listening to that for 8 hours or more can cause serious damage to hearing. The recorded sounds during the AFF Suzuki Cup ranged between 114 to 118 dB, which is when the average person will start to feel pain. Eardrums can get ruptured at about 165 dB, or the sound of a gunshot at very close range.
But still, it might be a bit hard to visualize all these, so here's a chart:
So far, the AFF Suzuki has yet to have cheering at the sound level of fireworks, but they have been noisier than rock concerts. So if you're bringing children along to watch a match, you might want to get some earmuffs for them. Especially if you're going against Turkey, as…
The world record for the loudest cheer is even louder than thunder
If you've ever experienced lightning hitting a nearby building or place, you can probably remember the sharp snap of thunder that follows. That noise is called a thunderclap, and they're normally around 120 dB.  The highest recorded sound levels made by football fans went over 130 dB, and both incidents happened in Turkey.
In October 2007, Liverpool had a match against Turkey's Beşiktaş at the Inonu Stadium in Istanbul. Although the stadium can only fit in 32,145 spectators at a time, the cheering from the fans reached 132 dB, and the supporters of Beşiktaş was said to have continuously cheered since 2 hours before the match, only stopping for a moment of silence to remember Turkish soldiers who were attacked by terrorists. The cheering was believed to have helped Beşiktaş win against Liverpool, with a score of 2-1.
While we're not sure whether the 132 dB number is official, another match in 2011, also in Turkey, had its sound levels recorded and verified by the Guiness Book of Records. It was a match between Galatasaray, one of Turkey's giant football clubs, and Fenerbahçe, a local rival team. The 52,650-strong crowd's roar at the Türk Telekom Arena reached a record 131.76 dB, and up until 2013, the spectators held the world record for the loudest crowd roar at a sporting stadium (current record is 142.2 dB, set by fans of the Chiefs American football team at the Arrowhead Stadium in Kansas).
Getting back to Malaysia, while some may say that sometimes fans are even more lebih lebih than the players on the field…
The fans' support can be said to be the 12th player on a team
As history had shown, a good support towards a team can boost their morale and intimidate their opponents, like what happened to Liverpool who lost to a less famous team from Turkey. And in Malaysia…
"The fans love our players. They want the team to win. Maybe that's giving the players the spirit to achieve victory." – Tan Cheng Hoe, Head Coach for Harimau Malaya, translated from @Team Malaysia.
It is true that the fitness of the players as well as the tactical are both important things for a team to have, but they are also humans, meaning that motivation (or de-motivation) is just as important a factor in determining their performance. And based on how much support Malaysians are giving our football team, it would seem that the Harimau Malaya would have no problems in that area.