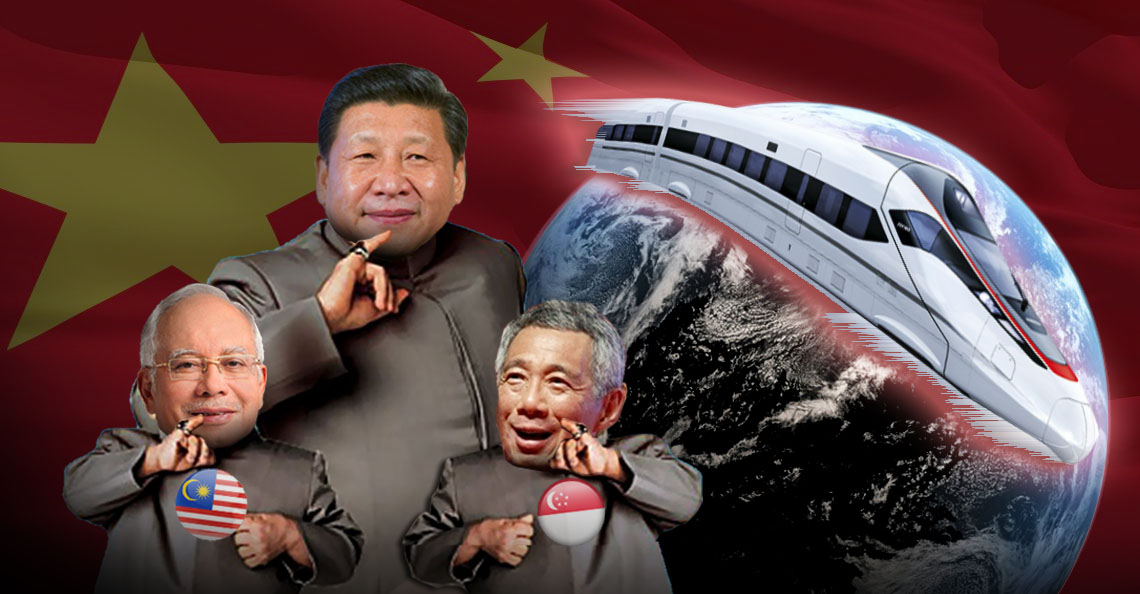 Just imagine one day in the future, you wake up in your KL condo at 6am, you get dressed, have breakfast, and head to the nearest public transportation station at say 7am. 2 hours later, you're in your office working….in Singapore!
Well that actually may become a reality in the future, because Malaysia and Singapore just recently agreed to build a high-speed rail connecting KL to Singapore. 
But if you're already thinking of planning trips around it, don't. Unless it's a trip 10 years from now because the rail is only expected to be completed in 2026. Oh and did we mention? It's gonna cost an estimated RM50-60 BILLION.
Imagine the lucky person who wins the contract to build this whole thing weyh. But in reading up on this, we found that one particular company may be in the lead to win the contract already.
A China company seems to be a little too interested in building this railway
It's been reported that China's national rail operator, China Railway Group Limited (CREC), is already being tipped to win the contract because of the growing friendship between China and Malaysia. 
And it's not like CREC's involvement with Malaysia came out of nowhere. They've actually been very involved in our country for a while now. For example, they actually own 60% of the Bandar Malaysia project in Johor!
Okay CREC doesn't own it alone la. They own 60% together with a local company called Iskandar Waterfront Holdings (IWH). But they don't just own part of it, they intend to build a whole mega-office there and provide 10,000 jobs!
That is aside from working with the Ministry of Finance to build 5,000 homes over there in Bandar Malaysia as well.
But that's all on the local side. On a larger scale, China has also been making moves in other ASEAN countries as well. Thailand, Laos and Vietnam are also in various stages of building their part of the railway WITH China's help, while Myanmar has been linked but denied anything has been agreed.
*On a side note, China also recently won the contract to build Indonesia's high-speed rail. *
So they've been very involved in Malaysia already. But that's just one possible reason. The other reason could be because this railway is part of a bigger picture involving not just Malaysia and Singapore, but the WHOLE of Southeast Asia.
Introducing the Kunming-Singapore high-speed rail!
Actually we're not the first to point this out. Even before Malaysia and Singapore signed the deal, people were already bringing up how this agreement was a step closer to China's plans of world domination connecting itself to 10 major cities in Southeast Asia, with one end of the railway being in Kunming, China, and the other end being in Singapore.
If this sounds a bit too unbelievable, our Transport Minister, Dato' Sri Liow Tiong Lai himself recently said that the KL-Singapore rail is part of the Pan-Asian Railway Network.
"The HSR project is also in line with the Singapore-Kunming Rail Link which will link ASEAN nations with China, as part of the One Belt One Road initiative. Malaysia certainly stands to benefit immensely from this initiative." – Dato' Sri Liow Tiong Lai, in a press statement
But wait, what the heck is a One Belt One Road? Just now already we gave you a big picture of where our high-speed rail fits into the Pan-Asia Railway Network, now prepare yourselves for an even BIGGER picture. 
China looks like it wants to dominate the WORLD, and Malaysia is only a small part of it
The One Belt, One Road initiative, or OBOR is China's plan to achieve a "comprehensive Eurasian infrastructure network". In other words, they want to connect themselves to the rest of Asia and Europe.
The Mercator Institute for China Studies (MERICS, a German organisation that studies China) said that China launched the OBOR initiative to achieve 3 goals:
To diversify their economy
To stabilise certain areas and expand their political influence
And their main goal: To reform the way the world currently works.
Sure this doesn't include every country, but it involves almost all of Asia and Europe, and parts of Africa, which is a pretty big chunk of the world la.
And just to add, if their goal is to reform the way the world works, you can bet to get a backlash from the country which currently controls the world: The United States of America.
The USA also seems to be very interested with us recently.
Various articles, like this and this, have discussed how the USA actually "fears" China's growing influence. (And it's not the first time it's happened because back when Japan was rising in power in the 1980's and 1990's the USA was scared of Japan as well.)
But that is also why we've been seeing a lot of the USA in Malaysia recently as well.
In a previous article of ours, we discuss how Malaysia is actually quite involved in the whole US-China thing. Basically, 80% of China's oil passes through Selat Melaka, and if anything were to happen to our country, that means no Selat Melaka=no oil=nothing to power Chinese economy.
The USA knows this, and wants us on their side too. Barack Obama visited Malaysia not once, but TWICE in the last few years, and was the first US President to come here since Lyndon B. Johnson 50 years ago. They've also gone through great lengths to try and get us to sign the (in)famous TPPA agreement, which people say is meant to curb China's influence in Asia.
So we're actually in a unique position where there are literally 2 countries fighting for our attention!
So is this whole China-USA situation good for Malaysia?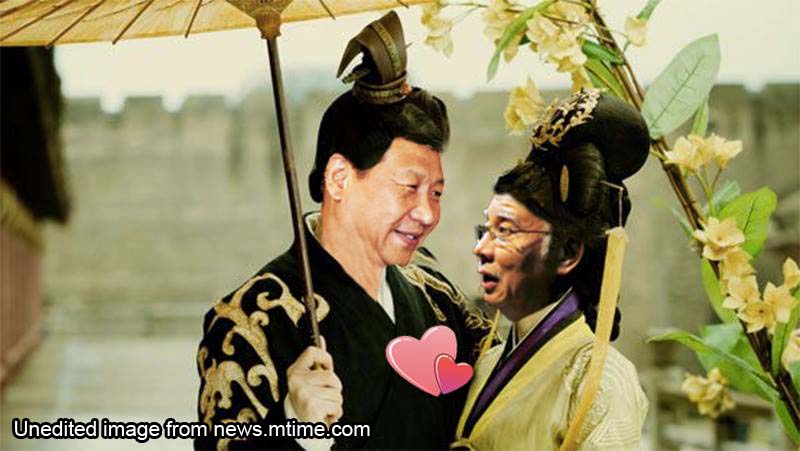 In one of our earlier articles, we mention that we are pretty blessed because our location alone makes us attractive to 2 of the most powerful countries in the world. Our friend Alvin Vong from EquitiesTracker.com says this about the high-speed rail.
"Connecting these two major cities will be a boost for commerce." – Alvin Vong, CEO of EquitiesTracker
He also added that we may see a rise in property prices in Malaysia simply because the high-speed rail allows you to stay in Malaysia while working in Singapore. So initially we mentioned that if this keeps getting us goodies, then the China-US issue would actually benefit us.
BUT in the recent weeks it seems that Malaysia has shown a strong preference to China. Most recently, China praised Malaysia's "silent" approach to the Spratly Islands dispute.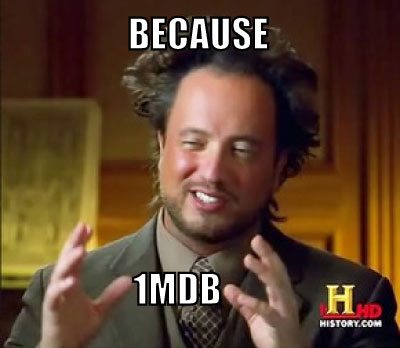 And amazingly, the USA seems to be a little annoyed. In fact, activist-lawyer Azhar Harun mentioned the possibility that this has also affected how the the US Department of Justice has been approaching the recent 1MDB investigations over there.
"The relationship between Malaysia and the US has recently, in facebook-speak, been reduced from "in a relationship" to "It's complicated". Thus comity was not the reason for the usage of the now ubiquitous "Malaysian Official 1". I think that term was deliberately used and designed for great and lasting impact. To me the term Malaysian Official 1 is surreptitious and far more malignant than the name of the person involved." – Azhar Harun, activist-lawyer, on his FB account
So while it might be nice for us Rakyat to earn a living in Singapore and be back in time to KL for a PROPER nasi lemak for dinner, it might also be nice if the rakyat knew what (or who) we were gonna pay for the privilege.
Gajah sama gajah berjuang, pelanduk mati di tengah-tengah. – Malay proverb