Most of us would have at least heard about how we have wayyyy too many gomen servants in Malaysia. Based on what we could find on Google, instances where people said Malaysia's civil service was bloated started to become a lot more common between 2009-2010. 
And since then, the perception that Malaysia has too many civil service has become quite widespread, to the point that in 2014, one gomen official addressed it by saying that our civil service wasn't bloated. But fast forward 3 years and it seems that the gomen is now taking back what they said.
"One of the issues that we have to address is the ever-increasing government operating costs and expenses.

For example, we have about 1.6 million civil servants, which is the world's largest proportion of civil service." – Second Finance Minister Johari Abdul Ghani, as quoted by Oriental Daily
Acknowledging there is a problem is a good place to start to fix the problem, but perhaps the next question to ask is how in the world did it get so big in the first place. So we tried to find out, and after scouring the internet for about half a day, we came across a pretty interesting set of statistics by the Kementerian Sumber Manusia, one of them being a chart of the number of civil servants from 1995-2015.
The chart above shows 3 different categories of civil servants (upper management, management/professionals, and support) in Malaysia, and their numbers for those 20 years, which shows that as of 2015, we had 1.26 million civil servants. It's also worth noting that the Kementerian Sumber Manusia did not have the number of civil servants for years 2003, 2004, and 2007.
But we also have to add that the final number does not tally with the number stated by our Second Finance Minister which was 1.6 million. We asked an analyst about this discrepancy, and he said that it's possible that the difference is due to what definition of civil servant was used in these statistics. The constitution even has a list of gomen sectors that are considered civil service. Our analyst friend adds that the 1.26 million mentioned in the stats above may have excluded certain sectors for whatever reason, but since we couldn't find any other breakdown, these figures are all we got.
Still, many of us will look at that chart and feel like we're trying to read some old Mesopotamian tablet, so what we did was put these numbers into an excel sheet, and see if we could gain anything from them, and then try to make sense of it. And coupled with other things that we found, here are some really interesting facts about our civil service.
1. Our gomen actually tried to reduce the number of civil servants before
It seems that this isn't the first time that our gomen has realised the need to trim our civil service. Some of you may remember that back in the 80's and 90's our gomen had this phase where they privatised a lot of gomen companies like Tenaga Nasional Berhad and Telekom Malaysia. And it seems that privatisation was one of the strategies employed by the gomen to reduce the number of civil servants.
"It (privatisation of gomen companies) has had major impact on the public payroll as a total of 105,000 public sector employees have been transferred to the private sector (Noruddin, 1999). It has also succeeded in alleviating the financial burden of the government through savings in huge operating costs and capital expenditure of RM 130 billion." – Quote from research paper by Noore Alam Siddiquee
But it also seems that at the turn of the century the number of civil servants started to rise quite quickly.
And though there are gaps, you can roughly make out that around the turn of the millennium AND around 2012, we can see spikes in the number of civil servants.
2. Since 2008, there have been more women in the civil service than men
In the late 90's, men seemed to dominate the civil service, and in all 3 categories as well. In 1995, there were 410,000 men, to 260,000 women. But as time passed, the number of women slowly started to surpass those of men.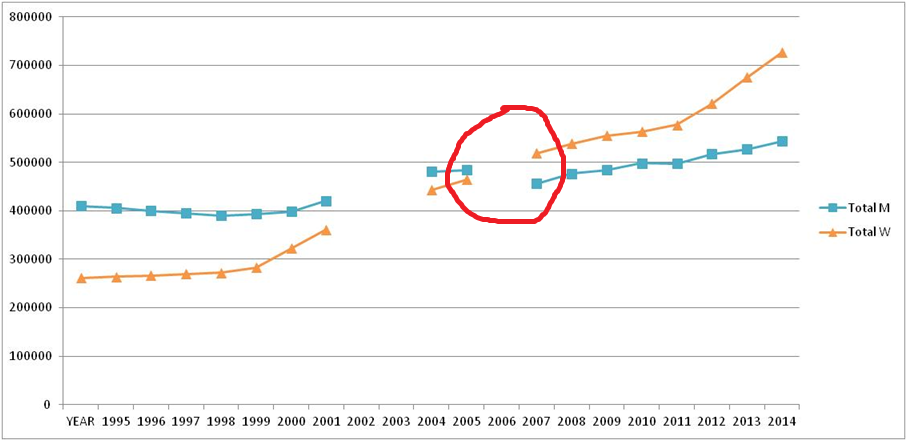 By 2005, women had already overtaken men when it came to management and professionals, and by 2008, they had overtaken men in terms of support jobs, and in general. However, until today there are still more men in the upper management than women.
And it seems that the gomen may actually have had a hand in the increased number of women in the civil service. This document mentions that back in 2004, our gomen actually implemented a target 30% quota for women in the public sector. And based on what we see in the stats, it seems that since the quota the women have not looked back at all. This article even mentions how Zeti Aziz' rise to Governor of Bank Negara Malaysia can be seen as a significant milestone in how far women have come in our civil service.
3. We have wayyyy more managers now than we did 20 years ago
Remember how we mentioned there were 3 categories of civil servants? Well the data also shows that in the past 20 years, the percentage of these 3 categories have changed quite a bit as well. Back in 1995, we had one top tier manager for every 1449 civil servants, but today it's quite different.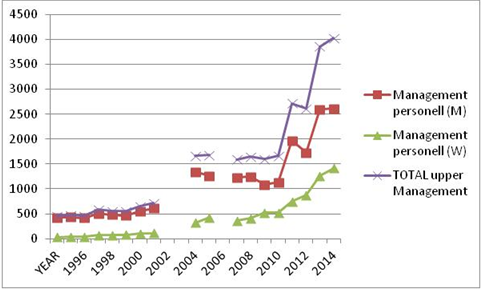 The number of people in upper management has ballooned to the point where in 2015 we had one top tier manager for every 315 people! 
But aside from that, the management/professional category also saw a huge boost. Back in 1995, management and professionals only made up about 11% of the total civil service. In 2015, they made up close to 40%. But if the percentage of 2 categories going up that means the last category should be going down right? Yes, because the support category has dropped from 88% in 1995 to 60% in 2015.
And with more managers and professionals, one would expect our civil service to get better over the years. However it seems that the opposite is true. There are many reports that talk about how our civil service needs to be faster, more efficient, and buck up or leave. Hopefully even answer our phone calls a little quicker.
But despite all the complaints, perhaps another huge reason why our civil service is bloated to the point where our gomen needs to cut cost is this….
4. The average salaries of civil servants may have gone up a lot in the last 10 years
"In 2003, the pay of the public servants totalled RM22 billion, but it has increased to RM74 billion by 2016. In 2003, the pension of civil servants was RM5.9 billion, and in 2016 the amount soared to RM19 billion." – Second Finance Minister, Datuk Johari Abdul Ghani, as quoted by The Borneo Post
While our Second Finance Minister was referring to this being the salary of 1.6 million Malaysians, we do not have the number of civil servants in 2003. But if we use the stats we found from the Kementerian Sumber, we would be able to  have a rough number of civil servants for both 2015 (1.26 million) and 2003 (estimate of 829,000 based on averaging out the number of civil servants from 2002 and 2005). Here's how the numbers add up: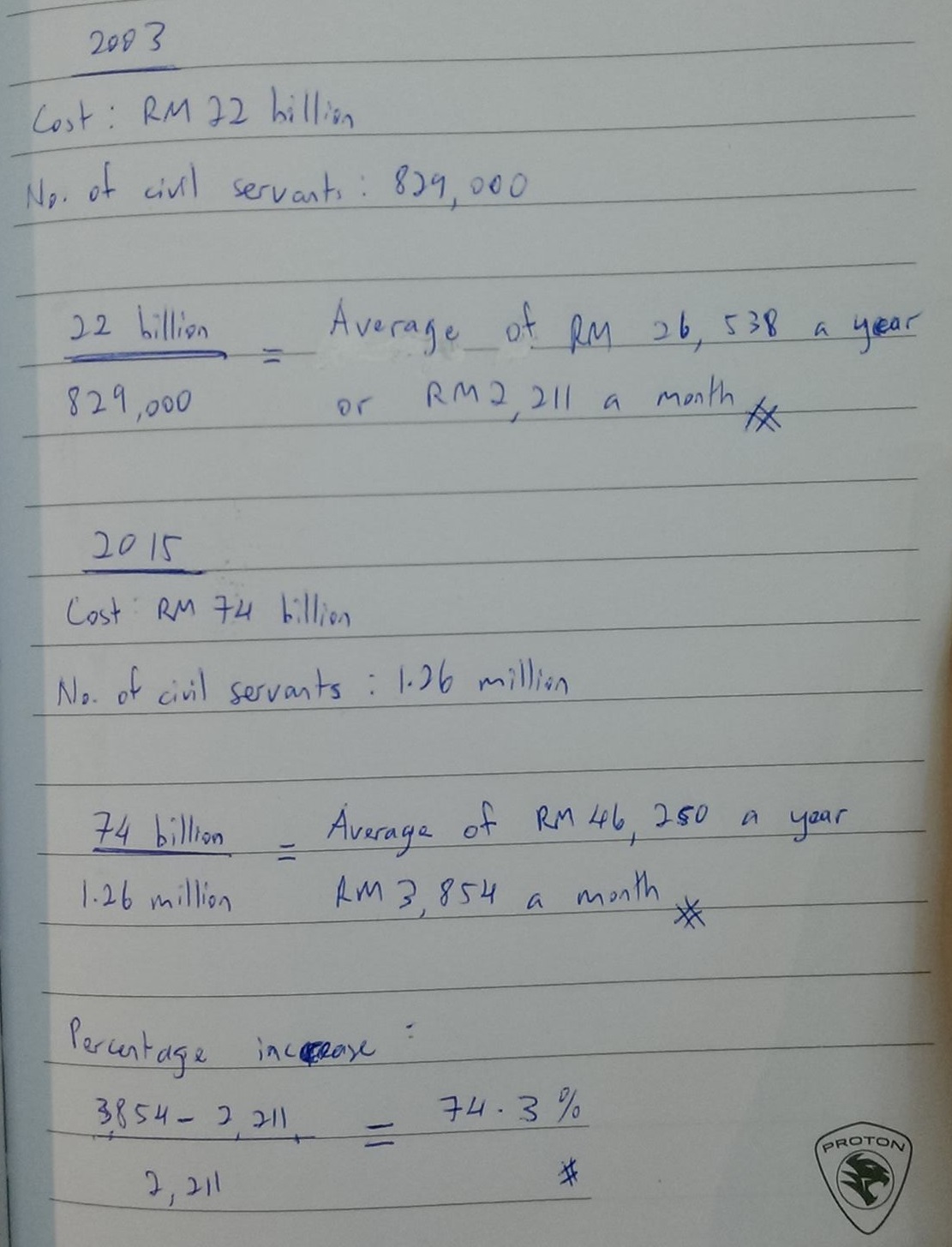 So the salaries of civil servants have gone up by 74.3% between 2003-2015.
Is that a huge increase? Well, let's try to put that into perspective by comparing it to the average salary of the….average Malaysian. This document mentions that the average salary of Malaysia in 2003 was RM1,638, and this article says it was RM2,312 in 2015 (both quote Malaysia's Department of Statistics). That gives us a percentage increase of 41%. 
We understand these numbers may not be accurate, but perhaps the point is to point out that the average civil servant salaries is higher than the average Malaysian. We also have yet to take into consideration the various bonuses that civil servants get, (you can check out the extensive list of bonuses they will get in 2017 alone, here), and another article even discusses how these bonuses will cost a lot of money (to the point where one-third of our budget for 2017 is for the civil service alone).
And this does seem to indicate that perhaps it's not just the size of our civil service that makes it so expensive to maintain.
So how? Start firing civil servants to cut cost?
Just Google "trim civil service Malaysia" and you're gonna see that many people are actually for reducing the number of civil servants.
And with so many people saying so, it's definitely a solution to the problem. But at the same time, doing it may not be so straightforward. Here's an example:
When Donald Trump was running for president, one of the things he did was reach out to industries whose people were in danger of losing their jobs, like the coal industry.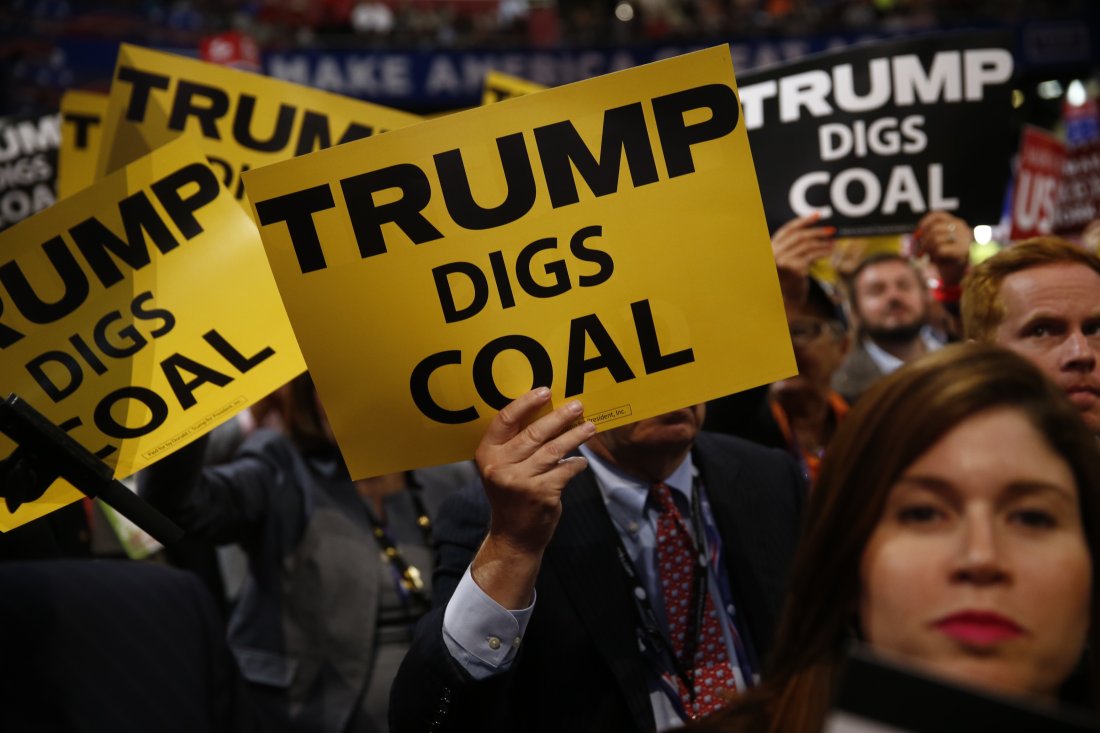 And after his victory,it was reported that these people were monitoring his progress closely to ensure that he kept his promises, which puts him in a difficult spot because the coal industry really is dying. In Malaysia, it seems that both the gomen and opposition too are very wary on simply cutting jobs.
"The civil service forms an important support base for the government and can usually be counted upon to show up and vote for the ruling party during elections." – Chia Shuhui, an Asia analyst at BMI Research in Singapore, as quoted by Bloomberg
Even when the gomen announced that they were freezing hiring for the civil service in, they declined to provide a reason for doing so. On the other hand, DAP's Tony Pua recently said he was against it because of how it could affect gomen operations as a whole, and proposing that other methods be used to cut cost instead.
And political motivations or not, it does seem fair that there is no easy answer to this solution simply because it involves the jobs of 1.6 million Malaysians.