So how many times has this happened? Your warranty for your new machine lepas by 2 days, and suddenly… ROSAK? Buying electronics/electrical stuff can be tricky sometimes… it's almost as if the products know just how long to behave before they can get all nasty with their owners.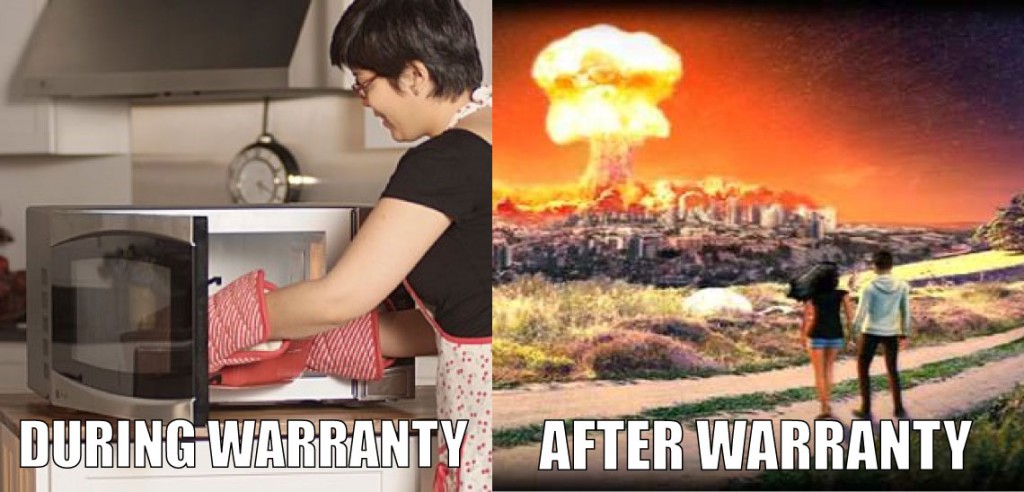 And of course, there's the pain of bringing it to the shop, only to wait for AGES while it's being repaired. Can you really live without your microwave or blender for a MONTH!?
Thankfully, now there's a solution that only costs RM1
Our friends at Senheng has this thing called the 'Replacement Warranty Day', where you can get a 1-for-1 replacement on faulty electrical goods like toasters, ovens, vacuum cleaners… you name it. Actually right, they've had this campaign for months… but we've only just found out recently. O_O
For RM1, you can extend the default warranty period to 24 months.
And within these 24 months, if the product is faulty, Senheng will then give you an
instant replacement. 
But there's a catch… well, a few la.
To enjoy this RM1 warranty extender, you've gotta make your purchases on the 1st of any month. It's applicable only to small electrical appliances below RM500, and the promotion is only available at Senheng showrooms. You've also gotta be a PlusOne member, but considering that the membership has some pretty decent benefits, don't think there's any harm signing up for it la.
For more information and a video of a couple bickering awkwardly, click below 🙂
One-to-one exchanges are actually pretty hard to come by
While we can't say it as fact, most retailers only offer a standard one- or two-year warranty period where faulty items get repaired for free or at a fraction of the cost. Some do offer one-to-one exchanges, you'd have to make the exchange within a week or two from the date of purchase.
For the price of peace of mind, RM1 for the Replacement Warranty sounds like quite the bargain. Besides, November 1st is just round the corner, wouldn't hurt to start Christmas shopping now. 😉
On another note, we wonder if life has a Replacement Warranty for boyfriends…