By now, everyone has probably heard of a certain Netflix's Tiger King, seeing as the MCO basically meant we had all the time in the world to watch it. Even if you haven't, you may have stumbled on articles, memes or FB posts about it and wonder, 'wtfbbqptptn is this show about'. 
Released just two days after Malaysia started the MCO, it chronicles the adventures of Joe Exotic – a gay zoo owner with two husbands, 176 tigers and his feud with Carole Baskins, an animal rights activist trying to end Joe's alleged mistreatment of big cats. It's apparently pretty good too, as told by it's high ratings and viewership. Like seriously, just look at how weird this is: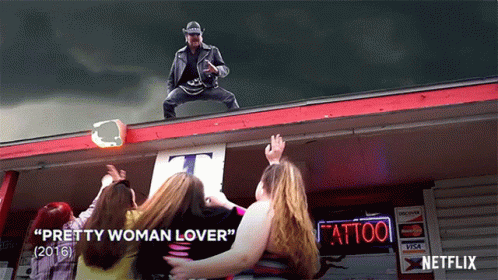 But we know, not everyone has a Netflix subscription, or perhaps one season of Joe Exotic isn't enough for you. If you're one of those, then have no fear, Cilisos is here… with a slightly more budget, article version of Malaysia's own Tiger King, revolving around a man with pet tigers, homemade guns, an armed robbery, a life on the run and his eventual arrest.
Zaitun Arshad was known as Malaysia's own Tiger Man
Tigers are big, ferocious cats who eat meat and that probably puts off many Malaysians from even considering it as a pet, but you'd be surprised to know that there have been several incidents of pet tigers here.
Perhaps the most notable one happened back in 2003, when this image of a tiger riding a Jeep became viral:
According to a BBC report, the tiger – affectionately named Charlie – was the pet of Zaitun Arshad. Commonly known as Haji Ton, the man newpapers called Tiger Man apparently first began keeping his own exotic animals in his home way back in 1993. He was allegedly quite well off too; some anecdotes of him (that we couldn't verify) claim that each of his four wives had their own home in Bukit Selambau, Kedah, while he was commonly seen in town driving fancy cars.
As for when Zaitun would acquire Charlie the tiger, he had caught the 200kg tiger sometime in late 2002 in Thailand using a trap. (Another report claims he bought it in Thailand for RM15,000). Zaitun kept Charlie in a cage three meters high, and two meters wide by his house. His new pet however was apparently quite the active boy and did not like cages, so Zaitun would also take it for 30-minute walks every day.
"Taking care of wild animals like tigers gave me an extraordinary sense of satisfaction," – Zaitun Arshad, translated from an archived Utusan article on Krissmerah
However, his new found fame caught the attention of the authorities, and so he made a run for it… with Charlie the tiger alongside.
But only a few days later, Zaitun resurfaced. He seemed to have made a u-turn and decided to release Charlie to the wild – perhaps the fact that if he was facing a possible five year jail term and a RM15,000 fine if he decided not to release Charlie played a role.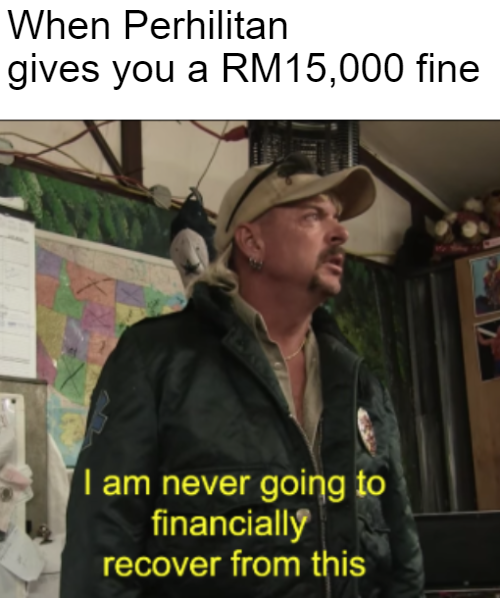 The BBC report says that he released Charlie to the jungle in Kedah's Sik District, but Charlie apparently refused to go, and even returned to Zaitun once he called his name! An archived Utusan article meanwhile adds that despite having to let Charlie go, Zaitun would still go back to the jungle from time to time to, uh, say hi.
"Charlie had to be released into the jungle when Perhilitan said that it wasn't appropriate to keep him at home… But since I was so close to Charlie, it wasn't too difficult to call him out of the jungle," – Zaitun Arshad, translated from an archived Utusan article on Krissmerah
In fact, Zaitun still had plans to bring Charlie 'home'. His plans wouldn't stop at just tigers tho – he wanted his own 'mini zoo', where animals like tigers, bears and elephants would live together. Maybe even something like Joe Exotic's G. W. Zoo, but kampung version. However, it's probably fair to say that his mini zoo idea didn't work out, as just several years later, Zaitun would have his run-in with the law again, but for something far more serious.
Malaysia's Tiger Man was arrested in 2008 – for armed robbery
On Feb 5, 2008, an armoured car stopped by the Gurun R&R on the North-South Highway near Alor Star. They were there to make a routine stop at the R&R to refill the ATMs with cash, when suddenly three masked men swooped by and attacked the guards. The robbers then quickly unloaded the cash from the armoured vehicle, before making a run for it. A total of RM3.19 million was stolen.
Investigations by the police following the robbery pointed to Zaitun, and so they went to his house to check. While they didn't find the Tiger Man at home, they did find the following:
"We have so far recovered RM523,750 of the RM3.19mil and believe that 'Tigerman' has stashed the remaining cash somewhere else. Besides the cash, we also seized a homemade pistol and seven .38 live bullets," – Datuk Syed Ismail Syed Azizan, then-Kedah Police Chief Deputy Commisioner, as quoted by The Star
Guns and cash aside, the cops who made the trip to Zaitun's place made another shocking discovery; two tigers, two monkeys, two crocodiles and a gibbon was also found in his house. The animals were all caged up, and upon the discovery, the Kedah Wildlife Dept would come to rescue the animals, who were then sent to the Malacca Zoo.
Zaitun was now one of Kedah's most wanted men.
It would be nine months later, before Zaitun was finally caught. He was on a bus heading for Kuala Lumpur when police caught him during an undercover operation. Following his arrest, he faced the judge and according to a blog posting online, he served two years of jail without trial. However, we couldn't find any other sources proving that so, take that with a pinch of MSG we guess.
As for what happened to him since, well, we don't really know. A blog appeared in 2010, claiming to be Zaitun's (which also sorta kinda lines up with a two-year sentence?), but the blog only has 6 postings, with the last one in June 2010.
Maybe one day Netflix will have a Tiger King sequel on him, but until then, we may never know.
You can adopt tigers too, but maybe not like how Tiger Man did
If the one takeaway from Zaitun's adventures or even Netflix's Tiger King is that you want to own your own tigers, well you're in luck – sorta.
You've probably already seen news articles about Zoo Negara's struggles since the MCO began, as without ticket sales, it's hard for them to keep their tigers and other animals' tummies full. Well, you can help!
Zoo Negara's adoption program let's you adopt an animal, and in return you'll help with its food and care. You'll even get a special certificate of adoption with your animal of choice. All you gotta do is head over to Zoo Negara's adoption page or their Ticket2U page and choose an animal you wanna help. Heck, you can even adopt thru Lazada now!
Hopefully with your help, the tigers will be well taken care of while you can call yourself a 'tiger owner' – and not end up like Zaitun or Joe Exotic.