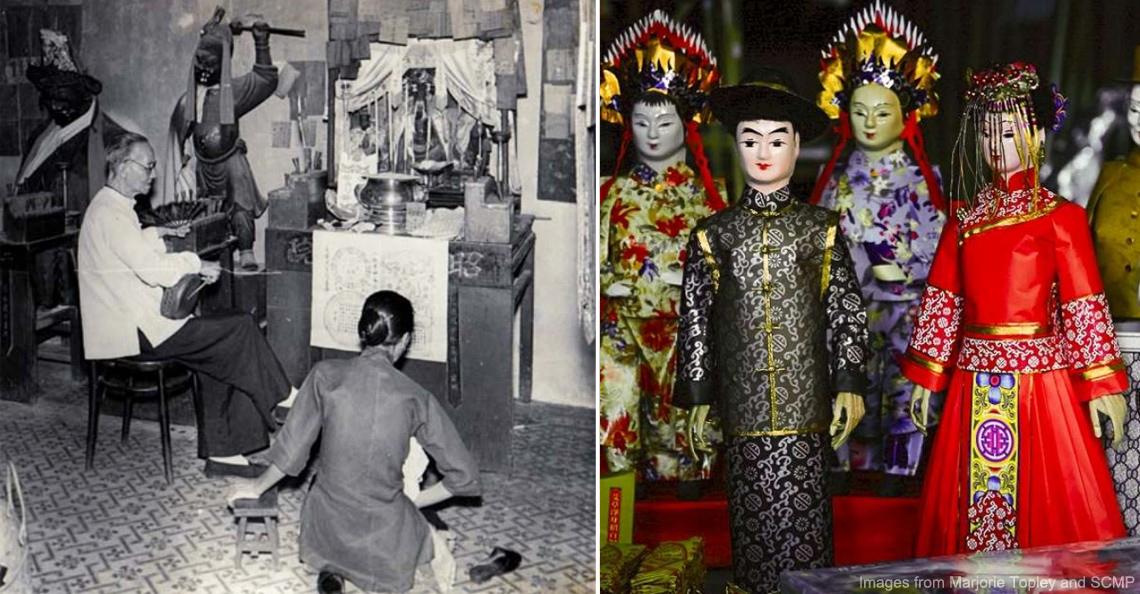 We all know that Malaysia is a big kuali of different cultures and traditions that make us very unique – on Cilisos alone, we've covered various stuff, such as the 60-year-old Malay tradition of 'angkat rumah', or how a man from Seremban invented the Chinese New Year dish 'yee sang'. Indeed, everyone who grew up here probably has a few traditions that they still practice and preserve.
But what if we told you that not all traditions have to feature Malaysians who are… alive?
There's a Chinese tradition called 'ghost marriages'… and it's exactly what you think
Malaysian Chinese culture is more than just red clothing and giving angpaos during CNY; a lot of it actually involves the 'supernatural'. From Ching Ming to the Hungry Ghost Festival, there's plenty of ghost-related folklore and culture in Chinese tradition. But one particular practice goes beyond just lighting up a joss stick for your ancestors, and that's the 'ghost marriage'.
Ghost marriages, sometimes also called spirit marriages or 'mínghūn' in Chinese, is a marriage where either the bride or groom, or both are, well, dead. This tradition dates back to the first Chinese dynasty, making it at least 2200 years old, while others even note that it's roughly 3000 years old! Despite reports of it still being practiced in remote Chinese villages, the ghastly practice has been banned in China since 1949, while the sale of corpses was also banned by the Chinese govt in 2006.
Interestingly enough, an academic by the name of Marjorie Topley took note of the ghost marriage custom happening in this region during the 1950s. According to her, ghost marriages most certainly happened here back then, and that it was practiced predominantly by the Cantonese community. Topley apparently even found a ghost marriage matchmaker in Singapore!
She adds that ghost marriages here usually happened for the following reasons:
Family wants a living daughter-in-law after single son died
Younger son wants to marry but older brother died before marrying
Avoid the ghost of a deceased son or daughter who died without a partner
Create a bond between two families
You can check out a video of a ghost marriage happening from the Singapore Paranormal Investigators:
Most of the time, Topley noted that the ghost marriages would have both the bride and groom be deceased. Indeed, it appeared as tho the most common case of ghost marriage in this region was for the dead older brother. This was mostly to avoid bad luck, especially when the younger brother wanted to get married himself as there's a Chinese custom that calls for siblings to marry in order of age. But other reasons for why ghost marriages would happen include finding a partner for a child who died while working for the family, while other times ghost marriages happen as a way to please the wishes of the dead.
"The basic ideology behind ghost weddings is that the deceased continue their lives in the afterlife. So if someone didn't get married when they lived, they still need to be wedded after their death," – Dr Huang Jingchun, Chinese department head at Shanghai University, as quoted by BBC 
Sometimes, for when there's a dead man who needs to be married, live women will be taken as a wife, but according to Topley this is mostly reserved for the wealthiest families who were able to get the girl or her family to accept the deal.
It's such an interesting tradition, that it's even being made into a Netflix show
A few other Malaysians (and with an international crew) are shining light on this tradition. Not to practice it, but to produce it as Netflix's latest drama, set in 1890s Melaka. It's based on one of Malaysia's most celebrated contemporary novels: The Ghost Bride by Malaysia's own Yangsze Choo.
So in case you have not read the novel, here's a quick summary for the six-episode drama: Li Lan, the daughter of a poor family, finds herself on the end of wedding proposal from the wealthy Lim family. The Lims want her to be the ghost bride of their recently dead son. It would provide her with a solid roof over her head, but at a terrible price.
Later on, Li Lan finds herself haunted. She gets herself entangled into the parallel world of the Chinese afterlife, and there she must find out the secrets behind the Lim family – and her own – before she finds herself in the afterlife forever.
Luckily for us, we managed to get in touch with Yangsze herself, who was more than happy to share with us some details behind the novel and the ghost bride tradition. For a start, she brought up the curious story of how despite hearing stories of ghost marriages as a little girl, it was only when she was looking up stuff for another novel that she rediscovered the paranormal practice.
"To be honest, I was actually writing a different book… and while I was looking up old newspaper articles I happened to see this other article which referred to something like 'The incidences of spirit marriage among the Chinese has declined'.

And then I realised – oh, it's the marriage of the dead, something I'd heard about growing up," – Yangsze Choo, author of The Ghost Bride, in an interview with Cilisos
In her own research, she too found out that ghost marriages usually involved two dead people (including the uncle of a friend), but also noted that a wedding between the living and the dead was not unheard of. As for why she chose Malacca as the setting of the story tho, on top of writing about a place she knows by heart – she used to visit her uncle in Malacca as a kid – it was also about how much of a ghostly town Malacca was back in the day.
"When I was a kid, it was kind of a ghostly town. There were ruins everywhere and there's a lot of history. Once in a while we'd go look at the church and there was this open grave where St Francis Xavier's body was temporarily buried in St Paul's Church," –  Yangsze Choo, author of The Ghost Bride, in an interview with Cilisos
Of course, the book and Netflix series isn't only using 1890's Melaka as a setting for the story. Since the plot involves a ghost marriage between a living woman and a dead man, you can also expect to catch a glimpse into the fantastical world of the afterlife – which we expect would be equally as colorful since it's based on Chinese mythology!
"It's the idea of another world, an unseen world that exists at the same time as ours… When I started writing I realised that spirit marriages was inextricably linked to the whole idea of an afterlife because if you have such a concept as spirit marriage you must have an afterlife," –  Yangsze Choo, author of The Ghost Bride, in an interview with Cilisos
Although a fantasy/supernatural series, we'll get a glimpse into what real ghost marriages looked like
With the Netflix series already in post-production, we also got in touch with one of the directors of The Ghost Bride, Quek Shio-Chuan, to talk about how the process of turning the novel into something we can feast our eyes on.
Perhaps the biggest challenge was to bring out the feel of 1890s Malacca and the Chinese afterworld. One way the crew did so was have warmer hues for the living world, with darker hues for netherworld. And as for how they created the set for both the living world and the afterworld…
"We told them not to limit the factual side of things… The living world is oriental and based on Peranakans but a lot of the material used, the colour and even the design of the screenplay has a lot of modern taste… 

The netherworld, as we all know, none of us has witnessed it with our own eyes, so it's really left to our own interpretation. That's where we mix a lot of other elements and we're allowed to mix goth and western styles cause no one has seen it," – Quek Shio-Chuan, director of The Ghost Bride
And despite some artistic interpretations, the crew ensured that plenty of The Ghost Bride remained traditionally Malaysian. For instance, while most of the afterworld was shot in a studio, they shot quite a bit in old heritage buildings such as the Old House Museum in Taiping and the famous Blue Mansion in Penang.
And as for the scene of the ghost marriage itself…
"Spoiler already – cannot tell. [laughs] It happens in a grey plane, inbetween life and death… That one you have to see for yourself," – Quek Shio-Chuan, director of The Ghost Bride
With so much research that goes into shooting the series, it's pretty awe-inspiring for us to be able to catch a glimpse into what our forefathers went through with this tradition. Seeing as most traditions are at risk of dying out, it's perhaps nice to know that something as obscure as Chinese ghost marriages have somehow come back to mainstream knowledge (but perhaps not practice), thanks to a Malaysian's novel as well as the series. You can check out the trailer for The Ghost Bride below…
… or watch it in all its supernatural glory on Netflix, launching this January 23, meaning that you'll get have a day to binge watch it all before returning home for CNY reunion dinner!