Meeting people and finding that Special Someone™ in your life can be a daunting task, especially in this day and age where dating apps like Tinder, Bumble or Coffee Meets Bagel reign supreme. In a super weird twist, that's also true for dogs (or fur babies, if you prefer) that are lookin' to get adopted.
See, just like people, every stray or abandoned dog is an individual looking for their forever person(s) and a loving place to call home… but it's hard for them to stand out in shelters where conditions to do so are less than favorable. But dogs don't have access to phones, opposable thumbs or Tinder. How are they gonna find love? That's where My Forever Doggo comes in.
My Forever Doggo is an Instagram page that matches doggos with adopters
In 2018, five friends kickstarted a nonprofit Instagram page that gives rescues and strays their own bios, kinda like what you'd see on dating apps.
Their creed is simple: every dog deserves a chance to be seen, loved and cared for. Age, breed, size, that stuff don't matter. All that matters is getting these dogs off the streets and into the warm embrace of a loving owner.
"Many Malaysians are not aware that countless dogs are being abandoned or left to die each day, and if it were not for no-kill animal shelters, these poor furkids would probably be badly diseased, left for dead on the streets, or euthanised," – press release from My Forever Doggo
As of 2021, My Forever Doggo has had an adoption rate of 37% or so, (probably) making them more successful at spreading love around.
Celebs and influencers are giving their support to #AdoptDontShop
Christmas is right around the corner which is cool and all, but that's also around the time when pet purchases see a spike compared to the rest of the year… which is why #AdoptDontShop – a movement that encourages people to adopt a dog instead of buying one – is catching fire on social media.
Some of our local celebs and influencers have given their public support to the movement, like: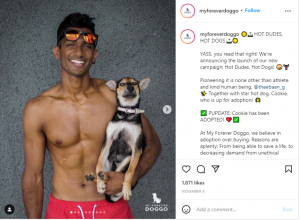 Theeban G., Actor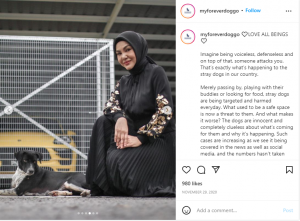 Umie Aida, Actress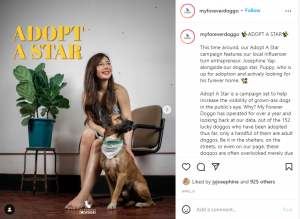 Josephine Yap, Designer
…and many more. So, instead of buying a dog as a gift for someone (or yourself), why not adopt one instead?
How can you adopt your own doggo from MFD?
To adopt a dog from My Forever Doggo, all y'all have to do is:
Check out their Instagram page and see which doggo catches your eye.
DM them to let them know which dog you're interested in.
They'll connect you to the respective doggo's shelter or rescuer for further discussions and possibly arrange for a visit.
If it goes well, you'll now have a forever doggo! If it doesn't, they'll do their best to match you with another doggo.
At the end of the day, adopting a dog's gonna give you and your lil' furry friend a whole new universe of paw-ssibilities!