So, as we all know, Covid-19's quite a dangerous virus, so much so that it's led to a Movement Control Order (MCO), which was initially supposed to be from the 18th to 31st of March, 2020, but has now been extended to the 14th of April. And this MCO means that all non-essential services staff are to work from home.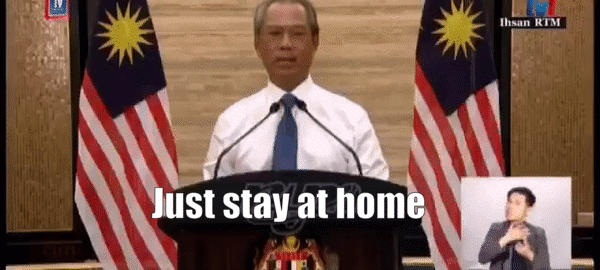 The Human Resources Ministry's made it compulsory for all bosses have to pay full salaries and allowances to staff members during the MCO. In addition, they're not allowed to force their staff to take annual or unpaid leave in the meantime. However, this requirement's gotten some criticism, especially from the Malaysian Employers Federation (MEF).
"It's an unrealistic policy." – MEF executive director Shamsuddin Bardan, as quoted by FMT
But to really find out if it's really that unrealistic, we decided to get in touch with some senior executives in some Malaysian companies for their comments. We also contacted Shamsuddin Bardan and Malaysian Trades Union Congress (MTUC) secretary-general J Solomon for their thoughts. But do note that most of their remarks relate to before the extension of the MCO. 
And they said…
It shouldn't be too much of a problem for essential services
As you all know, the MCO's shut down practically a lot of stuff, apart from essential services, which are as listed above. This means that if your company's considered non-essential, then you gotta start working from home and avoid going to your office as much as possible, like Cilisos.
According to Kenny*, who's a top executive in a food and beverages company and prefers to remain anonymous, companies listed under essential services shouldn't be impacted too badly, because they're still operational following the guidelines of the MCO. For example, a restaurant outlet can only cater to takeouts and food delivery, but customers are not allowed to dine in.
"There are two categories to look at under current situation, whether you're in essential or non-essential service. It won't be so serious for the former as their businesses continue as usual." – Kenny, in an interview with Cilisos
But it's not the same for non-essential services, because offices are completely shut down, which, according to Kenny, can highly impact productivity and outcomes.
Take a look at retailers in a mall, apart from essential stores like supermarkets, clinics, restaurants, and pharmacies, other retailers like fashion outlets and arcades have to be shut down for the duration of the MCO. And that can easily affect their businesses by about 50%, which can then make it difficult for them to not only pay full wages to their staff, but also rental and statutory contributions.
"Sales have dropped by as high as 60 per cent in February. We envisage a 90 per cent drop in March due to the MCO." – Malaysia Retail Association (MRA) president James Loke, as quoted by NST
As such, it's advised that the government or mall operators assist the retailers in dealing with these issues.
"The government can mediate with landlords and tenants to bring down cost of rental. The landlords may be incentivised with lower tax rate or given tax free status for income derived from rental for 2020." – Shamsuddin, as quoted by NST
Fortunately enough, mall operators like Sunway Malls and Pavilion Real Estate Investment Trust (REIT) made things easier by allowing a 14-day free rental period for their non-essential tenants. Other mall operators have been urged to loosen their rental agreements for the time being as well, like providing discounts and such.
But still, even though the MCO's made things difficult for employers, they still think that…
Employers should take responsibility in paying full wages
When Shamsuddin released the statement about the unfairness of forcing employers to pay full wages during the MCO, MTUC sec-gen J Solomon voiced his disagreement, adding that employers should focus on the people first, before looking for profit.
"MTUC vehemently condemns the position taken by some employers and consider them as traitors obsessed with boosting their profits, instead of the people's livelihoods." – Solomon, in an interview with Cilisos
While the government's made it compulsory for all employers to pay full wages during the MCO, some employees are still concerned about the current situation, especially for those in the low-income group.
"I'm not sure if laborers who earn daily wages can last through the entire 14 days without any income since we cannot go out to work." – Taxi driver Mohamad Rashid Mohd Haniff, as quoted by Malaymail
And we can't exactly blame them, because even some high profile companies, especially airlines, had asked their employees to either take a pay cut or go on unpaid leave. If renowned companies like Malaysia Airlines and Malindo Air are having trouble making money, it's probably fair for the low-income group to be worried, some of whom earn daily wages rather than monthly.
But when we interviewed three bosses for this article, they all think that it's actually fair to pay the staff what they deserve.
Ng Kee Chye, the Chief Financial Officer (CFO) of property development company Eupe Corp, told us that employers should bear full responsibility of paying full wages, but emphasized that this responsibility applies to the first two weeks of the MCO only. Kenny further added that MCO shouldn't be used as an excuse to take advantage of the employees.
"Employers should understand that a company is nothing without its employees. Besides, they're working from home, and it's not like they're taking free holidays." – Ng, in an interview with Cilisos
In addition, for the time being, most companies can still manage their finances to be able to pay full wages for the first two weeks of MCO. Jeremy Tang, the CEO of software company iWoWSoft, said that this is because employees in some non-essential services can fully complete their work at home, so productivity isn't affected in that sense. But he does agree that the situation could be harder for other non-essential companies.
"If a retail worker stay at home, how to work?" – Tang, in an interview with Cilisos
Meanwhile, Solomon's insistent that all workers should be paid full wages regardless of the MCO, because according to him, employees themselves also have to pay for things like food and housing, just like how employers have to pay rental and taxes. As such, he said that employers shouldn't cut off their staff's source of living.
"There is no provision in the law that employers can cut annual leave, days off or wages for these 14 days in such a crisis." – Solomon, as quoted by NST
He's kinda right as…
The law stipulates that wages should be paid for "work done"
While the MEF said it's not right to ask employers to pay full wages during the MCO, there are some who's gone as far as questioning whether the directive is actually legal, because they're apparently wondering whether the staff are actually doing as much work at home as they used to in the office.
"Let's be realistic here. Are we really practicing working from home when there are distractions like the TV and family? The problem is working from home is not part of our culture yet, and the integrity of the so-called work-from-home is still questionable." – Shamsuddin, in an interview with Cilisos
And so we thought: why not look into the employment laws we have and see what it actually says? And our employment laws are generally governed under the Employment Act 1955.
So according to the Act, wages means "basic wages and all other payments in cash payable
to an employee for work done in respect of his contract of service". Basically, it means that an employee's supposed to get paid based on the work done as required in their contract. However, wages do not include what some would call allowance:
Accommodation and basic supply in a house, like food, water, and electricity
Any contribution by the employer, such as pension fund, EPF, and SOCSO
Travel expenses
Compensation in the event of retirement or termination
Bonuses
By that logic, you are supposed to get paid for the work you've done, as long as you don't slack off and actually work while you're at home, which we all have to do now. So technically, while the bosses we interviewed think that they have the responsibility to take care of the employees during the MCO, including paying full wages, they apparently have to anyway under the Employment Act 1955.
But still, do note that they were commenting on the first two weeks of the MCO, and now it's kinda a different story when…
The MCO's been extended for another two weeks
When Muhyiddin announced a two-week MCO on the night of 16th of March, it was with the hopes of curbing the spread of the Covid-19 virus and contain it. However, instead of it being curbed, we've been looking at three-digit reports of daily cases every day and even 24 deaths, at the time of writing. And that's why Muhyiddin went on to announce a two-week extension of MCO until 14th of April.
Which kinda made things harder for employers.
"As businessmen, no one likes this extension because it will definitely affect our business activities, and then our performance as a result. And eventually, our cash flow will be affected, because as Najib once said, 'cash is king', especially in our currently weakening market conditions. Insufficient cash flow means we won't have enough money to run and operate business activities, much less pay full wages." – Ng
Because of the sudden announcement of the extension, Tang and Ng told us while they're coming up with strategies to deal with it, they won't be considering retrenchment or pay cuts at the moment.
In Kenny's case, however, his company's apparently already rolled out an MCO initiative to support its employees. In a document sighted by Cilisos, we found that the initiatives included:
An RM150 incentive a week for staff in production plants and warehouses
Advance payment of bonuses to employees, as an alternative to our government's plan to allow withdrawals from EPF savings
But still, even though the bosses we've interviewed are not looking into retrenching staff members or making pay cuts, this situation certainly can't go on forever. If you look at China, their lockdown lasted two months, before Covid-19 cases started ceasing, and only then are they gonna lift the lockdown on 8th of April. And in the process, their economy took a heavy blow.
If the situation doesn't improve or – touch wood – the government announces another extension, the bosses told us that they'll be looking into other alternatives. For example, Ng said that his company would most likely be doing a cost rationalization exercise on fixed overhead costs to ensure employees get paid.
"I believe the first thing that any company should do is cut expenses and do budgetary exercise. And employees should learn to understand the reason for doing so if it affects them, or else major layoffs will have to take place." – Kenny
In addition, both Ng and Kenny have suggested similar alternatives for employers in dealing with the financial difficulties that they're confronted with at this time, such as:
Splitting the workforce into Team A and B, and each team work or take annual leave on rotation
The staff can take a half-day leave everyday, on rotation
Apart from the alternatives these bosses suggested…
The government's also announced a stimulus package to help

Our government seems to understand the financial impact of the Covid-19 outbreak has taken on people, which was why they announced an PRIHATIN Economic Stimulus Package. There are many initiatives in this package, but the most important one is perhaps the RM600 allowance for all employees earning below RM4,000 for three months beginning from April. You can read more about the package here.
"Employers must ensure that they don't fire employees or force them to take unpaid leave within these three months. Employers are also not allowed to cut the wages of employees." – Muhyiddin, as translated from Astro Awani
On the other hand, for the employers, especially SMEs, this stimulus package will have EPF holding consultation sessions with employers. Employers can choose to either restructure, reschedule, or postpone EPF contributions in these sessions.
It's been said that forcing employers to pay full wages could be disastrous in the future, where businesses might easily give up and just call it a day. In addition, Shamsuddin's estimated that around 100,000 people might end up losing their jobs as a result. To avoid these from happening, according to Shamsuddin, the government's gotta chip in as well, such as converting utility costs from commercial to domestic and offering tax exemptions.
As you can see, the employers and the government aren't exactly sitting on their hands and doing nothing – they have their own burdens as well – and if the Covid-19 outbreak does not slow down, things could only get worse before it gets better.
"Both employers and employees have to play their roles and have a sense of responsibility to share the burden to ensure long-term sustainability." – Kenny
Hopefully, with all parties from the govt to the rakyat themselves working together, we may soon see an end to the Covid-19 crisis in Malaysia.