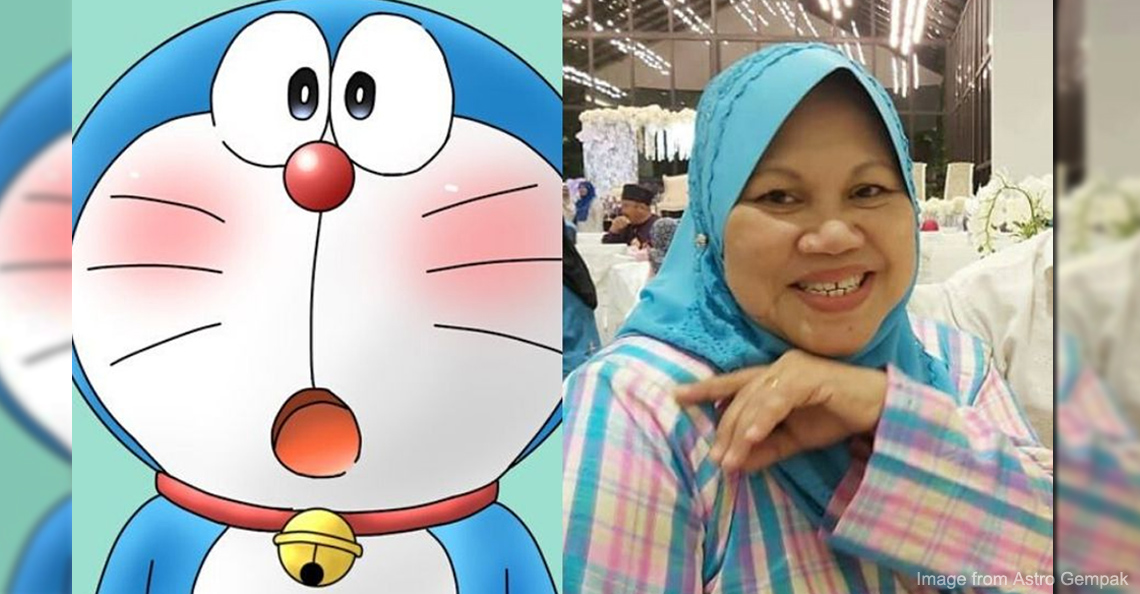 So, the Women and Family Development Ministry has recently uploaded a series of posters on Instagram that have been widely criticised by the public, who labeled the ministry as trying to be sexist. If you weren't quick enough to take a glimpse at the poster (because it has been taken down btw), it basically tells women to dress up and put on makeup while working from home besides…
Of course, some Malaysians took this opportunity to showcase their talents by imitating Doraemon's voice as they do house chores. You can check a compilation of their posts and videos here.
Heck, this became such a huge news that we even made it on Buzzfeed (tho it may not be something we wanna be proud of la)!
Speaking of which, we've always wondered who voiced Doraemon (no, not the original version) that speaks in BM. Well, as it turns out, it was a lady named Ruhaiyah Ibrahim, who has been a dubbing artist for over 30 years! We're lucky to speak to Ruhaiyah who told us that…
She began her journey as a dubbing artist thanks to her… driving instructor!?
So sometime in the 80s, before she began her career as a dubbing artist, Ruhaiyah was a civil servant. Ruhaiyah shared that back in that decade, the economy wasn't that good due to recession. This caused many people, including herself, to lose their jobs.
Fortunately, Ruhaiyah, who was getting her driver's license at that time, met a driving instructor, who happened to be working as a part-time dubbing artist.
"Coincidentally, I was making small talks with the driving instructor, who had asked me about my background. When he found out that I was about to lose my job, he suggested that I follow him to Bukit Bintang to do dubbing because he was a part-time dubbing artist." – Ruhaiyah told CILISOS, translated from BM.
On that weekend, Ruhaiyah followed the driving instructor to the a studio in Bukit Bintang for casting (audition) in front of three producers. They told her that she has the voice for the job and called her in for training classes. And the rest was history.
However, she only landed a huge role when she had to dub the voice of the main character of a 1983 Japanese drama called Air Stewardess (aka Stewardess Monogatari). The character she dubbed was Matsumoto Chiaki, a silly stewardess.
"Fortunately, I didn't really know how to dub and her character (Chiaki) was also a silly stewardess. They said my voice suits her character because I wasn't really skilled in the dubbing industry. I was reading slowly and stuttering, and that really suited the character." – Ruhaiyah.
It was only years after she dubbed Air Stewardess when she was finally involved in dubbing Doraemon. And she only started dubbing a sub-character – Nobita. In fact…
There were actually MORE than two people who voiced the Malay version of Doraemon…
…well, throughout the whole series, including the movies la.
Just in case y'all don't remember or have never watched Doraemon before (why tho?), it is actually one of the earliest manga and anime that was produced in Japan. It tells a story of a robotic cat who came from the future to help an unlucky boy named Nobita. 
And because it has been well received in many countries, including Malaysia, the manga was then turned into an anime series and also movies!
"In Malaysia, the Doraemon series was first aired on TV1 RTM at 7pm every Sunday and it stopped airing on the channel on 29 December 2002 as it was moved to NTV7 on 5 January 2003 (every Saturday at 7.30pm)." – Excerpt from Astro Awani. Translated from BM.
When it first came to Malaysia, Ruhaiyah was casted to dub the voice of Nobita. If that is so, who dubbed the voice of Doraemon? 
Well, according to Ruhaiyah, several dubbing artists had dubbed the voice of Doraemon before her, including a sibling to one of local film directors, Aziz M Osman and another dubbing artist, Zairaini Sarbini, who also dubbed the voice of Candace in another show called Phineas and Ferb.
But that changed when a different production company took over the contract for the series.
"They (the production team) want the dubbing to be done correctly so that they can send it over to Japan. They don't want us to purposely make our voices a pitch higher. They want us to dub it close to the voice of the original Japanese Doraemon. So, a lot of men and women, including myself, went for casting." – Ruhaiyah.
She shared that she and her friend had somewhat studied on how to imitate the voice of Doraemon. This was when she realised that to get the hoarseness in Doraemon's voice, she has to use her throat to speak. And it's not that easy to dub the voice of Doraemon.
After submitting five dubbing samples, the production team then chose Ruhaiyah to dub the voice of Doraemon, which is the voice most of us are familiar with until today.
She has been voicing the Malay version of Doraemon til the very last movie, Stand by Me: Doraemon, that was released in 2015.
Ruhaiyah shared that she really had fun dubbing Doraemon with other dubbing artists involved.
"Back in those days, recording was really fun. When I got in the scene, for instance, if there were four characters in a scene – Doraemon, Nobita, Shizuka and Giant – there would be the four of us. We get to listen to each other's intonation and expression." – Ruhaiyah.
However, she also added that they no longer do this anymore since there are new and advanced technologies. Nowadays, Ruhaiyah would be given a script and would have to record her part alone and separately from other voice actors.
That's not the only thing that has changed tho. Apparently…
Dubbing artists – old and new – are struggling to make ends meet
Ruhaiyah, who had also dubbed the voice of several other famous characters like Mrs Puff from SpongeBob Squarepants, Chibi Maruko Chan and Yu Gi Oh, among other anime series, told us that her passion in dubbing somewhat ran in the family. In fact, her husband and children are dubbing artists as well!
And with all the knowledge she has as a veteran dubbing artist, she had the intention to teach new generation of dubbing artists in Malaysia. However, there was a problem with that – job opportunities for dubbing artists.
"We (veteran dubbing artists) have the intention and have already shared tips on how to write a script, dubbing and how to get into character. But the problem is that there are too many people who are interested in dubbing but there has been a fierce competition in the industry." – Ruhaiyah.
And how many is too many exactly? Well, Ruhaiyah estimated that there are about HUNDREDS of dubbing artists – old and new.
See, there hasn't been much demand to dub shows into Malay these days. According to Ruhaiyah, the only shows that are currently being dubbed into Malay are Brazilian, Japanese and, nowadays, Korean shows. So with the lack of opportunity available, old and new dubbing artists would have to compete against each other to land a job.
And oftentimes, veteran dubbing artists would get the job because of supertight deadlines.
"Sometimes they (production team) offer us jobs with really tight deadlines. They only give us two to three days (deadline). It would be hard to give newbies this job so we don't really have a choice but to take veterans." – Ruhaiyah.
But sometimes, veterans couldn't get a job because they're, well, old. In some cases, local and international production companies can be a bit fussy about the age of dubbing artists. For instance, if a character is a 30 year old woman, then a 30-something-year-old woman should be cast to dub the character. In this scenario, veteran artists don't normally get the job. 
Having said that, the dubbing industry isn't as glamorous as you may think it is. From the cukup makan pay (there's actually a report that states they're only paid RM50 per episode) to lack of appreciation, these artists are struggling to survive.
The recent hoo-haa caused by the Women's Ministry (the ministry has apologised for that btw) somewhat created an awareness to the world of dubbing in Malaysia. Ruhaiyah told us that she was actually flattered that the ministry finds her talent inspiring. In fact, she didn't mind if people wanna try to imitate her Doraemon voice too.
But with the current struggle faced by dubbing artists, especially some female dubbing artists whose only source of income is from lending their voices to TV characters, Ruhaiyah urged the ministry to help out with one thing.
"It'll be great if the Women's Ministry can actually look into things like this. For instance, one of my friends who dubbed the voice of Nobita. Her only source of income is through dubbing. She can't look for other jobs because she's old now. And the only thing she's good at (dubbing) is no longer in demand." – Ruhaiyah.
Despite that, Ruhaiyah still feels there's hope in the dubbing industry. She believes that there is still demand (read: those who love watching anime shows) out there and that Malaysia has a lot of talents in this industry. She hopes that there will be more series and films to be dubbed so that dubbing artists can finally shine their talents.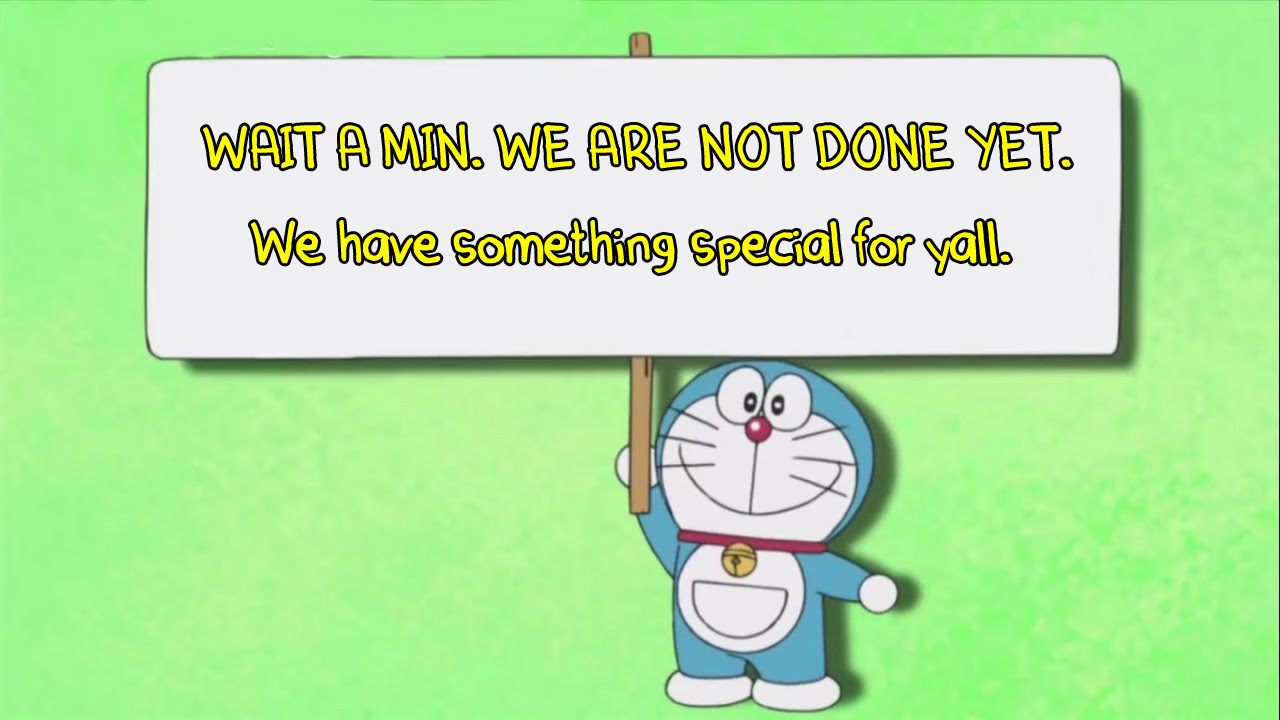 Before we end this story, we've got Doraemon to actually convey some important messages for you! Hopefully this would help y'all go through this MCO period. 😉
Message for those who still dowan to stay indoors:



Tips on how to avoid conflict at home:
Finding out you're unpaid:
When you see people who are not wearing masks sneezing and coughing: