If you happened to be walking around Petaling Street a few months ago, specifically in the elevator car park between the now defunct Hotel Malaya and Central Market, you might have suffered the shock of your life. Assembled in the car park was a 20ft tall monster straight out of your worst nightmares.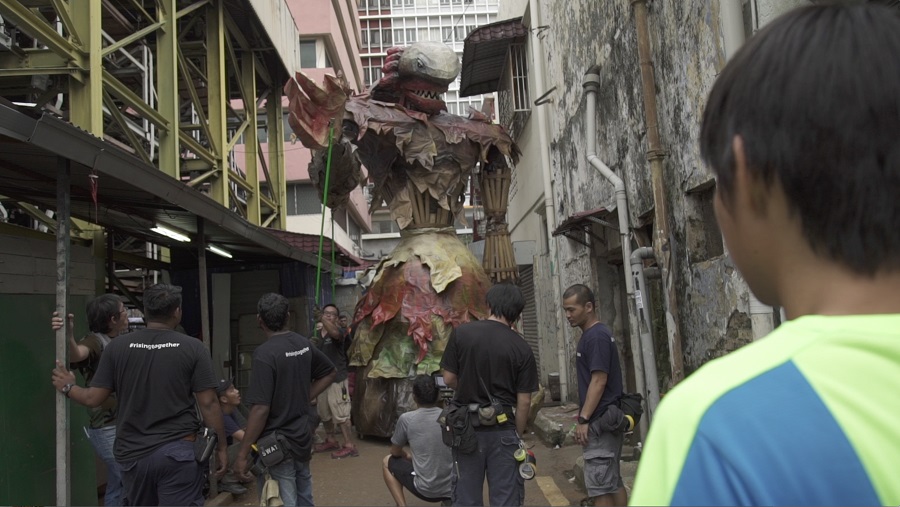 "It's about 20ft high, made of wireframe, bamboo, paper, some little mechanisms, and big yellow balls for eyeballs, built by a team of 20 people that haven't slept in 7 days and 7 nights. Partially mechanical, operated by 8 people… it's a dream come true man."
Those are the words of Alvin Teoh, a man known for doing some rather crazy projects, in his position as Executive Creative Director of NagaDDBTribal. The monster was first built in three parts in a warehouse in Sungai Buloh, and then moved to Petaling Street at midnight, covered in tarp to keep it safe from the rain, assembled in the afternoon, and a few hours later, was burnt to the ground.
A week to make it, and 15 minutes to… burn it!?
Yep. And gosh darn does it look even scarier when burnt. The monster was actually part of a super-kinetic action-movie Prudential campaign directed by Quek Shio Chuan with Reservoir Production, in honour of the upcoming SEA Games 2017.
"Originally it was 4 of them and we wanted them to be 100 foot tall and dwarfing some buildings in KL. but that would cost and insane amount of money. So it was just one and slightly over 20 foot. If sickness brought death, we saw it as an effigy that's burnt as offering. So that's why it's paper. And paper is a light substance so the fire would be a raging one. Apart from that, I think it's every boy's dream to build a monster and set it alight!" – Alvin Teoh
The burning in between buildings was carefully monitored by Malaysian firemen on standby in case something went wrong – either from the wind, or perhaps with the 7 puppeteers who had to move its appendages WHILE it was BURNING! Check out the full video below…
Entitled "Keep it LIT #PRUDreamSupporter", the ad portrays a young hero carrying the flame of sporting spirit, and protecting it from extinguishing waters, neon ninjas with fire extinguishers, and of course, giant 20ft monsters.
"We really wanted to show support to Malaysia. This is a really good platform to unite Malaysians. We talked to our agency, and they had this fantastic but crazy idea of this torchbearer running through the city and protecting the dreams of our nation." – Fiona Liao, Chief Brand Official, Prudential Malaysia
Along the way, he gets help from his mad parkour skills, a few YouTubers (suddenly) and some of Malaysia's most inspiring athletes, who Prudential interviewed them about their own experiences and they importance of dreams…
"If you want it you should go out and get it. Don't bergantung on others, ignore what people say. But be kind and be sporting." Kirthana Ramasamy, National Long jumper who used to be a hockey player

"I feel like everyone should have a dream, otherwise your life has no meaning. Semua orang patut have dreams to keep moving you forward cos you want to achieve it" –  Irfan Shamsuddin, National Discus Thrower

"Kalau ada peluang untuk mengubah kehidupan, jadi ambil peluang tersebut untuk ubah kehidupan sendiri… Sebab ibu bapa takkan sara kita selamanya. Kalau kita dah jadi macam ni, jadi kita boleh tolong ibu bapa kita bila mereka dah tua. Bila kita berjaya, jangan lupakan mereka." – Hasihin Sanawi, Paralympian National Archer
The last one really did get to us, so, goal achieved, Prudential 🙂 in showing your support for Malaysian sporting spirit.  #PRUDreamSupporter. For more info on the video, click here to take a peek the behind the scenes in how to create one monster of an ad.