So in the midst of the Covid-19 outbreak and subsequent movement control order in Malaysia, many a rakyat have already banded together to get as much aid and help towards our healthcare frontliners. Most of it come in the form of donations, food or providing childcare for them – you can check out our previous article on that – but one group of Malaysians have been helping out in a slightly different manner:
In light of this, we too began looking up more about this initiative, and found that there's actually a few different groups working independently of each other, all with the common goal of getting face shields out to our medical frontliners.
But before we get to the groups themselves, let's first look at the DIY face shields themselves.
There's currently 3 methods of producing DIY face shields among Malaysians
Okay so you might've read the Lowyat article or other coverage of the movement and thought to yourself, "Wah, 3D printing ah? Damn hi-tek weih!". But you'd actually be wrong, because as it turns out, there's currently THREE different methods of making face shields by Malaysians looking to help our frontliners. Also, take note that this doesn't include the methods employed by actual companies churning them out, i.e. with actual factories and assembly lines.
We spoke to Mak Kwan Wuey of Makerzone, a 3D printing and design company based in Malaysia to find out more. And according to Mak, these face shield making methods are:
1. DIY (aka low tech)
Basically it's what it sounds like – getting some clear plastic and attaching it onto a hairband to use as a quick, improptu DIY face shield. You can check out one viral FB post by a doctor below for one such example:
The Tze Chi Foundation is one of the NGOs using this method to make ad hoc face shields for hospitals, and reportedly made around 1000 of them in just two days using specifications provided by Hospital Sungai Buloh. But they aren't the only ones too; Ang Tee Chian has been working with MiniNature and ME.REKA to also get a bunch of DIY face shields up and going.
Here's some of Ang's work:
2. 3D Printing
This was what the Lowyat article was referring to – Malaysians using their own 3D printers, using designs of face shields available online to print out face shields which can then be handed out to Covid-19 frontliners.
According to a FB post by Nurfaiz Foat, one of the guys heading the 3D printing movement, a face shield takes about 40 mins to make, and uses roughly RM2 worth of material per face shield. It basically makes use of 3D printers to make the headband frame so that you can attach an A4-sized transparent sheet onto it that acts as the face shield.
We got in touch with Nurfaiz with some more questions about his project, but so far at time of writing he hasn't gotten back to us. You can check out some images of Nurfaiz's 3D prints from his FB post tho in the meantime:
3. Lasercut
Okay so lasercut face shields are what Mak and fellow coordinator Wan Cheng Huat have been doing. These face shields have their origin in the 3D printed designs, but Mak and co have improved upon the design so that it can be laser cut from acrylic sheets to reduce production time.
You can click here to read in detail their production process, but essentially it uses a Laser Engraving Machine to cut out the necessary pieces from acrylic sheets to form the face shield frame. It is then polished down before later having the A4-sized transparent PVC sheet attached onto it as well.
Check out a GIF of their lasercutting process below: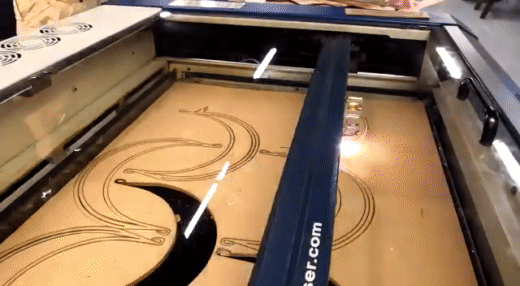 According to Mak, his team are currently able to produce up to 600 of these a day, as the lasercutting process takes roughly 3 minutes for one face shield.
Aite so now that we've established just exactly how these face shields are made, you might be wondering why isn't there just one 'best' method that everyone can rely on. Well the thing is, the two high tech methods actually did try to work together, but…
The various teams couldn't agree on an approach, so they all kinda went on their own
The first fracture between the groups happened soon after they tried to consolidate their efforts. According to Mak, despite the early attempt to unify their face shield productions, they couldn't reach an agreement over some key issues.
Right from the get go, Mak and Cheng Huat didn't think that 3D printing is the best option, as it's slower to produce compared to lasercut face shields. Furthermore, they wanted to have a central collection point, as they believe that the face shields would need to be sterilised with UV light before being brought to Covid-19 frontliners. They would also let the shields rest for two days just as a precaution in case one of the makers of the shields is an asymptomatic Covid-19 patient; we crosschecked this with some of the face shield designs available from a company that sells 3D printer and did indeed find a disclaimer calling for a 2-3 day waiting period in case the coronavirus was living on the material.
There were also concerns regarding the cleanliness of the 3D printed material.
"[Cheng Huat and I] agree that 3D printing is not the optimum…. 3D print layer lines have micropores that bacteria will thrive in. We were adamant that we need to control the distribution, so we can sterilise them first," – Mak Kwan Wuey, in an interview with Cilisos
However, Mak claims that Nurfaiz's team were of the opinion that it was necessary to get it out to Covid-19 frontliners as soon as possible, and so they splintered. Mak does acknowledge however that their viewpoint of 'any protection being better than no protection' was a valid one however. Furthermore, the fact that Nurfaiz's group would be able to have anyone with a 3D printer make them means that anyone could print a batch and deliver it to the nearest hospital requiring it.
"One of their pros is that they can get to local hospitals quicker from all over Malaysia since it's decentralised, which is their key point for 3D printing. It's a pros and cons situation… there's no best solution," – Mak Kwan Wuey
It hasn't been all bad tho, as in the end, Mak told us that Cheng Huat had reached out to Nurfaiz's camp to help them out with some basic safety tips and some instructions on how to handle the 3D printed face shields.
Now we thought this would've been the end of the minor drama but nope. According to some updates from the FB group 3D Printing Malaysia Community for COVID 19 and Lowyat's article, things in the 3D printing camp took another turn when Nurfaiz's team would split again due to some issues over the donations they were receiving.
You can click here to read more about it on Lowyat, but essentially it appears as tho some of them wanted to stop receiving donations until they could deliver the promised number of face shields. However, another member of the team who had originally provided his company's bank account for the donation drive refused to, claiming that the donated funds could help produce other necessary equipment such as masks.
In the end, another split happened and now Nurfaiz and his team are no longer accepting donations. They are however open to anyone willing to provide raw materials for their 3D printing tho. As mentioned earlier, we have already contacted Nurfaiz to learn more, and will update this article once we get a response.
Despite all the "drama" that happened tho, it's important to remember that…
They're all just Malaysians trying to help our frontliners as much as possible
It's fair to say that the Covid-19 crisis has gotten many Malaysians into an anxious state, but at the very least it's nice to see that many Malaysians have come up with various ways to help the frontliners helping us. Indeed, while there's been a few setbacks, from the looks of things the different groups making face shields have only been nothing but well-intentioned.
In fact, there's now even more initiatives from the people to make ad hoc medical equipment for our healthcare personnel. For example, while researching this story, we came across folks who have been going beyond DIY face shields and into making 'aerosol boxes'. There's also a shortage of Individual Patient Isolation Systems (Isopods) too. These are used to treat patients of infectious diseases, and are currently in short supply due to their prices, with isopods reportedly reaching up to RM30,000.
You can check out an example of a DIY aerosol box below:
And even if you don't own a 3D printer or a lasercutting tool, you can still do your part to help beat this virus by simply…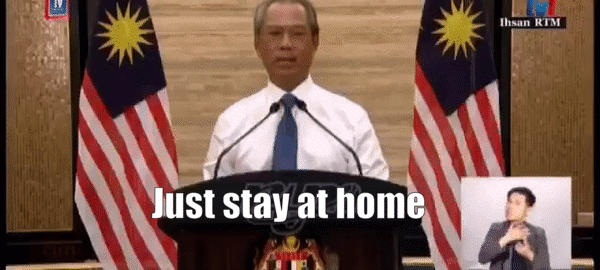 [UPDATE 31 March 2020]: An earlier version of this article used a picture of Rashvin of ME.REKA for the featured image; we'd like to point out that both Rashvin and ME.REKA were not involved in any of the issues listed in the article. We apologise for the unintended association to him and ME.REKA.