Recently, the Sabah Wildlife Dept and the Eastern Sabah Security Command (ESSCOM) busted a syndicate smuggling 220 crocodiles from Kalimantan into Tawau and seized the crocodiles.
"This is the first time we came across people smuggling crocodiles from outside the state. We are investigating if it was for local crocodile farms." –  said Sabah Wildlife Department director Augustine Tuuga.
Following this incident, calls were made for stricter enforcement at entry points (airports and ship ports) and then something a bit strange. People called for the Sabah Wildlife Dept to conduct audits on crocodile farms.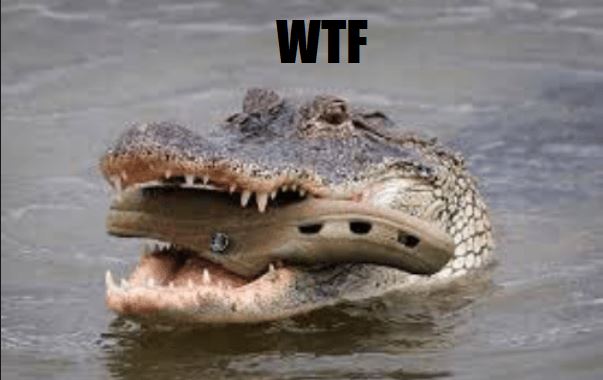 "Investigators can ascertain if the population of crocodiles had ballooned in such farms from a full audit. It involves trafficking of wildlife… Sourcing of crocodiles from the wild is illegal in Sabah." – said International Union of Conservation of Nature (IUCN) crocodile specialist group member Dr Benoit Goossens.
So… we dunno about you, but when WE think crocodile farms, we see a bunch of crocodiles in an enclosure being fed food by a caretaker while other tourists say "wwwaaaahhh" and take selfies next to the enclosures.
Wait. Croc farms are actually for… Farming crocodiles?!
The purpose of crocodile farms has evolved over the decades globally. It started when people used to hunt crocodiles in the wild for crocodile parts like skins, meat, oil and claws. This led to the overhunting of wild crocodiles between the 1950s and 1970s, which led to the drop in numbers of wild crocodiles.
In response to the drop in wild populations, crocodile farms were established in the early 20th century to bring the numbers back up by breeding crocodiles under captivity and used mostly for tourism purposes.
But then, in the 1960s, commercial farming of crocodiles began, and as breeding practices became more advanced and the numbers started rising (until they were not considered endangered in some regions anymore), crocodile trade expanded. During this time, one of the pioneering farms in Malaysia, Tuaran Crocodile Farm, was born.
What crocodiles used to be hunted for made up the scope of commercial farming, mainly skins and meat. Farms are considered a good way to produce crocodile skins and meat without killing wild crocodiles, like the farms in Thailand which are open to tourists to visit and are also equipped with slaughterhouses and tanneries.
For some regions, the crocodile farming sector might be profitable. Across Africa, the sector grew at 22% per year, with South Africa being the top exporter at $73m per year… followed by Zambia ($65m), Kenya ($62m), and Zimbabwe ($30m). According to a report by BBC, almost 85% of croc meat exports go to China, Hong Kong and Taiwan. [warning: images of croc meat are pretty gory, so we suggest you Google it at your own risk if you still wanna kepoh]
But it's different for croc skins. According to Today Online, Asia's largest importer of croc skins from Africa is much closer to home… Singapore. Because our southern neighbour has the biggest tanneries in Asia, it bought 60% of the 1.6 million skins that Africa exported to Asia from 2006 to 2015.
However, similar success stories can't be said for Thailand's crocodile farming sector, which has faced a setback as exports of Thai crocodile leather products fell more than 60% in 2016 to 13 million baht (RM1.7mil) from 34 million baht (RM4.3mil) in 2015. [As for Malaysia, we couldn't find such data.] Nevertheless, one thing could attract entry into the sector… MONEY? We managed to find the range of selling prices of each item:
But we couldn't find specific info on financial expenses incurred from running a farm, so no profit or loss calculation here (sorry.. #ihatecilisos). Speaking of running a farm…
Croc farms have a lot of requirements and regulations
It's difficult to set up and run a croc farm because of huge start-up costs and production requirements such as climate, housing, diet, breeding, health care, cleanliness and infrastructure. And the croc farming sector is regulated by both international and local laws. 
The international law is the Convention on International Trade in Endangered Species of Wild Fauna and Flora (CITES), whose role is to ensure that international trade of wild creatures does not threaten their survival using levels of protection called Appendices I and II.
Appendix I includes really endangered species so close to extinction that you cannot trade them.
Appendix II includes species that is not as urgently endangered but still needs regulated trade so that people don't take advantage so much.
In 2016, after a huge increase in the population (and also in human-crocodile conflicts) over the last 3 decades, Malaysia submitted a proposal to transfer the crocodile species in Malaysia from Appendix I to Appendix II since it now fits the criteria for Appendix II (approved ady).
On top of that, only the seven CITES-registered crocodile farms in Malaysia (including Sandakan Crocodile Farm, Jong's Crocodile Farm, Crocodile Adventureland Langkawi and Miri Crocodile Farm) are allowed to engage in the croc trade as international trade of crocs from the wild is prohibited. Even then, these CITES-registered farms, regardless of how attractive some of them are, are not exempted from criticism.
In 2014, the Sandakan Crocodile Farm was temporarily closed because of its poor care for the animals at its mini zoo, including the crocodiles, but fast forward to this year, nothing much seemed to have changed based on the TripAdvisor reviews.
As for local laws, crocodiles are strictly protected under Malaysian wildlife regulations, with the following three laws:
– Wildlife Conservation Act 2010 for Peninsular Malaysia and Labuan;
– Wildlife Conservation Enactment 1997 for Sabah;
– Wildlife Protection Ordinance 1998 for Sarawak.
Regarding the croc smuggling we mentioned earlier, movements of wildlife in this country are considered by local laws as import and export activities, hence they need to go through the customs checking by customs officers and asking wildlife officers for permission stuff. And even after the wildlife (in this case, crocs) have been brought here, the catching, hunting, farming all are also regulated under these laws.
Peeps found guilty of breaking these laws could kena from the police with fines ranging from RM100,000 to RM300,000 and jail time of 1-10 years. These local regulations could be why the recent croc smuggling was considered illegal (becos no permission and border check mah).
It might seem like it's okay for the regulations to go easy on the monitoring of croc farms (since, as we mentioned earlier, crocs are okay population-wise) and that the local wildlife laws are already too strict… But there have been calls to review the 3 acts and tighten the rules.
The govt is currently considering decisions to amend the Wildlife Conservation Act, Wildlife Protection Ordinance and Wildlife Conservation Enactment and increase the penalties because of the boost in online illegal wildlife trade and hunting cases, which animal welfare activist Lee Lam Thye said has contributed to the declining numbers of various wildlife species even within protected areas.
"We need to have a more comprehensive and stricter law to deter the culprits as the rise of social media and online trading portals has also worsened the situation." – Lee Lam Thye urged.
So now you know two things – 1… that crocodile farms actually farm crocodiles, and 2, why Birkin bags are so [email protected]# expensive. Here's a picture of Rosmah now for no apparent reason.
Sekian trima kasehhhh…