As you may have heard recently, the news was abuzzed with instant coffee when up to 7 people had to be hospitalised after consuming a brand of 3-in-1 instant durian coffee mix. Authorities investigated the coffee producers and found nothing suspicious, but they did discover synthetic drugs in the specific packets consumed by some the victims.
Fortunately, some of the victims had already been safely discharged, and the lesson that every Malaysian should learn from this is to be wary about tempered foods, gifts from strangers, and don't eat stuff found in the garbage bin.
But did you know that last year, a similar case involving a Malaysian businessman happened very far away in the U.S., but it kinda slipped under the radar.
The US government recalled his coffee because it contained… viagra?!
Albert Yee, runs a one-man import company called Bestherbs Coffee LLC in the U.S. state of Texas. One of the products he sold was recalled by the Food and Drugs Administration (a US government agency) because they also found trances of undeclared drugs in the coffee! But unlike what happened in Malaysia recently, the drugs found in the coffee were actually something you could buy in the pharmacy. It's a popular reference in many songs and jokes and it comes in the form of little blue pills.
That's right. In the instant coffee brand called Kopi Jantan Tradisional New Herbs Coffee sold by Albert, the FDA found traces of desmethyl carbodenafil, a drug that is very similar to sildenafil, a.k.a the active ingredient in Viagra. But going by the coffee's name "Kopi Jantan Tradisional", is that hardly surprising? Isn't it kind of expected to be finding performance enhancing drugs in a male enhancement coffee? The simple answer is NO.
Mixing Viagra with other drugs might give you the wrong kind of stiffness
Some may already expect their coffee to keep more than their alertness up at night, but the kind of performance enhancing ingredient in the coffee makes an important difference. Because of how similar the drug is to Viagra, it can produce similar chemical reactions when mixed with other drugs as well, and our concern should be the life threatening ones. For example, if mixed with nitroglycerin, a drug very commonly taken by those with heart disease and high blood pressure, it seems to be able to supercharge the drug and lower your blood level to "dangerously low levels".
As you may have already guessed, the original ingredient that Kopi Jantan was supposed to contain is Tongkat Ali, arguably the most famous Ali known to secondary school kids. Also known as the "Malaysian ginseng", Tongkat Ali is a herb that is internationally seen to have as many benefits as there are products claiming to contain them. From health tonic, to enhancing weight lost, to buat bini tersenyum puas, it is truly a miracle herb foretold by the traditions.
But wait, how did that Viagra-like substance ended up in the packets of steamy coffee for steamy nights? Might this mean that wonders of Tongkat Ali's libido raising powers could actually just be faked by some Viagra wannabe?
Not really, but manufacturers probably thought they could cut cost
The difficulty arises with harvesting these plants, especially when they are becoming rarer, it also becomes more difficult to harvest them, and also more expensive to buy them. In case you didn't watch the video above, Tongkat Ali actually has to be scouted for and harvested in the jungle, sometimes from trees that are bigger and thicker than what you saw in the video above.
And because apparently no one has figured out how to plant and mass produce Tongkat Ali, obtaining it as raw material may be a problem. But as the saying goes: Fake it till you make it, all they want is for their customers to continue ploughing.
Kopi Jantan Tradisional New Herbs Coffee wasn't the only one product that was recalled for Viagra-like drugs in its coffee. Earlier in 2017, another brand named Stiff Bull Herbal Coffee was found themselves between a rock and a hard place over the same issue. This lead to the suspicion that manufacturers are mixing the drug into coffees so they can spend less money on purchasing actual Tongkat Ali.
"We changed manufacturers a month ago. None of the consumers will get the tainted batch. It is an alternative to Viagra. Our focus and mission is to stay clear of that." – Stiff Bull Herbal Coffee, quoted from Indy100.com
And it turns out, BOTH the recalled coffees were made in Malaysia!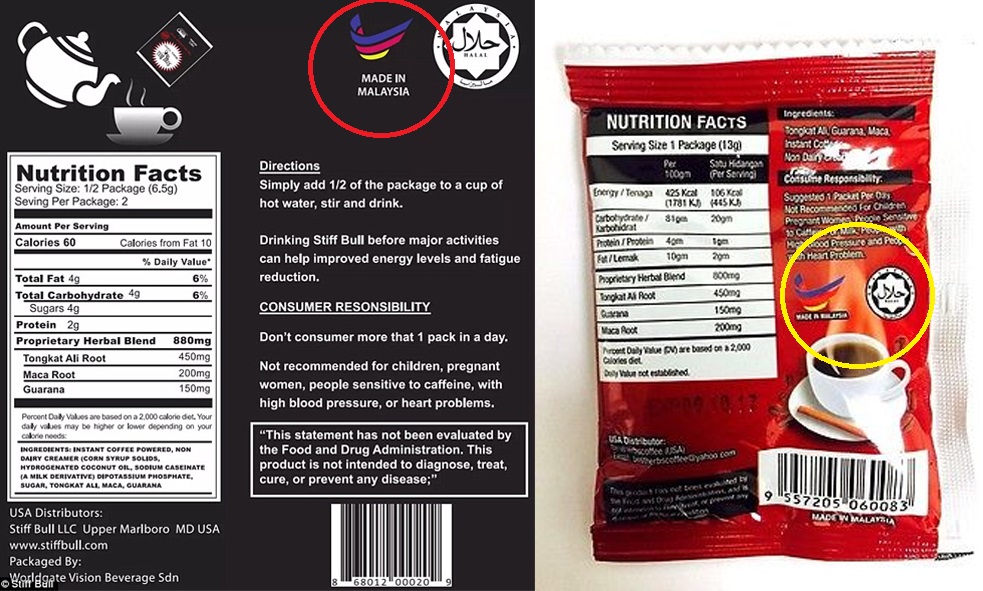 Based on packaging pictures we found on these websites, the manufacturers of both Kopi Jantan Tradisional and Stiff Bull Herbal Coffee seem to BOTH be Malaysian! But strangely, there didn't seem to be any call for action when the incidents were reported. A visit to Ministry of Health's Pharmaceutical Services Programme's website revealed a list of 55 harmful male performance coffees in Malaysia, including Stiff Bull and Kopi Jantan.
We didn't manage to find the coffees on Malaysian online shopping sites (we've tried Mudah.my, Lelong.my, Lazada, Shopee), and neither were they found on Tesco and AEON's online shopping lists. They weren't available in the sundry shops and mini marts around our office, but we did find another Kopi Jantan with sexy abs in a mamak shop. We also found them on this Facebook page that seems to sell an assortment of "herb coffees".
A simple search on google will show you, that there isn't a lack of products catering to people who are looking out for their manhood, and the Ministry of Health actually had to address the rise in food frauds in male sex stimulants back in 2010. But it doesn't end there, it even extends to using pork lard instead of vegetable oil to cut cost, which is a concern for halal authentication.
Using prohibited ingredients and not declaring the content information of food products is a crime in Malaysia, and cases regarding fake foods can be reported to the Ministry of Health and the Ministry of Domestic Trade, Cooperatives and Consumerism (KPDNKK). You can make complains and inquiries with each of them at 03 – 8883 3553 (Ministry of Health) and 1800 886 800 (KPDNKK).