Valentine's Day is just round the corner, and it's only a matter of time before your timeline gets flooded with lovey-dovey updates from your friends and family. But whether you like it or not, it seems like it's the only day you can be reeeeally cheesy and get away with it.
And speaking of cheese…. didja know just how much Malaysians love cheese? Cheesy wedges, cheese naan, and now there's even… cheese TEA?! You gouda be kidding! But we know we won't be the only one to say that cheese sauces take everything to the next level 😀
If you didn't know, our friends at HEXA FOOD have just introduced their newest product: INSTANT CHEESE SAUCE! All you gotta do is to mix it with water, simmer for a few minutes, and enjoy it with your favourite food (e.g. nachos, burgers, your bae). There are two variations: normal cheese and pedas cheese. It's also pretty reasonably priced – find it at big supermarkets like Tesco at RM8.90 for an 80g packet. You can also buy it online from Hexa here, or at their own restaurant/concept store in Kota Kemuning.
But if you want your Valentine's night to be a bit crazy, you can also try giving your date a bouquet of chilies instead of roses. No, seriously! For RM9.90, you can get a bouquet of a dozen Hexa's super-spicy Volcano dried chilies that will burn hotter than your love for each other. If your date doesn't want, never mind… just reuse next year or give someone else lor.
Okok, end of sponsored message. 🙂
Like we said, Malaysians love anything cheesy… like face-palming pick-up lines that are just in time for Valentine's! We asked around for some of the cheesiest pickup lines Malaysians would use to at a kopitiam (cos club too noisy la how to hear), and the here are the results, complete with profiles of the Hawker models we chose to use…
1. Calvin Tee, while eating Indo Mee
About the hawker model: Sorry, the guy in this video isn't actually Calvin, it's an Indonesian Vlogger called Ben Budiman. Here, he's actually trying what's rumoured to be the spiciest Indomie in the world, at a place called AbangAdek Indomie in Jakarta, which he describes as "inedible" and "could actually kill you".
2. Xavier Sim at a Hokkien Mee restaurant
About the hawker model: Sorry, this one not Malaysian (dunno why all the Malaysian Hokkien mee sellers quite camera-shy). No wonder la the noodles not black. Mr Yong Tan took over his dad's Changi Road Hokkien Mee business in 1965, and moved it to where it is now, at Joo Chiat place near Eunos MRT. Their specialty? Hokkien Mee with oysterssss.
3. William Kee at a taichow
In case you haven't figured out William's line… it's a phone number drop GAIZ!
About the hawker model: Sorry guys, she's not Malaysian. Also, contrary to some fake news articles posted about this new "Hooters"-concept restaurant opening in Malaysia, it's not even IN MALAYSIA. This is Cafe Lu, over in California, part of a growing trend of Vietnamese cafes that have female-only waitresses.
4. From Shannya at a Curry Mee stall
Shannya says she's targetting millenials, old aunties and gangsta macha's with this one. So what better model than the famous sisters who've been selling kari mee near Penang's Ayer Itam market since World War II!
About the hawker model: The two sisters, now 82 and 80, still wake up at 430am, cook the ingredients at their Kampung Pisang Home, and then load the pots onto a bicycle to bring over to the Ayer Itam Market. They then sell out their noodles by 2pm, go home for a quick nap, then start preparing the next day's ingredients at 8pm till 11pm.
And true to Shannya's pickup line, these two are the true embodiment of a labour of love. They've never been married.
5. Viktor Tey at a soya bean stall
Viktor's follow up to this line is pretty impressive as well. "Hahahah… Actually I order milo (must pronounce as mee-lo) so that you notice mi-lo". Geddit, geddit?
About the hawker model: His name is Chen Yitin, and he went viral after a few shoppers in Taiwan posted pictures of the hunk on social media. Topless ada, flexing muscles carrying taofufaa ada. But comments on the quality of the soyabean satu pun tada. And then there was a twist – apparently, this guy is ACTUALLY A MODEL OMG.
The fler apparently not bad also… allegedly modeling his way to a Mercedes Benz (!). In fact, after some social media investigator found out, people started saying that he purposely worked there to get some attention (it worked), although his agency (modelling, not taufoofa) denied the rumours.
6. Wong Sheng Yuan at a kopitiam
About the hawker model: The dashing dude in the picture is Dr. Leslie Tay, who's the poster boy against the argument that stall food is unhealthy. The dude is not just a full-time doctor, but had his own food show called 8 Days Eat, is married with two kids, and somehow managed the time to publish 4 books on top of that!
And here he is, all fit, and cooking at home for his kids. Imba.
7. From Nikita, with a glass of teh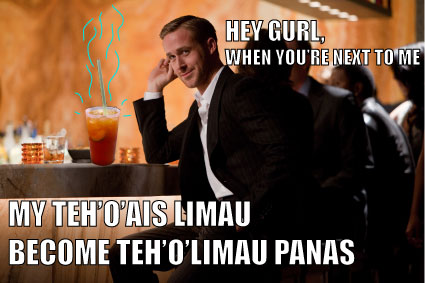 Nikita must be looking for a special kinda partner. The response he expects is "Why you think Malaysian weather so hot?", which quite frankly… would make our teh'o'ais panas become Milo Volcano.
About the hawker model: So apparently this fler is some sort of actor la. But more importantly, he's not actually single. And when we tell you what he does for his pregnant wife, all your ovaries will explode at the same time 🙁
If it's any consolation, he ain't Malaysian.
8. Lim Way Hang on the pretty prawn mee girl
To be honest, we changed Way Hang's entry a bit… but the pun was awesome la (and so is your name, dude). Actually the writer didn't put this in the shortlist, but it won by popular office vote. We reckon it would work with CKT or Ipoh Sah Hor Fun also, so super-flexi yo.
About the hawker model: Once again… Singaporean. Haiz. Why Malaysia one all no go gym or put makeup before cooking? This girl is actually an ex-stewardress from Singapore Airlines who decided to take her father's Penang (Malaysia roots! Woohoo!) business in Tanjung Bungah and bring it to Singapore.
""After 10 years of flying, I wanted to do something that was more 'grounded'," Julyn Teoh, to STOMP.com.sg
Sorry again guys, the guy behind her is her 37-year old boyfriend – also ex-SIA. They spent 3 months before opening shop just getting the broth right. Well, now you got a new line to use, bro 🙂
Please please please can you try one of these in a real coffee shop and let us know the reaction?
While Singaporeans might be slightly better looking while cooking, you Malaysians ar… manyak creative man. We laughed our butts through some of these, and since most CILISOS employees are either not-single, or hopelessly shy (except Uihua mebe), we need you guys to go out and try these for yourself. Better yet, film the results and send it to us at [email protected] and we might even give you a very very special gift for your efforts.
Oh and if you're only spectating your friends do this, we hear that cheese nachos are a great snack for times like these. 😉
This article was originally published on Dec 9th, 2016