If you haven't already known, Datuk Seri Anwar Ibrahim was recently found guilty for sodomising his former aide, Mohd Saiful Bukhari Azlan. He's been sent to jail – the Sg Buloh one to be exact – where he'll spend the next of his five years. Whether or not he really did it, and whatever your views and opinions on the Opposition leader, one thing's for sure – it shook Malaysia at her foundation, and our political scene is facing one helluva ride. Changing the landscape of our politics once more, the implications are bound to be felt by all parties regardless of their standing.
But that's a story for a different day. Today, we're going to put the spotlight on the media.
As the people's source of news, newspapers are an avenue for unbiased reporting, although in journalism school we've been taught how opinions are weaved into articles to influence the reader. Headlines. Buzzwords. Images. Colours. Story placements. Yaddah yaddah. But to some people, this is their only source of news.
We're just gonna state the obvious here – the media plays a huuuge role in shaping a country and the gomen.
So it's no surprise that in a country where publishing permits can be revoked at any time, newspapers might report things a little skewed in one direction. With many media outlets – especially mainstream media – being owned directly or indirectly by the government (like Media Prima which is owned by UMNO, or The Star which is majority owned by the MCA), there's no wondering why alternative, independently-owned media has been flourishing in our country.
But though it flourishes, not everyone gets a permit for publication. Take MalaysiaKini for example – their application for a publication permit for a daily newspaper was rejected despite winning in a court ruling. Why? Because the Home Ministry deemed that the news portal 'often causes controversy' by publishing news that could 'distress' the people.
"Such news, if published in the print format, will cause shock and distress among the people. Sensitive issues are also published in the form of news, commentary, opinions and readers' comments which could cause hatred towards national leaders." – Home Ministry's Publications Control and Al-Quran Text Division head Hashimah Nik Jaafa on MalaysiaKini's permit rejection 
Oppressive or not, it's not for us to say (out loud cos we sked). But the ideal is for news to report news, and readers to judge the story. Thankfully, throughout the past few years we've seen examples of even gov-linked newspapers being a little bit more neutral in their reporting, giving us hope for fair and clean reporting.
To demonstrate, we're gonna look at the Anwar story. Gay criminal or victim of dirty politics? Unlawfully kinky or a threat too big for the government? Let's see how five local dailies reported the case.
(Disclaimer: We tried to get as many dailies as we could, including some Chinese and Tamil papers, but they were either unavailable or we were awfully lost in translation.) 
1. Berita Harian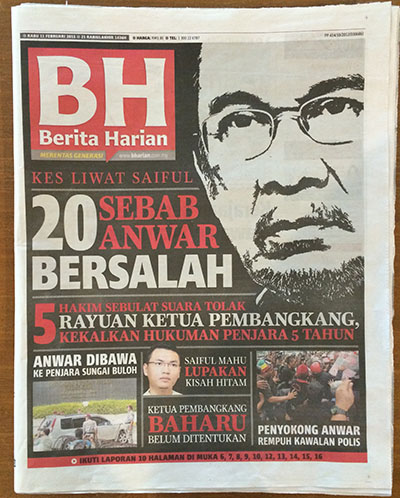 On the front page: The BM daily starts with a punchin' headline, telling readers straight-up the 20 reasons why Anwar is guilty. Sensational? You decide. It also goes on to say that all five judges were in one accord to dismiss his appeal and maintain his sentence of 5 years. It also reports that Anwar was hauled to the Sg Buloh prison, his supporters were rowdy towards the police.
On the other hand, it sympathetically reports that Saiful wants to forget this ordeal.
All that in bold red and black makes Anwar look like a full-on bad guy, yo.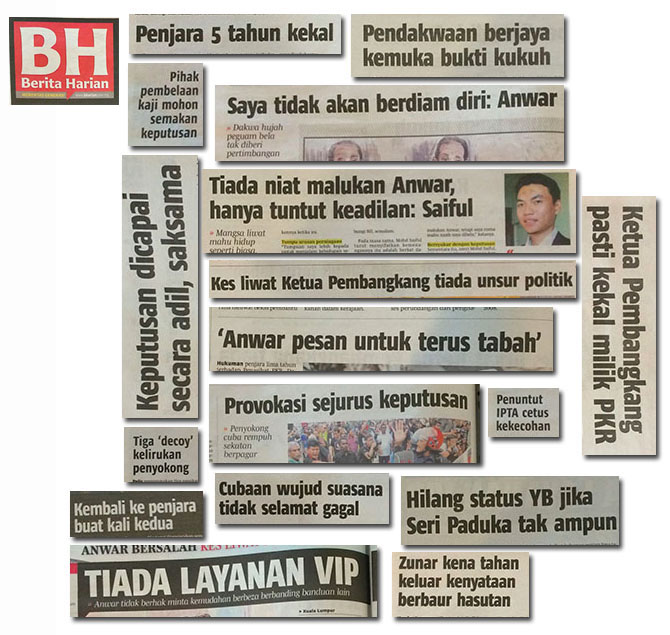 And on the inside: The stories run from page 6 to 16 with some ads in between. While most of these stories centered around the case in its essence (chronology, charges, evidences etc.), it also highlighted Saiful's teary side of the story, quoting that he never meant to humiliate Anwar but only wanted to seek justice.
These few pages also saw highlights that the verdict was fair, evidence untampered and trial non-political, while several snippets spotlighted Anwar's supporters who were provoked and rowdy. Later on, there was an extensive report that he wouldn't receive VIP treatment (siap with cartoon and photos spanning across two pages) and a mention that Anwar would be going back to prison for the second time.
On the last page of its coverage, BH gave a generous chunk of space for article about the Opposition leader's position remaining in the hands of PKR, followed by Zunar's detaining for being seditious and a 1/3 page chronology of events.
Click images for larger version:
2. New Straits Times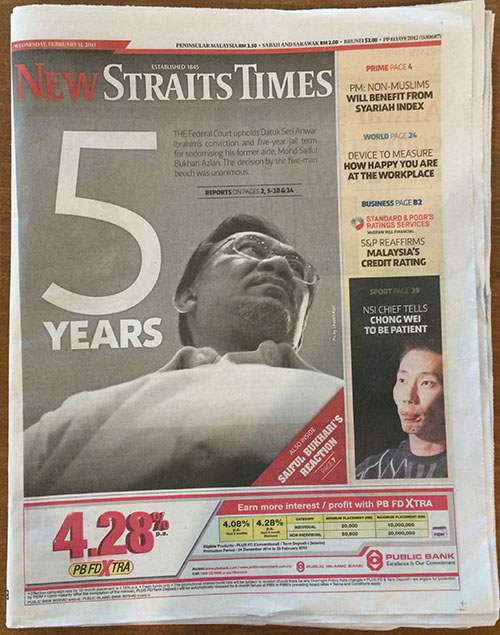 On the front page: Instead of screaming out a sensational headline, the NST zoomed in to the number of years he'll be serving in jail, adding a short introductory statement and a teaser to Saiful's reaction. Along with that, various snippets to other stories including a photo of Dato' Lee Chong Wei. They also maintained the space for their front page banner ad. Uh, yeah.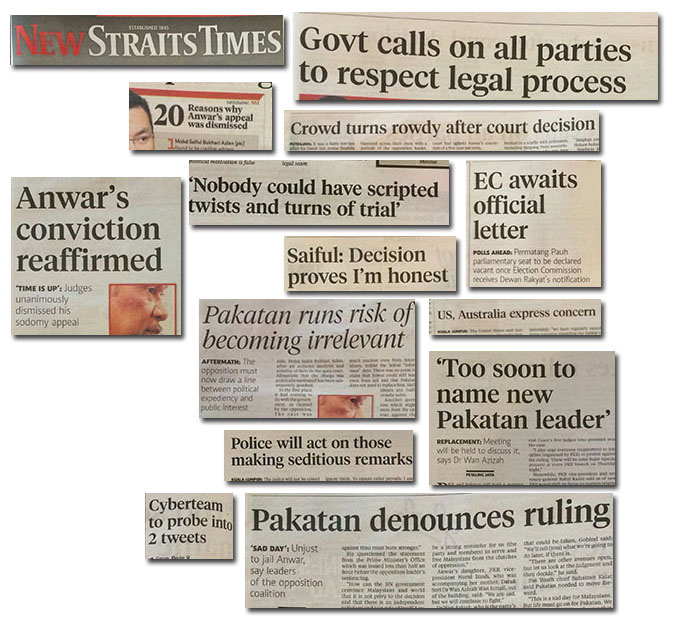 And on the inside: In the following pages, the stories ran from page 2-20, with several ads and unrelated news in between. Reports are similar to that of Berita Harian's, but it has a small snippet of the US and Australia being concerned over the verdict. It also has a listicle like Berita Harian's, but instead of '20 reasons why Anwar is guilty' it's '20 reasons why Anwar's appeal was dismissed'.
Same meaning but the word choice carries a different weight.
Oh it also features a 1/2 page article about the aftermath where Pakatan may soon be irrelevant.
It then skips a coupla pages and before a 1/3 page comment by NST shows up, saying that PKR and their supporters should accept the court's decision. The comment also adds that "the public is not able to assess Anwar objectively and that this is testimony to some Malaysians' inability to mature politically".
However, instead of silencing the Opposition, the daily also reported Pakatan's disappointed reactions and their remark of a sad day and an unjust decision.
Err.. Pretty ok we think? But would've loved to hear more of what the defence lawyers had to say.
Click images for larger version:
3. Utusan Malaysia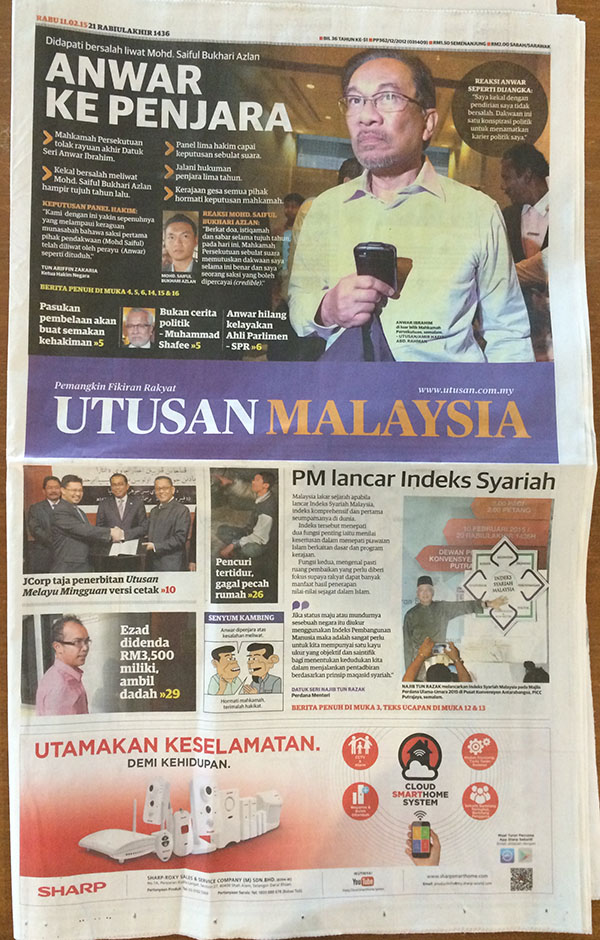 On the front page: Above the fold sits a headline that says 'Anwar goes to prison' along with snippets of info, including charges, quotes and Saiful's reaction. Also included is a quote by Anwar defending his innocence, sarcastically titled 'Anwar's reaction was as expected'.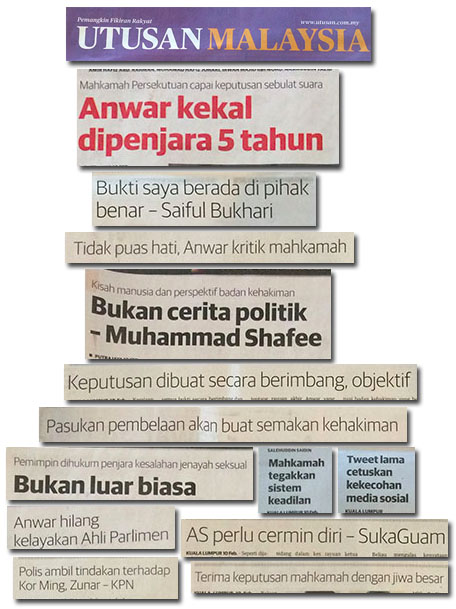 And on the inside: The second and third pages were irrelevant local news. Anwar-related stories began from page 4 and ran till page 6. Again, the stories were similar to Berita Harian's, although Utusan printed a snippet of SukaGuam (a lawyer-y NGO with an exceptionally creative name… for a bunch of lawyers) criticising the US as they voiced out their concerns. It was headlined 'The United States needs to look at themselves in the mirror – SukaGuam'.
It also wrote that sex scandals among leaders weren't unusual, citing the cases of Zimbabwe's Canaan S. Banana (stop laughing) and Israel's Moshe Katsav.
Between headlines such as 'Accept the court verdict with a big soul' and 'Anwar unsatisfied and criticised the court', we felt that some of these headlines were craftily opinionated instead of being factual, as an unbiased paper should.
Click images for larger version:
4. The Star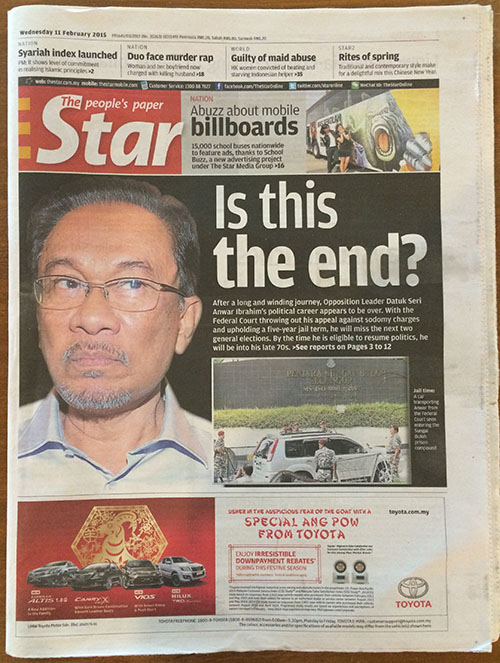 On the front page: Instead of selling the paper with yet another announcement of Anwar's fate, The Star daringly took a different path by posing a thought-provoking question about the future of his political career. It brought to light a different perspective, which we thought was quite clever since all the other papers around it would be screaming out the outcome of the trial. (Personally, it's something we'd pick up first among the other papers.)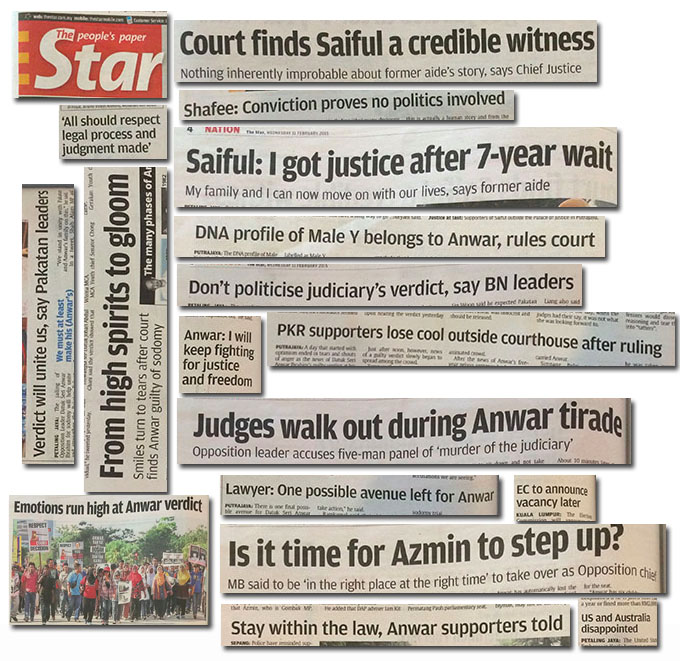 And on the inside: We found a more balance of set of stories within The Star's pages. Headlines were mostly made out of quotes with little of the journalist's opinions. While the articles highlighted Anwar's rise and fall, his bold behaviour in court, Saiful's reactions and a call for the case not to be politicised, it also gave the Opposition and concerned countries an avenue to have their voices heard.
It also reported a probability of Anwar walking free, which is through a review by his lawyers. Although several other papers reported the same story, the headline chosen by The Star was worded positively to show the effects of this move, if it works out la.
It also boldly highlighted Anwar's vow to keep fighting for justice and freedom, which we barely saw in the other papers.
To be honest, we didn't expect this much balance for a newspaper that was governmentally-linked. Sure, it could go further but eh, this one not bad already k.
Click images for larger version: 
5. Kosmo!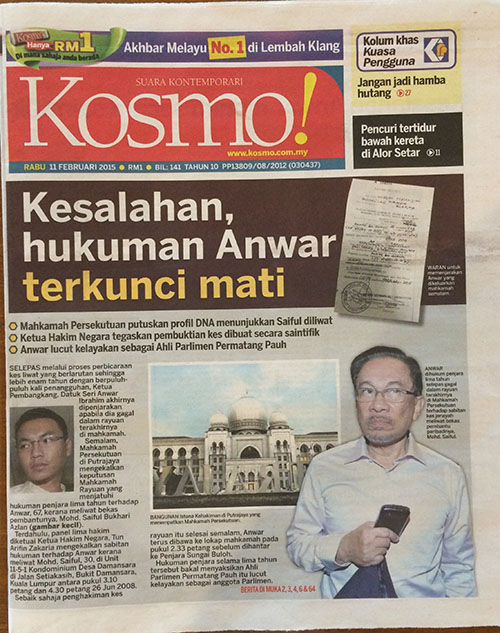 On the front page: The headline tells us two things: Anwar did something wrong and his punishment is sealed for good, although the choice of word for 'mati' could easily be replaced with something a little less sensational. (Plus, there is a chance Anwar could walk free – through a review, or if BN loses the majority and Pakatan takes over in the next GE.)
Again on word choice, it then goes on to give the gist of the event, adding that after numerous postponement, Anwar was 'finally imprisoned' which seemingly insinuated annoyance.
And on the inside: With very few reports in comparison the other four dailies, Kosmo! gave little to no room for the views of the defendant and Opposition. The only significant real estate they got was a quote from Anwar's lawyer: "We will see what needs to be done before taking further actions." Yeeeep, that's it.
Even the photo gallery focused more on the police force, the police force with Anwar supporters, pro-Saiful supporters (sans police force) and a coupla photos of Anwar's family members not looking happy.
It then went on to report other stuff, including a thief in Alor Setar who tried to break into a house and fell asleep under a car because he was probably tired or sumfink.
Click images for larger version: 
The conversations are so different online
Like we said in the start, alternative media in Malaysia is one helluva booming scene. Without support from the government, they're more able to report without being censored, although cautious writing is key with Malaysia's various, delicately-crafted acts that may legally implicate us.
Online, there seems to be alot more checks and balances. If your coverage is skewed, be prepared for some horrid comments. Also, news outlets frequently cover social media opinions, and can be updated in case an error is made (something CILISOS uses quite often).
An interesting point to mention here is how the world sees us, too. It's been made pretty clearly in the news (albeit receiving harsh love from SukaGuam) that a few countries have found this worrying. Some media outlets have also shed light to the world about Anwar's verdict, so much so the petitions going around are being signed by Americans themselves.
SO MANY SOURCES! How can we know the truth, then?
Let's be honest – we'll never know the whole truth unless we were there when all that happened (or not). But what's important is that we don't just get our news from ONE SOURCE. Each editor, journalist, or reporter has their own sets of feelings, opinions and judgements – even us (and yes, even BFM). While we at CILISOS aim to present a balanced view, it will be skewed to our own opinions and judgements.
Thankfully, there are other options – sites like Malay Mail Online, The Ant Daily, Free Malaysia Today, The Malaysian Insider and The Rakyat Post (despite what we think of them) are but a few of the many media outlets providing another side to news.
However, the issue is that the Internet doesn't reach everyone, and because of tight publishing laws, there are some places where only newspapers and TV will reach, although thankfully, that figure seems to be reducing everyday.
Not that mainstream media are 100% unfair, just that it, (like Malaysiakini or Malaysian Insider) only presents one-side of the news.
Also, be wary of what your Facebook friends are forwarding as well – they're your friends, probably with similar interests, probably mostly from the same area, which means they read the same things as you. We leave you with a quote from the Guardian about this 21st century phoenomena, and how it shows us what human nature unfortunately leaves us with.
From Twitter streams to personal news feeds, we've become experts at sourcing only the content that is most relevant to our particular interests, but some commentators worry that our personalised content feeds can only tell us so much of a news story. – Chris Smith, "How is web personalisation affecting the news?", The Guardian