Okay, let's just address the elephant in the campus: Yes, this article is about Anwar's scheduled speech at the Chancellor's Hall in Universiti Malaya last night (Or October 27th depending on when you're reading this) and how he and the organizers were "discouraged" from going on with it by the higher-ups in UM.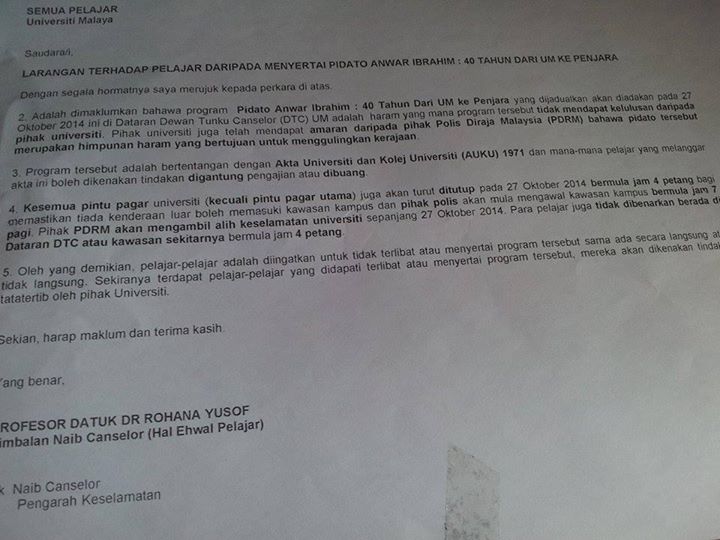 After speaking to a student contact in UM, we found out that there was a press conference addressing the issue at the moment that we called. Needless to say, we packed our laptops and flew over as fast as we could. Except we didn't attend the news conference because we totally missed it you have the proper news sources for dat kinda stuff.
Instead, we went around asking a bunch of UM students this question:
"What do you feel about freedom of speech?"
and got them to write their answers down on a piece of drawing block, and pose with their answers.
Notice how I said "a bunch" and the title says "15". Got story wan. Later la, after the pictures.
1. Foundation in Science student, 18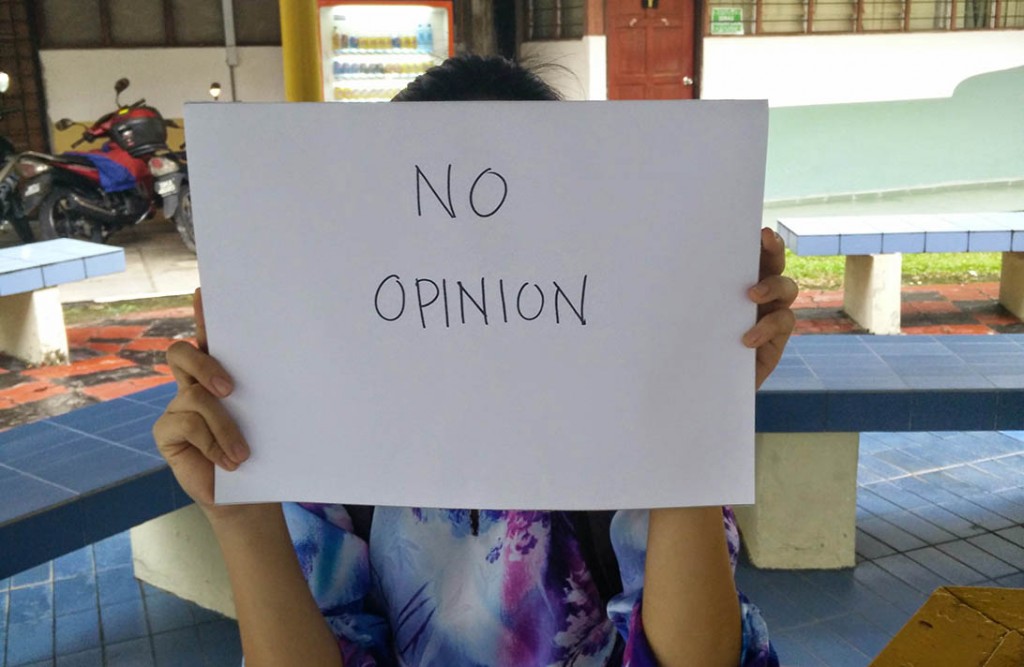 You'd think this would be the most common response we'd be getting….
2. Linguistics student, 21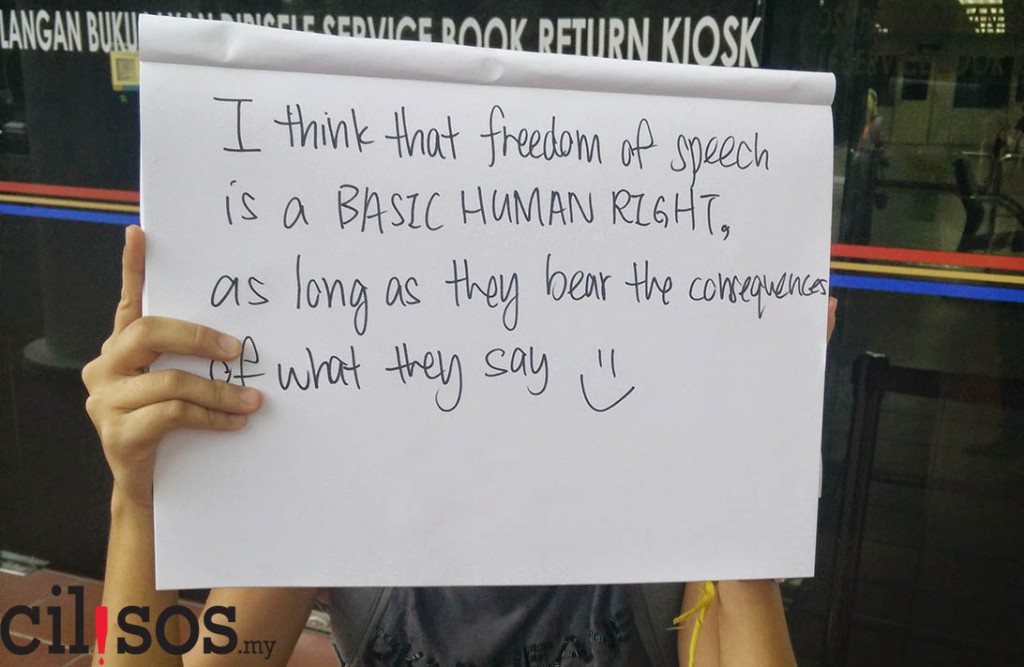 … But you'd be surprised. P.S. She reads CILISOS too! 😀
3. Telecommunications Engineering student, 22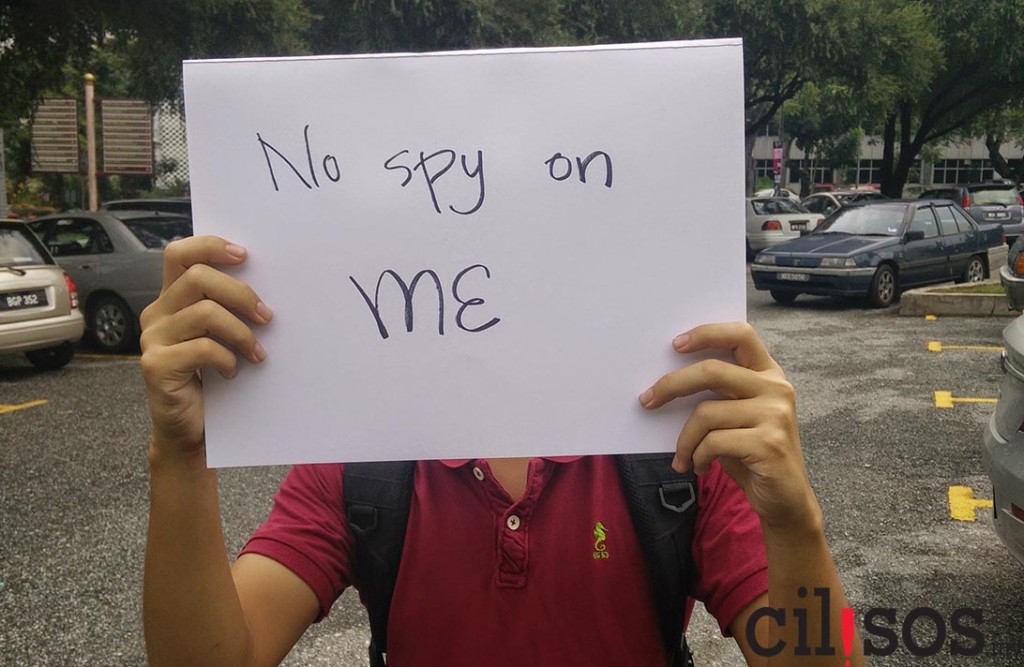 His justification for his answer: "I'm more concerned with how governments do surveillance on citizens"
4. Foundation student, 18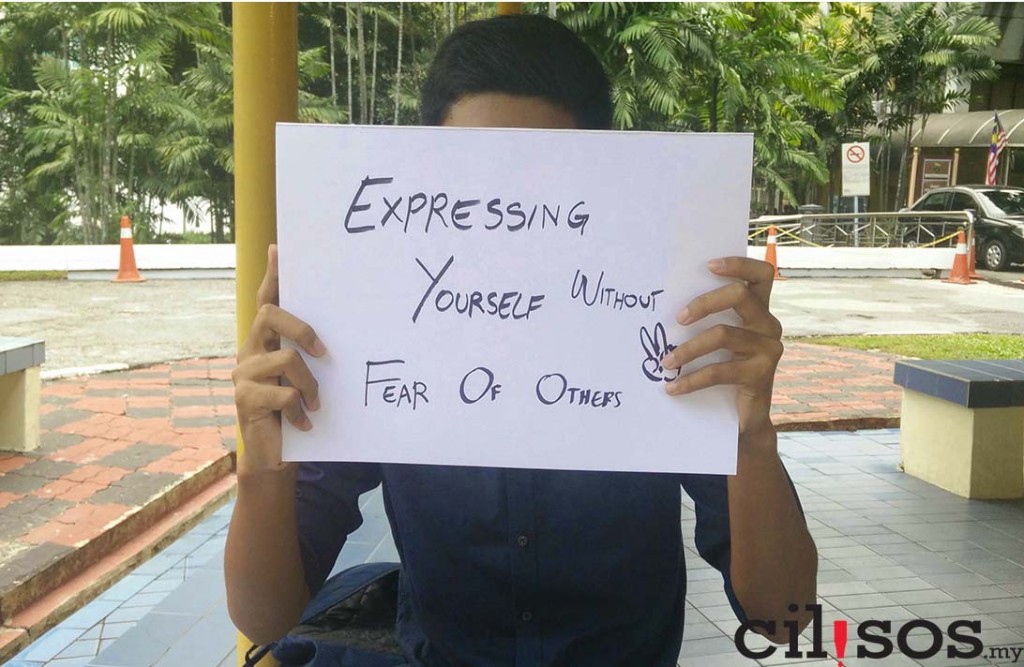 This also ties in to our country's sedition laws. *COUGHshamelessplugCOUGH*. Incidentally, this was also the first person we approached.
5. Computer Science student, 21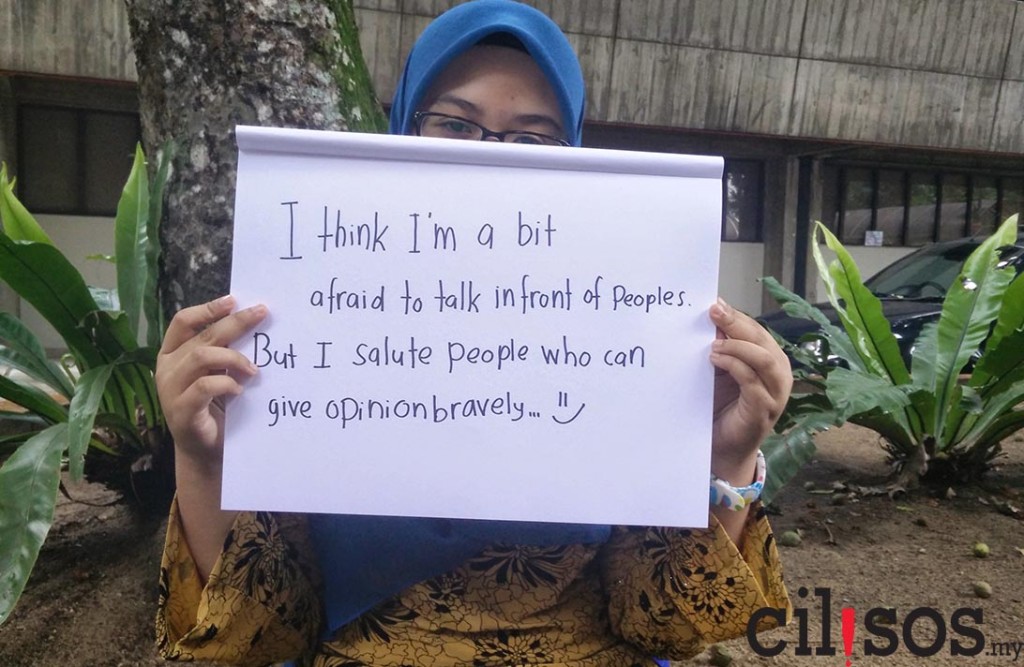 And we think she's pretty brave in doing this 🙂
6. Sharia and Law student, 22 (and her friend)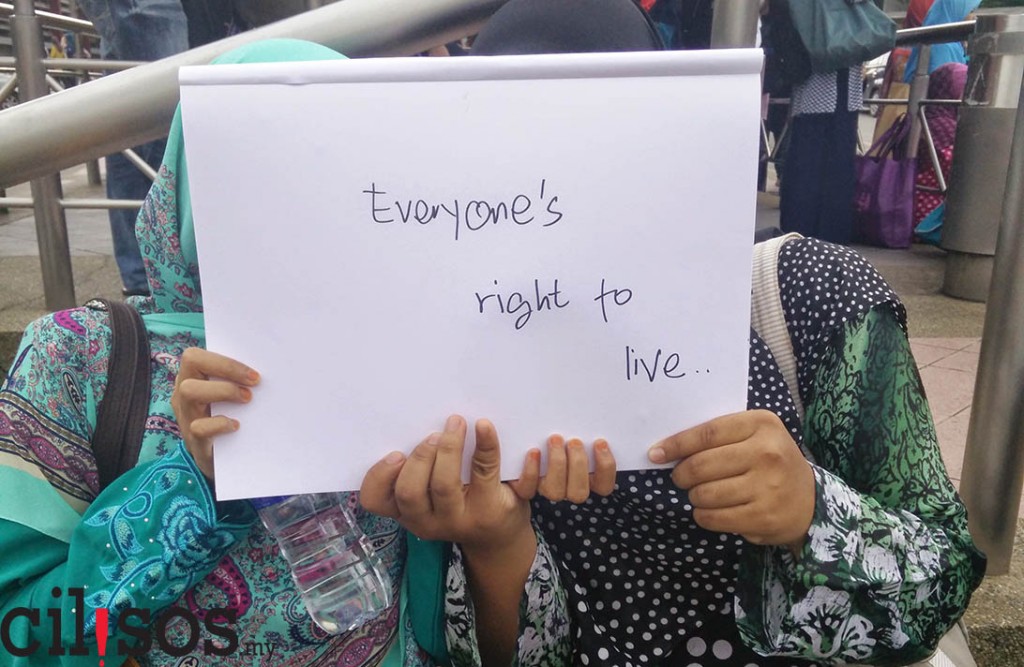 It was quite cute, actually. They debated a couple of options before settling with this one.
7. Masters in Materials Science and Engineering, 26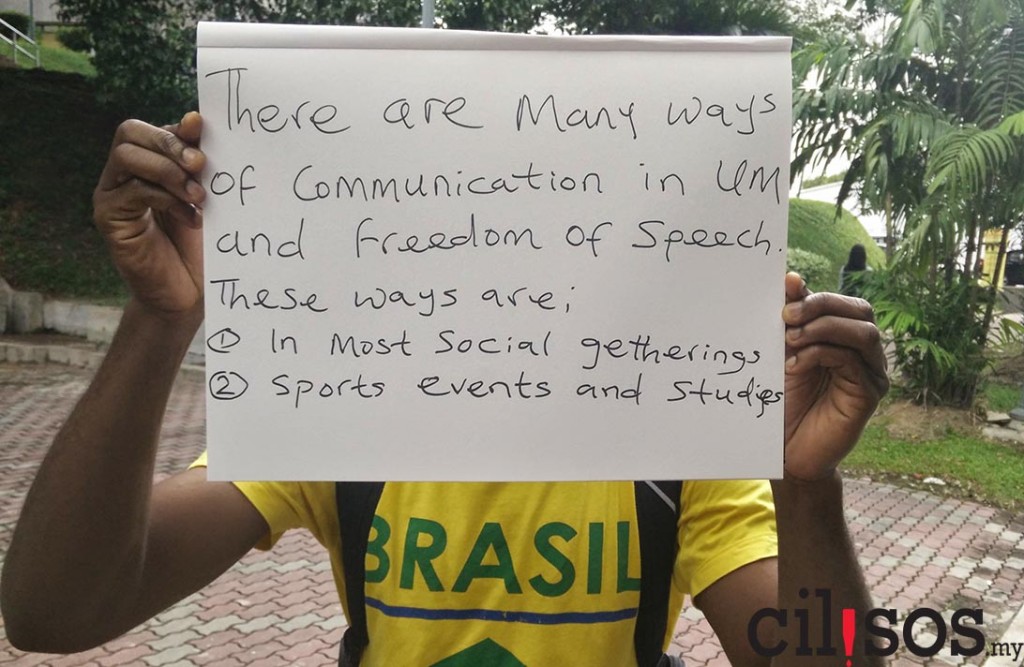 This person is a student from Nigeria. He spoke briefly about how it was hard for him to integrate at first, but was able to meet people through classes, student gatherings, and sports events.
8. Business student, 21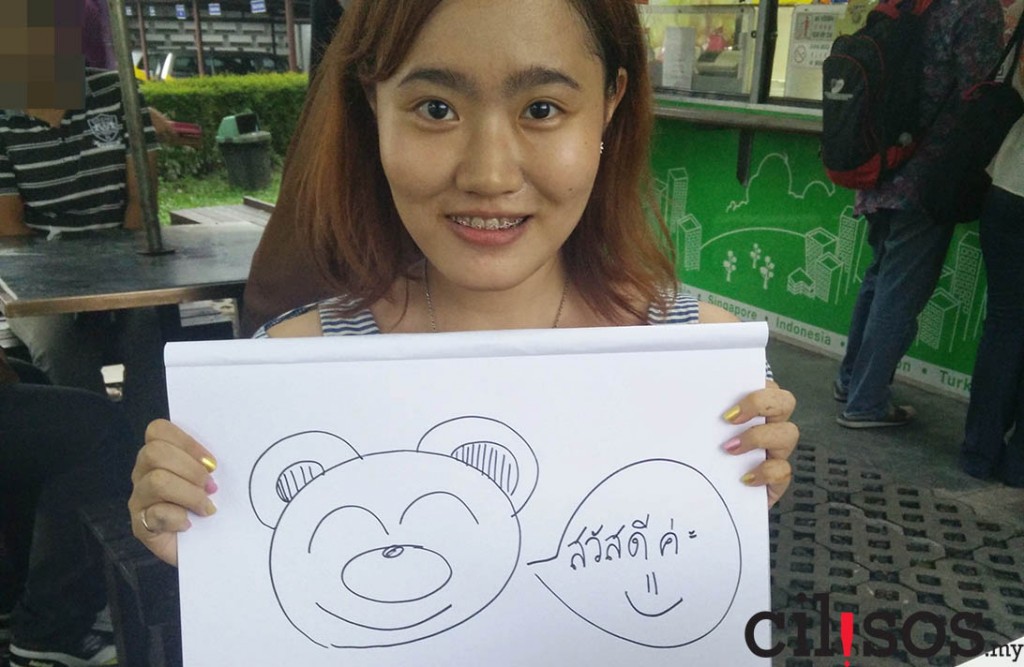 When I asked her to lift the drawing block higher to block her face, she said it was okay for her face to be photographed. In a way, that truly is freedom of speech isn't it? And then we find out that she's actually Thai. It's funny how the two people (Her Japanese friend at #12 as well) on this list willing to show their faces aren't local. And before you ask, Translation: "Hello to everyone"
9. Chemistry post-grad, 24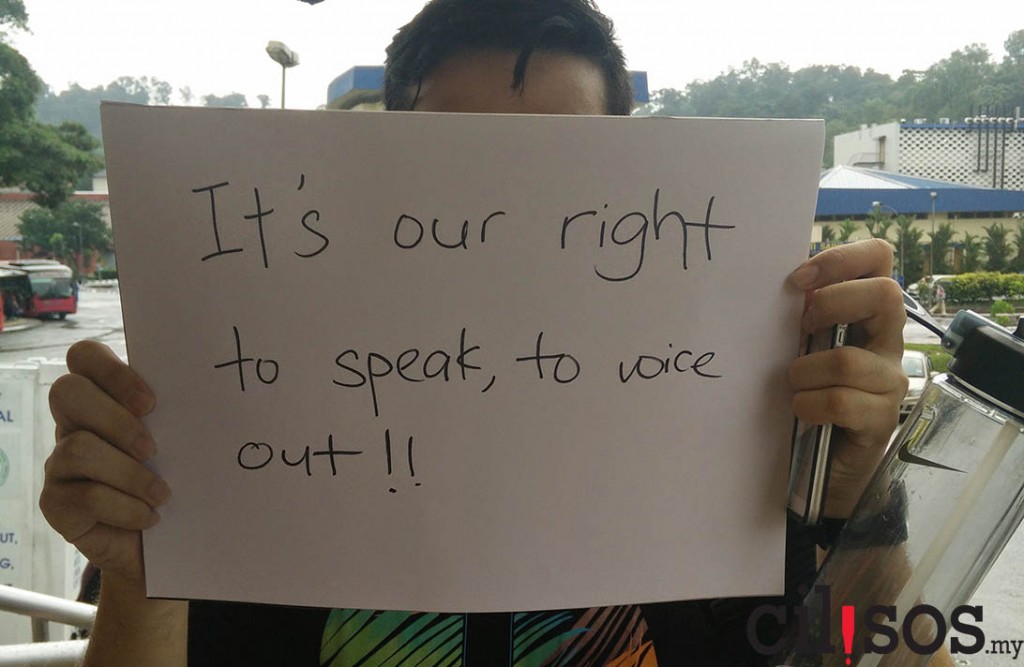 Despite the pouring rain, he said "Yes" and immediately wrote this down. No thinking time, no hesitation.
10. Biotechnology student, 19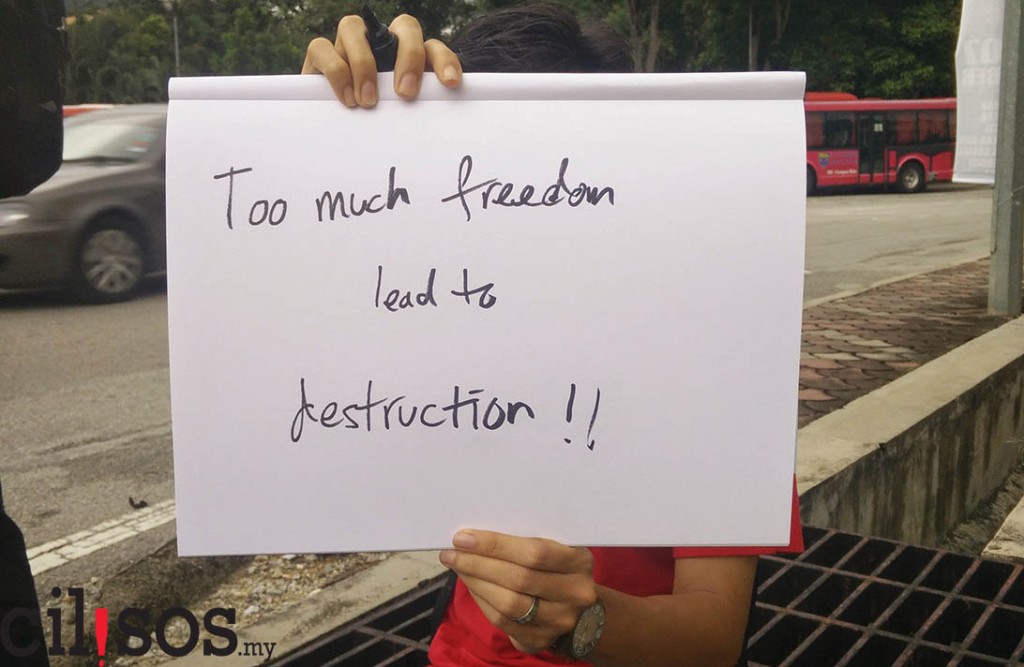 Finally! A dissenting opinion! While his friends say they share the same sentiments, this guy was actually willing to put it to paper and photo. For that, we salute him.
11. Music student, 21 (and friends)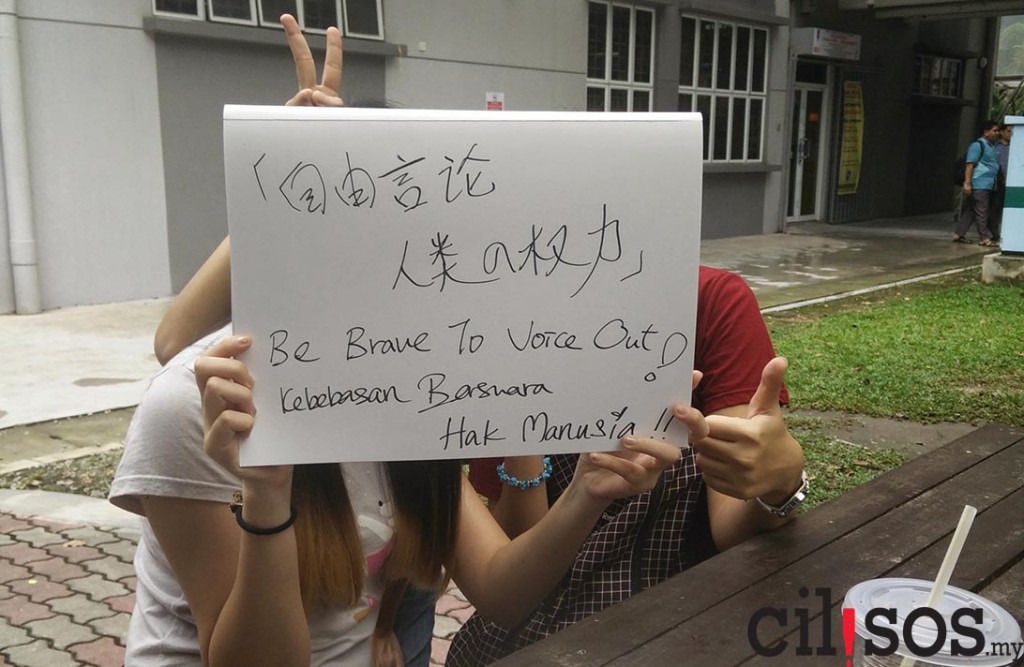 Three friends, one piece of paper, three languages, one message.
12. Business student, 22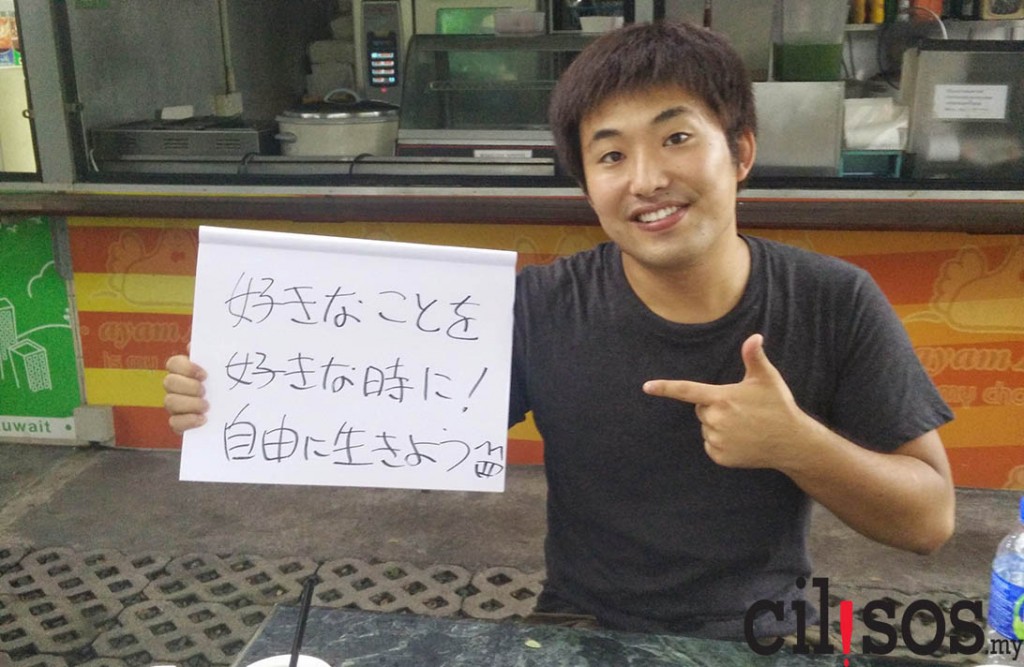 Guys, be honest. You quickscrolled here after reading "her Japanese friend" at #8, didn't you? Tsk. Like HIS Thai friend, this Japanese student didn't want his face covered either. The rice box thing he was eating looked pretty delicious too. Translation: "Do whatever you want to do and live freely"
13. Publishing Studies, 23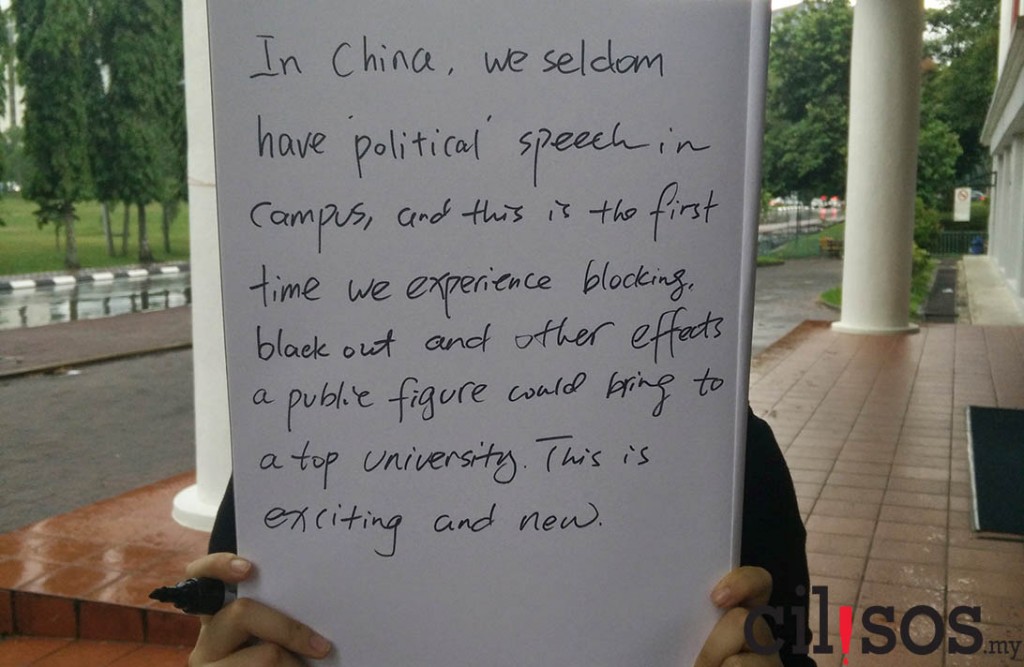 She's a student from China who referenced the situation with Anwar's speech. We found out from her that UM had announced the closing of the library due to an electrical cut. Since the library was just behind us, a quick peek through the glass door showed everything operating as usual. Hmm :/
14. Language studies student, 22 + Mathematics and Finance student, 22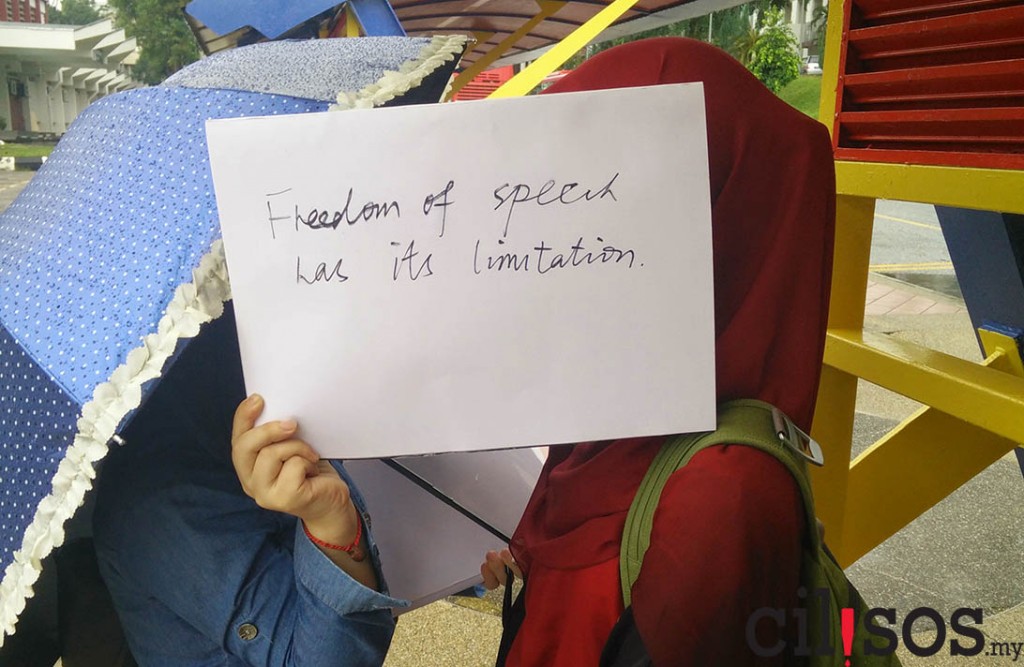 We're not sure if it's because of the artistic-ness of the photo, but the CILISOS staff found their message rather deep.
15. Economics student, 18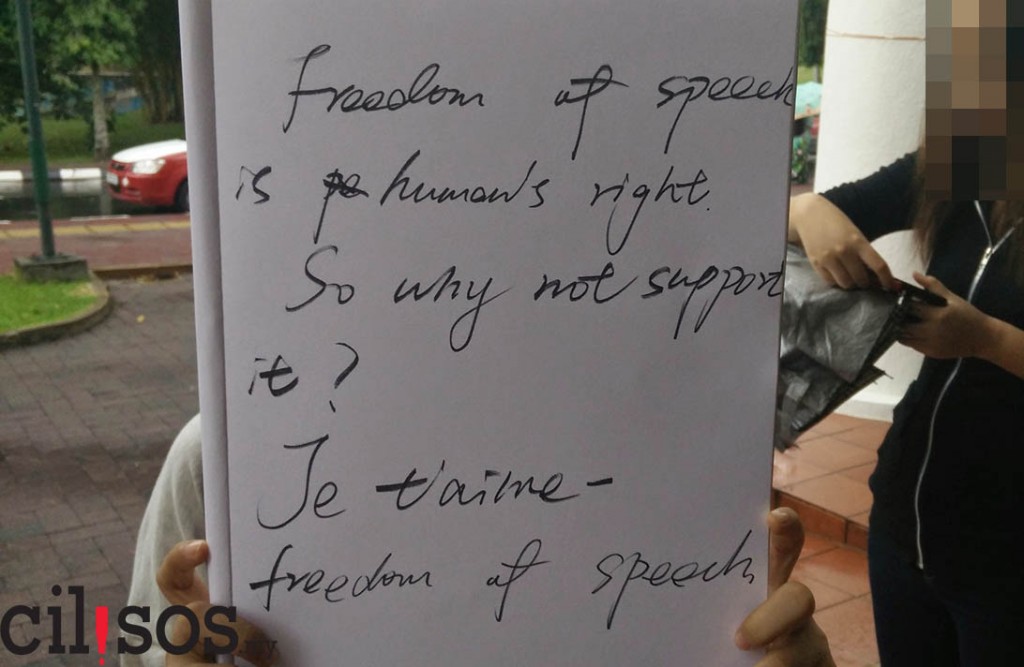 In case you were wondering, Je t'aime is either French for "I love you" or a sultry vampiric female whose silence is filled by deep thoughts of domination and control
For every person who agreed to do this, there was one other who didn't. Some were on their way to the next class, some just arrived in the country, and the majority didn't want to get in trouble. Being that those who didn't want to get in trouble were local students, we're gonna go out on a limb here and take a guess that most students were aware of the the letter being circulated about Anwar's speech and didn't want to get in trouble. There were also a few who (probably thinking we were reporters) spoke quite freely about their views but shied away when we asked them to write it down and pose with it.
Note: No names were written down, and we made it very clear that their faces will not be shown (except for the two who were okay with it)
This part was written after Anwar's speech
Soooo… really, who expected last night to happen? In case you didn't know, the crowd who were at the speech last night tore down the gates at the KL exit to allow Anwar through. If you're a gate repairman and didn't know about this, you just lost a business opportunity bro.
Here's the thing though… regardless of whether or not you agree with Anwar's views and policies, his initial barring from speaking turned him into a figurehead for freedom of speech that night. Some students expressed to us their annoyance at not being able to use the library thanks to the announcement of a power cut due to previously-unmentioned maintenance. In fact, a few were attending because they wanted to check out for themselves why UM wanted to stop this guy from speaking (they were foreign students). And maybe that's just it… the students may not have been supporting the opposition – they might have been supporting a person's right to speak.
Also, a message to UM – students who are suddenly free due to an unscheduled power cut will go out and find other things to do.
Like listening to speeches #justsayin'.