With the new year comes a possible vast array of promises to improve oneself, whether that be physically, financially, emotionally, spiritually, or even maritally. All because the year before really didn't turn out as well as we thought it would.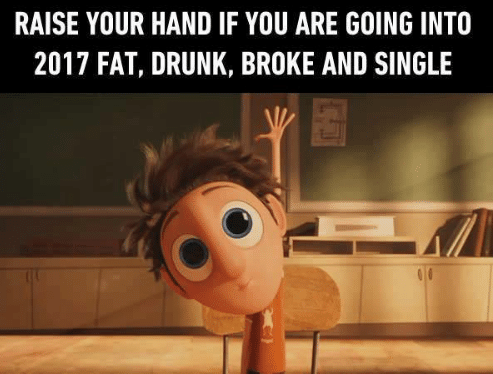 But while we often say we want to improve our lives, how often do we actually know how?? Well, we don't have the answers to every single aspect of life-improvement, but perhaps one of our friends can help with the financial aspect.
And now you can save money with… a video game?
So our friends at Visa actually want to help Malaysians develop some financial literacy (basically a fancy word for learning how to manage your money). They've actually collaborated with Malaysia's Credit Counselling and Debt Management Agency (AKPK) to create an online simulator game called Cent-sible Choice!
Cent-sible Choice presents relevant everyday scenarios to Malaysians, and requires them to make financial decisions based on these scenarios. So for example, if you're a student, the game will give you RM1k, and scenarios relevant to students, while fresh grads would get RM3.2k also with a set of scenarios tailored to them.
But the best thing is…you can actually win real money by playing this game! And up to RM5,000 summore, enough for a lifelong supply of toilet paper (or at least 10 weeks for Jo-lyn). And you win by earning points from either sharing the results of your game on Facebook and/or inviting your friends to play the game.
But this still is only a game. What about the real lives of wacky Malaysians? So what we've done is ask our wacky readers for their 'special' tactics on how they save money.
1. Quit social media
So Syahmi used to have an Instagram account, and did the whole social media thing, but…
Over time, I become jealous with my friend's hipster and traveling stories so I decided to post some for my friends to see too. That's when I started to waste a lot of money just to impress people online. Buying new clothes, going to hipster cafes, travelling and so on. – Syahmi
Money-saving potential:
And there's actually some truth in this. Research done by some Germans showed that the more time people spent on Facebook, the more envious they felt. It's part of a psychological phenomenon known as social comparison. So Syahmi freaking uninstalled Instagram! But was it worth not seeing the pretty things that his friends posted anymore?
"I saved enough money to survive for 1 semester without needing to eat maggie daily." – Syahmi
So he didn't just save money, he started being able to have proper meals.
2. Tapau anything and everything
Everytime I buy mineral water or have a plastic bag, I will keep it in my bag. Whenever I go to any events or anywhere with a chance of tapau-ing,  "The Endless Tapauman" will be there with his plastic bag (to tapau food) and mineral bottle (to tapau beverages). – Mohamad Qayum
The downside to this is probably people seeing you as a scavenger (be prepared to be called "The Vulture" or "The Raccoon"), but is it worth it?
Money-saving potential:
"There was once I tapau-ed a bunch of 80 cents bread until I didn't need to eat anything else for almost 1 whole week.

Overall, in one semester – I've saved expenses for a 1 month's worth of meals (RM300)." – Mohamad Qayum
However, he does say that it's easier to live this kind of lifestyle when you're a university student because you're often surrounded by events that provide food. Still,we're already wasting 15,000 tonnes of food daily, so what's wrong with taking food that no one wants?  😀
3.Take #duakerja to the next level
"I save all my monthly income from my main job. Meanwhile, during my free time, I drive for Uber and I use that income for my monthly needs." – Gavin
Whoah Gavin! Imagine not using your salary at all, and living solely on what you earn from your second job. Gavin says he has been able to do so.
Money-saving potential:
"I manage to save almost 100% of my main income. Just imagine if I am earning RM2000 monthly from my main income, I really do have RM2000 extra in my bank account every month." – Gavin
Well actually based on calculations done by imoney.my, if a person allocated 4 hours a day on weekdays (maybe 2 in the morning, 2 at night), and 6 hours on weekends, a person could potentially earn about RM3,000 a month! 
Of course there are other factors to consider but if one's salary is already RM3k, driving Uber or Grab could already double one's money pot.
4. Lend yourself money…and pay back with interest
Seriously, has anyone ever thought about lending themselves money? Well, Wong Jun Jie did.
"Whenever I spend money, I consider it a loan to myself and I keep track of how much I take from the bank. By the end of the month, I will return all the debt I owed to myself and make sure it's more than that, like with interest." – Wong Jun Jie
In other words, he is making a profit from lending himself money! Of course the money is still yours at the end of the day, but think about it, you're treating it as if this money didn't belong to you. And the amount that Wong Jun Jie has saved is actually quite impressive.
Money-saving potential:
"I've saved past my goal of RM15,000 by the time I graduated. I achieved RM10,000 last year when I used my own money to buy myself my own car before I started to work." – Wong Jun Jie
Whoah. Inspired. But if you don't want to lend money to yourself, you could always…
5. Lend money to other people so that you don't have money to spend
"My method of saving money is to lend money to close friends or siblings in need. Towards the end of the month their bank always kosong one. So after lending them money, I will then feel like I have less money to spend, which is a good thing." – Shaun
Shaun's friends must think he's either really rich or really generous to keep lending them money, but isn't that kinda genius? It's almost like a self-preservation technique because he saves money at the expense of other people having more debt. #savage
Money-saving potential:
"I've manage to spend my money more wisely and also save a few thousand easily when my friends pay me back." – Shaun
So it seems this technique isn't just cool, it's also sustainable because as Shaun saves more money, he ends up having more money to lend out each month.  Of course, this is assuming your friends pay you back la -_-".
6. Scrape the bottom of the economy rice soup tong
Most chapfan places have free soup, and Brendon has learned to make full use of it.
"I scout for the soup provided by economic rice stall by evaluating how much vegetables & meat I can scoop out from the pot of soup so that I don't have to take any extra dishes later on to reduce the price of the meal." – Brendon
We found that a few of the CILISOS staff already knew of this method.
Money-saving potential:
"If I do it for 4 months, I can save up at least half the price of my second hand iPhone 6 64GB." – Brendon
Chapfan is also one of the things where you can definitely get a good meal for cheap because if it's too expensive, people will complain. There's a whole thread on lowyat dedicated to boycotting expensive economy rice shops. 
7. Pick a particular Ringgit note, and keep every last one of them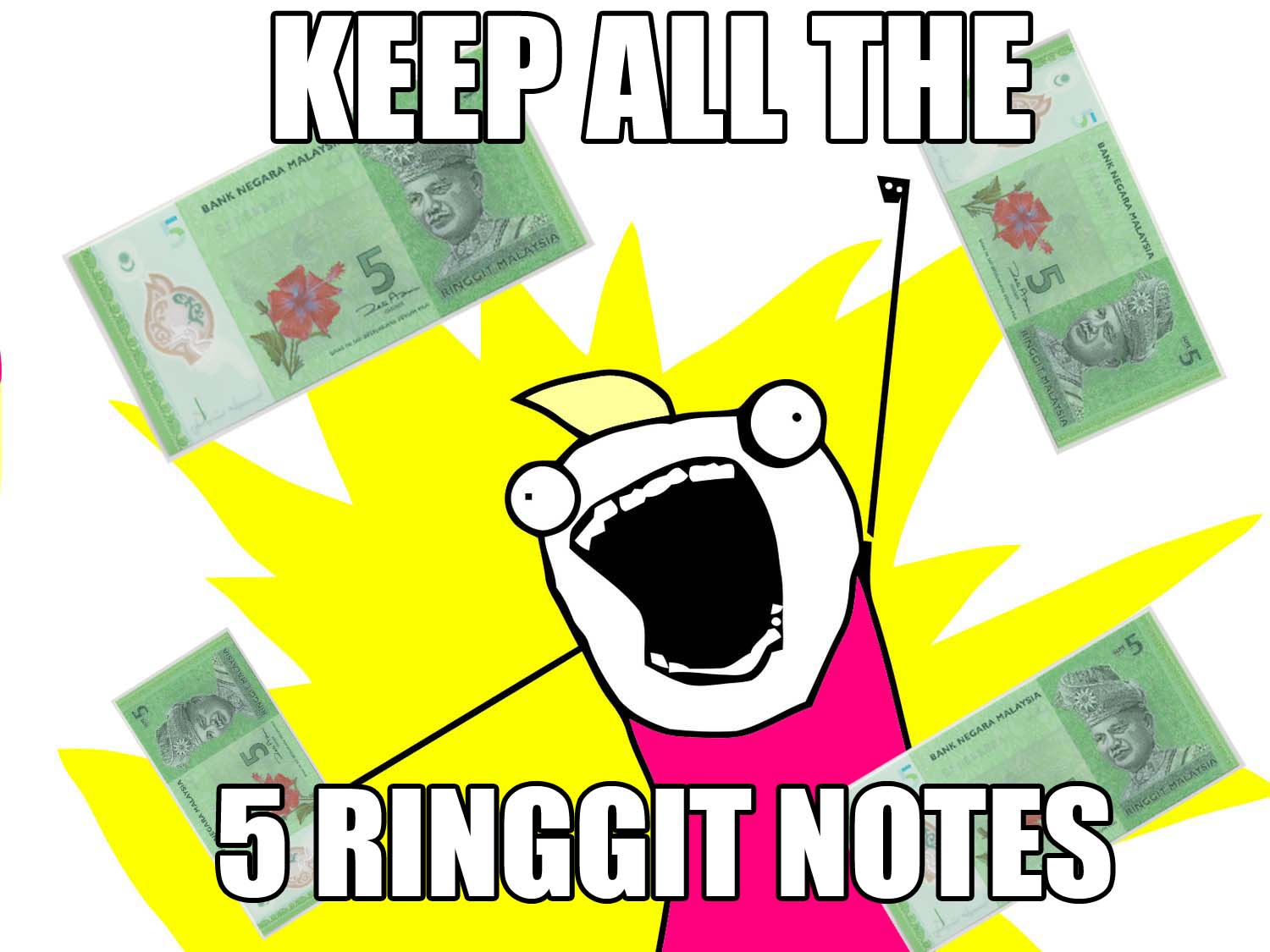 To be fair, many people actually told us about how they would keep certain Ringgit notes, be it the small notes, the big notes, or even the new notes. But Nur Hasinah went as far to label her container.
"Everytime I receive RM5 notes, RM20 notes, 50 cents and 20 cents, I will save them in a jar labelled as "Haram". This will help me not touch the money." – Nur Hasinah
Money-saving potential:
"This method has assisted me in buying a new smartphone last year, and this year I hope to go travelling with the money." – Nur Hasinah
And we actually have another example in our managing editor, Lydia, who actually managed to save so many RM5 notes, it paid for her honeymoon!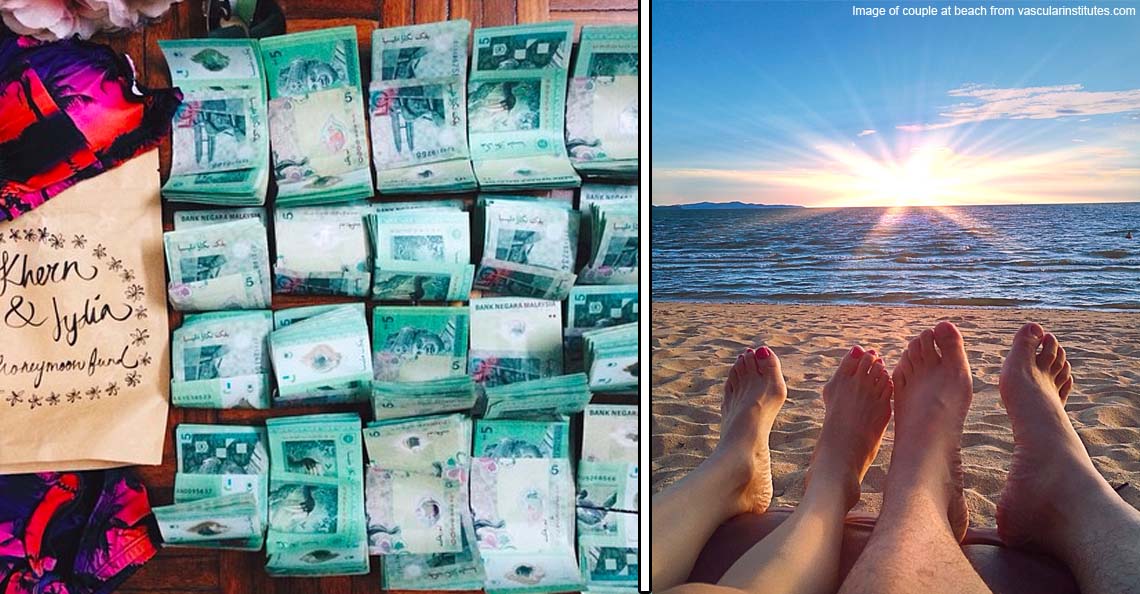 8. Manipulate your friends into ordering more expensive dishes
Whenever Paulin goes out to eat, she usually orders the cheapest thing. But that's not all she does.
"Then (after picking the cheapest), I suggest to my friends other (more expensive) things that I really want to try. I somehow manage to manipulate most of them to do so and when food comes, we exchange food!" – Paulin
Seriously?? And not just that, Paulin adds that she's tried so many different types of food that she's now even considered the food guru among her friends.
Money-saving potential:
"I can stretch my budget for 3 meals into 5 meals." – Paulin
Wah #truefriend.
9. Share a bank account with your sayang
For Kaviarasan, after setting aside money for groceries and daily expenses, the rest of his salary goes into a joint account with his wife, which you can safely say won't go anywhere.
"The rest will be transferred into an account that me and my wife share (she holds the ATM card la). This will stop my impulsive purchases and unnecessary expenditure. And I would have to explain to her if sudden expenses arise and we would discuss if the money needs to be spent." – Kaviarasan
But what made this entry even more intriguing is that Kaviarasan called this the "Queen Control" method WHILE also not saying that this applied vice-versa to his wife. But hey, if it works then the joke's on us right?
Money-saving potential:
This article points out that how couples approach making financial decisions in a joint account is important. And that couples should try different agreements to see what works for them.
Well, it sure worked for Kaviarasan, because they have already saved up for their holiday this year.
10. Or errr…..use some canggih bank algorithm
Kian Wei's tactic involves fixed deposits (FD) and credit cards. For the financially-blur, a fixed deposit is like a savings account except you can only withdraw after a set period (as short as a month). To reward you for your discipline, the bank usually gives you a higher interest rate. 
So what Kian Wei does is this
He budgets how much he's likely to spend for the month and banks that amount into a one-month FD.
He proceeds through the month spending EVERYTHING on his credit card
At the end of the month when his FD expires, he uses that amount to clear his credit card.
"Although insignificant, the little interest adds up in the long run" – Kian Wei
Money-saving potential:
While FDs are usually very safe and can be done online in 5 minutes, there are plenty of other investment options that give you better returns.
But according to Kian Wei, his use of FD has more advantages than just interest.
"It helps a lot in controlling spending because you only spend cash you have instead of taking excessive credit. You are sure that you will be able to pay your credit card and at the same time earn some small interest." – Kian Wei
And at the end of the day, isn't self-control what everyone trying to save money needs?
Malaysians very clever to save money hor?
Actually the opposite seems to be true. A survey done by Sin Chew Daily found that if Malaysians lost their jobs, only 18 percent of us can last 3 months, and even worse, only 6 percent of us can last 6 months!
For many of us, the attitude of saving money doesn't come easy. Online you can find many articles that have been written about how one can cultivate the habit of saving money. And alot of that can be solved with being responsible with what you SPEND on, especially with credit cards. So it's a nice cent-iment (*hehehe*) for Visa to work with us to remind ugaiz of how to do that.
It may not be easy, but like many of the examples above, it actually pays off. So why not start learning to be cent-sible now?