[Ed's note: This article was written in 2015.] 
First & foremost, Selamat Hari Raya Haji to our Muslim brothers & sisters! Eh chup. Didn't we just celebrate Hari Raya 2 months ago?
Well, for those who didn't know (cc CILISOS office), there are 2 Hari Rayas in Malaysia: Hari Raya Aidilfitri (which just passed) and Hari Raya Haji (which is happening today).
And you may already know that Hari Raya Aidilfitri is a celebration that marks the end of Ramadhan, the Islamic holy month of fasting. But as for the other one, well….
Hari Raya Haji/Hari Raya Korban/Eid Al Adha (Feast of the Sacrifice) is a Muslim holiday that is held on the 10th day of Dhu al-Hijjah on the Islamic calendar. (FYI, the Islamic calendar has less days than the Gregorian calendar, thus it always seems that their celebrations get earlier and earlier in the year.)
As the story goes, Nabi Ibrahim was commanded by God to sacrifice his son, Ismail. Nabi Ibrahim obliged and took him to be sacrificed. But as he drew his knife and did what God had told him to do, he saw that he had sacrificed a ram instead, and that Ismail was standing beside him.
"Eid al-Adha is a celebration of this supreme example of submission to God, which is the cornerstone of the Islamic faith (Islam means "submission")" – Religionfacts.com
And thus, on this day, Muslims who can afford it will sacrifice a cow, goat, sheep or even a camel, to God. Hence, korban.
In Malaysia, cows and goats are the preferred choice for korban. How do we know? Because it was reported that our Agriculture and Agro-based minister, Datuk Seri Shabery Cheek, mentioned that there was a demand for 26,200 cows and 12,324 goats this year.
But hold just a second there…
That actually adds up to about 38,500 animals in total!
Woahhh, that's a lot of animals! How does the country handle so many animals at one go? Better yet, how does a cow go from the farm to all the masjids & suraus? Well, we got curious, so we tried to find out.
In the end we managed to speak with to 2 people. One is a livestock supplier, Mohd Afnan, of Aqiqah Korban Online, & another is the Administrative Officer of Masjid Tengku Kelana Jaya Petra, Fitri.
And from speaking to them, we managed to learn a few things about the ins and outs of how Malaysia celebrates Hari Raya Haji. So here goes….
One cow can cost beribu-ribu Ringgit!
According to this article by MalaysiaKini, the cost of a cow rose last year to about RM4,000-RM5,000. This was confirmed by Mohd Afnan who says a whole cow can sell for about RM4,200, while a goat can cost about RM850-RM900!!
But then wouldn't it make more sense to buy a goat instead of a cow? Well, not exactly.
Websites like this, this, & this mention that for korban, a cow or a camel can be divided among 7 people, while a goat or a sheep can only be used for one person.
And according to Mohd Afnan, people usually prefer to buy one part of a cow instead. This is because RM4200 divided by 7 people is RM600 per person which ends up being cheaper than buying a goat. He also added that while he has sold about 500 cows this year, he's only sold about 170 goats.
But how do people buy a cow or a goat? Well, they don't actually go the farm and tempah. Fitri says that they actually receive orders from people and the masjid orders the livestock on their behalf. But of course you can go and buy yourself also la, as we can see from ads like this & this on mudah.my.
But think about it, the supplier can't possibly send all these cows to every masjid & surau on the day itself right? Some would have to go to these places beforehand. And thus the next question that we had was actually how would a masjid handle the cows once they've received them?
The cows sometimes stay at the masjid overnight
So Mohd Afnan tells us that the cows are usually sent to the masjids and suraus a few days before Hari Raya Haji in stages depending on the locations. Meaning, these cows actually spend a night, or a few nights, in the masjid or surau compund!
When we spoke to Fitri about it, he told us that the cows are usually just tied somewhere around a masjid or surau's compound. In their case, the cows are usually delivered the day before they are to be slaughtered. And when we asked him where do they keep the cows overnight, he said this.
"Ada lah. Kita ada gelanggang badminton tua sebelah masjid dari dulu lagi." – Fitri
Honestly, we were so intrigued by this we went to the masjid to see for ourselves. We were also lucky enough to have gone at a time when they already had a cow there.
Besides that, we actually tried to Google and see if we could find anymore pictures of cows waiting around in masjids and suraus. And lo & behold, got la!
And while they are at the masjid, Fitri told us that the cows are given some food la. Personally, the cow we saw at the masjid looked pretty content to just eat whatever was growing nearby.
So yes, wouldn't the cows be pooping all over the place? Well when we brought up to Fitri, he just casually replied with this.
"Kita memang dah prepare, benda macam ini memang tak boleh elak kan?" – Fitri
He didn't elaborate, but he seems like a man with experience, so we trust him la.
(Oh, and if you couldn't find the cow in the previous image, here's a picture of it la.)
Anyway, all this happens before the big day la, the day of the korban. But with so many cows being sacrificed all over the country, wouldn't there be a heck of a lot of meat to go around?
The meat goes to many people, not just the person who bought it
So Fitri tells us that they have 5 checkpoints when sacrificing a cow.
Sembelih (Slaughter, which is done after reciting a prayer.)
Lapah (Cleaning, removing skin and innards)
Potong (Cutting)
Timbang (Weighing)
Agihan (Distribution)
If you think about it, 26,200 cows & 12,324 goats across the country, that's a lot of meat. But what actually happens is that not all of the meat goes to the person who bought it. Articles like this and this mention that only 1/3 of the meat goes to the person who bought it while 1/3 goes to the person's relatives and the final 3rd goes to the poor.
But Fitri tells us that it's not like you just go and take 1/3 of the cow straight la. They actually divide the meat, weigh it, and put it into plastic bags first. We don't have picture of this happening at Masjid Tengku Kelana Jaya Petra but here are some pictures from other places.
Fitri mentioned that after the meat has been packed, it is distributed. On his side, the masjid actually has a list of people in need and distributes the meat based on that list. But he also says that they don't restrict it to the list. He tells us that they sometimes give the meat to Muslim foreigners, and if they can't seem to find anyone in Kelana Jaya, they would distribute it elsewhere, sometimes even as far as Klang.
It's a lot of work, but it seems that many hands make light work
Honestly, we're pretty amazed at how systematic the whole thing is. In our initial research of this topic, a person we spoke to actually said that Malaysia's masjids are a lot more systematic when it comes to Hari Raya Haji, especially in terms of allowing people to order via their masjid.
Besides that, the masjid we went to even mapped out the whole process of how the korban was going to be handled.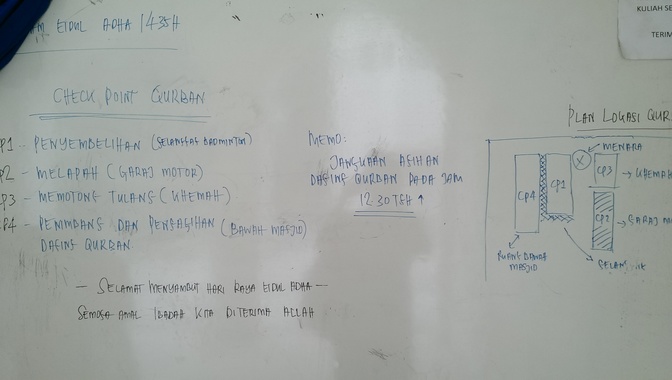 Personally, we think that's cool. It was eye-opening to see this side of a celebration that we've always heard of, but never fully understood how it operated.
P.S. We might even visit Masjid Tengku Kelana Jaya Petra this Saturday to witness it ourselves for the first time 🙂
[Update] We did manage to go to Masjid Tengku Kelana Jaya Petra. Alas we went a tad too late. They had finished slaughtering the cows, and the meat was already being distributed. Sorry ugaiz.  😥