We Malaysians love cars, and we are proud to become the third highest usage of cars on this planet. Not because our cars are cheap (we are known as one of the most expensive nation to buy a new car, apparently) or we Malaysians are addicted to the Fast and Furious movies, but it is a necessity. I mean, take a look at the state of our buses, taxis and trains!
We've had a love-hate affair with the two Malaysian car brands that are dear to us: Proton and Perodua. Recently, the Malaysia Automotive Association (MAA) revealed that new vehicle sales in April dropped at a staggering 32.9%, no thanks to the GST implementation.
Alarmingly, Perodua, the market leader in Malaysia for a decade, recorded a 22% decrease of vehicle sales while Proton, our first national car and currently three decades old, suffered a sharp drop close to 50%! To add salt into wounds, two non-national brands, Honda and Toyota, have relegated Proton into fourth place.
This begs the question on national cars… do we really need them?
We all know that our government has protected our national cars with the high excise duties on non-national marques. Many Malaysians are also fed-up with paying exorbitant prices or taking a nine-year loan for a non-Malaysian car.
Despite that, the attention among Malaysians towards Malaysian cars are high; every time Proton or Perodua launches a new car, Malaysians from all walks of life will transform to UK's infamous motoring journalist, Jeremy Clarkson, to bash and complain about the cars. Ironically, they'll also be the ones rushing to the showrooms to get the early batches of our cars, hoping to obtain some bragging rights of becoming the first few with a new national car on the road (remember the first-gen Saga?).
But with intense competition from foreign brands, the ASEAN Free Trade Agreement as well as reduced government protection that puts more pressure on our national cars, they need to do something. Here are four things how Malaysian car brands can bring themselves to greater heights, in the name of survival in the cutthroat world of the automotive industry……………..and fussy Malaysians.
Note: We will be only focusing the major two Malaysian marques- Proton and Perodua. Inokom is now assembling Hyundai cars while Naza is focused more on Peugeot and KIA. Both Inokom and Naza are now no longer rebadging like how they used to.
1. Make our cars safer
Our cars used to be terrible in this department. Before we go further, here's a brief explanation on the difference between active and passive safety features in cars:
Active Safety – Prevents your vehicle from major accidents. Eg – Antilock Braking System (ABS), Electronic Brakeforce Distribution (EBD), Brake Assist (BA), Electronic Stability Control (ESC), Traction Control,

Passive Safety – Protects you when sh*t hits the fan. Eg – Airbags, Seat Belts, Crumple Zone.
Perodua's current models (Axia, Myvi and Alza) have at most two airbags, ABS, EBD and BA, which are pretty much basic for modern cars. To be precise, these are the similar safety specs introduced for the premium spec of the first-generation Myvi released a decade ago. Yes gaiz, using the similar safety specs for a decade doesn't spell PROGRESS. Having ESC helps by preventing drivers from losing control of the vehicle – one of the major cause of road accidents. The lack of active safety features such as ESC in some of our local cars (more so, Perodua) is baffling.
Proton, once unshaken from the "Milo tin" stigma, is now on the edge in the safety department as seen in the new Proton Iriz, which scored the highest 5-star ASEAN NCAP safety rating. The Iriz's class-leading act of providing active safety features such as ESC and Traction Control as standard across all ranges is commendable. In short, you may wish you're inside the Iriz rather than its similar competitor, the Myvi, to feel safer on the road.
While Proton did a good job in making Proton cars safer until our Minister once commented our Protons is as good as a Beemer (in a way, this writer partially agrees, but only in the safety aspect), there's still more work to be done, as other foreign manufacturers already so canggih into developing other safety features such as lane detection system, collision prevention and many more. But I know Proton is doing one behind closed doors, so who knows it may become a reality pretty soon….
2. It's all about the Exports!
Now, Toyota is huge because their cars are sold in every part on this planet. They can't rely on their respective home markets to grown, hence they need to go out to go big.
Honestly, comparing our brands with the other foreign players is like comparing ikan bilis to the Blue Whale. Last year, Proton and Perodua sold 115,783 and 195,579 cars respectively in Malaysia; combining both will translate to the market share of 52%.
While there is no official data on how many Protons or Peroduas were exported outside Malaysia, the following stats are rather depressing. According to Australia's CarAdvice, Proton sold 814 cars in 2014, close to the sales of Volkswagen Polo for the month of April in the land of kangaroos. Our Proton Suprima S, not to be mistaken with an adult diaper product sold in Europe, was among the worst-selling cars of 2014 with a number of 62 cars found new homes at down under (ouch the pun).
Meanwhile, more woes in the UK, where only 11 Protons and 29 Peroduas were sold in 2014. Yes, Malaysian cars sold a mere 40 units in the UK in that year, in comparison to Ford, which sold 326,643 cars. Worse, combining the sales figures of both Audi and BMW in the UK equals to around 300,000 units!
The point is we can't be "jaguh kampung" for long as both Proton and Perodua need volumes for exports as after all, volume is king in the automotive industry. More volume will lead to lower cost of manufacturing which leads to cheaper cars. Mind you, our Protons used to do well overseas, and that's including the UK (remember Mr.Bean with the miniature golf episode?). With sales at the local front diminishing, and our brands seemingly not doing good at Western countries, why not we look somewhere nearer to sell our cars?
Therefore, both Proton and Perodua should focus on exporting its products to countries closer to us. While we doubt our kiasu neighbour down south cares about our cars, developing countries such as Vietnam, Philippines and Myanmar are attractive markets. Proton has already established in Indonesia and Thailand, while Perodua assembles the Myvi models as Daihatsu Sirion hatchback for the Indonesia market.
Plus, back in 2008, the Proton Savvy was voted as among Thailand's top 10 cars in 2008 by The Nation newspaper's car writers. So, why not continue the momentum? Also, correct product matters, as the Proton Arena, also known as the Jumbuck, became a runaway hit in Australia a decade ago.
But in order to find good cars for export, there's a need for good products. However, the main ingredient for a good automotive product is….
3. Hit the accelerator on technology
The automotive industry is driven by technology; this not only make our cars more efficient or faster, but safer on the roads as well. Allow me to explain this from two perspectives: Proton and Perodua.
Proton
Last year during the launch of the Proton Iriz, Proton's chairman Dr M. mentioned that Proton would need to purchase newer Euro-6 engines since the current one, newly developed by Proton, is complies to Euro-4 emission standards. Right now, most EU nations will be moving to Euro-6 emission standards, which explains why both Proton and Perodua couldn't introduce new models to the UK as their engines are archaic and bad for the environment. Yes, the lives of polar bears matter according to strict EU regulations.
Proton has come a long way ever since rebadging Mitsubishi cars until it can self-develop one. Despite that, it's sad to note that Proton's engines and gearboxes are not in par with the competition. Take a look on the Internet and many Proton owners complained from the whining CVT gearbox to the fuel consumption the equivalent of a 2.0-litre car (Like Camry, Accord etc). In short, it's not good enough.
However in 2012, Proton signed a strategic agreement with Honda. While the details on the agreement remain sketchy, up to this point the only fruits of that agreement is the rebadging of the previous gen Honda Accord to become our new Perdana cars for Putrajaya officials. There're plans for the new "Accordana" to the masses very soon as well.
Well, I sort of thought you gaiz waited for the "Honda VTEC kick in yo"  memes in your Protons!
Earlier this week, Proton signed an MOU to confirm another strategic partnership with Suzuki, the Japanese manufacturer specialise in small cars. Proton and Suzuki will collaborate to develop a "small Proton compact car" in 2016, hinting a strong competitor to the A-segment city car like the Perodua Axia. Best of all, Proton will have access to Suzuki's  models, platforms, powertrain and automotive technology. While the previous MOUs with Nissan and Volkswagen had vanished into thin air, Tun Dr. Mahathir, the founder of Proton, said "Because I am in charge, I will be seeing this through"; putting assurance that Proton and Suzuki sure "on"!
It's not hard to think Proton could solve the engine limitation issues by sourcing some "proven and worked" petrol, diesel or hybrid engines from Honda and now Suzuki. Also to note that engine sharing and even platform sharing among car manufacturers are as common as spotting a Myvi on the road in the automotive industry; all in the name of cost-efficiency (or save $$$$ la in our lingo).
Perodua
Since Daihatsu is the main partner for Perodua, which is also owned by Toyota, we can see Perodua is clearly benefited from this. Most of the current Perodua cars share engines and parts with the parent company, saving massive money and time from self-developing one like Proton. Having said that, why not Perodua obtains the hybrid tech from Toyota? Who knows Perodua may launch a hybrid Myvi or a Prius with Perodua's badge to boost the company's green credentials.
BUT THERE'S A CAVEAT…
Based on some observation on Japanese marques in Malaysia,  the Japs aren't that "kind-lah" when it comes to knowledge and technology sharing (proven with Mitsubishi and Proton), as they only share their not so latest (aka outdated)  tech to us. In short, there's no free "bento box" from them lah.
4. Put your customers first 
Customer perception is an area Proton has, unfortunately, fared badly even till this day. Proton was haunted by tales of horrific after-sales and complaints on quality control, despite there have been improvements lately.
In fact, the only thing I can advise Proton is to continue to work hard in winning our hearts. Make us feel proud like how we felt proud with our "Saga", "Wira" and "Satria" models. Create important products that matters and sellable. Not only should they focus on affordability (Perodua did pretty well in that department), but to also provide value.
It must be fuel efficient, easy to maintain, reliable and practical – a sure hit recipe as proven by the Myvi. The Iriz is a good step, and in fact it is a brilliant supermini (as seen in this video review done by the awesome guys of Autobuzz.my!), but Proton can't be complacent at this stage. A sedan-based Iriz for the Saga replacement, perhaps?
Also, perception can be improved by respecting the customers. Here, Perodua, you are not off the hook  as the way you reacted on recent events leaves a lot to be desired. Case in point, the rear axle broken incident involving the Alza MPV that went viral over the Internet.
The following below is the comment from Perodua: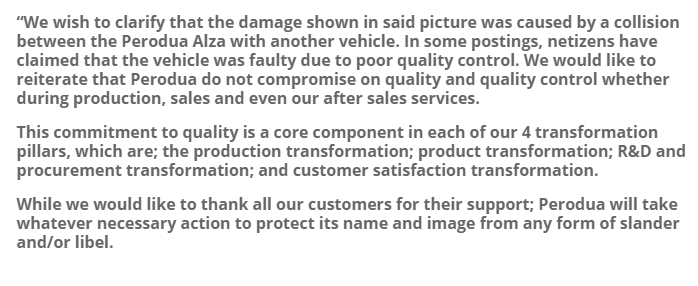 Which to me, sounded like this:
This was not the only incident that exposed Perodua's questionable PR, as a few months back, a blog post by German engineer, Wolf Vaupel on the Myvi's unsafe self-illuminating instrument panel got a rather "defensive" response from Perodua. This article from CarList dissected and made good points on why Perodua should take note of this.
While it's applaudable that at least Perodua responded, it would be better if they ate humble pie (or kuih talam in this context) and look at these concerning issues as rooms of improvement. In fact, they should learn to be humble and bow to apologise if things go wrong, just like their Japanese counterparts.  Not by sending Bryan Mills to utilise his "set of skills"!
On the recent fatal street racing incident, Perodua can improve public perception and encourage safe driving by organising defensive driving courses for Perodua owners. This writer attended one from Proton last year and it was great – it allowed owners to get know their cars well and learn the skills to drive better and defensively. In fact, many other manufacturers organise such defensive driving for the benefit of their customers. Also, allowing Myvi owners to unleash their "need for speed" in their Myvis or Axias on a controlled environment, aka race tracks, is a welcomed idea too.
After all, both Proton and Perodua must not forget that the consumers are their best PR tool to promote its products. Treat them well from the product and the after sales, and expect positive returns.
All hope's not lost…
While this article has identified rooms of improvement for both Proton and Perodua, here are few things that both brands have got it right:
The design – Newer Protons and Perodua models are decent eye lookers! In fact, some of our cars are better looking than some Japanese cars.
Interior quality – Perodua started the trend in providing a good interior with the Myvi. It took quite some time for Proton, once notorious with it subpar interiors, to improve in this department. With the Iriz, let's just say Proton has finally made it.
Both brands are competing – Both Proton and Perodua know their strength and identity. Perodua is now developing a small sedan, codenamed D63D, to compete directly against Proton Saga. Competition among domestic manufacturers is welcomed. Case in point – the car marques in Korea and Japan, look what they have become.
Well, I believe many of us have memories with our national cars, from driving us to home to reunite with family members during the balik kampung season, the awesome cool air-con during the scorching hot afternoons and even dealing with the faulty power windows while paying tolls. If our national car brands were to close shop, it would be like a part of us is missing.
Proton and Perodua, we hope you are reading this. We know you have come a long way, but we urge you to step on the accelerator. Not by taking us for a ride, but to make us proud of our cars. It made us proud when seeing a Proton or Perodua overseas, just like how a Japanese or Korean felt when their cars were spotted in angmoh land 40 years ago.
Mind you – a Proton Satria GTI spotted in Birmingham, UK will send us goosebumps, rather than seeing a Buggati Veyron in Bangsar!